The artist who created the winning Oktoberfest symbol for 2018 made it a belly button by design, although not in the usual sense of the term, says winner Kyle Breunig of La Crosse.
"When I think of Oktoberfest, I think of lederhosen and dirndls," Breunig said, explaining his design, patterned after a pair of lederhosen on a rather corpulent man's waistline.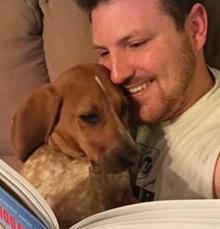 "It's like a beer belly," a chuckling Breunig acknowledged of the button's appearance during an interview Monday.
Asked how he came up with the idea, the first-time button contest entrant said, "It was really just researching past years' buttons" and activities surrounding Oktoberfest.
"It's a joyous time of the year, with a lot of fun and lightness," said Breunig, a 30-year-old native of Sauk City, Wis., who has lived in La Crosse for about 10 years.
The simple design also illustrates the theme "Polka, Pretzels and Prost" for the 58th annual festival, and the dates, Sept. 27-30, with the calendar's flukiness again keeping the La Crosse festival out of October, as it often does.
Musical notes, as well as a pretzel and a glass of beer, connect the polkas and pretzels that typify the event, along with two maple leafs and the "prost," with its loosley translating meaning being here's cheers for a good time to be had by all.
Breunig, leader graphic designer at MobilEssentials in La Crosse, said he made some sketches before committing his design to Adobe Illustrator, which is part of his favorite artistic medium, the Adobe Suite.
"I was very excited to win," he said. "I was at work when I got the call. I didn't really expect it."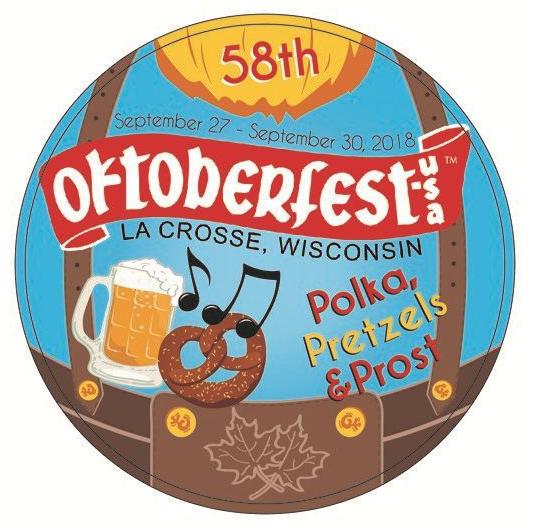 Breunig has become an Oktoberfest fan since moving here 10 years ago to attend Viterbo University, where he obtained a bachelor's in visual communication, with an emphasis on graphic design.
"I always enjoy going to the parades," he said, and finds the large crowds and friendly attitudes among the throngs along the parade routes equally enjoyable.
An outdoorsman, Breunig "had a blast" jumping out of a plane to in his one and only skydiving expedition so far. He has a 1-year-old red tick hound, Maddie, although he hasn't taken her hunting yet.
At Viterbo, he played on the rugby team, which the school no longer has.
The button design, unveiled during the fifth annual Corks and Forks fundraiser last week, will be featured on all Oktoberfest promotional materials.
---