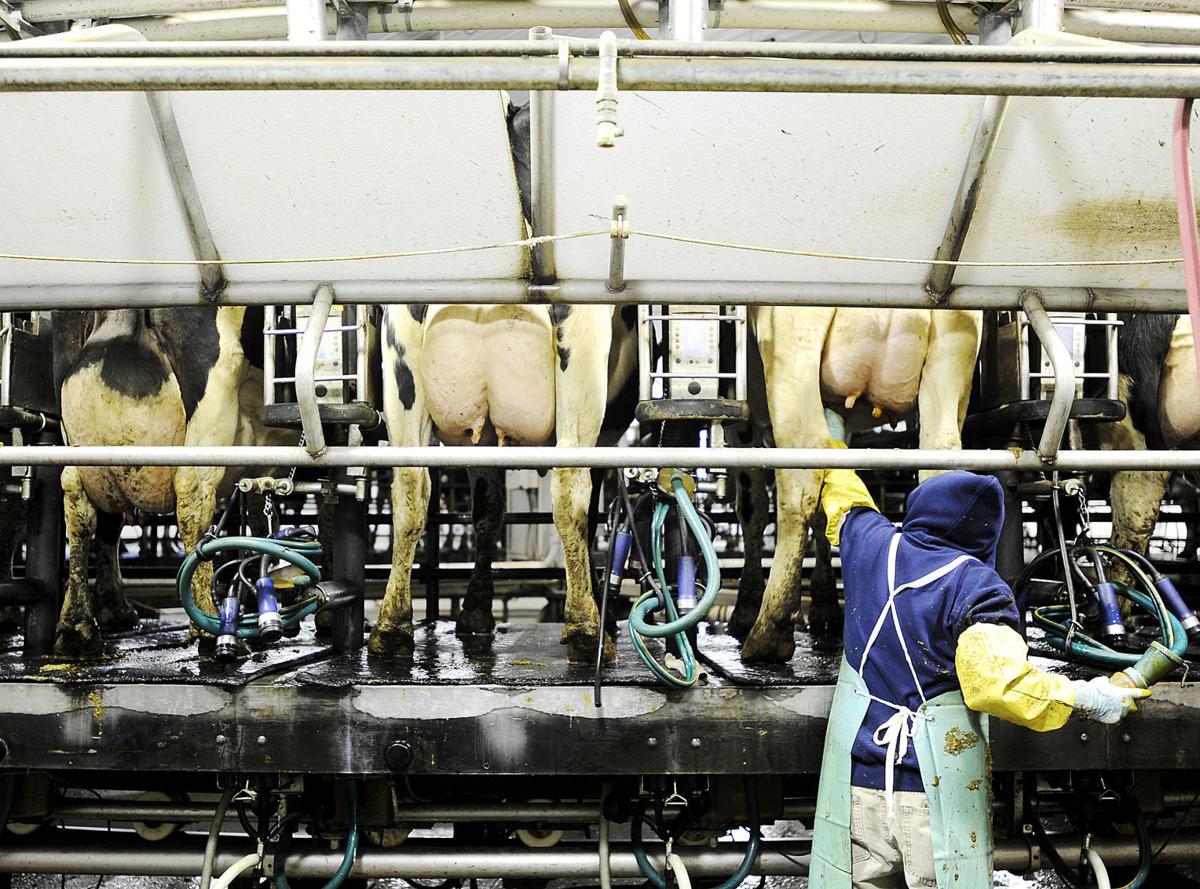 Daley Farms, the largest feedlot in Winona County, is proposing a major expansion of its dairy operation near Lewiston, according to an Environmental Assessment Worksheet prepared by the Minnesota Pollution Control Agency.
The agency will hold an informational meeting on the proposal starting with an open house at 6 p.m. Tuesday, Oct. 16, at the Lewiston Community Center, 75 Rice St. Presentations explaining the proposal, MPCA environmental review and feedlot permitting will begin at 6:30 p.m., followed by time for questions from the public.
"It's going to be a divisive issue," said Ben Daley, whose family has been farming in the Lewiston area for more than 100 years. "We just want people to know that we have good intentions and we're doing this for the right reasons."
The operation wants to increase the dairy herd from 1,728 cows and calves to 4,628 total. The MPCA and other state agencies use a measurement called an animal unit to equalize manure output from different types of animals. Animal units at Daley Farms would increase from 2,275 to 5,968, which means the project will require a zoning variance from Winona County, which prohibits feedlot sites in excess of 1,500 animal units. When the county adopted its limit on animal units in the late 1990s, existing feedlots over the limit at that time could continue at the same size, which is why Daley Farms is already above the cap.
"That's a real threat to rural water quality and air quality," said Doug Nopar, policy program organizer for the Land Stewardship Project in Lewiston. "This would be the largest livestock facility in southeastern Minnesota."
Daley said that the operation is already environmentally conscious and pointed to the fact that he lives on the farm with his family, which includes daughters ages 9 and 6.
"We put manure on the field right next to my house," he said. "I'm not trying to poison people. If I was in that business, I would be poisoning my own kids.
"We're doing quite a bit of good for the land we're running now."
Daley Farms owns and operates three sites in Winona County. In addition to the expansion planned for one site, it will close a second site and install open-lot runoff controls at the third site. The expansion at the main site would include a total confinement barn with 3,000 dairy cows, a rotary milking parlor, a manure storage basin, a feed storage pad, and stormwater runoff controls.
According to the MPCA, there are 29 homes within 1 mile of the facility and 13 feedlots within a 3-mile radius.
"The areas where this facility is being propsed are already high in nitrates in terms of rural wells," Nopar said.
You have free articles remaining.
Nopar also decried changing rules and regulations to help out a large dairy farms when the small- and mid-sized family farms are dying out.
"I don't like that either," Daley said. "But that was happening regardless of whether we're building or not."
Daley said the expansion project would bring several new jobs to Winona County, but said he did not know an exact number. The farm would be adding robotics to the milking operation.
State agencies use the Environmental Assessment Worksheet to help decide whether a project requires a more extensive Environmental Impact Statement. The worksheet covers site location details, nearby resources and other elements, including wells, soil types, water use, manure management, air and odor emissions, and traffic.
The expanded dairy would generate about 46 million gallons of manure and wastewater a year. The project site currently contains four manure basins with 22 million gallons of available storage. Daley would install one more manure basin, with 13.6 million gallons of available storage, as part of the project. In total, the existing and proposed manure basins would have storage capacity for 35.6 million gallons, enough for 281 days of operations at the main site.
Daley Farms would remove the manure in spring and fall, injecting it into cropland as fertilizer following an MPCA-approved manure management plan requiring at least 4,083 acres. More than 4,100 acres of cropland are available for land application among 42 manure application sites. Some of the sites have homes or recreational facilities nearby. Several of the sites have water features within the fields or nearby.
The project site and several manure application sites are near or within the drinking water supply management areas for the cities of Utica and Lewiston.
Several of the manure application sites include karst features such as sinkholes. The proposer would need to follow setbacks and other requirements in the manure management plan to protect sensitive features.
To reduce the chance of nitrogen leaching to groundwater, Daley Farms has agreed to do one or more of the following:
Delay manure applications in the fall until soil temperature is below 50 degrees
Plant cover crops when manure is applied early in the fall before soil temperatures are below 50 degrees and weather and field conditions are conducive for seeding a cover crop
Applying manure in the spring
The facility and manure application sites are all within the Root River or Mississippi River-Winona watersheds.
According to a study of air emissions from the expanded facility, it would meet air quality standards and odor guidelines. This study also took into account the surrounding feedlots and cumulative effects.
To access the complete worksheet for this project, go to the MPCA website at www.pca.state.mn.us and search for "environmental review." It's also available by calling MPCA project manager Kim Grosenheider at 651-757-2170.
The proposed feedlot requires federal, state and county permits. The MPCA would issue an individual permit for the project under the National Pollution Disposal Elimination System (NPDES). The permit is also open for public comment through Oct. 31 at 4:30 p.m. The public notice is available by going to the MPCA website at www.pca.state.mn.us, clicking on "public notices" in the right margin, and then scrolling down to Oct. 1. For a copy of the permit application or other information, contact MPCA permit writer Mark Gernes at 507-206-2643, mark.p.gernes@state.mn.us, or MPCA, 18 Wood Lake Dr. SE, Rochester, MN 55904.
To comment on both the environmental assessment worksheet and the permit, citizens may use this weblink: http://survey.mn.gov/s.asp?k=153730433478 . Instead of using the weblink, they may send comments by mail to Kim Grosenheider, MPCA, 520 Lafayette Road N., St. Paul, MN 55155-4194.
"It's going to be a divisive issue. We just want people to know that we have good intentions and we're doing this for the right reasons."

Ben Daley, whose family has been farming in the Lewiston area for more than 100 years