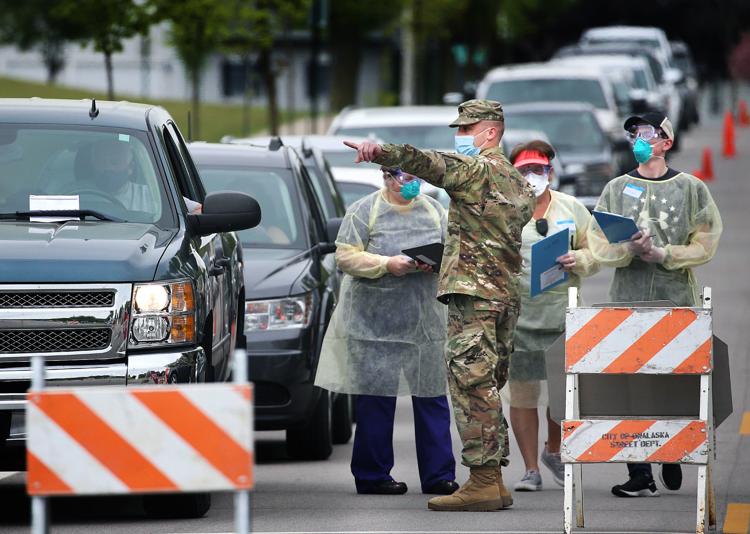 Thirty minutes before the site even opened, cars stretched as far as the eye could see on Riders Club Road, with community members waiting to secure one of 400 free COVID-19 tests.
Thursday's one-day drive-thru testing event, held outside the Onalaska Omni Center and open to area residents age 5 and older with one or more symptoms of the coronavirus — cough, fever, body aches, shortness of breath, chills, sore throat, loss of taste — from 11 to 7 p.m.
Hosted by the Wisconsin National Guard and funded by the federal government, the event was the result of an application from the La Crosse County Health Department, which notes the county currently administers about 70 tests daily between area health care partners.
"Having mass testing is really beneficial to the community," says Rachel King, health educator for the La Crosse County Health Department. "There haven't been as many (tests) as we need."
The testing process, sans wait time in their vehicles, was anticipated to last five to 10 minutes per person, including completing a survey for symptoms, the conducting of the nasal swab, and discharge instructions.
Post test, individuals were asked to return directly to their home and isolate themselves, including from family members, until they received their test results and further guidance from public health officials.
Results from Thursday's testing event were expected in 24 to 48 hours, with Wisconsin National Guard members to notify those with negative results, and the La Crosse County Health Department, or the health department for the individual's county of residence, following up with those who tested positive.
Helping run the testing day were the Onalaska Police Department, which directed traffic for the duration of the eight-hour event, staff from the La Crosse County Health Department and 28 members of the Wisconsin National Guard. While all on the premises were masked, National Guard members performing the nasal swabbing were dressed in full personal protective gear, including white jumpsuits and helmets, and underwent thorough advanced training and validation to administer the tests.
Though nasal test kits were limited and many community members are particularly stressed and anxious amid the pandemic, Christina Baurichter, a 20-year National Guard member and officer-in-charge for the testing day, says people attending previous testing events held throughout the state have remained overall patient and cooperative about the wait time and constrictions.
It's a multi-faceted effort to keep things running smoothly, Baurichter says, and is something the Wisconsin National Guard is glad to assist with.
"It's great to be a part of the goodwill mission," Baurichter says.
King says it is unknown how much case numbers will jump in the next two days, noting that ideally most will have negative results, indicating the virus is relatively under control in the area.
The La Crosse County Health Department will continue to post daily updates with case numbers and other information on its Facebook page, and can be contacted by phone at 608-785-9872.
---
Concerned about COVID-19?
Sign up now to get the most recent coronavirus headlines and other important local and national news sent to your email inbox daily.