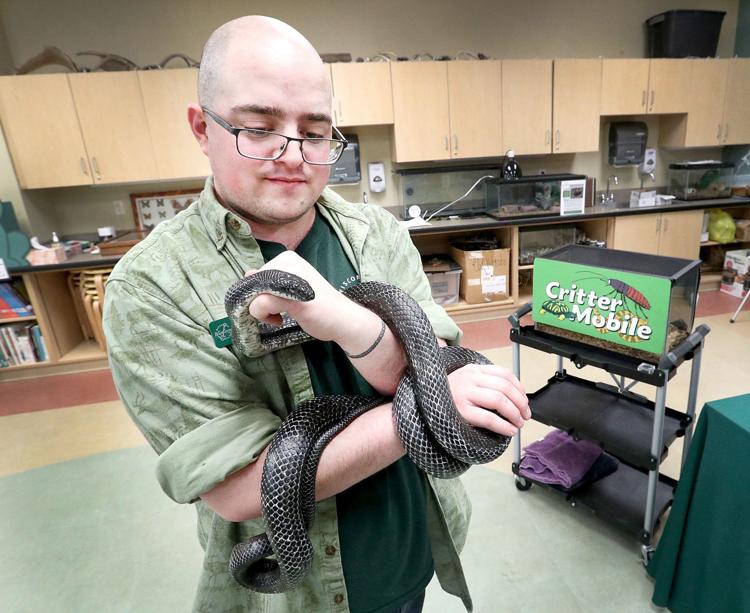 With a three-inch torso on six spindly legs, prominent horns and emanating a distinctive, disruptive noise, the Madagascar hissing cockroach looks not to be messed with.
But WisCorps naturalist Justin Holten can turn fear into fascination, with once-skittish kids clamoring to touch the oversized insect.
"People are generally scared — they look like they'd be slimy but they're really not," Holten says of the wingless cockroaches, which hiss to express dominance, spread alarm or court a mate. "After a few minutes the kids say, 'Put it on my hands, put in on my shirt, put it on my head.'"
Madagascar hissing cockroaches, found thankfully on the forest floor rather than the kitchen floor, are just a few of the creepy crawlies and agile amphibians that ride to schools, youth organizations and events on the WisCorp CritterMobile, a traveling environmental education tool headquartered at the Myrick Park Center.
In circulation for the past year, the CritterMobile offers one-hour programs, including Precious Prairies, with a lesson on the importance of the conservation of native species and plants; Classify Me, a look at animal classifications; Explore the Food Chain, on predator and prey; and Major Movements, focused on the science behind how and why different animals walk, crawl or fly.
Weather permitting, Holten takes the education outside for additional exploration.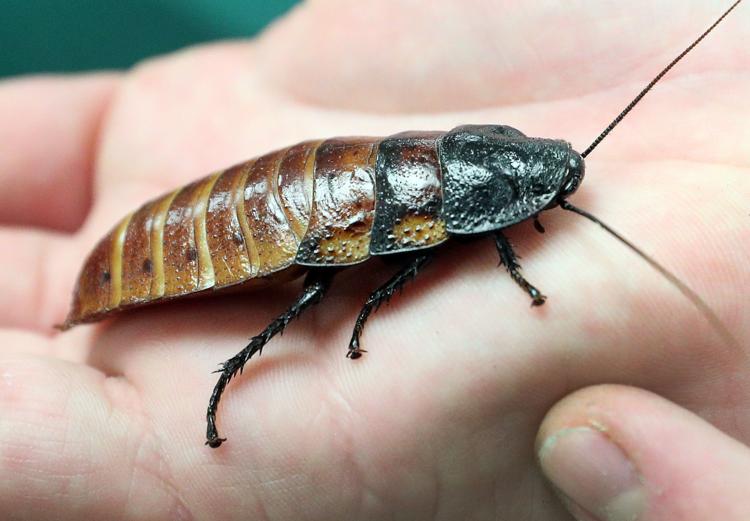 Each program comes with an opportunity for kids to interact with the accompanying reptiles, animals and insects, including frogs, toads and salamanders.
Holten brings the cages out draped in a sheet, so one lucky child can do the grand unveiling. Snakes tend to get the best reaction upon reveal, though Foxy the horned box turtle is perhaps the biggest crowd pleaser.
"It's always a lovely, hands-on experience for kids to see animals they've never seen before, and touch them and hold them and interact with them," Holten said.
Emerson Elementary kindergarten teachers Christy Axness and Amy Joley say the CritterMobile was a hit with their students.
"Every classroom should invite the CritterMobile in for a visit," Axness said. "The lesson was engaging and developmentally appropriate for our kids."
"The CritterMobile is an amazing hands-on program to expose children to animals found in this region," Joley said. "...We can't wait for the next visit."
Nature lovers and amphibian aficionados of all ages can explore the wonders of the CritterMobile at the Myrick Park Earth Fair, running from 11 a.m. to 5 p.m. Saturday, April 28, and the Driftless Outdoors Show May 17-18 at the Onalaska Omni Center.
For more information or to schedule a visit from the CritterMobile, call 608-215-4682 or 608-782-2494.