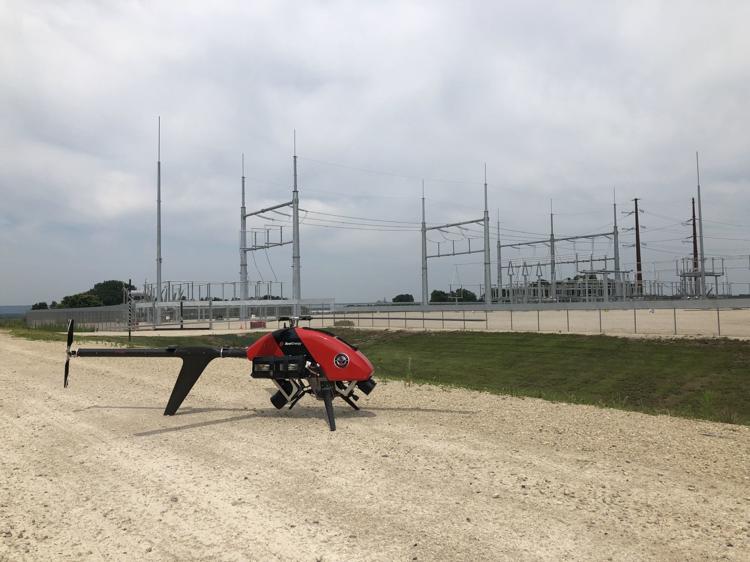 It's a bird! It's a plane! It's a helicopter-shaped drone cruising over miles of Xcel Energy transmission lines.
The red-and-black drone flew a couple circles Thursday morning over the Briggs Road Substation in Holmen during a media demonstration.
It's part of an Xcel initiative across 10 states to inspect equipment and infrastructure by drone, even transmission lines several miles from where the pilots and crew are based. The drone will take photographs of 485 miles of transmission lines in Wisconsin. The crew just finished about three weeks of surveys in Minnesota.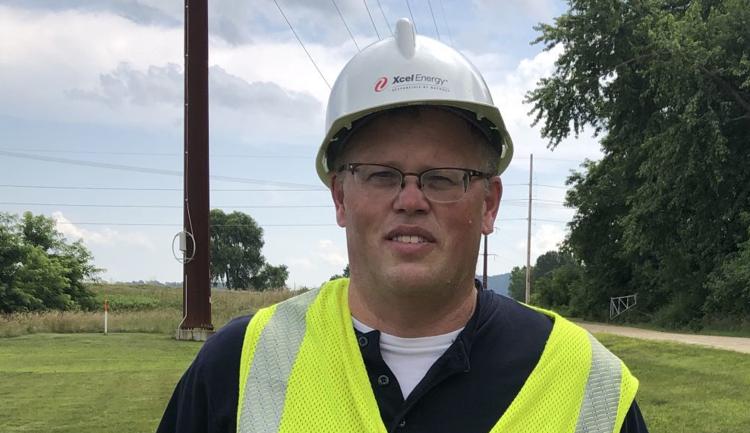 Before Xcel started using drone technology, workers had to inspect transmission lines and other infrastructure by helicopter or by climbing utility poles, said Brian Long, transmission system sustainability director at Xcel Energy.
Inspecting infrastructure by drone not only cuts costs and increases worker safety, Long said, but the aerial photos taken by drone provide greater resolution and more detail than the footage from a fast-moving helicopter.
"It allows us to zoom up and see details in the structures," including damage from woodpecker holes, Long said.
Xcel started using drones for inspections in 2015.
The drone in this demonstration, a 54.5-pound Pulse Aerospace Vapor capable of flying in up to 20-knot (23 mph) winds, is programmed with the geospatial coordinates of the transmission lines in its flight path, said Will Wheeler, unmanned aircraft systems operations manager for Phoenix Air Unmanned. Phoenix Air is the contractor Xcel hired to conduct aerial drone inspections.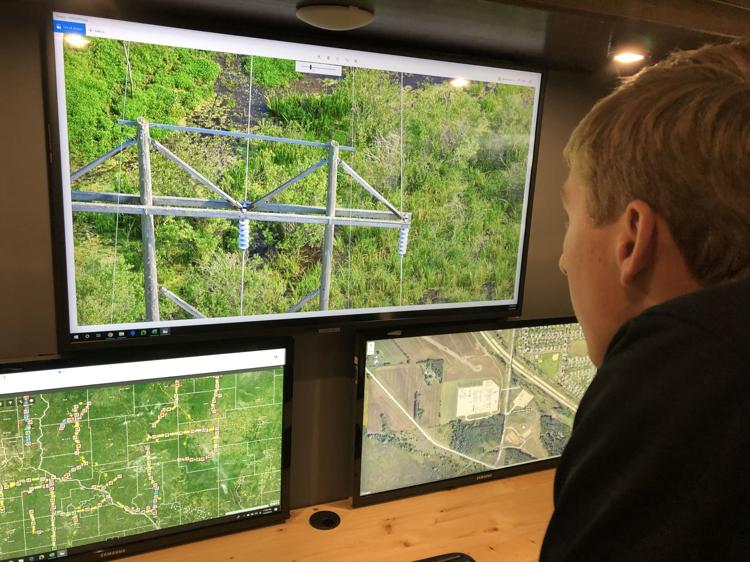 Also programmed in the flight plans are the altitudes at which the drone must fly to keep a 100-foot buffer from the structures, Wheeler said.
Although the flights are fully automated, there is still a pilot to monitor the flight and a support crew to work on navigation and battery life, Wheeler said. The drone can fly up to 23 miles in one mission, though they tend to keep flights to within 10 miles of transmission lines. A Part 107 waiver from the Federal Aviation Administration allows the drone to fly beyond the operator's line of sight, about half a mile for this particular unmanned aircraft, Wheeler said. Normally, drone pilots cannot lose sight of their unmanned aircrafts when flying drones.
There are 277,000 commercial drones — used for activities including research and development, training and education, filming sports, movies, weddings, environmental projects and real estate surveys — registered at the end of 2018, according to the FAA. While the market for model drones appears to be flagging, the FAA predicted the number of commercial drones in 2023 will be three times larger than the present fleet, according to a recent FAA report.
Jennifer Lu is the La Crosse Tribune environmental reporter. You can reach her by phone at 608-791-8217 and by email jennifer.lu@lee.net.
Get local news delivered to your inbox!
Subscribe to our Daily Headlines newsletter.