Crochet clubs, crafters and community members looped in their friends, sharing the article on Facebook, Twitter and Instagram, and within days, young Jonah of La Crosse had reached an unfathomable level of fame, fielding interviews from national media outlets, offers from publishers and thousands of orders for his sumptuous stitched cowls, afghans and caps.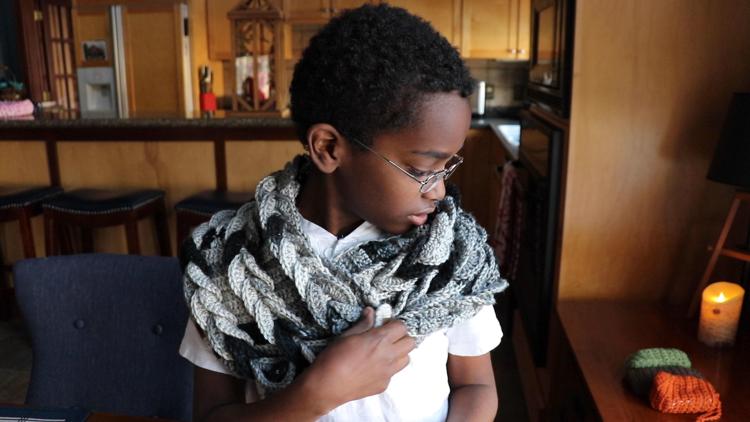 The self-taught crochet phenom, who picked up his first set of hooks at age 5, developed a following years ago, a member of online national crochet clubs and selling made-to-order blankets, hats, stuffed animals and scarves under his brand, Jonah's Hands. Before his interview with the Tribune on Jan. 15, Jonah boasted 2,480 Instagram followers, 70 prize ribbons from county fairs and 20 totes of yarn gifted from admirers around the world. 
Today, Jonah's Hands Instagram is up to 106,000 followers and the gifts arrive on a daily basis — to date, he has received more than 1,000 skeins of yarn, hooks hand carved from wood, a box of Pokemon merchandise and, arriving Monday, a package from Amazon containing yarn, a notebook reading "future doctor" and a handwritten note:
"Hi Jonah, We came across your creations and are in awe! Here are some additional supplies to help you keep #DeliveringSmiles with your work — hope you enjoy and crochet away. Cheers, your friends at Amazon."
Reaching record status on lacrossetribune.com, with 215,000 page views, more than 183,000 Facebook reads, and bringing 145,000 new visitors to the Tribune website, Jonah's story caught the attention of CBS News, National Public Radio, Martha Stewart Living, "Good Morning America," USA Today, and the "Pickler and Ben" talk show, which flew Jonah to Nashville and happens to be one of his favorite TV shows.
So inundated with media requests he had to turn down the "Ellen DeGeneres Show," and Jonah even made the cover of a newspaper in the Netherlands, headline "Wereldster in Haken," which translates to "World Star in Hooks," as well as being featured in papers in India, Mexico and Brazil.
To date, Jonah has done 50 interviews — up to three a day — with People and Women's World magazine scheduled to Skype with him this week.
"I manage it all day long," said Jonah's mom, Jennifer, who had, fortuitously, resigned from her job at Gundersen Health System shortly before Jonah's fame exploded.
After more than 3,500 orders poured in, the mother of the Lincoln Middle School sixth-grader was forced to send out a form letter suspending new orders, thanking clamoring customers for their patience as Jonah attempts to catch up on his crocheting — he stops at 10 orders a week —all the while balancing school, family and media.
"We haven't accepted them all," Jonah said of the influx of orders. "Obviously, I only have two hands."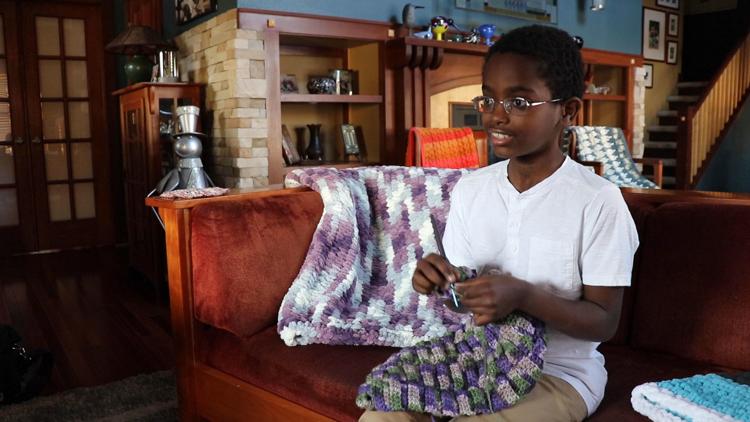 The young crochet prodigy is surprisingly unfazed by the whirlwind of fame and fans. He's kept up in school, still finds time to crochet items to keep (he made himself two blankets, draped over the living room couch, during recent snow days) and follows his parent's rule that family and school always come first.
Jonah's siblings, Jennifer says, have reacted with enthusiasm rather than jealousy, with older brother Leif helping with Jonah's YouTube videos, where he "unboxes" the packages from admirers and talks about the colors and textures of the yarn inside, and younger sister Mercy winding yarn for Jonah's creations. Dad Christopher, Jonah says, "is my hat model, and my mom is my agent." 
Classmates, Jonah adds, have been "supportive and excited and I'd say proud really." He has forged friendships with people around the globe, a favorite with an older woman in New Zealand who reads stories to Jonah and Mercy over FaceTime. 
"Crochet is a way to keep all of us connecting," Jonah said. "Name a country, and I'll have a friend from there."
A book deal was perhaps inevitable, and after fielding offers from publishers in New York City, Jennifer and Jonah decided to sign with KWiL Publishing in Milwaukee, an independent press of "read-it-again-worthy books for kids." Jonah, in collaboration with Jennifer, has already penned the first draft of the combination picture book/autobiography, titled "Hello, Crochet Friends! Making Art, Being Mindful, and Giving Back: Do What Makes You Happy" and featuring photos by Erin Harris of Milwaukee. The book will be the debut publication from KWiL's new imprint, Rock Star Kids, with a cover reveal and preorders in March and a release date of July 23.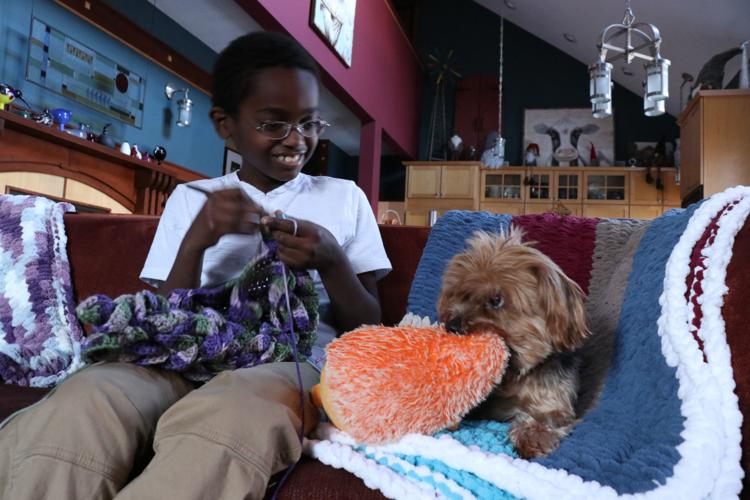 "It is a special thing," Jennifer said. "It's always been a special relationship — Jonah likes to crochet by me. I think it's perfect we're writing it together."
The book will chronicle Jonah's birth in Ethiopia, where the infant was found by a trail, wrapped in a banana leaf, his mother unable to care for him but hoping he would be found. Malnourished, Jonah was brought to an orphanage and adopted by the Larsons, who were able to bring him home at 6 months of age. The book transitions into Jonah's introduction to crochet, his process and how the fiber art has changed his life, serving not only as a creative outlet but a way to calm his "busy mind" during times of restlessness. Included will be a pattern inspired by Jonah's very first crochet project, a dishcloth. 
"This is a really big book for us — we're really honored to be publishing it," says Abby Nies, founder of KWiL. "Part of his appeal is he is so inspiring to all generations, including kids. He has incredible talent, an incredibly positive outlook on life and a desire to give back. His story is exactly the kind of story we like to tell and want to get into kids' hands. This book will just enhance Jonah's ability to reach young people and change lives. It's something all of Jonah's crochet friends and the crochet community will treasure."
It's something Jonah will treasure as well, saying, "It's going to be nice to think back when I'm older and see a book that says 'Author: Jonah Larson.'"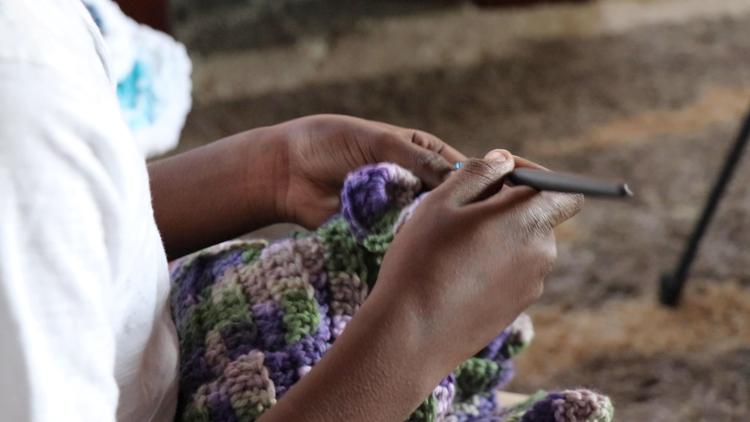 Giving back is a priority for Jonah, who, in addition to "investing in retirement" is using some of his proceeds to treat his family to dinners out and crocheting items to be auctioned by Roots Ethiopia. His handiwork has brought in about $450 for the organization, which supports the orphanage that cared for Jonah. 
Coming next for Jonah is a partnership with Yarnspirations, which will fly him out for appearances at Michaels and JOANN Fabrics and Crafts stores around the U.S., and the University of Wisconsin-Madison has arranged for aspiring surgeon Jonah to visit in April to learn about surgery and robotics. Jonah has also been approached by a few celebrities and clothing lines for endorsements or collaborations, Jennifer says, but details are still under wraps.
The fame has been fun, but for Jonah it has been, and always will be, about his love for fiber art. And for Jennifer, it's the people, not the press, that means the most.
"When I read the comments," Jennifer says, "I hear his love for crocheting and his beautiful creations have brought joy in a time when people need it."  
Get local news delivered to your inbox!
Subscribe to our Daily Headlines newsletter.