Three signs proclaiming "Your Life Matters" that are posted on and around Grandad Bluff are intended to encourage anyone contemplating taking his own life to pause and seek help instead.
The white, yellow and blue signs, which also say, "For help, call 211 or text 741741," are a new effort of the La Crosse Area Suicide Prevention Initiative to propose hope and help as alternatives to suicide, said Jaimie Basina, a La Crosse County social worker and crisis responder who is a member of the initiative's committee for the sign and billboard project.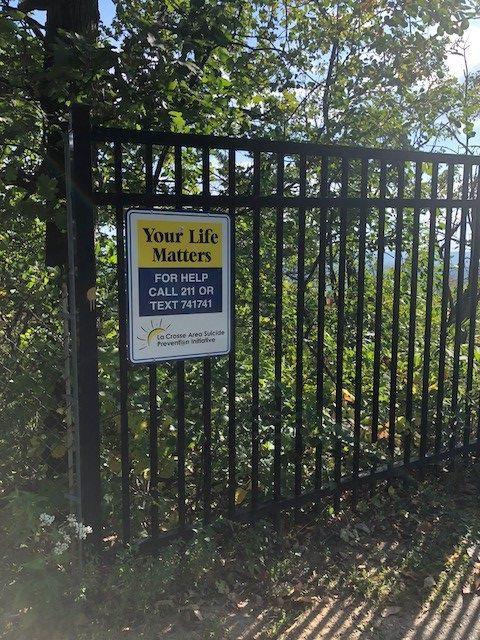 "We put them on Grandad Bluff based on previous (crisis) calls and general locations where people go over the fence," Basina said.
"A lot hang out on the ledge, and some people are partying, but some might be contemplating taking their own life," Basina said.
The initiative, which asked the city's parks commission in February for permission to put up the signs, also ended up with the new, unofficial slogan of "Your Life Matters," Basina said. Previously, it had gone with the mantra for its original goal of "Raising Awareness and Hope in the Community," which it still uses.
One sign, atop a post, is near a gravel parking area where many people begin walking on trails, another is attached to a fence in the center of the park where many go over the fence and another is off the beaten path in an area people are known to frequent, she said.
The initiative, which also has a "Your Life Matters" billboard campaign, plans to put a sign on the Cass Street Bridge, too, Basina said. Granted the city's OK, the group now has to determine where and how to attach it, she said.
Even though signs may not deter everyone contemplating suicide, they are worth the effort, she said.
"My philosophy is that the same thing will not work for everybody," she said. "Some might respond to a friend, some might require reaching out. But until we exhaust all options, we'll never give up."
La Crosse County suicide numbers, which hit a record 26 in 2014, dropped to 22 in 2015 and 17 in 2016 before rising to 20 last year, according to the medical examiner's office. So far this year, the number of people who have taken their own lives is 12. All are men, and none is a teenager, according to the ME's office.
---
Get local news delivered to your inbox!
Subscribe to our Daily Headlines newsletter.