Badly made fake license plate leads to arrest, and more of this week's weirdest news
Here's a look at the stranger side of news from the past week.
Badly made fake license plate leads to arrest in California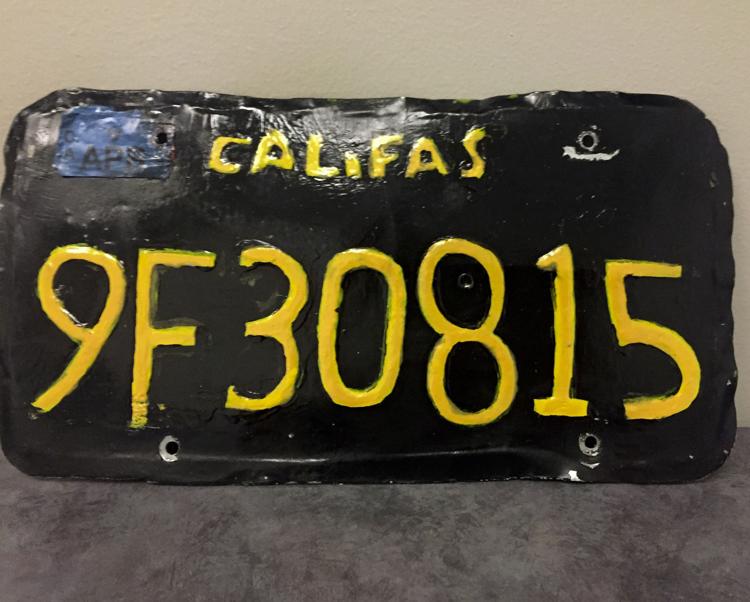 MOORPARK, Calif. (AP) — A big-rig truck driver has been arrested after authorities spotted a phony license plate on his rig.
Well, the Ventura County Sheriff's Department says the 1960s-style yellow-on-black plate had wobbly letters and numbers. Also, instead of "CALIFORNIA," it read "CALIFAS."
The department said Monday that a motorcycle officer spotted the plate and pulled the driver over in the city of Moorpark, northwest of Los Angeles.
The driver was arrested on suspicion of driving under the influence of drugs, possessing methamphetamine, being an unlicensed driver and having an active arrest warrant.
The tractor-trailer was towed away because authorities say it was unsafe.
Perfectly preserved head of Ice Age wolf found in Siberia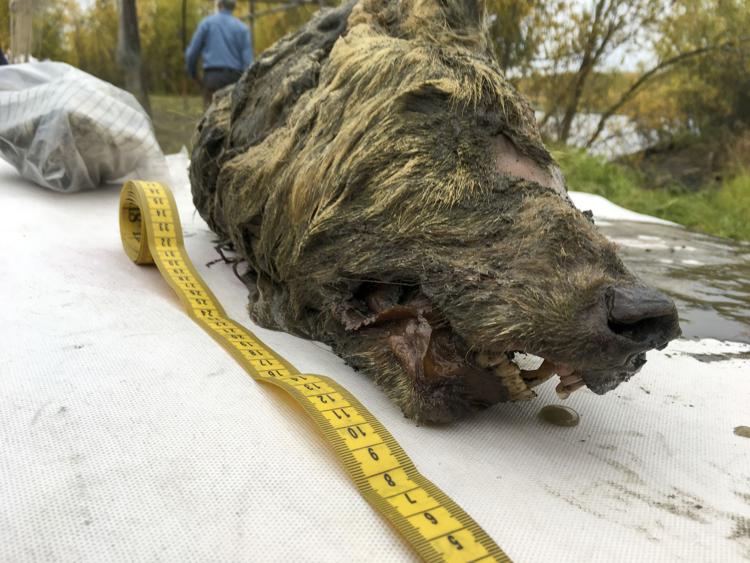 MOSCOW (AP) — Russian scientists have found the furry head of an Ice Age wolf perfectly preserved in the Siberian permafrost.
The head of a wolf, which died 40,000 years ago, was discovered in the Russian Arctic region of Yakutia.
Valery Plotnikov, a top researcher at the local branch of the Russian Academy of Sciences, said the animal belonged to an ancient subspecies of wolf that lived at the same time as the mammoths and became extinct alongside them. Scientists said it was an adult, about 25% bigger than today's wolves, but did not say whether it was male or female.
Plotnikov called the discovery unique because scientists previously only had found wolf skulls without tissues or fur, while this head has ears, a tongue and a perfectly preserved brain.
Snake in the pantry: Ballwin woman finds python in kitchen cabinet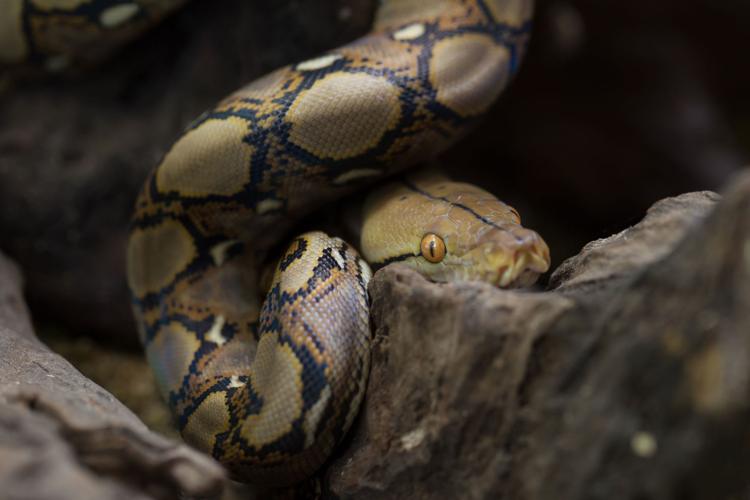 BALLWIN • Nobody quite knows how the python ended up in the pantry. 
But a St. Louis County woman got a rude awakening last week when she returned from vacation and discovered an 18-inch snake curled up in the corner of her kitchen cabinet.
The woman first reported her snake discovery about 11 a.m. June 2 at the Kensington West apartments in the 200 block of Sweetcreek Lane in Ballwin.
"She was definitely not one who likes snakes I can say that," said Ballwin police officer Scott Stephens. "But I guess who would want a snake in their kitchen?" 
Officers arrived and were soon able to wriggle the reptile into a pillow case, Stephens said. St. Louis animal control officers came to the apartment, identified the snake as a python and took it away. 
But the mystery of the pantry snake remains. 
"We really don't know how it got there," Stephens said. "But we think it was probably someone's pet."
The officers knocked on doors in the complex asking if anyone had lost a python, but no one reported a missing snake.
"We were definitely happy to be able to get rid of it safely and quickly," Stephens said. "Police officers end up doing these weird animal calls more than you would think."
Thai vets nurture lost baby dugong with milk and sea grass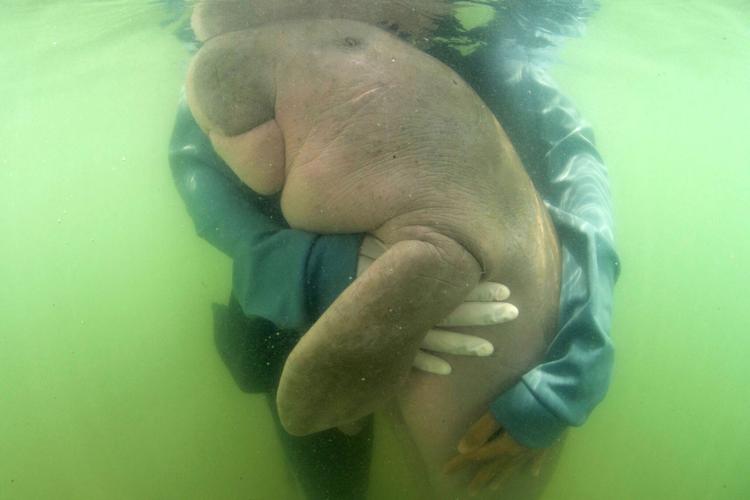 BANGKOK (AP) — A baby dugong, a large ocean mammal, that has developed an attachment to humans after being separated from its mother and getting lost off southern Thailand is being nurtured by marine experts in hopes that it can one day fend for itself.
The estimated 5-month-old female dugong named Marium has become an internet hit in Thailand after images of marine biologists embracing and feeding it with milk and sea grass spread across social media.
The dugong is a species of marine mammal similar to the American manatee and can grow to about 3.4 meters (11 feet) in length. Its conservation status is listed as vulnerable by the International Union for the Conservation of Nature.
Marium was spotted alone near a beach on Ko Poda island in Krabi province in April. Officials later tried to release it into a dugong habitat off the coast of another island but it swam away.
Veterinarians and volunteers set out each day in canoes to locate Marium near the dugong habitat off Ko Libong island. It does not swim with the herd and usually comes straight to them, then follows them into shallower water, where it is fed milk and sea grass, similar to her natural diet, for up to 15 times a day while also receiving health checks.
Marium's caretakers believe it has formed a bond with humans but is also drawn to the shape of the underside of canoes, perhaps seeing it as a mother substitute.
"She's attached and tries to swim and cling to the boat as if it was her mother and when we are swimming she would come and tuck under our arms. It's almost like the way she would tuck under her mother," said Nantarika Chansue, director of the Aquatic Animal Research Center of Chulalongkorn University's Faculty of Veterinarian Science, who advises Marium's caretakers.
"So I think it's not only humans but anything that looks like another dugong that she would be attached to," Nantarika said.
Marium has attained fame on social media, and images of it bonding with its human guardians have been widely published by Thai media. It also attracts crowds on Libong island, where its feeding is often watched by scores of people crowding the seashore.
Veterinarians say they need to continue looking after Marium for at least another year until it can be weaned off of bottled milk, after which they hope it will be able to look after herself without their help.
Nantarika said dugongs typically stop feeding on milk at around 18 months and usually spend around eight years under their mothers' care. She said Marium would have to be trained later to detach herself from humans but, at this point, the emphasis should be on her survival.
—By JERRY HARMER and PITCHA DANGPRASITH, Associated Press
Snake stows away in bag for trip to Hawaii from Florida
HONOLULU (AP) — A snake stowed away in a man's bag and remained undetected until it completed the trip from Florida to Hawaii, officials said.
The southern black racer snake slithered out of the man's backpack when he arrived on Maui Monday, KGMB-TV reported Wednesday. Snakes have no natural predators in Hawaii and pose a threat to Hawaii's native species.
The 20-year-old Virginia man was not aware of the animal until it emerged after he arrived at a vacation rental property in the community of Pukalani, the U.S. Department of Agriculture said.
The non-venomous snake measured about a foot (0.3 meters) long and a quarter-inch (0.63 centimeters) in diameter, officials said.
The property owner told the visitor that snakes are illegal in Hawaii and alerted police, who captured the snake along with state Department of Land and Natural Resources personnel.
The man said he did not intentionally bring the racer snake when he traveled from Florida, where the species is common and can grow up to 6 feet (1.8 meters) in length.
The snake is expected to be transferred to Oahu, officials said.
Owning or knowingly transporting illegal pets is a felony in Hawaii punishable by a $200,000 fine and up to three years in prison.
Visitors may not understand "the threat that snakes pose to our community and our unique environment," said Phyllis Shimabukuro-Geiser, chairperson of the Hawaii Board of Agriculture.
"It is fortunate that the owner of the rental was aware of the seriousness of the snake being transported to Hawaii and took appropriate action and reported it," Shimabukuro-Geiser said.
New Mexico city famous for UFO event trademarks new logo
ROSWELL, N.M. (AP) — A New Mexico city known for its proximity to arguably the most famous UFO event in the United States has trademark protection for its alien-inspired logo.
The city of Roswell said Tuesday it received its requested trademark certification from the New Mexico Secretary of State's Office.
The trademark will be in effect for 10 years and can be renewed when it nears expiration.
Officials say the logo is protected from unauthorized use by other entities or individuals. That will ensure it remains unique to Roswell, providing an identifiable graphic that people will associate with the city.
The site of a supposed UFO crash in 1947, Roswell has an annual extraterrestrial festival that draws thousands.
120 whoopie pies are missing after fairground booth break-in
SKOWHEGAN, Maine (AP) — Apparently hungry and thirsty vandals have trashed a fairgrounds booth in Maine, stealing 120 whoopie pies and drinking half a gallon of iced tea.
John Youney, a director of the Skowhegan Lions Club, tells the Morning Sentinel that a refrigerator full of cookies was also emptied and that plastic gloves and silverware littered the floor.
Youney says there's about $1,000 worth of damage or stolen goods.
The group discovered the break-in at their Skowhegan fairground booth Sunday morning and believes it occurred overnight Saturday.
Youney says whoever is involved can confess and work off their crime by assisting the club with its volunteer work.
A police officer said he could not comment on the investigation.
Connecticut town bans flip-flops at work
GREENWICH, Conn. (AP) — A Connecticut town has barred municipal employees from wearing slide sandals or flip-flops to work.
Mary Pepe, director of human resources in Greenwich, tells the Greenwich Time the policy that took effect June 1 was not made in response to a specific incident, but to create safer conditions and avoid accidents that can result in injuries, absences and workers' compensation claims.
Megan Damato, the town's director of risk management, says flip-flops or slide sandals can be a tripping hazard.
Pepe says she's heard from several workers supporting the policy, but so far there have been no formal complaints.
There are exceptions. The policy does not apply to lifeguards, staff at town-run camps or swim instructors. Sandals that close around the back of the foot or around the ankle are permitted.
Deputies: Alligator bit off piece of patrol car in Louisiana
MOORINGSPORT, La. (AP) — Sheriff's deputies in Louisiana say an alligator took a bite out of one of their patrol cars.
WBRZ-TV reports deputies were called Monday to Louisiana Highway 1 in Caddo Parish after someone spotted the gator in the middle of the road.
The sheriff's office says deputies were waiting for wildlife removal experts to arrive when the alligator chomped off a piece of the front bumper. Deputies estimate the alligator was 8 feet (2.4 meters) long.
A photo from the Caddo Parish Sheriff's Office Facebook page shows the reptile in grass next to what appears to be the black rectangular grill of the car.
Authorities say the gator escaped before the wildlife removal experts arrived.