Really bad drivers, angry wasps and 43 bales of pot floating off the California coast — here's a look at the stranger side of news from the past week.
Raccoon freed after being trapped in vending machine
DELTONA, Fla. (AP) — Police say a raccoon trapped in a vending machine at a Florida high school is now free.
Volusia County Sheriff's spokesman Andrew Gant says a deputy stationed at Pine Ridge High School was notified of the trapped raccoon Wednesday and called animal control for assistance. A vending machine operator was also contacted to unlock the door.
They rolled the vending machine to an open area of the school and after about two hours the raccoon was set free.
A photo on the sheriff's Facebook page shows the raccoon making itself comfortable in between snacks.
Sheriff's officials joked that the "gentleman" was apprehended for burglary of a vending machine.
Florida man arrested for threatening others with nunchucks
DAYTONA BEACH, Fla. (AP) — Police say they've arrested a Florida man who's accused of threatening his neighbors with nunchucks and bug spray before cutting his own head when he accidently hit himself with the weapon.
Daytona Beach police spokesman Messod Bendayan says 61-year-old Larry Adams complained about his neighbor's loud music coming from a car in the parking lot of their Daytona apartment complex.
Police say Adams sprayed four of his neighbors with roach spray and swung his nunchucks in a threatening manner and hit himself.
Adams is charged with aggravated assault and battery with a deadly weapon. Volusia County jail records don't list a lawyer for Adams.
Neighbor Cici Sylvester tells WOFL she was surprised Adams used a bug spray since she was not a roach.
Bear falls on Northern California patrol car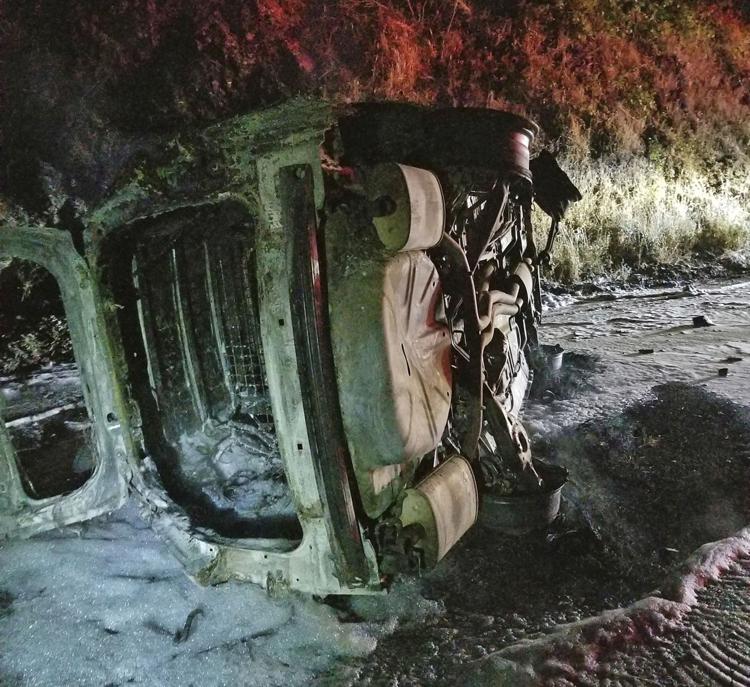 HOOPA, Calif. (AP) — They probably don't train people for this at the Sheriff's Academy.
A patrol car was struck by a falling bear in Northern California last weekend.
Authorities say a Humboldt County sheriff's deputy was driving on State Route 96 on Aug. 3, answering a report of a drug overdose in the community of Orleans, when the bear fell or jumped onto the car, apparently from a steep embankment.
The bear smashed the hood and windshield. The patrol car hit an embankment, rolled onto its side and burst into flames.
The deputy managed to escape without serious injury.
The fire was contained to about half an acre but the car was gutted.
However, the California Department of Transportation stated: "Don't worry, the bear also fled the scene."
Heinz offers to help reformed 'Ketchup Thief'
LACEY TOWNSHIP, N.J. (AP) — Heinz is offering to help a person who fears that the theft of a bottle of ketchup has led to bad luck.
The thief took a bottle from a New Jersey restaurant. But when the person got into a car accident and experienced other misfortunes, he or she returned two bottles to the eatery, with a note of apology. The note said the theft of the ketchup was the worst thing the person had ever done, but he or she was seeking to do something "risky."
Reformed Ketchup Thief, We get it, Heinz makes you do crazy things. In honor of your good Ketchup Karma, we'd love to help you with your car damages. DM us. We'll keep your identity top secret.

— Heinz Ketchup (@HeinzKetchup_US) August 7, 2019
Heinz offered on Twitter to pay for the damage from the car accident if the thief contacted the Pittsburgh-based company.
The company said: "Heinz makes you do crazy things."
Heinz posted Friday that it found the person whose identity it has promised to protect.
Angry wasps help German police nab fleeing fugitive
BERLIN (AP) — A fugitive in Germany has been nabbed thanks to the help of angry wasps.
Oldenburg police said the unusual sting operation took place Monday after officers tried to arrest a 32-year-old man to serve an outstanding 11-month custodial sentence.
The suspect, whose name wasn't released, fled from police and jumped from a balcony straight into a wasps' nest.
The irate insects attacked the man, prompting him to run onto the street. Officers tried to apprehend him there, only to be attacked by wasps themselves.
The suspect managed to break free but with wasps in hot pursuit chose to jump into an inflatable pool, where he was arrested.
Man's false teeth stuck in his throat during surgery; it was 8 days before anyone noticed
A 72-year-old's false teeth got stuck in his throat during surgery and weren't discovered for eight days, doctors have said.
The man was having surgery to remove a harmless lump in his abdominal wall, but the operating team neglected to take out his dentures before the operation.
He returned to the hospital six days later complaining of blood in his mouth and difficulties breathing and swallowing, which had prevented him from eating solid food.
Ultimately, more surgery was needed to resolve the problem, which was revealed in a case report published by the British Medical Journal on Monday. Lead author Harriet Cunniffe, from James Paget Hospital in eastern England, is calling for surgeons to ensure dentures are removed from patients before an operation.
During the patient's first return to the emergency room, doctors were unable to diagnose the problem, and the unnamed man was sent home with a prescription for mouthwash, antibiotics and steroids.
But he returned two days later with worsening symptoms and was admitted to the hospital with suspected aspiration pneumonia — a severe chest infection.
Eventually a diagnostic procedure identified a semicircular object lying across his vocal cords, which had caused internal blistering and swelling.
The man, who said he had lost his dentures during his initial visit to the hospital, was subsequently rushed into surgery to remove the false teeth. He remained in the hospital for another six days.
He returned suffering complications on multiple occasions over the following month, before eventually healing.
The authors of the study wrote: "There are no set national guidelines on how dentures should be managed during anaesthesia, but it is known that leaving dentures in during bag-mask ventilation allows for a better seal during induction (when the anaesthetic is being infused), and therefore many hospitals allow dentures to be removed immediately before intubation (when a tube is inserted into the airway to assist breathing)."
"In addition to reminding us of the risks of leaving dentures in during induction of anaesthesia when the Swiss cheese model of errors aligns, this case also highlights a number of important learning points," they added.
"The first is to always listen to your patient. It has long been known that one gets the majority of the information needed to form a diagnosis based on the patients' history."
50 old TVs mysteriously appear on neighborhood's porches
RICHMOND, Va. (AP) — Police in Virginia say more than 50 television sets have been mysteriously placed on front porches in a neighborhood outside Richmond.
Henrico County police Lt. Matt Pecka said residents found older model televisions outside their front doors Sunday morning. He told the Richmond Times-Dispatch that video from one doorbell camera showed a person wearing TV-shaped headgear while dropping off a TV set.
Police believe that more than one person is responsible. A similar incident occurred in a nearby neighborhood last year.
It's unclear if the incident is a crime. Pecka said that dropping off the televisions on front porches is "at most" illegal dumping.
Most of the TVs will be recycled. But a couple residents indicated they would keep their televisions for now.
Coast Guard finds 43 bales of pot floating off California
AVALON, Calif. (AP) — Authorities have found 1,300 pounds (590 kilograms) of plastic-wrapped marijuana floating in the ocean near Santa Catalina Island off the Southern California coast.
The Daily News reports Wednesday that the U.S. Coast Guard acting on a tip discovered 43 bales of pot worth about $1 million.
The marijuana was delivered to U.S. Customs and Border Protection.
Federal officials are investigating where it came from.
Trooper finds parked driver playing Pokemon Go on 8 phones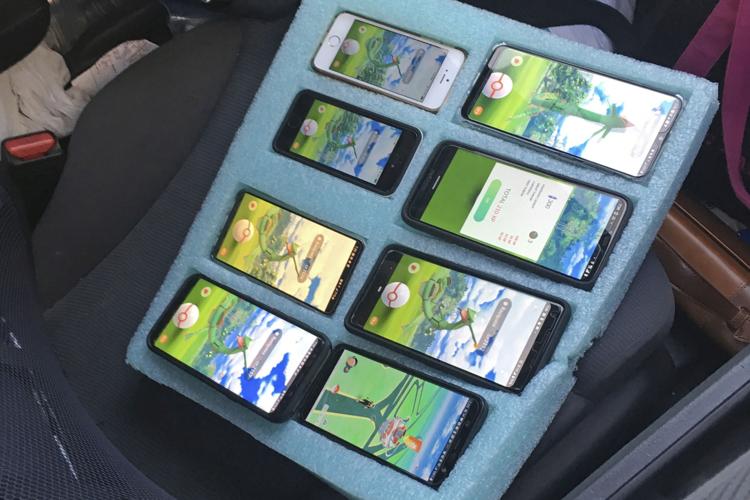 BURIEN, Wash. (AP) — A Washington state trooper who pulled over to help what he thought was a disabled vehicle found something else instead: The driver had eight phones simultaneously playing the video game Pokemon Go.
The driver was stopped on the shoulder of Highway 518 in Burien, south of Seattle, on Tuesday evening.
The agency tweeted a photo showing a blue foam square, with the phones sitting in eight rectangular cutouts.
Trooper Rick Johnson is a spokesman for the patrol and said Sgt. Kyle Smith did not issue a ticket because he did not observe the car moving while the driver was using the phones.
But Smith asked the driver to put the phones in the back seat and move along, because stopping on the shoulder is for emergencies only.
Driver escapes with minor injuries after wedging car by wall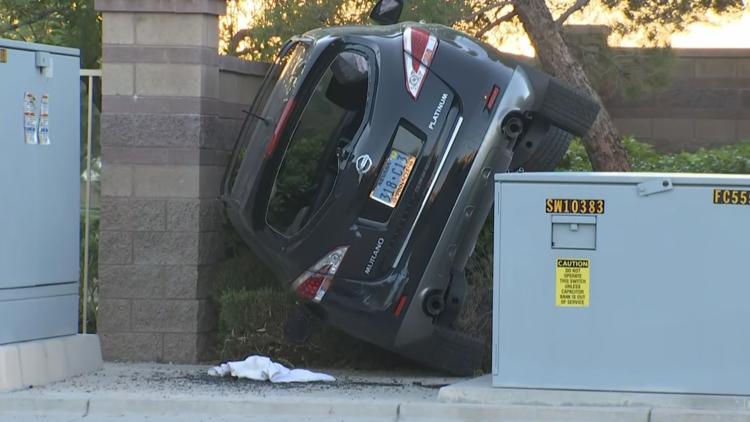 LAS VEGAS (AP) — Las Vegas police say a driver escaped with minor injuries after a crash that left the driver's SUV wedged between a wall and a power box.
Las Vegas Metropolitan Police Lt. Bill Steinmetz says the crash occurred early Thursday when the driver lost control of the car, driving it onto a sidewalk and hitting a tree, which flipped the vehicle.
KVVU-TV reports no pedestrians or other cars were involved and the SUV driver had no passengers.
Steinmetz says the driver was taken to the hospital with minor injuries.