A life-threatening cold spell began to ease its grip on the northeastern United States on Saturday, but only after a new national windchill record was set in New Hampshire.
The record was set at Mount Washington Friday night when it felt like minus 108° F thanks to a temperature of minus 46° F and wind gusts of 127 mph.
Wind chill records are not historically tracked as closely as temperature records, but the mark would beat what most meteorologists believe to be the US record (minus 105° F in Alaska). The prior record for Mount Washington was minus 102.7° F in 2004.
Early Saturday, about 15 million people in the United States were under wind chill alerts, but that number dropped to less than 1 million by midday as the extreme cold began to wrap up. The majority of the remaining wind chill alerts will end by 7 p.m. ET Saturday as temperatures begin to stabilize and winds die down.
Temperatures will rebound 5 to 10 degrees above normal on Sunday.
Several daily low-temperature records were set across portions of the Northeast on Saturday morning, according to local National Weather Service offices.
Boston hit a morning low temperature of minus 10 degrees Saturday morning, breaking its previous daily record of minus 2 degrees. The weather service also tweeted that it is the first double-digit negative temperature recorded since 1957.
Worcester, Massachusetts, hit minus 13 degrees beating the previous daily record of minus 4. Providence, Rhode Island, recorded minus 9 degrees beating the previous daily record of minus 2. Hartford, Connecticut, hit minus 9 degrees, beating the previous daily record of minus 8.
Government leaders urged people to stay inside if at all possible.
"Our state is facing dangerously cold temperatures & extreme wind chills today & tomorrow," Gov. Kathy Hochul said Friday morning on Twitter. "We are coordinating with local officials to ensure they have what they need to keep New Yorkers safe. Please limit time outdoors, wear layers, & use caution with alternative heat sources."
departure from average temperature
Northern Maine feels the freeze
The dangerously cold winds are descending on the region from Canada, putting entire states at risk. The worst impacts are expected in northern Maine — where about 70,000 people in Penobscot and Aroostook counties are under blizzard warnings through Saturday evening, according to the National Weather Service.
"Ground blizzard conditions in heavy blowing snow are expected today through Saturday across open areas. Please to not drive if you don't have to!" the weather service in Caribou, Maine, said.
Maine State Police shared photos of deteriorating road conditions in Aroostook County on Friday and warned drivers that any area across the state with open fields and snow can expect periods of "blinding whiteouts."
"One of the beauties of the County is (its) open fields and views but on days like this they become a hazard. Drive safe. What looks like safe and normal driving conditions quickly deteriorate into almost zero visibility stretches of roadway," Maine State Police said in a Facebook post.
In addition to the blizzard conditions, parts of northern Maine on Friday night felt as cold as minus 69 degrees, with many other areas seeing their winds feel as bitterly cold as between minus 35 degrees to minus 50 degrees, according to the weather service in Caribou.
The local weather service also reported some power outages in Maine, where water inside trees froze, expanded and caused trees to snap and knock down power lines — though impacts did not appear extensive or widespread Friday.
Freezing temperatures this week have not only affected the Northeast. Farther south, severe cold weather also led to ongoing power outages across Texas and Arkansas as an ice storm lashed the region, killing at least eight people.
About 130,000 homes and businesses in Texas were still in the dark early Saturday stemming from multiple rounds of ice, sleet and freezing rain that made roads deadly and weighed down trees, also causing them to break and take down power lines. In Arkansas, more than 36,000 homes and businesses were experiencing outages early Saturday, according to the tracking site Poweroutage us.
Aid to those experiencing homelessness
Amid the ongoing dangerous cold in the Northeast, New York City issued a "cold blue" Friday evening, the city's Department of Homeless Services said on Twitter.
The designation generally indicates temperatures have reached an extremely low threshold that requires them to make resources available to the public. Under that code, people may use the city's homeless shelter system on an emergency basis and directs New Yorkers to report people on the street as a safety measure.
"No one who is experiencing homelessness and seeking shelter in New York City during a Code Blue will be denied," a spokesperson for the department said.
New York City is forecast to see single-digit temperatures, with the coldest point coming Saturday morning at 8 degrees and winds could feel as cold as 7 degrees below zero.
"Homeless outreach teams will be talking to any New Yorker on the street and offering them warm shelter," the city said Friday in a tweet.
In Erie County — home to Buffalo — officials also issued a "code blue" and opened three overnight shelters in the county and daytime warming centers.
Warming centers have also opened across Connecticut, Maine, New Hampshire, Rhode Island, Massachusetts and Vermont, officials said.
In New Hampshire, where the coldest winds could feel as low as 40 degrees Fahrenheit below zero, Cannon Mountain Ski Resort in Franconia and Wildcat Mountain in Gorham have closed due to the severe cold, according to their Facebook pages.
Similarly, several ski areas turned away customers and shut down operations in Vermont on Friday.
Beyond Phil: Other rodents that purport to 'predict' weather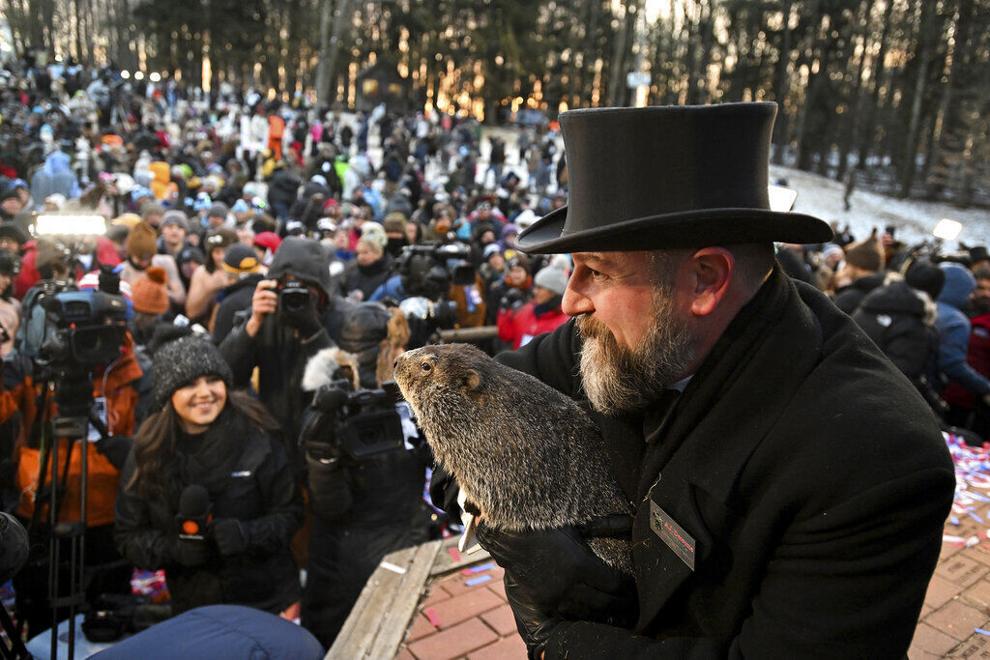 Rodents predicting weather trends. Why?
Just as fair a Groundhog Day question, though, is this: Why not? And more importantly, why should Punxsutawney Phil always get to, well, hog the press?
The spring-heralding (or spring-delaying) small animal has taken firm root in some swaths of American culture. And while Phil and his Pennsylvania ilk are the most celebrated, there is an astonishingly broad selection of other critters who have felt the need (or, at least, their handlers have) to put reputations on the line to "predict" meteorology in the dead of winter. Here we offer just a few.
Before we take a look, pause for a moment to remember one particular groundhog of yore — Charlotte, a stand-in for Staten Island Chuck, who predicted six more weeks of winter in 2014 before being famously dropped by then-New York City Mayor Bill DeBlasio and dying a week later.
Do take aboard a disclaimer, though. This is merely a smattering of groundhoggery, offered up in no particular order. Please don't be offended if your animal isn't included. Maybe next year.
JIMMY THE GROUNDHOG, Wisconsin: Caused controversy in 2015 after biting the mayor of Sun Prairie on the ear.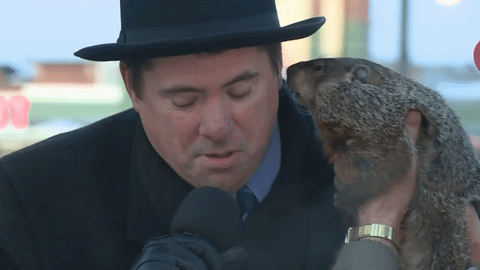 MILLTOWN MEL, New Jersey: Event got caught up in problems with state law this year after the previous prognosticator expired.
WOODSTOCK WILLIE, Illinois: Saw his shadow Thursday. Site of where the best-ever PR around the day — the 1993 movie "Groundhog Day" — was filmed.
OCTORARO ORPHIE, Pennsylvania: Predicts from a home base in Quarryville in Lancaster County, Pennsylvania. Because of Pennsylvania Dutch folklore, which helped give birth to the Groundhog Day tradition, that region has several on the job, including Mount Joy Minnie and Dover Doug.
Well…that's one way to celebrate Groundhog Day!

I am in Lancaster County and the Slumbering Lodge's groundhog, Octoraro Orphie, predicts…spring is right around the corner!@fox43 pic.twitter.com/Rpshz3VpPX

— Tyler Hatfield (@tylerhatfieldtv) February 2, 2023
STATEN ISLAND CHUCK, New York: Longtime predictor in the New York City borough. This year, the current mayor didn't attend.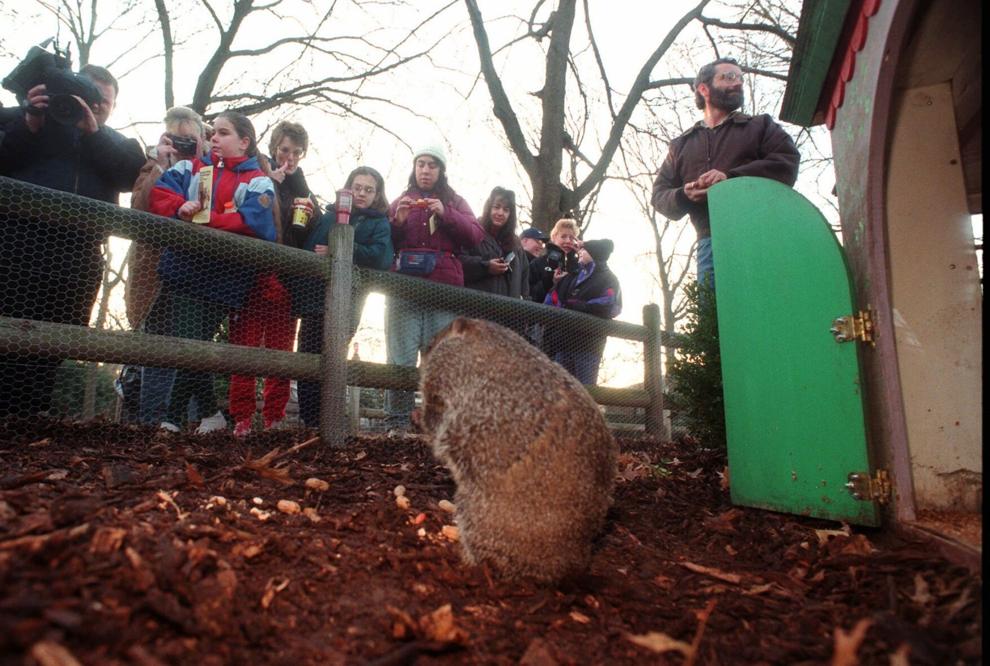 BUCKEYE CHUCK, Ohio: Another Chuck, this one further inland. This year, according to reports, the Chuck used publicly was a stuffed one after an animal-rights group objected to how a live one had been treated.
GEN. BEAUREGARD LEE, Georgia: Claims high accuracy rate. Contradicted Phil this year.