This week in odd news: UK town to burn Harvey Weinstein in effigy on Bonfire Night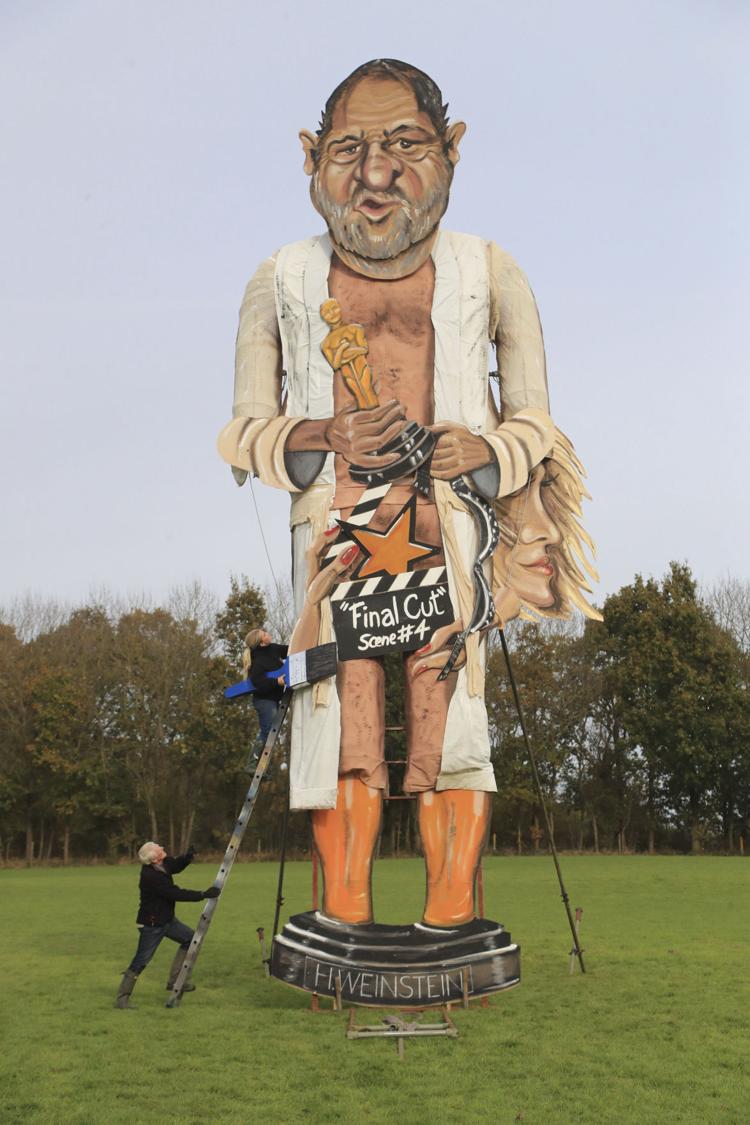 LONDON (AP) — A British town plans to burn a 36-foot (11-meter) effigy of Harvey Weinstein at its annual Bonfire Night celebrations.
Each year the Edenbridge Bonfire Society chooses a well-known figure to go up in flames alongside an effigy of 17th-century militant Guy Fawkes.
The society says the movie mogul was the obvious choice after many women made allegations of sexual harassment and assault against him.
The effigy unveiled Wednesday appears in a bathrobe, holding a Hollywood star and a clapperboard with "final cut" on it. It will be burned Saturday in the southern England town.
The society stressed while the event is light-hearted, there's "nothing funny" about the allegations.
Towns across Britain light bonfires and fireworks to commemorate Guy Fawkes' failed Nov. 5 Gunpowder Plot to blow up Parliament in 1605.
Man tries to open beer with pepper spray; it doesn't go well
BERLIN (AP) — It's legal to drink beer in German movie theaters — but it's probably not a good idea to try to open your beer bottle with a pepper spray canister.
However, that's exactly what a thirsty moviegoer tried doing at a cinema Monday night in the northwestern German town of Osnabrueck.
Instead of opening his beer, the 29-year-old man broke his pepper spray container and some 200 people had to quickly leave the theater in tears.
The cinema's manager told the German news agency dpa on Wednesday that it was "chaos." Still, he kept his head, calling police, offering beverages to moviegoers and opening the windows. He says the movie was restarted after 30 minutes.
Police say so far no moviegoers have complained about eye or breathing problems.
Called it: Sports Illustrated predicted Astros title in '14
LOS ANGELES (AP) — What jinx?
Sports Illustrated boldly predicted an Astros' World Series title on its cover in 2014 — after Houston had lost more than 100 games for three straight years — proclaiming: "Your 2017 World Series Champs." It featured a picture of George Springer in a bright Astros jersey.
It proved to be oh so prophetic. Not only did the Astros win, Springer was named Series MVP after boosting Houston over the Dodgers 5-1 in Game 7 on Wednesday night.
Sports Illustrated took a victory lap on Twitter, sending out an updated gif of the cover that shows Springer's uniform morphing from the throwback rainbow version to the orange tops they wore in Game 7. The tweet simply said, "Called it ..."
The SI cover has long been considered bad luck. Teams have flopped, athletes have been injured and some even died shortly after gracing the front page.
The magazine had a bit of a hedged bet in this Series, of course. It also ran a Dodgers cover this summer with the headline "Best. Team. Ever?"
Cops: Man pulls gun in Ohio after failing to get McMuffin
WARREN, Ohio (AP) — Police in Ohio say they're looking for a man who pulled out a gun after being told by a McDonald's drive-thru worker there were no Egg McMuffin sandwiches available.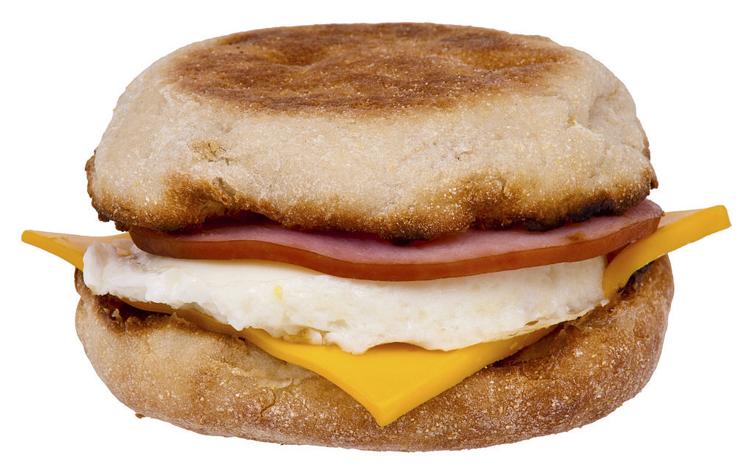 Police say the incident occurred shortly after 3:30 a.m. Wednesday at a McDonald's in Warren, about 60 miles (97 kilometers) southeast of Cleveland.
The worker told police that two men inside the car appeared to be around 20 years old. She said the driver called her a vulgar name after pulling out the gun and then cursed at her again before driving away.
Warren police hope to identify the men using surveillance video footage.
4-foot-long lizard found in Southern California backyard
RIVERSIDE, Calif. (AP) — A lizard that can grow to be 8 feet long has been found in Southern California, thousands of miles from its native land, and authorities think it's a pet gone astray.
The 4-foot-long crocodile monitor was spotted sunning itself on top of a hedge Wednesday afternoon in the backyard of a Riverside home.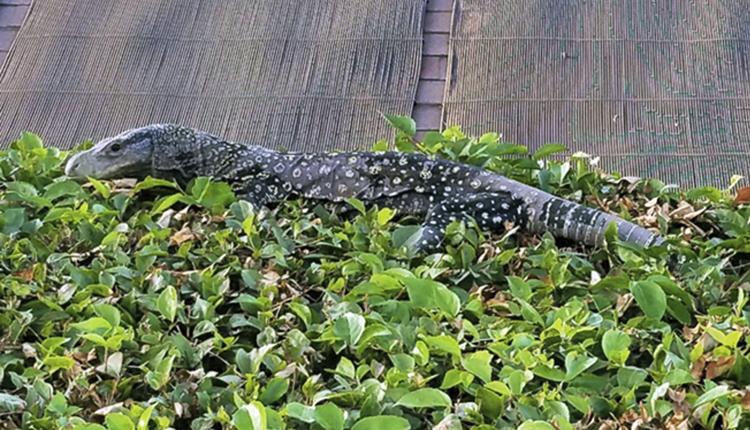 The crocodile monitor is a relative of the famous Komodo dragon. It's native to Papua New Guinea and Indonesia — not California — but it is legal to own them in the state.
It's green and yellow with big claws, a long tail and a forked tongue.
The big lizard is now being held by Riverside County's animal services division. If the owner doesn't claim it, the monitor will be sent to a sanctuary for exotic animals.
Germany bomb alert leads police to big zucchini
BERLIN (AP) — A worried resident in Germany alerted police to what he thought was a World War II bomb in his garden. Officers found ... a particularly large zucchini.
Police were summoned to the scene in Bretten, near the southwestern city of Karlsruhe, on Thursday morning by a worried 81-year-old man.
They said in a statement Friday that officers determined "the object, which really did look very like a bomb" was actually a 40-centimeter (nearly 16-inch) zucchini.
The offending vegetable, which was very dark in color, weighed about five kilograms (11 pounds). Police believe someone threw it over a hedge into the garden.
Unexploded wartime bombs are unearthed frequently during construction work in Germany, often forcing authorities to evacuate residents while they are defused.
Woman charged with stealing nuns' renowned cheesecakes
WHITE CREEK, N.Y. (AP) — New York State Police say they've charged a 48-year-old woman with stealing $250 worth of baked goods from an order of nuns known for their cheesecake.
Troopers say the theft occurred last month at the Nuns of New Skete (SKEET) monastery in the rural town of White Creek, on the Vermont border, 35 miles (56 kilometers) northeast of Albany.
The nuns sell their cheesecakes and pastries on the honor system at the monastery's unstaffed gift shop. Police say surveillance cameras caught two women taking merchandise without leaving money in the drop box.
Troopers say surveillance photos released earlier this week and social media postings of the images led to the arrest of a woman from North Arlington, Vermont. The other woman was identified as her 21-year-old daughter, who wasn't charged.
The cheesecakes sell for $49 and up.
Men seeking medical pot bombard gynecologist's office
ALTOONA, Pa. (AP) — A Pennsylvania gynecologist says she has been inundated with calls from men trying to set up appointments after hearing she was permitted to prescribe medical marijuana.
Dr. Liang Bartkowiak tells the Altoona Mirror she was mentioned in the media as being eligible to certify medical marijuana users, and then her office phone started ringing off the hook. It was primarily men on the line.
Bartkowiak tells the newspaper she was shocked, since she's an OB-GYN who treats women exclusively.
A 2016 state law gives people under a doctor's care access to medical marijuana if they suffer from an illness on a list of 17 qualifying conditions.
The law permits pills, oils, vapor or liquid marijuana, but not marijuana in plant form.
Doctors must certify the illness and patients must obtain an identification card from the Health Department.
Warrant: Impersonator arrested after pulling over officer
LOUISVILLE, Ky. (AP) — Officials say a Kentucky man pretending to be a police officer is facing charges after pulling over a real officer.
News outlets cited an arrest warrant in reporting that a Louisville police officer was driving his personal vehicle when 24-year-old Brandon Hurley began driving toward him Saturday with flashing lights and a honking horn.
The warrant says the officer pulled over and Hurley asked him if he knew how fast he was going.
When the officer identified himself as working for the Louisville police force, Hurley said he wouldn't write him a ticket and left the scene.
Police said the officer got Hurley's license plate number and he was arrested Tuesday on charges of impersonating a peace officer and wanton endangerment.
Jail records don't indicate whether he has an attorney.
What are the odds? Woman claims 2 lottery prizes on same day
RALEIGH, N.C. (AP) — She knows how to pick a winner.
Local media report that Kimberly Morris of Wake Forest scratched off two North Carolina lottery tickets on Monday, winning $1 million on one of the tickets and $10,000 with another.
Morris thought things were going well when she bought a ticket at a grocery store Monday afternoon and scratched off the $10,000 prize. She went to the lottery headquarters in Raleigh to claim her prize.
On the way home, she stopped and bought another ticket, and bingo! It was worth $1 million.
She chose to take the lump sum on the $1 million ticket, which was worth $417,012 after taxes.
Nurse delivers own baby in car outside of her hospital
MECHANICSBURG, Pa. (AP) — A Pennsylvania nurse put her expertise to work over the weekend when she went into labor and delivered her own baby in her car outside the hospital where she's employed.
Katie Michael says her water broke during evening rush hour on Oct. 27. The Mechanicsburg couple tells WPMT-TV she knew the baby was going to be born in that car while they were on the way.
She's a nurse at the Harrisburg hospital they were heading toward, and delivered the baby girl outside in her car while her husband George Michael ran inside for help.
Katie Michael says she works in various specialties and units in the hospital, but can now add "Labor and Delivery" to her resume.
The Michael family says baby Ella Katherine is happy and healthy.
Police: Michigan woman applies for job, then steals cash
ALPENA, Mich. (AP) — Authorities say it didn't take long for them to catch a woman suspected of stealing cash from a northern Michigan restaurant, since she'd just filled out a job application at the eatery.
Michigan State Police were told a 47-year-old Alpena woman filled out the application at Mandarin Garden in Alpena County this week, and then took money out of the cash register. WHSB-FM reports she was confronted by employees and fled, but police say they quickly found her at home.
She was arrested and is expected to face charges including larceny. The stolen money was recovered and returned to the restaurant.
University sets record for people dressed like penguins
YOUNGSTOWN, Ohio (AP) — An Ohio university has apparently set a world record for the number of people dressed in penguin costumes.
The Vindicator reports 972 Youngstown State University students, alumni and community members gathered on the school's campus Saturday in their best penguin finery to celebrate the school's 50th anniversary as a university.
Youngstown State's nickname is the Penguins.
Saturday's waddle of faux birds apparently broke a mark recognized by the Guinness Book of World Records when 624 people dressed as penguins gathered at a children's hospice in England in 2015
One of the organizers of Saturday's event said half of the participants were school alumni.
Headless 400-pound tuna found in woods
GLOUCESTER, Mass. (AP) — Spotting a 400-pound tuna in the Massachusetts seaport of Gloucester, known as America's oldest seaport, is not unusual. But finding a headless tuna in the woods is a bit odd.
State Environmental Police and federal fisheries regulators are trying to figure out who dumped the headless fish, which had to be hauled out of the trees by a tow truck.
Authorities won't say exactly when the tuna was found or who tipped them off.
But Ally Rogers, a spokeswoman for the National Oceanic and Atmospheric Administration Fisheries Office for Law Enforcement, tells the Gloucester Daily Times that the fish was illegally harvested.
The tuna season runs from early June to November.
Maj. Patrick Moran of the Environmental Police says he's never before had to investigate a tuna in the woods.