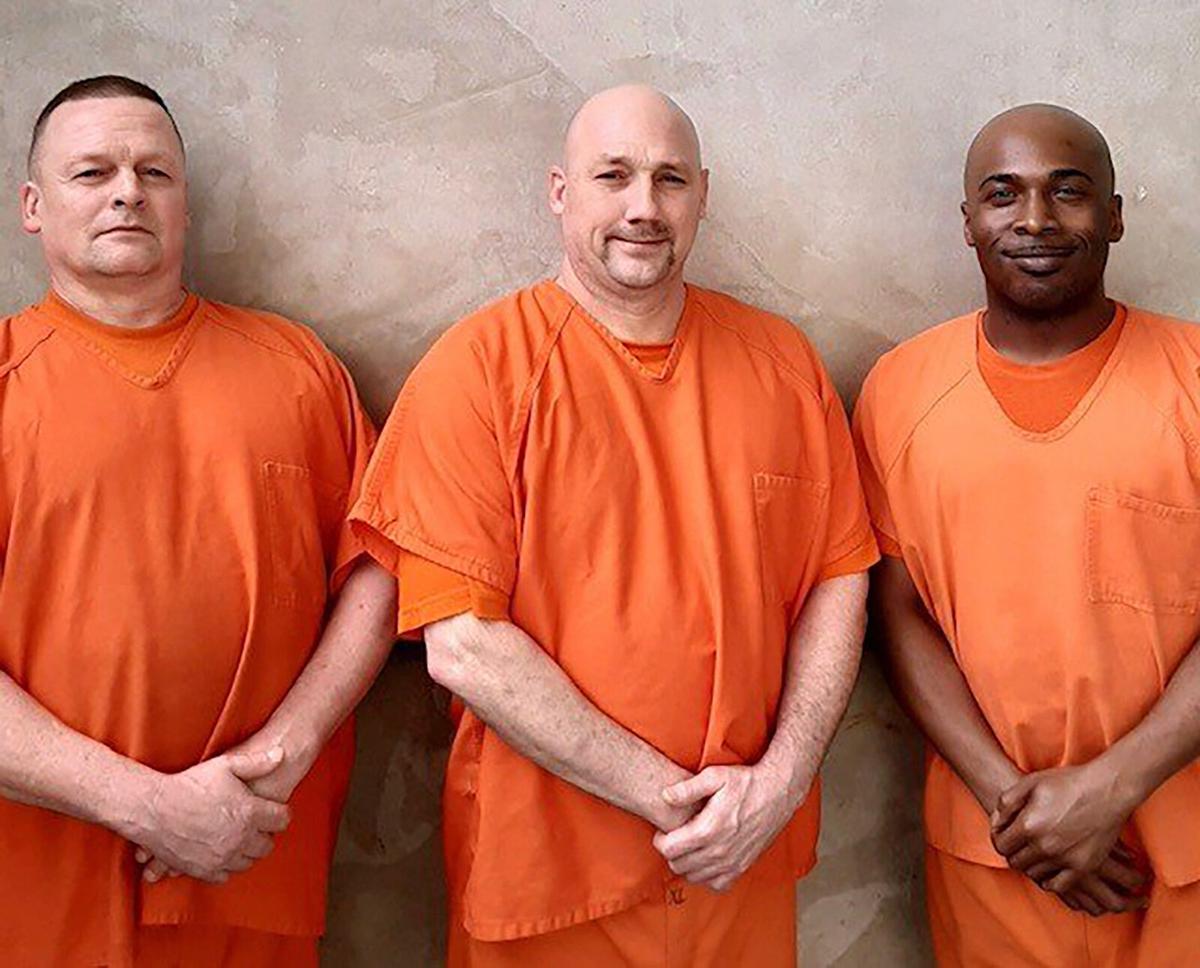 Three Georgia inmates are being praised by the Gwinnett County Sheriff's Office after saving a deputy's life.
"We are deeply appreciative to these three inmates for the courage, determination and kindness they displayed," the GCSO said in a Facebook post on Tuesday.
The inmates noticed the deputy appeared "to be feeling poorly" while carrying out his security procedures in the housing unit, the statement said.
When he returned to his seat at the deputy desk, the deputy lost consciousness and fell onto the concrete floor where he split his head open, the GCSO said.
The inmates in rooms close enough to see him fall began pounding on their doors, and soon the entire unit was calling out for the unconscious deputy.
The deputy later said he did not realize he had fallen unconscious, according to the statement, but upon hearing the noise awoke and rose to his fee to open cell doors, believing it was an inmate who needed help.
He lost consciousness again, and the inmates rushed to render aid, said the GCSO. The deputy survived and is recovering at home.
The GCSO thanked the inmates for using the opportunity to help the deputy.
"These inmates came to his aid because our deputy, like most law enforcement officers, treats people with the dignity they deserve. These inmates had no obligation whatsoever to render aid to a bleeding, vulnerable deputy, but they didn't hesitate," the statement said. "Many people have strong opinions about law enforcement officers and criminals, but this incident clearly illustrates the potential goodness found in both."
---
Some weird news from the past week
A typo on a death certificate exposes a man allegedly trying to avoid prison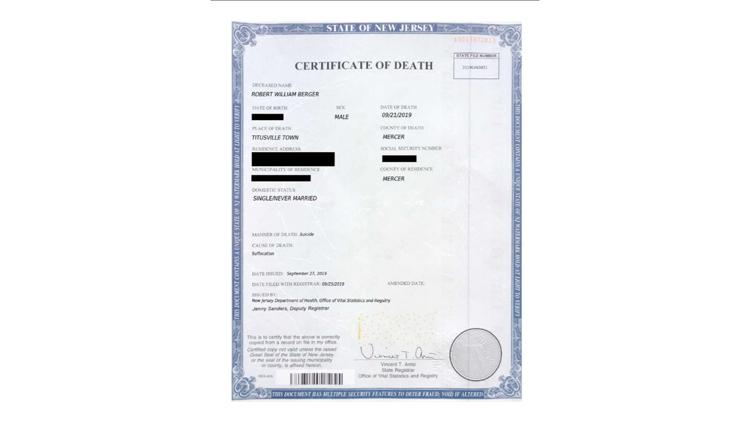 A Long Island man allegedly created a fake death certificate to avoid being sentenced for unrelated charges but a typo on the certificate gave him away, prosecutors said.
Robert Berger, 25, was charged Tuesday with offering a false instrument for filing, according to the Nassau County District Attorney Madeline Singas.
Berger was previously charged with fourth-degree possession of stolen property in December 2018 and third-degree attempted grand larceny in June 2019, and pleaded guilty to both charges, according to a press release from Singas' office.
He was due to be sentenced on October 22, 2019. But at the sentencing hearing, Berger's former attorney, Meir Moza, said Berger had died, according to the district attorney's office.
Moza gave the court a copy of Berger's alleged New Jersey death certificate on October 28, the office said, which Berger's fiancé provided. The certificate said Berger had died by suicide and listed the cause of death as suffocation.
Upon further investigation, prosecutors noticed the word "registry" was misspelled and there were inconsistencies with font type and size. The New Jersey Department of Health confirmed to prosecutors that the certificate was fraudulent, the press release said.
"Submitting fake documents to prosecutors is always a bad idea, and while he'd have been caught regardless, failure to use spell check made this alleged fraud especially glaring," Singas said in a statement.
After the discovery was made, Moza informed the judge that Berger "engaged in a conspiracy and used him to attempt to perpetrate a fraud" against his office and prosecutors, and that he was ending his representation of Berger, the release said. Prosecutors do not believe that Moza was part pf the conspiracy, said Miriam Sholder, deputy communications director of the Nassau County District Attorney's office.
The Legal Aid Society of Nassau County, who currently represents Berger, declined to comment on the case.
Investigators determined that Berger had left the state and was jailed in Delaware County, Pennsylvania, after being arrested in November 2019 on unrelated charges, according to the press release. He was extradited to Nassau County in January, according to prosecutors.
Bail was set at $1 for Berger but he remains jailed on the two previous charges, the district attorney's office said. He could face up to four years if convicted of the new charge.
Moza told CNN that he had been negotiating a plea deal for several months when he was notified by Berger's fiancé that he had died. He had no idea that the certificate was false until the prosecutors informed him, and had not seen anything like this in his 25 years as an attorney, he said.
"He took a good situation with his own hands and threw it away," Moza said. "I think he needs help and I hope he will get the help he needs now."
US Marshals: 'Fugitive of week' found asleep on porch
LACONIA, N.H. (AP) — A "fugitive of the week" sought by the U.S. Marshals Service was found sleeping on a porch in New Hampshire, authorities said Wednesday.
John Cathcart, 55, was sought on multiple arrest warrants issued from Belknap County, Deputy U.S. Marshal Jeffrey White said in a news release. The warrants included failing to appear on a charge of being a felon in possession of a firearm and failing to appear on three outstanding narcotics charges.
Cathart was in a segment Wednesday featured in local media and distributed to law enforcement officers statewide.
Authorities said interviews led them to a porch in Laconia, where they found Cathcart. He was arrested without incident. It wasn't immediately known if he had a lawyer who could speak on his behalf.
Friends share Powerball jackpot win, keeping 1992 promise
MENOMONIE, Wis. (AP) — A western Wisconsin man will share his millions in lottery winnings with a longtime friend because of a promise they made to each other nearly three decades ago.
Friends Tom Cook and Joseph Feeney shook hands in 1992 and promised that if either one of them ever won the Powerball jackpot, they would split the money.
That promise came to fruition last month when Cook bought the winning ticket for a $22 million jackpot at Synergy Coop in Menomonie.
When Cook called to give his friend the good news, Feeney couldn't quite believe it.
"He called me, and I said, 'are you jerking my bobber?'" said Feeney, an avid fisherman.
Cook retired after hitting the jackpot while Feeney was already retired. Neither has any extravagant plans for the winnings but are looking forward to enjoying more family time.
"We can pursue what we feel comfortable with. I can't think of a better way to retire," Cook said. The pair said they're looking forward to some traveling.
The men chose the cash option of about $16.7 million, leaving each with nearly $5.7 million after taxes are paid.
The odds of winning the Powerball jackpot are 1 in about 292 million.
A red panda missing from her habitat at an Ohio zoo has been found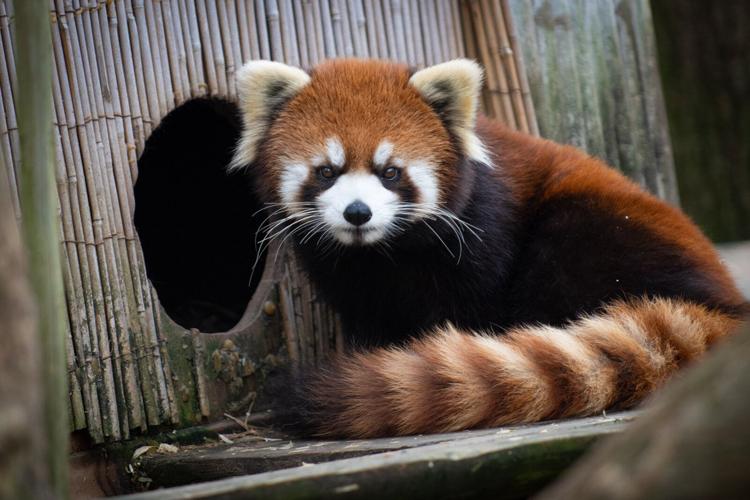 The red panda who went missing from her habitat at a Columbus, Ohio, zoo is back home.
Kora, the 2-year-old red panda, was found Thursday evening, according to The Columbus Zoo and Aquarium.
The zoo had announced on Wednesday that the diminutive, raccoon-like creature had gone missing. Zookeepers who care for her had hoped she would return on her own, since she recently gave birth to two cubs who are still nursing.
Instead, Kora was spotted by two guests on Thursday evening, the zoo said in a Facebook post. They saw her among the dense foliage between the rhino habitat and the entrance to the Pachyderm Building in the Zoo's Asia Quest region, the zoo said. The guests alerted the zoo authorities who rushed to the scene.
But, Kora wasn't about to give up her new found freedom easily. She climbed high into a nearby tree as they arrived, the zoo said in its post. The team brought her favorite treats to coax her down, and when that didn't work, they brought out her cubs.
While she responded to the cubs' cries and moved towards them, she remained in the tree. And, as rain clouds were moving into the area the zoo team made the decision to tranquilize her, the zoo said.
Kora gently fell into the waiting net of the response team amid clapping and happy tears, the zoo said. The sleeping red panda was placed in her crate and taken to the Zoo's Animal Health Center for evaluation, where she was given a clean bill of health.
Kora is now back at her habitat in Asia Quest, where she will reunite with her cubs when she wakes up. Her care team will continue to watch her overnight to ensure she is well, and red panda father, General Tso, will join them in the morning, the zoo said in its post.
A daring escape
Kora was last seen in her habitat on Tuesday, according to the Columbus Dispatch. When she went missing zoo staff conducted an "extensive search in the dense vegetation" near her home in the zoo's Asian wing, meant to replicate her native bamboo forest habitat.
The male red panda who shares her enclosure was secure, the zoo said. The strong storms overnight Tuesday into Wednesday might have caused tree branches to bend, leading to a path of escape for Kora, according to zoo officials.
Rain has played a part in the previous escape of a red panda: In 2013, a young red panda named Rusty escaped his enclosure at Washington's National Zoo and made it a half-mile away until he was recovered the same day. Zookeepers believe he escaped through the tree canopy in his enclosure, which sagged during the rain.
The zoo had said Kora was not a threat to the public as red pandas are gentle creatures that mostly sleep in trees during the day. And Kora's keepers say she's quite shy and easily spooked.
Red pandas aren't really pandas at all, though they're thought to be related to the giant pandas they share their dense bamboo forest with in central and southwest Asia. Red pandas belong to their own unique family, separate from raccoons (though they bear a striking resemblance).
How one couple has lived for 29 years on an island they built themselves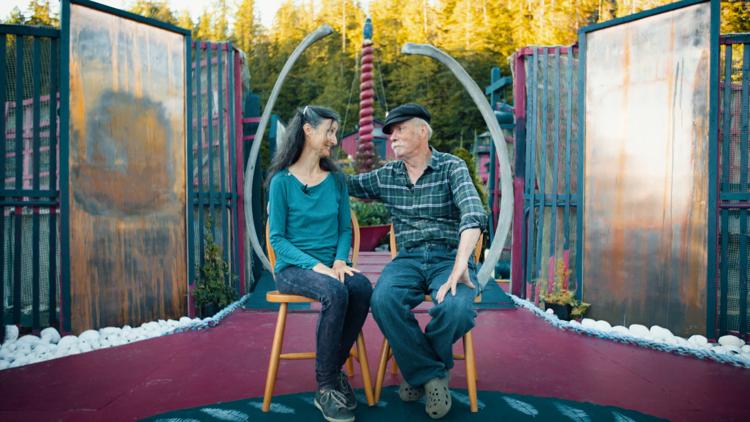 As stay-at-home orders due to the ongoing pandemic have forced many of us to learn to love solitude and become reacquainted with our homes, one couple's life has remained virtually unchanged.
Ten miles north of Tofino, British Columbia, off the west coast of Vancouver Island, Catherine King and Wayne Adams live on a sustainable, floating compound. It's called "Freedom Cove," a labor of love, hand-built using recycled and salvaged materials. It's been their home for the past 29 years.
Freedom Cove is a 25-minute boat ride away from the closest town, and don't even think about hopping in a car. "The only option to get here is by water," Adams says. "There are no road accesses. The water is our highway."
It weighs 1 million pounds
The whole structure is the size of two city lots and weighs 1 million pounds, floating freely on the ocean.
While there are lines that tether the compound back to the shore, it is not anchored to the ocean floor.
When you arrive, you're immediately greeted by bright magenta buildings with dark turquoise trim. An archway of whale bones welcomes you in.
The compound has everything you could possibly think of and more: a dance floor, an art gallery, a candle factory, four greenhouses, six solar panels, and access to a small waterfall that provides constant running water.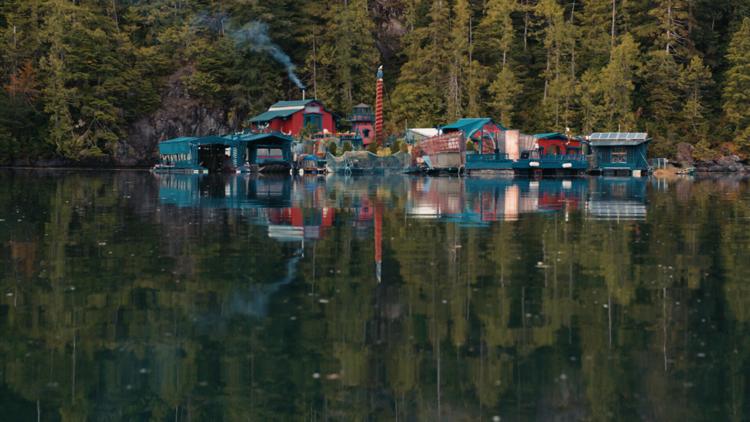 It has its own waste management system
The couple has even figured out their own waste management system.
"It's the most common question we're asked," Adams says.
They installed a floating tank to, in Adams' words, "deal with the affluence."
If they wanted to, King and Adams could completely self-sustain on Freedom Cove without ever needing to go into the city.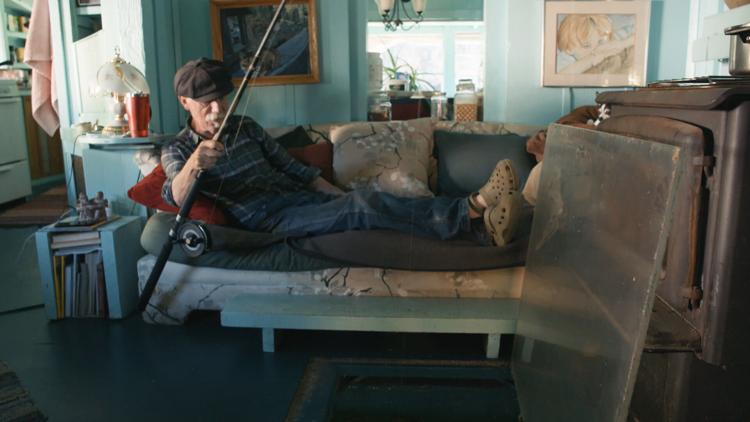 It was inspired by nature
As artists, King and Adams always drew inspiration from nature.
Adams is a carver, using found elements in nature - like feathers and bones - to create his works.
King is an artist, dancer and a natural healer, having studied homeopathy.
But why live off the grid?
"I wanted to be a successful, wealthy artist, live in Tofino and have a studio in the wilderness, like all good rich artists should," Adams says.
"I was hoping to make a lot more money as an artist. We could never buy real estate, so we had to make our own."
A call from nature pushed them to make their dreams a reality.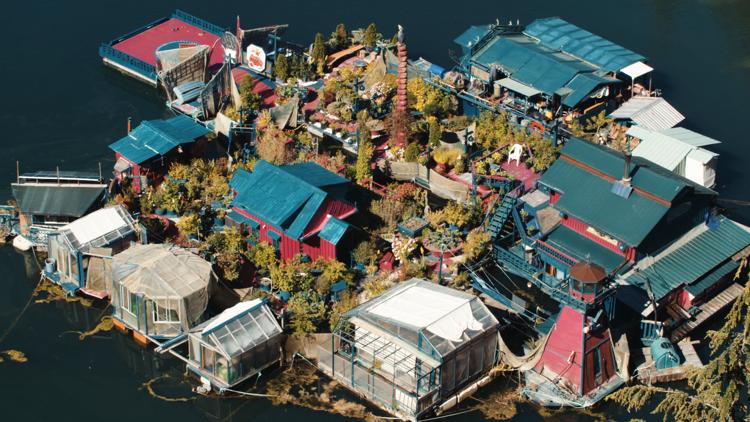 It was the result of an accident
After staying in a friend's cabin in Cypress Bay, a large storm blew wood onto the property.
King and Adams gathered the wood and used it to build the bones of what would become their future home.
"I guess we were being given a sign that this is the time to begin," Adams recalls.
As they continued to further grow their home, the couple followed with their precedent of only using recycled and salvaged materials.
Many parts were gathered from loggers and fishermen in town. Adams would trade them art for whatever they had in their backyard, whether that was old fish farms or floats.
A piece of Plexiglass scrounged up from the Victoria Hockey Rink forms a clear glass floor in their living room, which Adams can lift up to fish from the comfort of his couch.
It began as a sort of 'downsizing'
Prior to Freedom Cove, the couple lived in an apartment in Tofino. They call their move into nature a "deceleration process."
"We had all kinds of things like food processors and items that would require a lot of electricity," King remembers.
"We gave them away to people and unloaded a lot of things in preparation."
They had no choice. The first iteration of their floating home had no running water and no power.
Today, their day-to-day is quite a bit different to what it was in Tofino.
"Living out here, you can't just get instant anything," King says. "We can't just order a pizza ... we can't just go to the corner store ... You have to do the work to get what you want, if you want it."
It's more than just home, they say
Doing that work is an ongoing process of learning, changing and growing.
King starts her day by sweeping and shaking out the carpets.
"In the wilderness, there's always a lot of dirt and dust," she says.
She then waters her thousands of plants and vegetable gardens - all germinated from seeds - and rows out in her canoe to gather seaweed for compost.
Adams begins by gathering firewood and starting a fire to make sure the house is heated.
They both work on building new components for their home.
"It is a project," King says. "It is a project in growing food to provide for the family. It is an art project ... It is a project to have a space to move, to dance, to play music, to do things spontaneously that you couldn't just do in the same way if you were in the city."
Their neighbors are ... unusual
And while they may not have any human neighbors for miles, the couple still has plenty of company.
"We have some resident crows here who are part of the family," Adams says. "We know all the birds here."
"We have named Harry the heron, Sylvie the seal," King adds. "Gertrude and Heathcliff the seagulls."
"I had lived in the big city, I knew what that was like," King says. "I really needed the peace of the wilderness."
Twenty-nine years later, that's still the greatest draw of their home.
"Going into a city is just shocking in the sound department," King says. "I get kind of jangled up inside ... the noise starts to get to me, I find it's easy for me to lose my center."
"We have carved a piece of the world out for ourselves here," King says. "We can live uniquely, differently than anyone else on the planet."
But, how about seasickness?
"I don't get seasick," Adams says. "When I go to town, I get land-sick."
Be the first to know
Get local news delivered to your inbox!