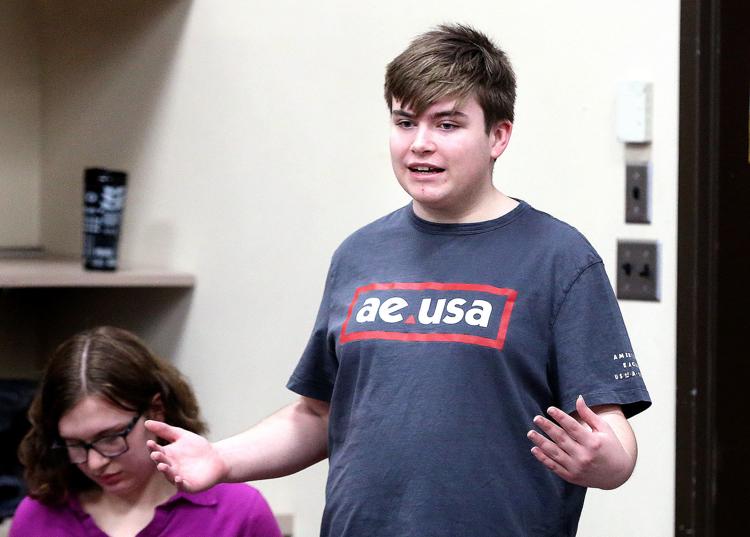 When students want to change something about the school cafeteria, they usually mean the menu.
But at Onalaska High School, it's food waste and plastic consumption that concern students in the Green Council, the school's environmental club.
The club is not yet a year old and it has already produced results.
Club members organized a trash-sorting event to collect data on how much cafeteria waste can be composted instead of landfilled.
When they saw that plastic forks and spoons made up a lot of that trash, the students successfully convinced the district nutrition director that their cafeteria should switch from disposable utensils to reusable ones.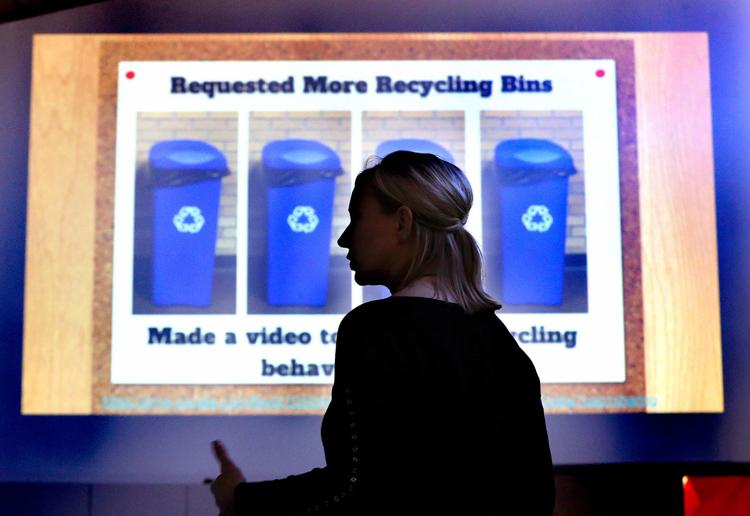 To make their case, club president Tracy Zhou found a Minnesota Pollution Control Agency case study with Minnetonka middle schools that had done just that. The 2014 study found that about 70 percent of the trash that wasn't food waste or recyclables came from plastic utensils, bowls, wrappers and bags.
The study estimated that the schools prevented 6,712 pounds of trash from ending up in the landfill and reduced greenhouse gases by 77 percent when they got rid of plastic.
Using metal utensils and bowls also eliminated monthly shipping and storage costs attached to items that would only be used once for 20 minutes.
Meanwhile, the amount of water used to wash utensils and dishes didn't increase significantly. Overall, the agency concluded the Minnetonka schools would save $23,000 over three years.
Onalaska High School got rid of plastic utensils at the beginning of the year, which would save the school about $800 and prevent 1,200 pounds of plastic from being landfilled each year, said club adviser Jodie Visker. Visker is also the garden coordinator for the Onalaska school district.
Now they're showing students at the elementary and middle schools how they can make environment-friendly changes on their campuses, too.
Green Council members showed about 30 eighth-grade student leaders Friday at Onalaska Middle School some humorous educational videos they made to promote reusable utensils in the high school cafeteria and teach classmates which items are recyclable.
In one of the videos, they visited a recycling center and learned that when non-recyclables are mixed with recyclables, employees have to spend more time picking out trash by hand, which adds to the cost of recycling.
"It saves us money, which is great because we can spend that on other things," Onalaska junior Virginia Radkey said to the eighth-graders.
If the middle schoolers did some research, wrote to the nutrition director to eliminate plastic utensils in their cafeteria, and the director agreed, the next step would be to make their own recycling videos tailored to their school, Visker said.
It's a way to show that they're invested in the project, especially "if we're going to ask someone for something that's going to take more work," Visker said.
The club is also looking for ways to address food waste, which accounted for 72 to 74 percent of their cafeteria trash by weight, according to their trash collection data.
While composting is an option, the club is interested in obtaining a digester, which costs $25,000 but can accommodate more types of food waste.
In addition to fruit peels and vegetable scraps, the digestor can also break down meat and dairy waste — which made up about 19 to 35 percent of their school food waste — into biofertilizers that enrich soil.
They were inspired by Sparta High School, which has a food digester, Visker said. It's another example of "one group making change that's making an impact and continuing to impact more people."