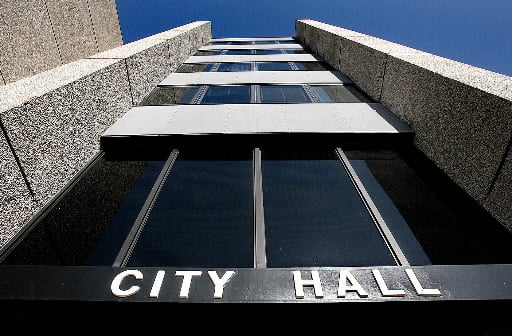 We're only a few weeks into 2012, but the budget challenges for 2013 and beyond loom large for the city of La Crosse.
Finance Director Wayne Delagrave said preliminary estimates show a projected shortfall of $1.5 million in 2013, $2 million in 2014 and $1.6 million in 2015.
That's why the city is considering a number of different options to cut costs or raise revenue as it prepares for the budgeting process.
Last year the city included a host of fee increases to help bolster its revenue without resorting to a property tax increase. Now it has been suggested the city look at eliminating or cutting back on curbside collection of yard waste, Christmas trees and leaves, which alone cost La Crosse $151,000 in 2011.
Another option on the table is the possibility of selling naming rights and sponsorships to raise money.
Welcome to the new government economy. With cutbacks from the federal and state government, local government will continue to get less revenue and local aid. And because local government is the body that delivers most of the services, tough decisions need to be made.
You have free articles remaining.
It's easy to say that all the government needs to do is cut the fat. Last year the city eliminated nearly 30 jobs. But you cannot continue to eliminate positions without it having an effect on the level, quality or availability of services, unless you become more and more efficient.
One potential method to become more efficient is to hire a professional administrator. The main argument against a proposed city administrator is that the city can't afford the six-figure salary and benefit package that comes with it. But La Crosse County has saved millions of dollars since it hired county administrator Steve O'Malley. If the city wants to become more efficient and save money, it may be able to accomplish that by investing in a new government structure.
Residents will decide in April through a referendum if they want to change our government structure, but for now the city needs to move ahead by making the structure we have now work better. That's why the decision of the Budget Parameters Committee to replace Mayor Matt Harter with council member Chris Olson as chairman is a good start.
Harter said last year he was not free to speak out about the 2012 budget because he was the committee chairman. So his last-minute veto of the budget after being mostly silent for months took council members by surprise and forced a weekend session to get the budget approved.
We hope that the mayor — who plays a key role in the budget process — will fully engage in the process and work closer with the council and city department heads to develop the budget.
Citizens also can play a role as the city debates services by letting their council members know what they can and cannot live without. Collaborative discussions with other governmental bodies to save money should continue.
We can make this budget work by getting everyone working together.