A new era: Miller Park name change sinks in as American Family Field signage erected
The home of the Milwaukee Brewers officially changed names from Miller Park to American Family Field at the start of the new year, but for many fans the switch didn't sink in until Wednesday when the signage along Interstate 94 began to change.
Check out photos of workers swapping out the signs and see what Twitter had to say about the name change: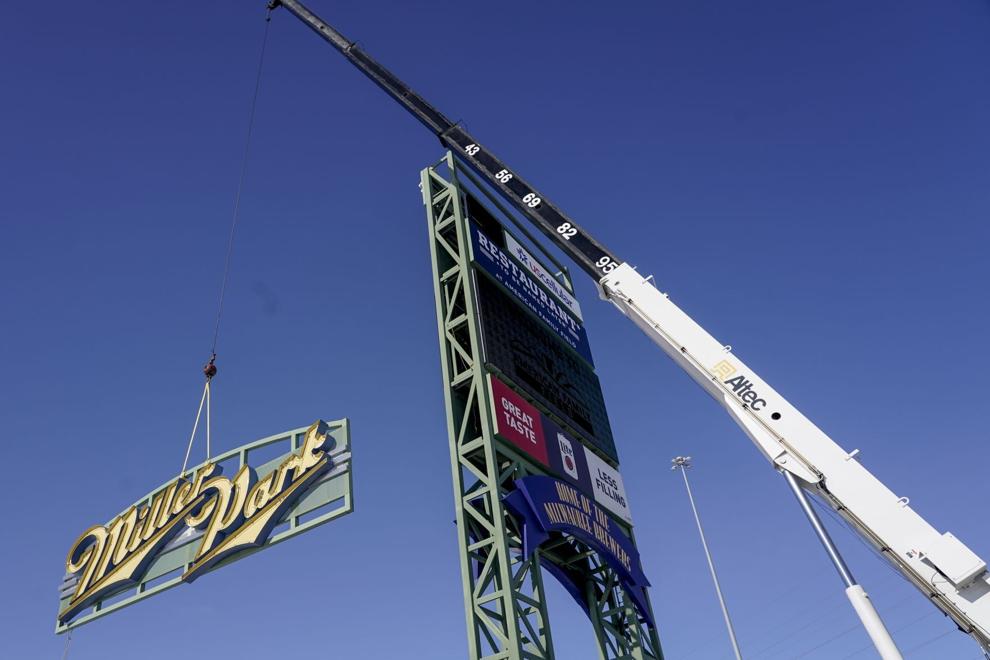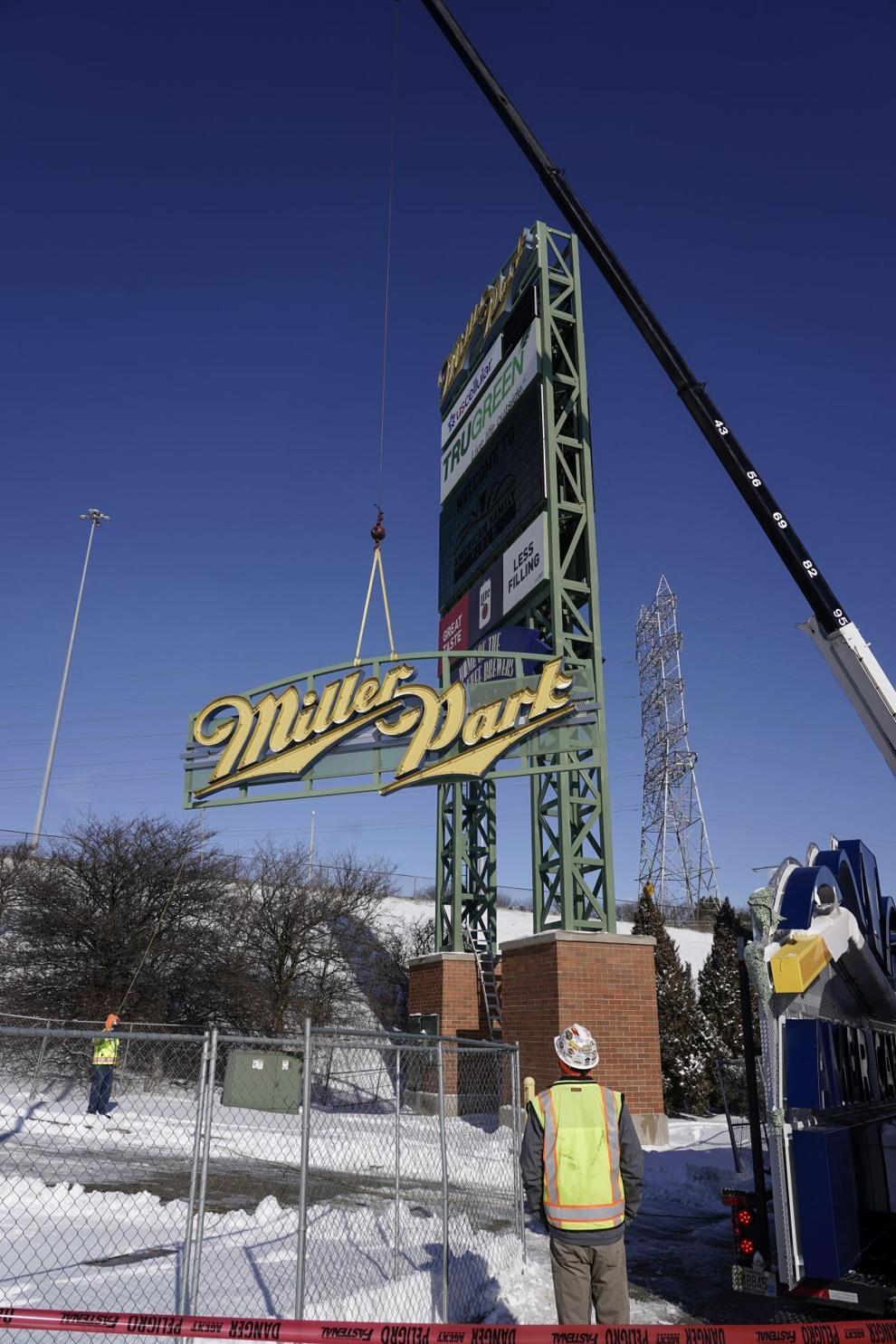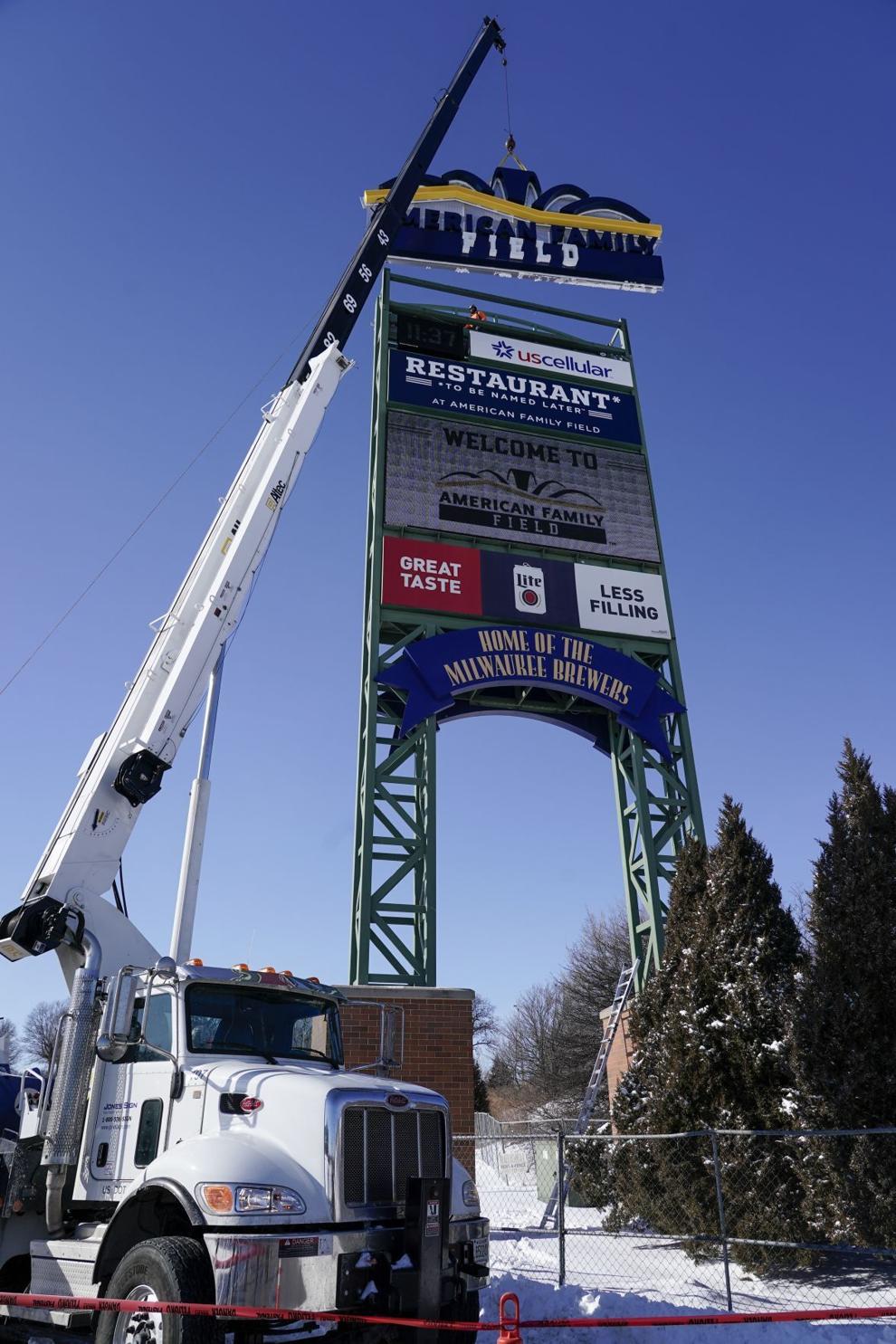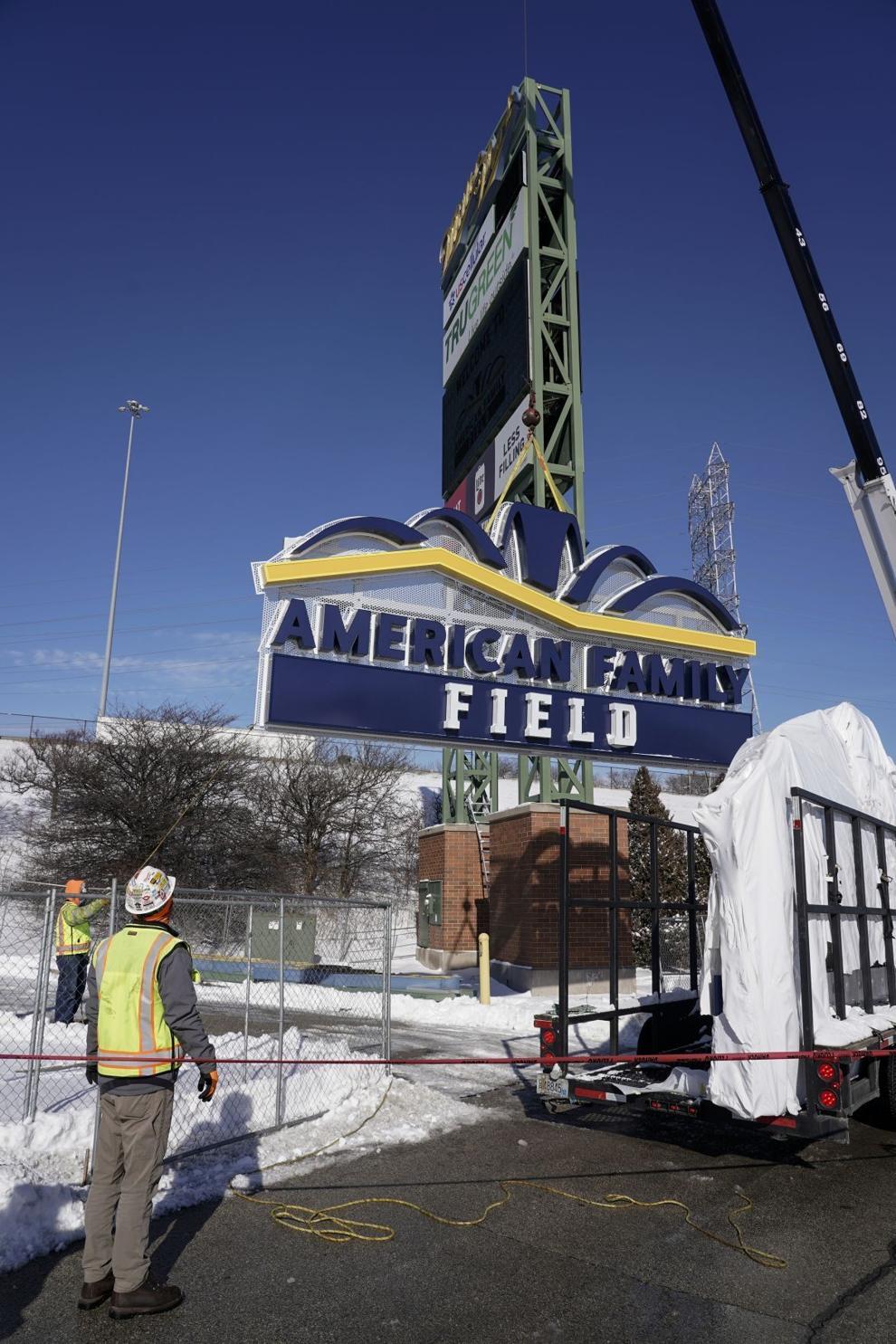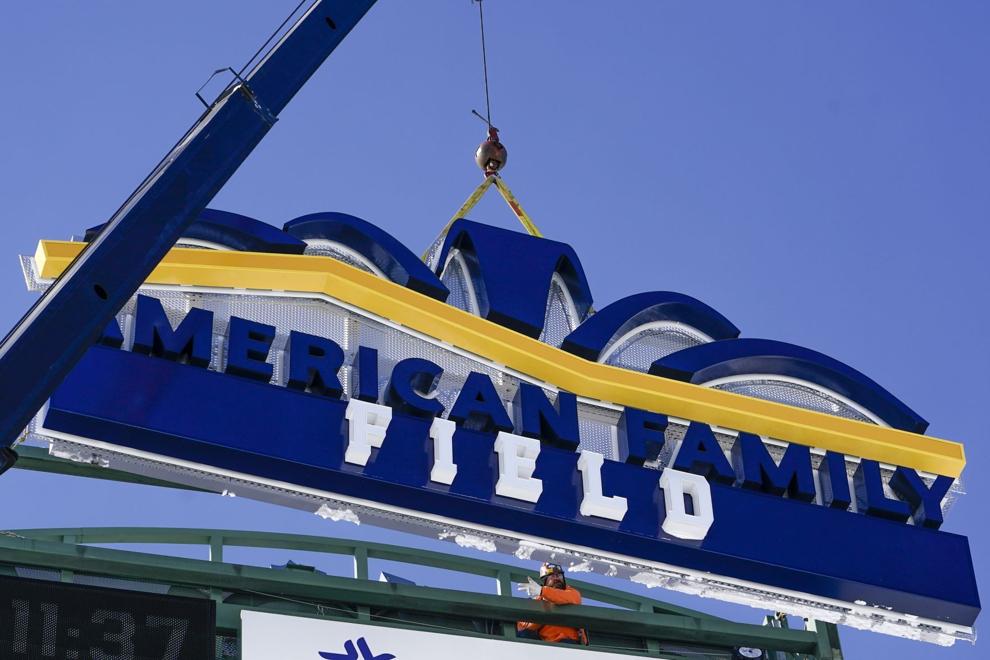 For those who say- "It will always be Miller Park to me."
Remember...Miller Park was a paid sponsorship name.
Lambeau Field is an unpaid name.
Camp Randall is an unpaid name.
The FieldHouse was an unpaid name.

I'm good with American Family Field#Brewers https://t.co/3Tx1ajaGcc

— Mike Heller (@HellerSports) January 27, 2021
I was wondering way their plan was with all the stuff, like every cup holder has a Miller park sticker, I think it would be extremely tacky to just place a sticker over top of it, im building a bar for my garage this summer I'd like about 6 of those

— Just Jeff (@Crew8235) January 27, 2021
It looks cool but I'm still calling it Miller Park

— Kyle Hoffenbecker (@KHoffenbecker) January 27, 2021
I had a visceral reaction to this.
I went to the first game at Miller Park (exhibition game not opening day). They played the Space Odyssey theme song to show how the roof opened/closed.

I've apparently hit the "change-is-hard" phase of life that requires me to share memories. https://t.co/n1PA1LnaH3

— Jennifer Griswold (@griswoldkmtv) January 27, 2021
I get it, but Miller Park is so much more fun to say.

Side note: eating at the Restaurant To Be Named Later has been added to my baseball bucket list. https://t.co/fPCOIDYvjl

— Tavi (@szn_baseball) January 27, 2021
Ahh nice to see the "it'll always be Miller Park to me" crowd is out in full force today... Fun

— Jake Schwall (@jake_schwall) January 27, 2021
I slept in a Walmart parking lot for Milwaukee warped tour near Miller Park and being able to see it in the morning was something I'll remember forever. https://t.co/y9FE8nD4kh

— Adrián C (@JackieLegs13) January 27, 2021
I like it. It doesn't top Miller Park, but I understand why the change was made & I'm on board with it. #RollWithTheNew

— Jeff Hinnendael (@J_Hinnendael) January 27, 2021
Related to this collection
Sara Goodrum has been promoted to minor league hitting coordinator by the Milwaukee Brewers, apparently making her the first woman to have that role in any Major League Baseball organization.
Milwaukee signed two players — catcher Luke Maile and infielder Daniel Robertson — to big league contracts, three more to minor league deals, claimed another off waivers and traded former All-Star closer Corey Knebel to the Dodgers for left-handed pitcher Leo Crawford.
The Athletic was the first to report that ex-Cardinals second baseman Kolten Wong has agreed to a two-year, $18 million deal with Milwaukee.
The Brewers said the signing of two-time Gold Glove-winning second baseman Kolten Wong means Keston Hiura will move to first base.
With a retractable roof on American Family Field, the team remains hopeful of allowing fans for the April 1 home opener.
The agreement includes an April 1 start to the season, more sophisticated contact tracing for COVID-19 that includes the use of technology, and more league rules on behavior to comply with coronavirus protocols.
Right-hander Jordan Zimmerman, 34, spent the past five seasons with the Detroit Tigers, who signed him to a $110 million contract in November 2015.
Ryan Braun, Milwaukee's all-time home run leader, who became a free agent in October, has not announced his retirement, saying he is "continuing to work out and stay in shape" and "will continue to regularly stay in touch with the Brewers."
Major League Baseball will proceed with an on-time start to spring training and the season after players rejected a plan Monday night to delay reporting by a more than a month.
Light-hitting Luis Urias appears to be the best option, but Brewers GM David Stearns is likely still evaluating his options for making an upgrade.
Veteran right-hander Brad Boxberger brings a 22-30 record and 3.56 ERA in 343 big-league appearances to Milwaukee.
Milwaukee will send cash and a player to be named to Toronto.
Veteran left-hander Brett Anderson agrees to a one-year, $2.5 million deal that will become official pending a physical.
"We're fortunate that our facility is kind of made for something like this," Brewers manager Craig Counsell said. "We can spread out and there's tons of space."
Brewers right-hander Corbin Burnes, who finished sixth in Cy Young Award voting in 2020, is working to improve his pitches in spring training. 
Brewers pitching coach Chris Hook worked with many of Milwaukee's pitchers as they worked their way up the organizational ladder during his time as a minor league instructor.
Milwaukee batters struggled in the pandemic-shortened 2020 season.
The Free to Dream initiative will support the American Family Dreams Foundation and the American Family Institute of Corporate and Social Impact, which invests in early-stage startups.
"Players like Josh are real anchors for your team," Brewers manager Craig Counsell said.
Many think the preponderance of baseball's three true outcomes — the home run, the walk and the strikeout — is harming the sport.
Third baseman Travis Shaw spent three seasons with the Brewers before departing last year.
Brewers owner Mark Attanasio also touched on the roster and the possibility of fans returning to the ballpark during a spring training message.
The time Lorenzo Cain spent away from baseball and the Brewers allowed him to become a more integral part of a more important team: his family.
Daniel Robertson, a former first-round pick of the A's, has experience at three infield positions as well as the outfield.
"You can't change it now and you can't do anything about it ... whether you were the MVP last year or you sucked, everybody starts at zero in spring training and the new year," Christian Yelich said.
After being acquired from the Padres, left-hander Eric Lauer never got into a groove during his first season in Milwaukee.
Tyrone Taylor, who was Milwaukee's second-round pick in 2012, is battling for  a backup job in the Brewers outfield.
Although Milwaukee has yet to play a nine-inning game, rules help the players get ready for the regular season.
Right-hander Justin Topa impressed in his first big league call-up late last season.
The Brewers submitted a 350-page plan to the city last month, requesting permission to allow up to 35% capacity, but the city of Milwaukee instead approved 25% capacity, with fans being seated in pods spread out around American Family Field.
Longtime Red Sox outfielder Jackie Bradley Jr. has agreed to a two-year deal worth $24 million with Milwaukee, according to multiple reports.
Left-hander Aaron Ashby, who'll likely start out in Class AA, has struck out six of seven batters in spring training so far.
The first-round pick from UCLA is hitting .600 (3-for-5) and drawing praise from manager Craig Counsell.
An $85 million naming-rights deal is slated to begin prior to Opening Day. 
A sore right quadriceps has slowed Lorenzo Cain's return after opting out last season.
"Pretty much my whole career, every bullpen, every outing, every side session has been for the rest of my life," Brewers pitcher Eric Yardley said. "Coming off a little bit of success in the big leagues makes you a little bit more comfortable but at the same time you still have to go out there and fight."
Milwaukee played its last game before the spring training shutdown a year ago Thursday.
By signing former Cardinals second baseman Kolten Wong and ex-Red Sox center fielder Jackie Bradley Jr., the Brewers now have four former Gold Glove winners on their roster.
"He's put a lot of work in and he's getting great feedback from that work so far," Brewers manager Craig Counsell said. 
Craig Counsell wants to see the former second baseman tested as much as possible in Cactus League games.
He will keep a close eye on rules changes in the minor leagues.
Milwaukee leads or is ranked second among NL teams in home runs, slugging percentage, OPS and batting average.
"I'm strongly leaning in that direction, but until I get to a point where I've completely made my mind up, I just don't see any sense in making it official at this point," Ryan Braun said.
Veteran Travis Shaw's minor-league deal included a provision allowing him to opt out and seek opportunities elsewhere on March 15 if he wasn't in the team's regular-season plans.
Rookie outfielder Garrett Mitchell has been the biggest surprise of Brewers camp.
Brandon Woodruff is the first Brewers pitcher to make back-to-back Opening Day starts since Yovani Gallardo made the last of his franchise-record five in a row in 2014.
Milwaukee's Christian Yelich, who went 2-for-2 Friday, spent his time working with hitting coach Andy Haines.
Outfielder Billy McKinney, who is out of minor league options, has three home runs in his past two games.
Left-hander Brett Anderson isn't overpowering, but induces a great deal of weak contact when he's pitching well.
With no DH in 2021, serving in a backup role at first base and pinch hitting appear to be Daniel Vogelbach's only options with the Milwaukee Brewers.
After adding an effective slider in 2020, left-hander Josh Hader has focused on developing his changeup this spring.
Catcher Manny Pina is hitting .353 with a pair of home runs for the Brewers this spring.
Freddy Peralta is heading back to the Milwaukee Brewers' starting rotation, bumping fellow right-hander Josh Lindblom to the bullpen to start the season.
Milwaukee hopes to re-sign non-roster invitees Jordan Zimmermann and Brad Boxberger to new minor league deals.
Auburndale native Jordan Zimmermann is likely to start the season at the Brewers' alternate training site in Appleton.
At a time when hope normally springs eternal for everyone in baseball, nearly half the teams can be considered irrelevant even before the season's first pitches.
Right-handed reliever Justin Topa experienced elbow discomfort while pitching during a scrimmage on Saturday.
Brewers manager Craig Counsell expects a bounce-back performance from his offense in 2021, and a return to a normal spring routine is a big factor, he said.
Preparing to enter his third year, Keston Hiura enjoyed a strong spring at the plate while learning to play a new position.
With the exception of Christian Yelich in left field, Kolten Wong at second and Keston Hiura at first base more often than not, the remainder of the lineup will be determined on a day-by-day basis.
As the Brewers set out to earn their franchise-record fourth consecutive playoff berth when the season gets underway Thursday afternoon, offense won't be the team's primary strength.
What turned out to be a false-positive COVID-19 test result forced Milwaukee into holding just a light workout Wednesday.
Milwaukee ties it with three runs in the ninth inning and wins it in the 10th 6-5.
Josh Hader's fastball averaged between 94-95 mph through his first four seasons and clocked in at 95 last year, 5 mph shy of what he hit Thursday.
Corbin Burnes and Brandon Woodruff are a pair of homegrown pitchers who have panned out for the Brewers.
He reached base three times in five plate appearances during Thursday's 6-5 victory over the Twins.
Minnesota held Milwaukee hitless until Omar Narváez delivered a one-out single to right off Tyler Duffey in the eighth during its 2-0 victory at American Family Field.
Miguel Sanó and Mitch Garver homer in Minnesota's 8-2 victory over Milwaukee at American Family Field.
Milwaukee scored a total of two runs in losses Saturday and Sunday to the Twins.
The Brewers and Cubs will play each other nine times in April.
Chicago belts three in the fourth inning to take a 4-0 lead at Wrigley Field.
The Milwaukee Brewers announced the team received the COVID-19 vaccine over the weekend but wouldn't disclose what percentage of players and staffers participated.
The Brewers cleared up a logjam at one position and added to their depth at another Tuesday, dealing infielder Orlando Arcia to Atlanta for right-handed pitchers Chad Sobotka and Patrick Weigel.
Travis Shaw's three-run homer in the first inning is one of just five hits for Milwaukee.
Brad Boxberger gets the final out after Chicago loads the bases.
He homers twice in the Brewers' victory.
The Milwaukee Brewers announced Wednesday morning that the temporary ban on the popular pregame ritual would be lifted starting Monday.
Milwaukee starter Corbin Burnes allows one hit and strikes out nine over six scoreless innings.
Brewers' second baseman Kolten Wong left after three at-bats in Thursday's loss to the Cardinals.
Brewers manager Craig Counsell pulled Brandon Woodruff and Corbin Burnes for relievers despite both being on top of their games.
Avisaíl García homered, doubled and drove in five runs as the Milwaukee Brewers beat St. Louis 9-5 on Saturday, ending the Cardinals' four-game winning streak.
Second baseman Kolten Wong has a strained left oblique; Jace Peterson is recalled to replace him.
Travis Shaw and Manny Piña also homered in Milwaukee's 9-3 victory at St. Louis on Sunday.
With a quality slider and emerging changeup added to his arsenal, Freddy Peralta will face the Chicago Cubs on Monday at American Family Field.
"It's worked out fine so far," manager Craig Counsell said. "We're putting a great player in the lineup every day."
Milwaukee right-hander Freddy Peralta struck out 10 over six innings of two-hit ball to improve to 2-0.
Billy McKinney is carving out a niche in Milwaukee's crowded outfield.
Willson Contreras delivers the go-ahead home run for the Cubs a few innings after being hit by a pitch.
Corbin Burnes struck out 10 in six dominant innings and also delivered a bases-loaded single for his first two career RBIs as the Milwaukee Brewers defeated the Chicago Cubs 7-0 on Wednesday.
Third baseman Travis Shaw has been a hit with his batting and fielding in his return to the Brewers.
Milwaukee manages just five hits in the 6-1 defeat at American Family Field.
Brewers outfielder Christian Yelich remains day-to-day in his recovery.
Cubs reliever Ryan Tepera said Friday that there was no malicious intent with the pitch he threw behind the knees of Brewers starting pitcher Brandon Woodruff in the fifth inning Tuesday at American Family Field in Milwaukee.
Brewers outfielder Christian Yelich had missed the previous four games with lower-back soreness.
Brett Anderson pitched seven effective innings and the Milwaukee Brewers built a big lead early and breezed past the Pittsburgh Pirates 7-1 on Saturday night at American Family Field.
Daniel Vogelbach homered twice for Milwaukee, but Pittsburgh beat the Brewers 6-5 in 10 innings to take the series.
Brewers right-hander Brandon Woodruff has allowed four earned runs on 10 hits and three walks while striking out 19 in 17 innings this season.
Luis Urias, Billy McKinney and Tyrone Taylor hit solo home runs in Milwaukee's 3-1 win at San Diego.
After four starts this year, Milwaukee's Corbin Burnes has an unimaginable 40 strikeouts and no walks. He already was the only pitcher since 1900 to record 30 strikeout and no walks through the first three starts of a season.
Former All-Star Dee Strange-Gordon has signed a minor league contract with the Milwaukee Brewers and been assigned to the alternate training site in Appleton.
Omar Narvaez hit a two-run homer, Jace Peterson hit a solo shot and six pitchers combined for 13 strikeouts as the Brewers beat the Padres 4-2 Wednesday to complete a three-game sweep.
Milwaukee's bullpen combined for 15 strikeouts over 10⅓ scoreless innings during the three-game sweep of the Padres in San Diego.
Chicago takes a 10-0 lead after two innings en route to a 15-2 victory at Wrigley Field.
Keston Hiura had three hits and Kolten Wong finished with two in the 4-3 win as Milwaukee bounces back from a 15-2 loss in the series opener Friday.
Milwaukee finished 5-1 on a road trip to San Diego and Chicago to improve to 13-8 on the season.
Corbin Burnes strikes out nine but doesn't make it out of the sixth inning.
Outfielder Tyrone Taylor homered and drove in three runs from the leadoff spot, as Milwaukee edged Miami 5-4 on Tuesday night at American Family Field.
Miami's Jesus Aguilar homered for the fifth time in six games in a 6-2 victory that dropped the Brewers to 5-7 at home.
Eric Lauer tossed five scoreless innings, and Travis Shaw slammed a two-run homer as Milwaukee edged Los Angeles 2-1 on Thursday night at Miller Park.
The Brewers have taken the first two games of the four-game series, while the world champion Dodgers have lost nine of 12 since opening the season with 13 wins in 15 games.
Travis Shaw homered and hit a game-winning single, and the Brewers scored three runs in the 11th inning to rally past the scuffling Dodgers 6-5 on Saturday night.
Milwaukee starter Alec Bettinger gave up 11 runs on 11 hits in a 16-4 loss to the Dodgers on Sunday at American Family Field.
Lorenzo Cain homered and Christian Yelich had two hits for Milwaukee in the 4-3 loss as both players come off the injured list.
Trailing 6-1, Milwaukee scored four runs in the seventh but come up short in a second straight loss in Philadelphia.
The Brewers announced Tuesday that Christian Yelich was returning to the IL due to the lower back strain that has bothered the 2018 NL MVP for the last three weeks. 
With a 5-4 loss at Philadelphia on Wednesday night, Milwaukee has lost four in a row, including three straight in Philadelphia.
Milwaukee wasted a brilliant start from Brandon Woodruff as Zack Wheeler pitched a complete game in Philadelphia's 2-0 victory.
Isan Diaz, who was sent to Miami in the Christian Yelich trade, hit a grand slam to help the Marlins defeat Milwaukee 6-1 on Friday night.
Avisail Garcia also homered as Milwaukee beat Miami 6-2.