Wisconsin Gov. Scott Walker's conservative state budget has encountered criticism from Democrats in the state Legislature. In other news, beer is brewing, cheese curds are squeaking and brats are grilling throughout the state.
What's new this time around, in Walker's third budget since he took office in 2011, is resistance from Republicans in the state Legislature. Oh, and a presidential campaign announcement hinging on the budget's passage. Not only has Walker pledged to hold off on announcing his presidential intentions until after the budget has been signed, but the document will give national competitors and voters a metric for measuring the governor's achievements in office.
After weeks of marathon budget sessions, the Legislature's Joint Finance Committee hit a standstill with two contentious items left to take up: the state's transportation budget and a proposal to publicly finance a portion of a new arena for the Milwaukee Bucks. Also on the table is an effort among some Republicans to slip into the budget a repeal of the state's prevailing wage laws and a proposal to end the alternative minimum tax, which hits some of the state's highest earners.
The panel, which had hoped to finish its work before Memorial Day, hasn't met since May 29. It expects to reconvene later this week. For comparison, the committee finished its work on the 2013-15 budget on June 5, 2013. For the 2011-13 budget, it wrapped up on June 3, 2011. The Legislature sent the budgets to Walker on June 21, 2013 and June 16, 2011.
Assembly Minority Leader Peter Barca, D-Kenosha, said last week it's "highly questionable" whether the budget will be completed by the end of June. Said Assembly Speaker Robin Vos, R-Rochester, when asked whether the state would have a new budget by July 1: "That's my goal."
"But we are not going to rush to get it done just because of an artificial timeline," Vos said. "I would rather make sure we get the process right."
Instead of sailing through and opening the door for a campaign announcement, the budget is stalled while legislators make their tweaks. And throughout the process, the $68.4 billion document has been described using unsavory language by legislators on both sides of the aisle.
"They say cream rises to the top," said Sen. Lena Taylor, D-Milwaukee, during a Joint Finance debate. "You know what sinks to the bottom? Poopity-poop. And that's where this budget is."
"We may have a crap budget, but we're going to make it better," said Rep. Rob Brooks, R-Saukville, on the Assembly floor.
Walker 2016: How much does it matter?
Walker's presidential campaign has been a frequent source of ire among Democrats, who commonly refer to him as an "absentee governor."
Taylor has taken to starting sentences with "Earth to Walker," quipping that she doesn't know where the governor is on any given day. And in a recent speech, Assembly Assistant Minority Leader Katrina Shankland, D-Stevens Point, accused Walker of "calling the shots" from places like New Hampshire and Iowa while his "foot soldiers" carry out orders at home.
"I feel, actually, a bit for the Republicans on this one," said U.S. Rep. Mark Pocan, D-Madison, who served on the Joint Finance Committee for six years as a state legislator, including one term as co-chairman. "The fact that Scott Walker put together a budget that's really an 'I'm running for president' budget, complete with a whopping $10 property tax cut (per household) while devastating the universities, public education, going down the list … and having the Legislature have to deal with people back home, who say that this budget sucks."
But Joint Finance co-chairman Rep. John Nygren, R-Marinette, says the presidential campaign affects the budget more in perception than in practice. Nygren, who has been on the committee since 2010 and has served as co-chairman since the 2013-14 session, said Walker has been more engaged, not less.
"I don't think (the possibility of a presidential run) has anything to do with the way we go about it," Nygren said of legislators' work on the budget. "I can't speak for the governor, whether it's affected his decisions or not, but I don't think it's changed how we as a Legislature have dealt with it."
Nygren said he's never personally met with the governor when working on previous budgets, instead working with chief of staff Eric Schutt. But with the Bucks arena proposal and a handful of other high-profile, contentious issues, Walker has worked directly with legislators on the committee this year, he said.
Rep. Dale Kooyenga, R-Brookfield, said he thinks an argument can be made that some Walker proposals were made with a presidential campaign in mind, but that others were proposed in spite of how they could affect him on the national stage. Kooyenga, an accountant, was appointed to Joint Finance in 2012.
Regarding Walker's staunch refusal to raise taxes or fees to fund transportation projects, Kooyenga said, "if someone said he's taken that position because of the presidential race, I think that comment probably has some merit."
However, he added, he hasn't asked the governor about it directly.
But Kooyenga said Walker's advocacy for a deal to publicly finance a new Bucks arena flies in the face of his presidential aspirations, noting how likely it is to be unpopular not just in Wisconsin, but among conservative voters in Iowa, site of the first contest in the 2016 nominating process.
'Started from the bottom, now we're here'
Like anything else in Wisconsin politics, the way lawmakers perceive the 2015-17 budget depends on their political party. But there's no question the Republican majority has made more changes to this budget than to past ones under Walker's leadership.
Still, Democrats argue Republicans haven't changed enough.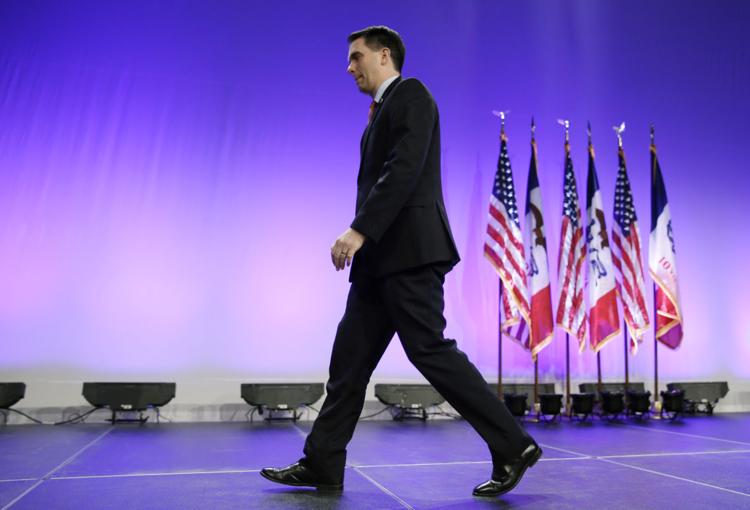 "Started from the bottom, now we're here," said Rep. Gordon Hintz, D-Oshkosh, cribbing hip-hop artist Drake during a debate over proposed cuts to the Department of Natural Resources.
Hintz said that while some proposals from his Republican colleagues have been preferable to the governor's recommendations, they're still worse than the status quo or past legislative actions.
With every budget, media and the public focus most on areas where lawmakers diverge from what the governor has recommended, Nygren said.
"I think there's probably more in this budget where we've taken a different course," he said, citing the budgets for K-12 education, the SeniorCare prescription drug program and the state's long-term care programs.
Kooyenga said he's usually surprised by which budget decisions attract the most attention and debate, adding that the committee has plenty of positive achievements — adding funding for HIV and AIDS treatment and domestic violence shelters and scaling back Walker's proposed cuts to public broadcasting, to name a few — that aren't as widely discussed.
"I just feel like the volume is always 10 on everything we do," Kooyenga said.
Pocan said he thinks Republican legislators' "hands are full," arguing that they haven't made many improvements to the budget. He said if he were a state lawmaker who received a budget like Walker's from a Democratic governor, he'd start looking for a new career.
"This is a budget they have to run on," he said. "At what point do they realize, Scott Walker is not their advocate? He's nobody's governor but his own."
Budget battles
The Joint Finance Committee has completed its work on the budget in several areas, while others remain unaddressed to date. Here's a rundown.
Scaling back UW cuts
In its last meeting before a two-week hiatus, Joint Finance took up one of the most contentious items in Walker's proposed two-year budget: a $300 million cut to the University of Wisconsin System.
The committee scrapped the governor's plan to convert the system into a public authority and scaled back his proposed cut by $50 million in a Republican motion passed on a party-line vote.
It also held onto many of Walker's proposals, including one to remove the definition of tenure from state statutes and some changes to shared governance. While UW System President Ray Cross has expressed gratitude for the reduced cut and the Board of Regents has pledged to preserve tenure under its own policies, the changes have led to a strong outcry among UW faculty, students and alumni.
Faculty have called the changes an attack on academic freedom, but Republicans say it's about providing the UW with more flexibility. If the system wanted to, it could enact even stronger tenure protections, Kooyenga said.
As legislators debated the UW proposal into the evening on May 29, Walker addressed the Belknap County GOP Sunset Dinner Cruise in New Hampshire.
"We are bowing to the pressure of a guy on a boat in New Hampshire," said Sen. Jon Erpenbach, D-Middleton, of the UW cuts, when he saw photos of Walker taking the helm.
Eventually, Sen. Luther Olsen, R-Ripon — normally a quiet presence on the committee — spoke up.
"Wisconsin has always been proud of its UW System. We have one of the best, if not the best, systems in the country, and people really look at the UW System as a gem," Olsen said. "The thing that really upsets me is that after the governor's budget came out it seemed like people decided the university deserved this cut and that people weren't working hard enough at the UW."
Walker himself suggested in January that universities could find savings by asking faculty and staff to teach one more class per semester.
"The university doesn't deserve this cut; this is just reality," Olsen said. "And to tell people they aren't working hard enough and they should teach more, I think is just ... ridiculous. We are fools if we run around bashing one of the best things we have in the state of Wisconsin."
Hintz said that was a nice speech, but nothing more, since Olsen ultimately voted to support the Republican motion.
Hintz chastised Republicans on the committee for being proud of their proposal. He told them they could not claim to be committed to the UW System because they were "crushing it."
"Put your head down, because you should be ashamed of yourselves," Hintz said.
Rejecting the DNR stewardship freeze
Just before it took up the UW budget, the committee approved on a party-line vote Walker's proposal to cut 29 positions at the Department of Natural Resources, while rejecting his recommendation to freeze land purchases through the agency's stewardship program.
Rep. Dean Knudson, R-Hudson, said every agency should face the question of whether it could perform its mission with fewer employees. But Rep. Chris Taylor, D-Madison, argued that the move seemed "retaliatory," suggesting Republican lawmakers didn't like research conducted by the scientists.
Rep. Amy Loudenbeck, R-Clinton, said Republicans were trying to "right-size" the state's land stewardship program.
Walker's proposal would have prevented land purchases through the state's stewardship program until 2028, when its debt reaches a ratio of $1 for every $8 spent since the program was launched in 1989.
The Republican motion rejected that plan, but would reduce the program's borrowing authority to $33.2 million in each fiscal year until 2019-20 and cap its total bonding authority at $1.2 billion.
K-12 education a 'top priority'
Republican lawmakers have vowed since Walker's budget was released to make funding K-12 education a priority and they argue their proposal, passed in Joint Finance, invests in the system.
Democrats say it does more harm than good, and doesn't truly make public school funding whole.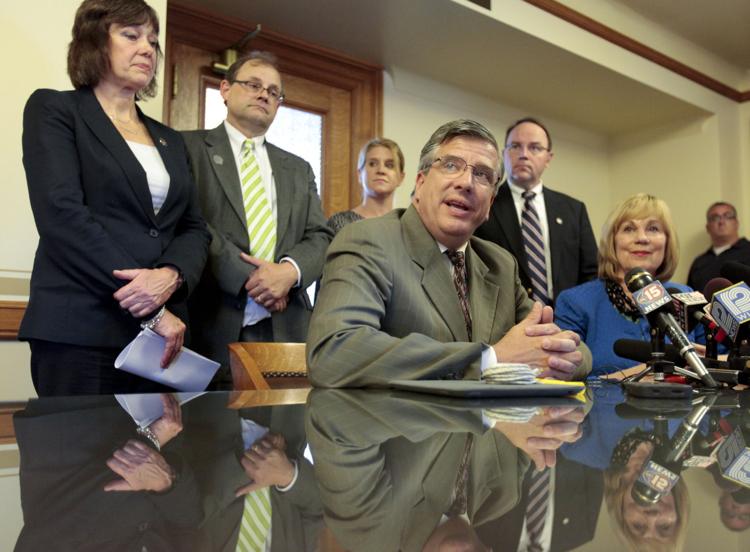 Walker's budget proposed a $127 million cut to public schools for the 2015-16 school year. Under an expansive 29-page Republican proposal, the $127 million cut would be restored. The following year, public schools would receive about $70 million more than Walker proposed.
The proposal also allows a statewide expansion of the voucher school program. Initially, participation would be capped at 1 percent of the students in each district, but in 11 years the limit would be lifted.
Kooyenga said he was surprised when another provision in the motion, which would allow the state Department of Public Instruction to grant teaching licenses to people with a certain amount of work experience and teacher training who wish to teach technical courses, resulted in controversy.
Also under the bill, teaching licenses for those who wish to teach English, social studies, math or science could be granted to anyone with a bachelor's degree who demonstrates proficiency and has relevant experience in the subject. But Republican lawmakers have suggested they might do away with that portion.
Kooyenga said the measure grants school boards some of the flexibility they've asked for, but its opponents argue it would weaken standards for educators.
State Superintendent Tony Evers called the provision "breathtaking in its stupidity."
'Much stronger' plans for long-term care
While Republicans trumpet their revisions to Walker's proposed changes to the state's long-term care programs as a success, disability rights advocates continue to push for more adjustments to Walker's proposal.
The Republican motion passed by the Joint Finance Committee scaled back a set of vague but sweeping changes proposed by the governor, including a move to use national for-profit insurers rather than the current nonprofit providers for Family Care and to restructure the way the program is set up. Walker's budget included changes to long-term care for adults and children, the elimination of several programs and decreased legislative oversight of managed care organizations.
Knudson said the Republican motion is "much stronger and different than what was in the governor's plan."
Democratic lawmakers and several disability advocacy groups said the only way to preserve the state's long-term care programs is to leave them alone and completely remove Walker's proposals from the budget.
Preserving SeniorCare
Under Walker's proposed cuts to the state's SeniorCare prescription drug program, tens of thousands of SeniorCare enrollees would have been required to first sign up for private plans through Medicare Part D coverage.
Republicans on Joint Finance voted to reject the changes entirely, leaving the program untouched. While Democrats supported that move, they voted against it because they wanted the state to also accept the federal Medicaid expansion.
A similar Walker proposal was defeated with bipartisan opposition in 2011.
Transportation stalemate
One of the most significant roadblocks to passing a budget is a debate over how the state should fund its road projects.
If Walker had his way, the state would borrow $1.3 billion. To that, Republican lawmakers have said no way. But while they refuse to support the governor's proposed level of bonding, Walker says he won't approve an increase in registration fees or the gas tax.
The disagreement has all parties deadlocked as they try to come to an agreement that everyone can stomach.
"I do think the better option would be to pay for the roads we know that have to be maintained, but Gov. Walker has said he's not willing to do that," Vos said. "He has said he's willing to borrow to spend, but we're not willing to do that, either. We'd like to have a significant reduction (in borrowing)."
The size of that reduction hasn't yet been determined, but Vos said he'd like it to be at least $800 million. The possibility of allowing for no borrowing at all has also been floated, as has making a reduction somewhere between $500 million and $800 million. Instead of threatening to make use of his line-item veto power, Walker has said he would reluctantly sign a budget with no borrowing for roads.
Mike Browne, deputy director of the liberal group One Wisconsin Now, said the governor's attitude of "I don't like it, but I'll sign it," is a sign he's not interested in spending time in Wisconsin negotiating on policy. Instead, he's trying to "get out of here" and run for president, he said.
"I'm a little disappointed we haven't gotten to the solution I think we need to get to with transportation," Nygren said, adding that he doesn't want the state to be in the same position two years from now, trying to figure out how to fund road projects.
If that happens, Nygren noted his concern that once projects like the Zoo Interchange in Milwaukee are completed, there might be less incentive for people in that area to address transportation funding since their projects would no longer be on the line. People who represent outstate districts, like him, could be left holding the bag, he said.
"If you accept the fact that all projects need to be done, my personal perception … is we look at the gas tax," he said. "That's the best way to get out-of-state folks who drive through the state to pay their fair share. I think long-term, tolling is something that's a possibility on our more heavily traveled thoroughfares."
Still, he added, "the magic word, 'tax,' is always difficult in our state."
'Cheaper to keep' the Bucks?
On June 4, Walker shared a stage with the man he defeated in two gubernatorial elections, Milwaukee's Democratic Mayor Tom Barrett, and Democratic Milwaukee County Executive Chris Abele. The strange alliance announced a plan to publicly fund half of a new basketball arena in downtown Milwaukee.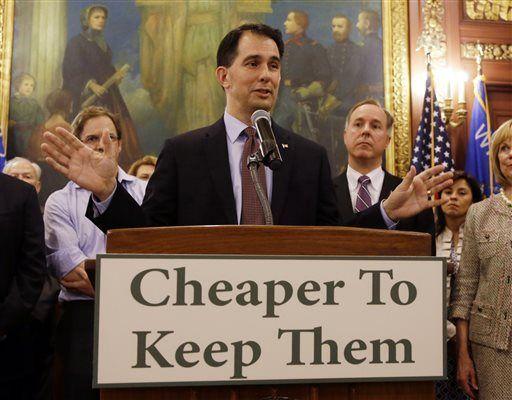 Under the plan, the public's share of the costs would be capped at $250 million plus interest, and the state's share of that commitment would be capped at $80 million. Walker insists, by way of the plan's slogan, that it's "Cheaper to Keep Them" in Wisconsin, arguing that the financial impact of the team leaving the state would be $419 million. The governor's original budget proposal called for the state to contribute $220 million to the arena.
The proposal is unpopular both in Milwaukee and throughout the state, and support among legislators on both sides of the aisle is tepid at best. Kooyenga said the deal is "bad politics" for Walker, disputing the argument that every piece of the governor's budget is driven by the presidential competition.
"He's putting himself in a position where another conservative, in a primary, can say Walker is a guy who's given billionaire subsidies to New York hedge fund guys who want to (build) an arena," Kooyenga said. "I think he believes that it's good for Milwaukee, and so he is doing what he thinks is best for Milwaukee and the state, and he truly believes that. On that issue, you see him locking arms with Barrett, locking arms with Abele and really having a disregard for presidential politics."
It's still unclear whether the deal will be considered as part of the budget or taken up separately.
'Bold strokes' on prevailing wage
Something of a wild card in the state's budget negotiations is an effort to change or repeal the state's prevailing wage laws. Senate Majority Leader Scott Fitzgerald, R-Juneau, told the Associated Press last week no deal has been reached on whether to reform or repeal the requirement that workers on local and state construction projects be paid a wage set by the state, based on a complex formula and a survey of wages and benefits.
Critics of the prevailing wage say the requirement over-inflates the costs of publicly funded projects at the expense of taxpayers. Opponents of a full repeal argue that doing so would result in lower wages, ultimately harming the middle class and driving skilled workers away from Wisconsin.
Rep. Andre Jacques, R-De Pere, said last month it would be "difficult" to get votes for the budget unless the Legislature shows "bold strokes" on the issue. But Vos and Fitzgerald have said their caucuses don't have the votes for a full repeal, and have suggested changing the law might be easier to achieve.
Sens. Duey Stroebel, R-Cedarburg, and Steve Nass, R-Whitewater, have said they won't vote for a budget without at least a full repeal of the law for local governments. If they do vote against the budget, Fitzgerald has no room to lose another Republican vote.
Kooyenga said those negotiations are being worked out within the GOP caucus rather than in the public eye, noting that "lots of opinions" exist within both the Democratic and Republican parties.
A 'swan song' budget?
The longer it takes for Wisconsin to have a signed budget, the more Walker has to answer for. A big part of his pitch to the rest of the country is that Wisconsin gets it right where Washington is mired in dysfunction.
"I mean, Gov. Walker has the right to his opinion. So does the Legislature," Vos said. "Frankly, I think Gov. Walker's been a good partner consistently throughout this entire process."
Vos said the possibility of Walker running for president hasn't made the process any more difficult.
"I think in the end, we'll come to a consensus and find an agreement, because obviously we have similar goals," he said. "But the process ebbs and flows, and we're in one of those right now."
Absent a new budget by July 1, the state will continue to operate under the old one. Kooyenga joked that whoever implemented that rule "deserves a high five," calling the state constitution "beautiful."
Still, he said, passing a budget by July 1 is the right thing to do — from both a political and policy standpoint.
"You should never hold state employees and services hostage because politicians can't agree," he said.
Kooyenga added that the longer the debate stretches on, the more uncertainty exists for the people of Wisconsin. When the target stops moving, it's easier to address any misconceptions or questions people have about what the budget actually does, he said.
Browne said the budget has been an "incredibly political document" from day one, noting that Walker's campaign was polling on items that ended up in the budget shortly after he won re-election last fall.
That's why Browne believes items like a proposal to drug test for public benefits ended up in the budget. Although it's likely to face legal challenges, it's proven a popular talking point for Walker's out-of-state speeches.
Walker's spokesperson was reached for comment on this story, but did not respond by deadline.
Pocan doesn't think Walker is interested in sticking around the Badger State for the long-term.
"I think this is the swan song budget of Scott Walker," Pocan said, adding that regardless of how Walker fares in a presidential contest, he doesn't expect him to finish his term as governor. "Wisconsin has never been Scott Walker's number one priority. Scott Walker has always been Scott Walker's number one priority. I don't think he has an endgame in Wisconsin."