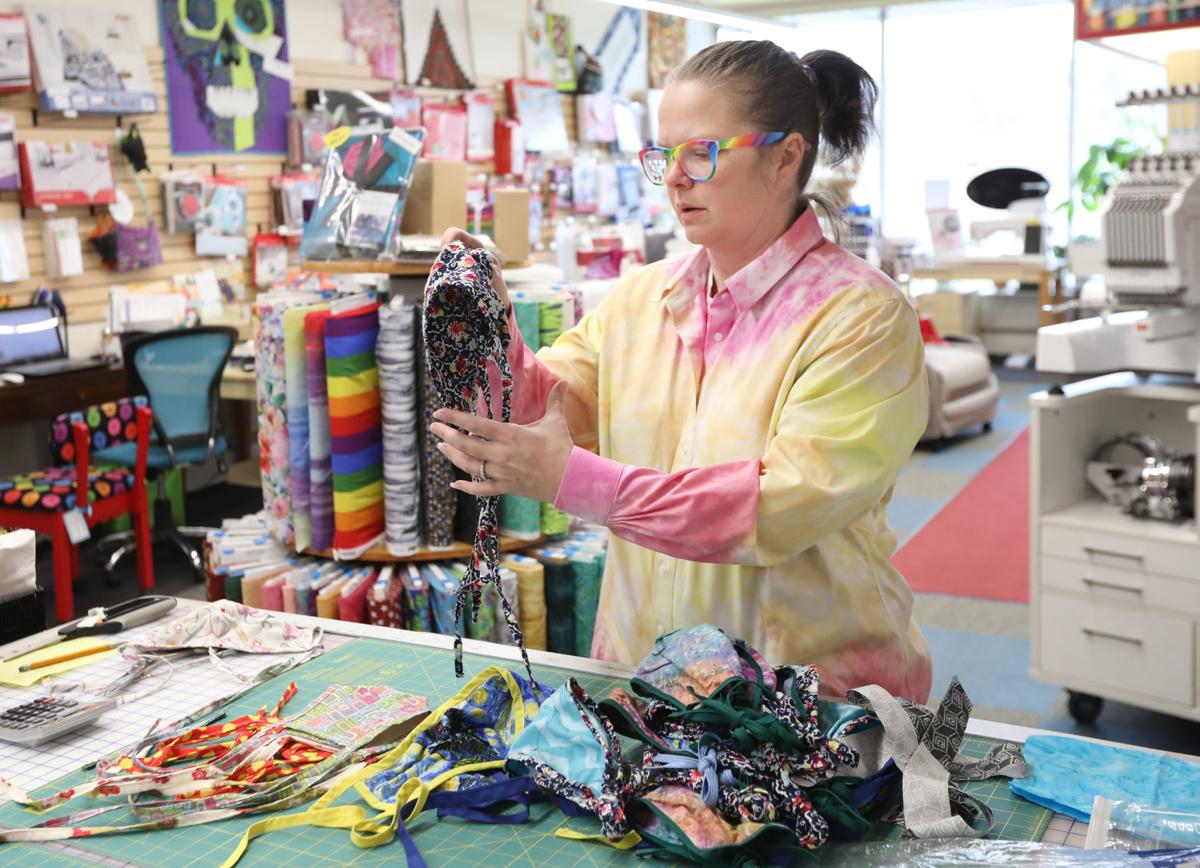 Like thousands of small business owners across the state, Jen Mulder spent Wednesday morning preparing her Electric Needle sewing shop for what could be a month-long closure under Wisconsin's new "safer at home" order.
That meant arranging pickups for repaired sewing machines, reminding customers she can still do online sales and phone orders, talking to her bank about possible missed loan payments, calling vendors to cancel orders.
She was also busy collecting handmade cloth masks being sewn by dozens of volunteers in an effort to help ease a shortage of equipment to protect health care and other frontline workers during the COVID-19 pandemic.
Local health organizations are not accepting the homemade masks, which do not protect against the coronavirus that causes the disease, and some have cautioned they could actually make things worse.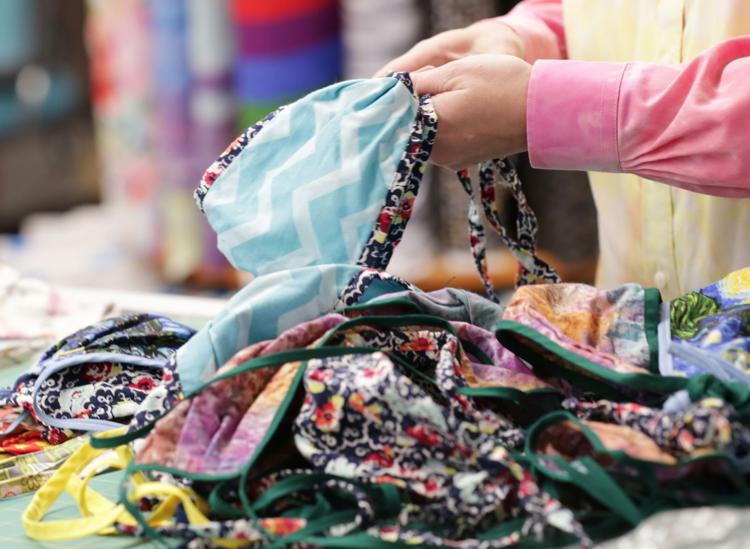 But volunteers like Mulder say they are responding to requests from individuals and organizations with little or no resources and point to guidance from the Centers for Disease Control, which recommends using improvised cloth coverings such as bandanas as a "last resort."
"I'm encouraging everyone to do their own research and use them at their own risk," she said.
Anticipating a high volume of patients as the pandemic worsens, UW Health has said it will need more protective equipment, including masks, eye protectors, face shields, gowns and gloves, and Gov. Tony Evers has asked federal officials for help purchasing supplies including 50,000 nonsurgical masks, 10,000 face shields and 3,000 N95 masks that protect the wearer from contamination.
That's in addition to 55,000 N95 masks, 130,000 surgical masks and 25,000 face shields the state has received from the Strategic National Stockpile, and Evers indicated Monday that the need for such supplies would continue to grow.
Maureen Kurtz, an intensive care nurse caring for COVID-19 patients at St. Mary's Hospital, said nurses are using N95 masks four or five times and wearing surgical masks over them to make them last longer by keeping moisture out of the filters.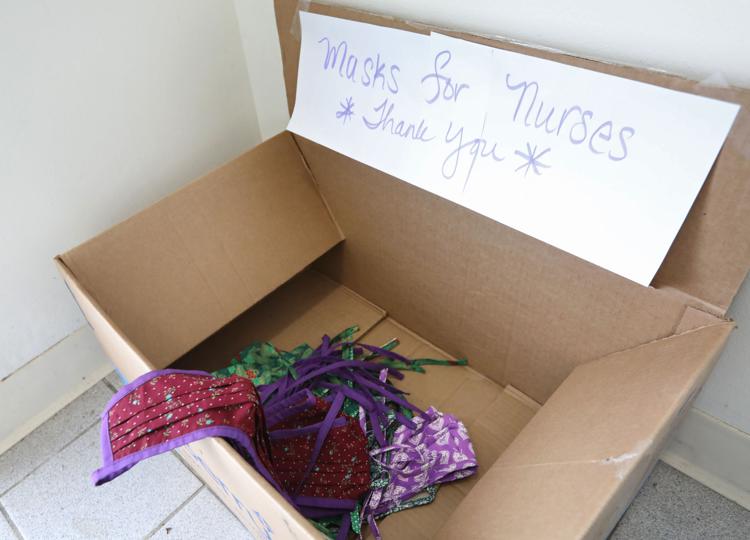 "We keep hearing these numbers," she said. "It's not something we need by March 30. It's something we need today — yesterday."
Shari Signer, a float nurse at UW Health, said staff have been encouraged to reuse N95 masks and are nervous about supplies running out. Signer said UW Health is not allowing nurses to wear cloth masks over their N95s.
Though grateful for the volunteer effort, both nurses say the federal government should be doing more to ensure they have enough of the right equipment.
"I think that's phenomenal that people want to help," she said. "But those are not going to protect us and let us be available to continue to care for patients."
About face
Many of the volunteer efforts were spurred last week by an email from UW Health's volunteer services department seeking sewists to help make cloth face masks.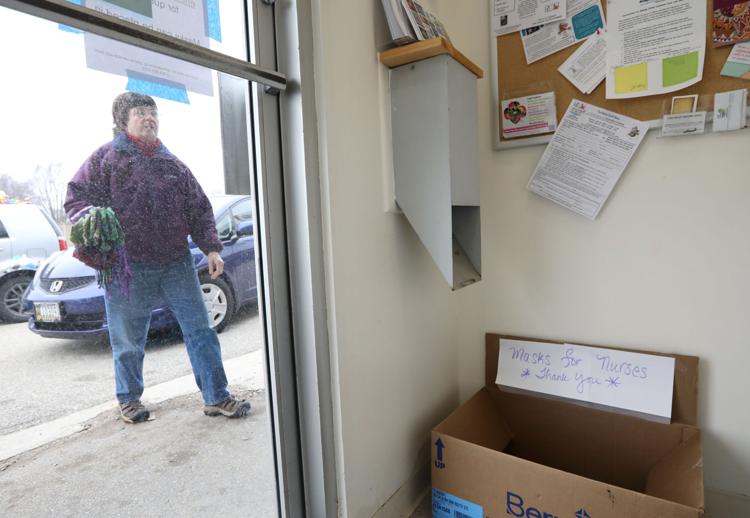 The message, which quickly circulated through sewing and quilting groups, instructed people not to begin work until UW Health came up with an approved pattern and material for the masks, which would resemble surgical masks.
Volunteer coordinator Tina Nelson said the organization received more than 2,000 email responses the first day.
"Social media is amazing," Nelson said. "Our community is amazing."
But on Tuesday, UW Health announced it was instead working with manufacturers who could mass produce masks and instead urged people to donate unused equipment, give blood or volunteer time with the United Way.
SSM health sent an email Tuesday to volunteers saying it could not accept handmade masks "at this time."
UnityPoint Health-Meriter announced Wednesday night that it doesn't have a clinical need for hand-sewn masks but may have a use for them in other areas or in the community. The organization posted instructions on its website.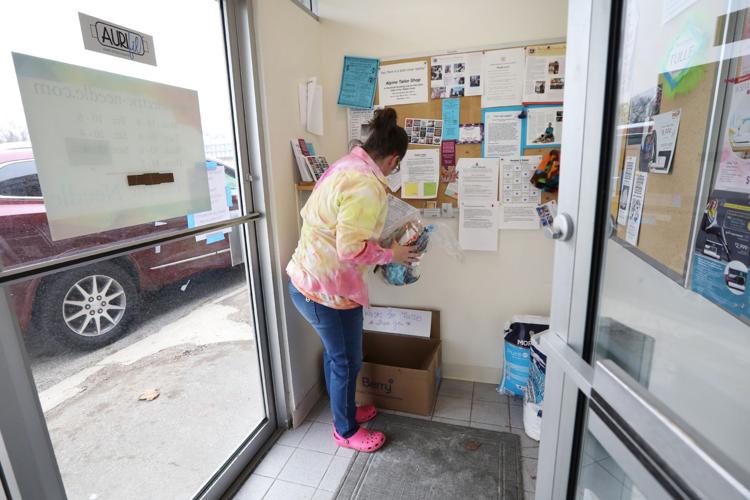 "We have gotten a ton of inquiries and requests," said spokeswoman Leah Huibregtse. "People want to help, and we're trying to give them a sense of action."
Not just nurses
Mulder said she got a request from a friend who works as a nurse and wanted something to wear over her N95s in hopes of making them last longer.
While she understands that hospitals have to follow strict infection protocols, Mulder said she's hearing from individuals — including nurses, chaplains and food pantry workers — as well as small clinics and other organizations from as far away as Alaska and Arizona.
She's prioritizing local requests first and plans to send the first batch to the YWCA for use in its women's shelter.
On Wednesday Mulder opened a bag of 19 colorful cotton masks dropped off overnight and knotted the ties to prevent them from getting tangled in the wash.
Lori Moore, of Fitchburg, dropped a zippered bag with three masks into the drop box, a vestige of the photo processing business that formerly occupied the Beltline storefront.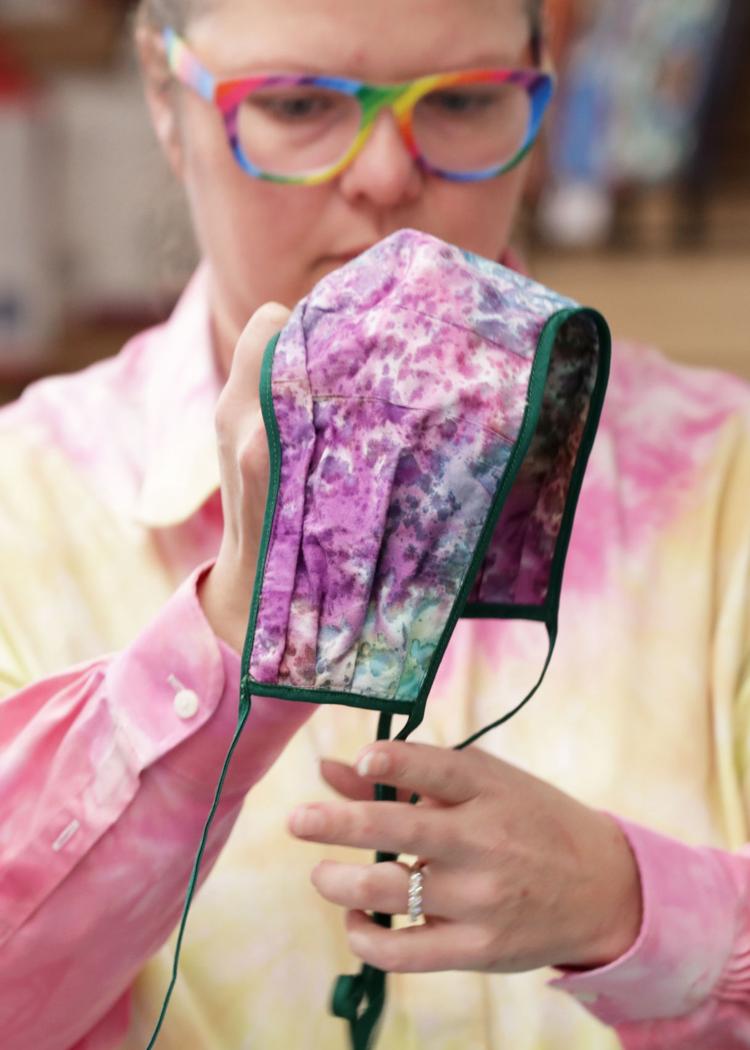 "I'm a very slow sewer," said Moore, who retired from a career in IT services.
Moore said she heard from a neighbor who works as an emergency room nurse that there was a desperate need for protective equipment and hopes the cloth masks can extend the life of the N95s.
"I guess the nurses were going to wear these anyway," she said.
Mulder, who opened The Electric Needle in 2010, has laid off six of her seven employees and applied for a job at Hy-Vee.
While she's allowed to do online sales under the "safer at home" order, Mulder said her vendor contracts prevent her from selling sewing machines, which account for the bulk of her revenue. Online fabric sales account for less than 2% in normal times, she said.
"We can't ride out five months on internet sales alone," she said.
Better ways to help
Despite the outpouring of goodwill, some sewists suggested there are better ways to help.
"As you can imagine, we were eager and willing to do all we could to help," said Lorraine Torrence, president of the Madison chapter of the American Sewing Guild.
But as they learned more about the efficacy of cloth masks and that the federal government had millions of N95 masks that hadn't been distributed, Torrence said the board decided to encourage members to write President Donald Trump and their representatives in Congress to get better protective gear into the hands of people who need it.
Jane Schirmer, a member of the sewing guild and registered nurse, applauded the effort but cautioned the cloth masks will not protect wearers from coronavirus and could even put them at risk.
"It can remind the wearer not to touch their face," Schirmer said. "The danger is the wearer is going to believe it's going to protect them."
Schirmer suggested those who want to help sew gloves or mittens instead.
"To me that would be really helpful and remind people how important hands are in the spread of the disease," she said. "It's a little less glamorous to make mitts, but that could actually have a really positive effect."
Schirmer said the enthusiasm around making the masks has obscured the fact that the nation has the capacity to make professional-grade protective gear.
"We are not like England in World War II where our infrastructure has been bombed," she said. "We have the infrastructure. We have the factories. We even have people out of jobs."



Photos: A look at how COVID-19 is affecting Wisconsin
"I think that's phenomenal that people want to help."

Shari Signer, a float nurse for UW Health
Concerned about COVID-19?
Sign up now to get the most recent coronavirus headlines and other important local and national news sent to your email inbox daily.