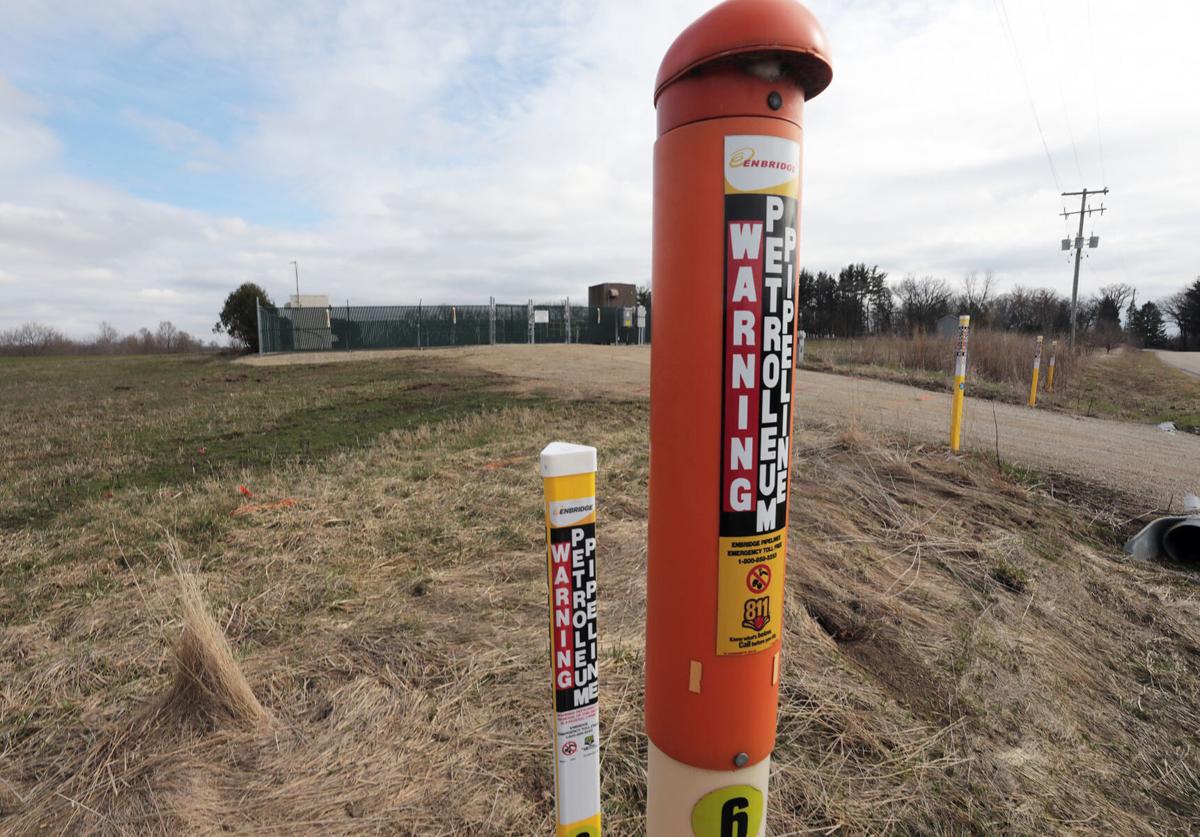 The Wisconsin Department of Natural Resources says Enbridge Energy needs to do more to investigate the extent of contamination from a 2019 pipeline spill in Jefferson County, including testing nearby well water.
More than 1,200 gallons of petroleum product leaked from the underground pipeline near Fort Atkinson, contaminating soil and groundwater with toxic chemicals, according to reports the Canadian pipeline company filed with the DNR in January.
In a letter sent last week, the DNR called Enbridge's initial investigation "a reasonable start," but ordered the company to do additional work to determine how far and deep the contaminants have spread.
The DNR is asking Enbridge to test soil and groundwater in and around the site and to sample all private wells within 1,200 feet to the south of the release. The agency said the company should pay special attention to the potential for contamination to spread along the outside of buried pipelines.
Tests of groundwater in October revealed benzene at concentrations more than 4,000 times the state enforcement standard and toluene at more than nine times the limit. Trichloroethene (TCE) was detected at levels below the enforcement standard but requiring action. Tests in January show even higher levels of benzene and toluene.
Enbridge has 60 days to submit a new investigation plan that includes drawings of its underground pipes and valves.
In a statement, an Enbridge spokesperson said the company is monitoring groundwater within 1,200 feet of the site and working with state and federal authorities as well as local landowners. 
Enbridge initially reported that 1.35 gallons of material had spilled, but later revised that estimate to 1,225 to 1,386 gallons. State law requires immediate reporting of hazardous substance spills, though the threshold for petroleum products other than gasoline is five gallons.
Trevor Nobile, field operations director for the DNR's remediation and redevelopment program, said Monday the agency continues to evaluate the circumstances of Enbridge's reporting of the spill.
Neighbors said they had only recently learned of the spill and said they worried their water may be unsafe to drink. Environmental contractors identified 10 private wells within a 1,200-foot radius of the spill, but the report indicates only one was tested.
The 20-inch pipeline — one of several Enbridge lines that cross Dane County — runs from Manhattan, Ill., to a terminal near Edmonton, Alberta, and carries "diluent," a petroleum product used to thin crude oil for transportation.
---
PHOTOS: MADISON AREA'S TOP WORKPLACES
Shining stars: Meet the Madison area's Top Workplaces
Make no mistake about it: The effects of the COVID-19 pandemic have left painful scars. But this year's Top Workplaces project shows that many employees across the Madison region remain resiliently upbeat and are clinging to their workplace cultures, even from a distance.