SPRING GREEN — Two of the many gems that can be found amid Frank Lloyd Wright's 800-acre Taliesin estate are about to get some well-deserved attention.
Water has not been kind to the Hillside Theatre. And thanks in part to a $320,000 Save America's Treasures grant from the National Park Service and a combined effort from the Frank Lloyd Wright Foundation and Taliesin Preservation, an $867,000 two-year restoration of the 120-seat theater will begin next spring.
But the living soul of Taliesin will be honored later this month.
She is Minerva Montooth, the director of social events who has worked and lived here in the Wyoming Valley in northern Iowa County and at Taliesin West in Scottsdale, Arizona, for over 70 years. Now 94, Montooth, the widow of Charles Montooth, whose work includes the Prairie School in Racine, lives in an apartment behind Wright's famed studio and communes daily in the Hillside Dining Room where she mingles with the fellows of the School of Architecture at Taliesin and sips warm ginger tea from a Mason jar mug.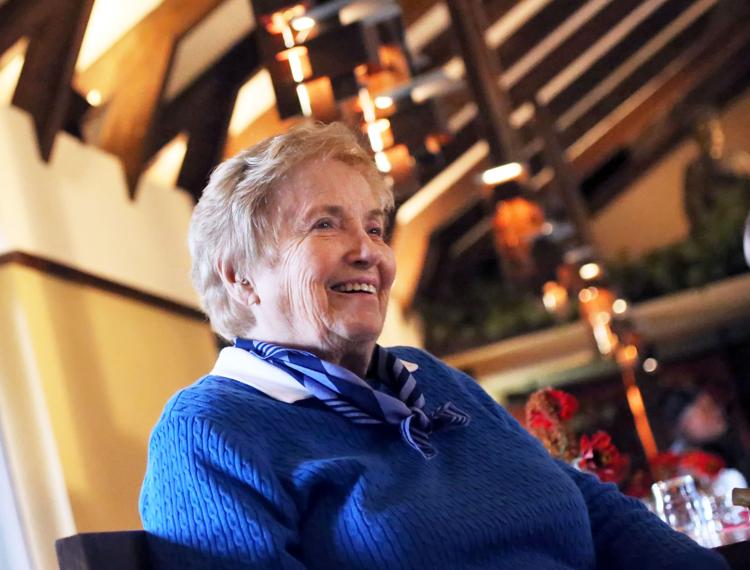 Montooth also continues to plan formal gatherings for the budding architects, something Wright insisted so that his students could learn the finer points of black-tie affairs and pitching their works to those with sizable balances in their bank accounts. And when students play music or put on plays in the theater as part of their holistic teachings, Montooth is in attendance where she can take in the colorful, patchwork stage curtain she helped sew as a birthday present to Wright, just a few years before his death in 1959.
"It was a really exciting moment because we had all made it secretly for Mr. Wright. He didn't know that it was being made," Montooth said. "There's all kinds of uses for that theater. It's just elemental to our living."
Montooth will be feted on Oct. 19 at the second annual Taliesin Preservation Shining Brow Awards, a $250-per-seat gala, dinner and fundraiser to honor those in architecture and their work associated with Taliesin. There will be music by Max Weinberg, Bruce Springsteen's drummer, and food prepared by celebrated Chef Luke Zahm of the Driftless Cafe in Viroqua.
Also being honored that night will be Arthur Dyson, who apprenticed under Wright and in 1969 launched his own award-winning California-based architectural firm, and David Uihlein Jr., president of Uihlein-Wilson Architects in Milwaukee. In 1990, Uihlein helped found Taliesin Preservation, the non-profit that serves as the education and preservation arm of the Taliesin estate, owned by the foundation.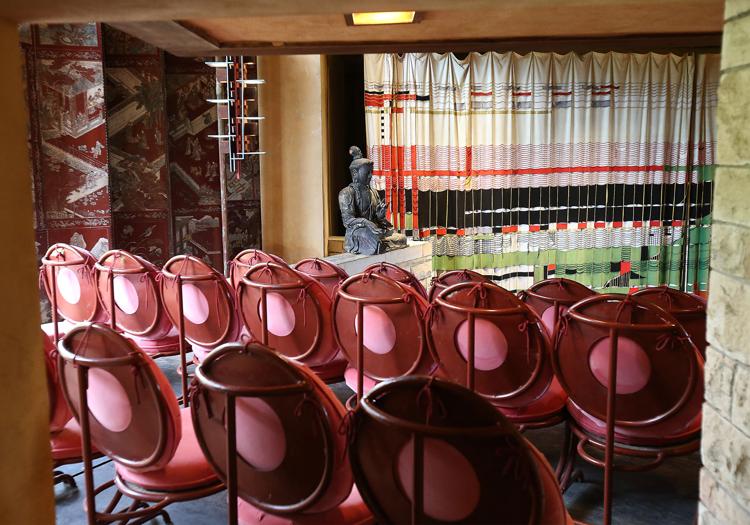 The Hillside Theatre, which should not be confused with the American Players Theater's nearby outdoor amphitheater, serves as a microcosm of the ongoing projects that dot Taliesin and the care needed to preserve their integrity. There are performances in the theater that are open to the public from May through early October, but the restoration will create opportunities for more events deeper into the fall and earlier in the spring, which will expose more people to the property, beyond just the occasional tour.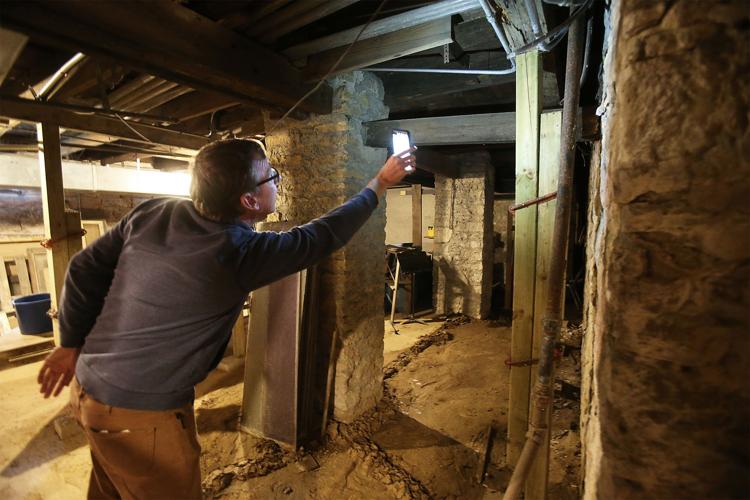 "This helps us with our next projects because we're able to bring more people here," said Ryan Hewson, preservation manager of the Frank Lloyd Wright Foundation, which owns Taliesin. "We can springboard from that and they can experience this the way it's supposed to be experienced instead of just coming here for a tour. We want people to come every summer and visit us multiple times."
The theater is significant in the storied timeline of Wright's career. His aunts, Jane Lloyd Jones and Nell Lloyd Jones, his mother's sisters, commissioned Wright to build a facility for their Hillside Home School. Completed in 1903, the school, where "Fighting Bob" La Follette's children attended, included a gymnasium with a short running track above. The school closed in 1915 and for years the building was unused before Wright took possession in 1922 to use the building for his school. The gymnasium was gradually converted to a theater and a foyer added to the south end of the building before it was destroyed in 1952 by fire.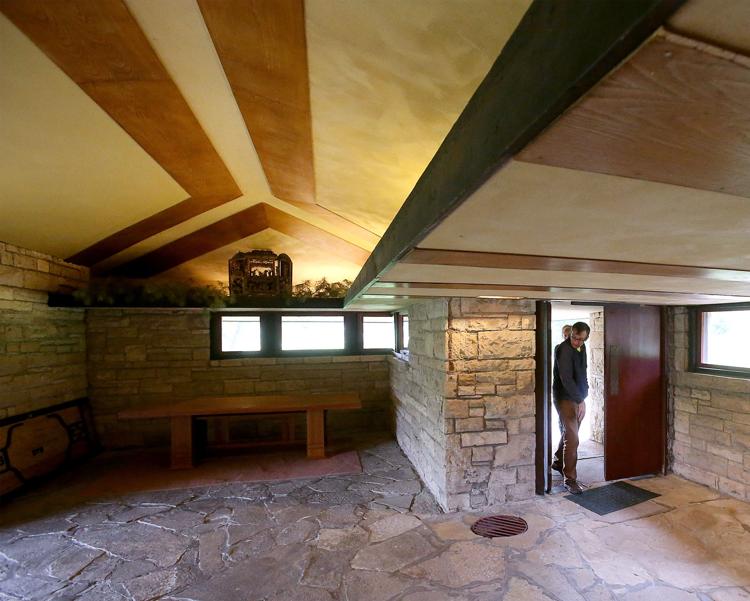 The theater and the adjacent Hillside Dining Room were immediately reconstructed by Wright and since that time, the spaces have served as key gathering spots for students, guests and the public. The theater includes a 1925 Steinway Concert Grand piano and plush, red cushioned seats in a steep auditorium that puts the audience on top of the performers with stellar acoustics.
"It's amazing. Even if it's a performance you're not necessarily interested in, the environment is so enjoyable," said Aron Meudt-Thering, communications developer for Taliesin Preservation. "There's a lot of exciting possibilities on the cusp once this (restoration) is done."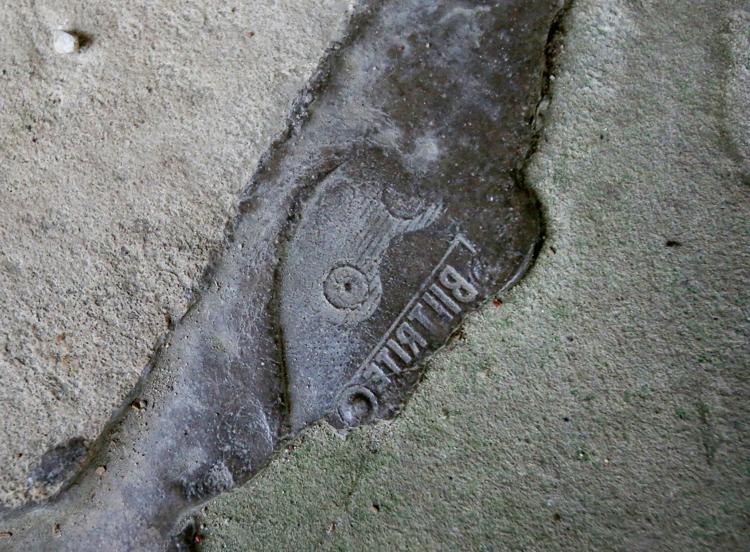 The restoration is one of only 16 projects funded by the $4.8 million distributed in the grant program that supports preservation of nationally significant historic properties throughout the country. Those receiving grants include the Mystic Seaport Museum in Maine for the rehabilitation of a 1921 fishing schooner; the restoration of Grace Methodist Church in Virginia City, Montana; and the preservation of the Tabor Opera House in Leadville, Colorado.
For the Hillside Theatre at Taliesin, most visibly, the project is designed to upgrade the entry foyer and freshen up the audience and performance spaces. But just as crucial will be the unceremonious jobs of correcting storm water runoff issues that have compromised the historic building's foundation and exterior sandstone walls; upgrading the heating and electrical systems and building bathrooms, a green room and storage facilities in the basement.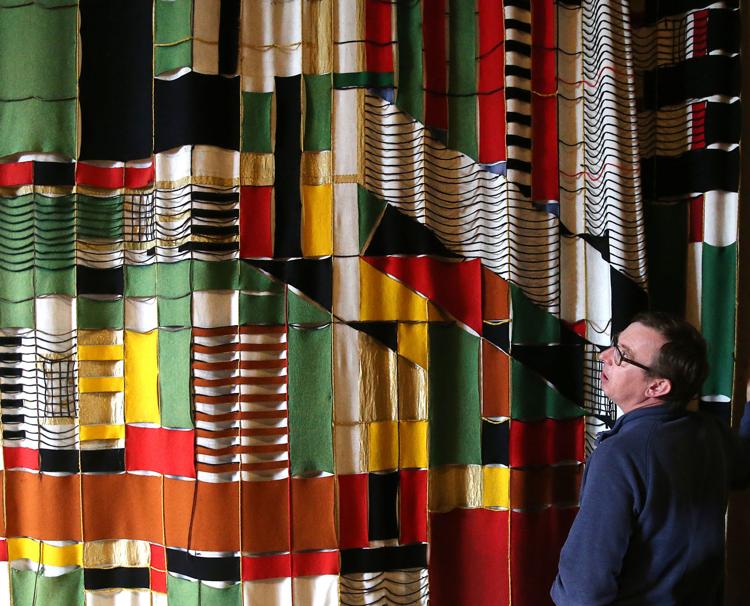 The work will retain Wright's footprint and cane marks in grout at the entryway to the foyer, while the stage curtain will remain a showpiece in its own right. The mosaic of fabric represents the Wisconsin River and the rolling landscape that is home to Taliesin and is interspersed with patches of piano keys. The curtain was restored about 10 years ago and displayed at the Guggenheim Museum in New York for a time as part of a Wright retrospective.
For Montooth, she can thank her twin sister, Sarah, for her long relationship with Taliesin. Sarah had been dating Charles Montooth, who was from their hometown of Rushville, Illinois, but when Sarah went off to college, she found a new boyfriend, which opened the door for Charles to call on the then 23-year-old Minerva. They were married for 62 years, had three children, four grandchildren and one great grandchild. He died on the last day of 2014.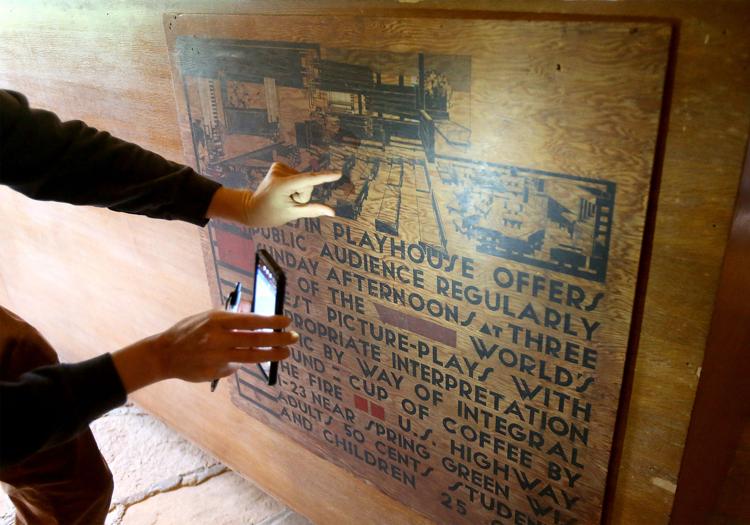 Minerva Montooth, who attended Northwestern University, was an assistant for 25 years to Wright's third and final wife, Olgivanna, who continued to run Wright's Taliesin Fellowship until her death in 1985. Montooth is also believed to be one of the few remaining people to have personally known both Frank and Olgivanna. For over 50 years, she and Charles split time between Taliesin West and Spring Green, but Minerva now lives year-round at Taliesin, south of Spring Green.
"Taliesin is a way of life," Montooth said. "It was Mr. and Mrs. Wright's home and they shared it with us and now we're sharing it with everybody else."