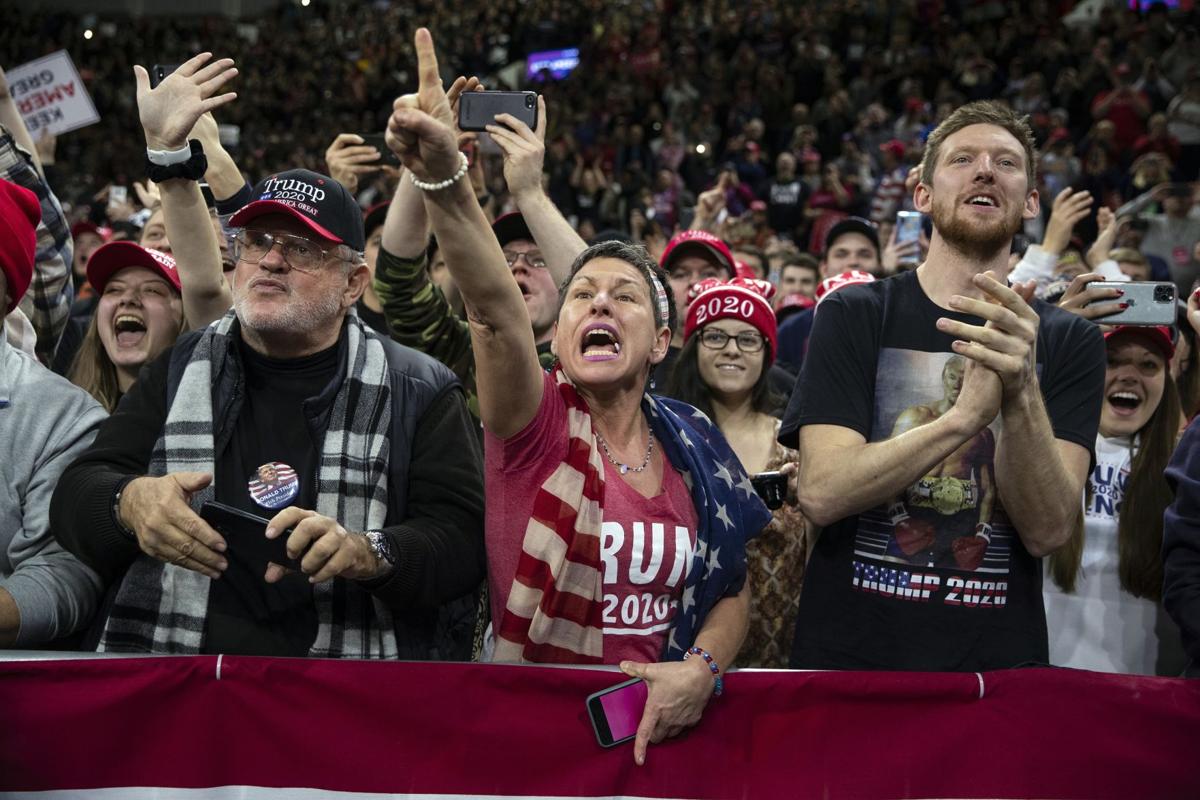 The outbreak of COVID-19 coronavirus, striking right in the middle of the 2020 campaign season, has dramatically altered how political campaigns conduct themselves just week's before Wisconsin's spring election.
Federal guidelines and an order from Gov. Tony Evers have essentially shut down in-person campaigning and rallies, an essential tool ingrained in American politics that helped fuel the rise of Republican President Donald Trump and the popularity among young people of Democratic presidential candidate Bernie Sanders.
But with most in-person meetings in Wisconsin and in many states limited to fewer than 10 people, Wisconsin campaigns, including those for the upcoming state Supreme Court election and presidential primary, have no choice but to reconsider how to go about their daily operations.
"It puts campaigns in an impossible position," said Sachin Chheda, a Democratic strategist.
Campaigns have had to shutter just about all of their in-person events, including rallies, debates, meetings with candidates and volunteer door-to-door canvassing. They've instead turned to conference calls, Facebook live events, virtual fundraisers and volunteer phone calls instead of in-person canvassing, a mainstay of campaigning even in the digital age.
Last week, the Democratic Party of Wisconsin voted to cancel all congressional district conventions, limit its state convention to only one day and allow the chairperson to hold a virtual convention and close all offices statewide. A spokeswoman for the Wisconsin Republican Party said party officials expect to make changes to their congressional and state conventions as well.
While campaigns have long used digital tools to supplement their in-person efforts, political strategists say it simply isn't as effective as communicating with voters face-to-face.
"Any time you take an in-person interaction and make it digital there is a loss of connection there," said Charles Nichols, campaign manager for Supreme Court Justice Dan Kelly, who faces Judge Jill Karofsky for a 10-year seat on the state's highest court in the April 7 spring election.
On the national level, Sanders pioneered a virtual campaign rally featuring Neil Young and others, while Biden held a tele-town hall with former surgeon general Vivek Murthy.
The Trump campaign and National Republican Committee say they're doubling down on their digital efforts, such as holding virtual events with online surrogates, conducting online training for volunteers and pushing for online registration of supporters who haven't registered.
"Nobody's ever written the book on this," Republican strategist Brandon Scholz said.
And during the final weeks of campaigning, nothing matters more than getting people excited about a candidate.
"It's really tough to rally people virtually as opposed to putting 500 in a room and getting them all revved up," Scholz said. "That oomph doesn't come from talking on a screen."
But even as campaigns adjust to the new reality, they encounter other issues largely out of their control, such as whether elections will even take place as scheduled. If they do, elections may see far lower turnout due to people being fearful of compromising their health by showing up at the polls, or from problems with having enough poll workers or even polling sites on election day.
On Friday, the mayors of Green Bay, Appleton and Neenah joined together to object to holding the election on April 7 over fears of spreading the virus at polling sites.
Wisconsin and other states have dealt with this issue in different ways. While several states have opted to postpone their elections, Wisconsin's is still on. Officials are encouraging people to vote absentee if they are fearful of going to the polls on April 7. The number of requests for absentee ballots has already exceeded previous spring elections, taxing the resources of local election officials.
It's creating difficult decisions for campaigns who want to boost turnout for their candidate on election day, but run into ethical dilemmas in doing so. Health experts warn against gathering in crowds — a common fixture at some polling places — because doing so may increase the chances of contracting the virus.
"I'm not comfortable telling people to go vote in person," Chheda said.
The campaign to elect Karofsky to the Wisconsin Supreme Court isn't ready to make that call.
"I don't know what the status of this is going to be tomorrow," said Karofsky campaign manager Tyler Hendricks. He said the campaign will use a wait-and-see approach.
Amid a national focus on the new coronavirus and a highly unstable economic outlook, both fundraising and advertising, critical components of any campaign, may become harder to accomplish just as campaigns in Wisconsin are making their final push to the finish line.
At a time when nearly all news coverage is focused on COVID-19 and its impacts, cutting through to audiences through advertising on TV, online or elsewhere has become more challenging.
"You have to cut through a lot of noise," Nichols said.
His comments come as the scheduled televised debates between Kelly and Karofsky — a rare time where all focus would be on the candidates — have been canceled.
On top of those troubles, campaigns now worry about being able to adequately fundraise given fears over the economy. Nichols said the Kelly campaign is now relying on virtual fundraisers for larger donors, but said they still don't have the same touch.
And he fears donors large and small may be retracting their check books due to economic anxiety or losing their jobs. A major drop off in fundraising hasn't come yet, but he expects it might.
Concerned about COVID-19?
Sign up now to get the most recent coronavirus headlines and other important local and national news sent to your email inbox daily.