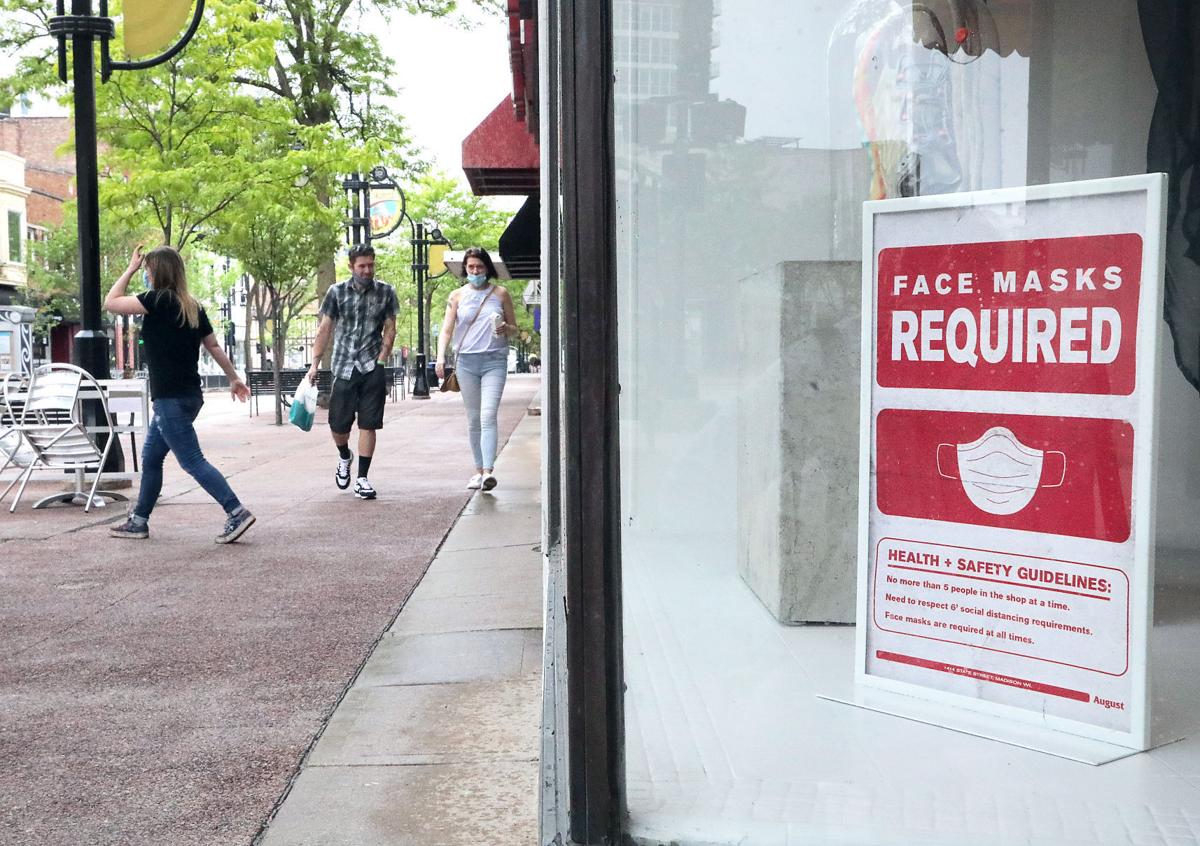 Within the next two weeks, just about anywhere you travel in Wisconsin will no longer have a public mask requirement in place.
After the Wisconsin Supreme Court struck down Gov. Tony Evers' statewide mask mandate in late March, it was up to Wisconsin cities and counties to impose their own COVID-19 related restrictions.
Only a fraction of Wisconsin's counties and municipalities opted to impose any mask mandates or other rules.
Now, with vaccinations increasing and the COVID-19 pandemic — while still ongoing — continuing to wane, most localities that did impose mask mandates have already allowed them to expire, or have plans to void them in the near future.
On Tuesday, Wisconsin's two largest population centers, Madison and Milwaukee, announced they would let their COVID-19 public health restrictions, including mask mandates, expire. Dane County announced it won't issue any new COVID-19 restrictions after its current public health order expires on June 2. Milwaukee's public health order and mask ordinance will expire June 1 instead of June 15, city officials announced Tuesday.
The announcements come after the Centers for Disease Control and Prevention released guidance Thursday that says those who are fully vaccinated can shed their masks and forgo social distancing for most indoor and outdoor activities, regardless of gathering size.
Several other cities that imposed their own COVID-19 mask orders have already let them expire. Green Bay and nearby De Pere both let their citywide mask mandates expire in early May, with city officials citing an increase in vaccinations and a decrease in COVID-19 cases and deaths. Rock County canceled its mask mandate Friday, following the new CDC guidance, as did the city of Beloit, whose common council voted unanimously Monday to terminate its public health order and mask mandate.
Outagamie County and the city of Appleton also let their mask orders expire last week, as did nearby Oshkosh.
The city of Racine's mandate stopped being enforced Friday, and was expected to be fully repealed Tuesday night.
Most other rural counties in Wisconsin never imposed a mask mandate, though many issued guidance during the pandemic on how to prevent the spread of COVID-19.
Several counties put mask advisories in place, but even those are being phased out. Portage County health and human services director Ray Przybelski said the county's existing advisory is in effect until June 1, but he expects a new advisory next week to end the advisory even sooner.
Lee Enterprises Wisconsin staff contributed to this report.
Want your car stolen or home burglarized? Here's how to make thieves' jobs easier
For years, police have warned residents to lock their vehicles and homes to discourage opportunistic young thieves. At times, that advice appears to be falling on deaf ears.