During a break in the rain earlier this week, Jesse Ransom screwed a handle into the door of a diminutive dwelling that could serve as another temporary solution to homelessness in Madison.
Tinier even than the "tiny houses" that occupy a small patch of land on the East Side, the new shelter prototype is known as a Conestoga-style hut — a wooden platform covered by insulated fabric stretched over hoops recalling the covered wagons of the American West.
But instead of joining nonprofit Occupy Madison's existing tiny house village on the East Side, organizers hope to place the new shelter and more than two dozen like it on land surrounding the now-closed Wiggie's bar at 1901 Aberg Ave., a mile and a half away.
Initially, the nonprofit hopes to secure emergency permission from the city to place the 60-square-foot huts with small porches at the Wiggie's site, where it has an accepted offer to purchase, before winter. Eventually, it hopes to gain city approval to locate perhaps 12 to 20 of the larger, more substantial, 98-square-foot tiny homes there next year.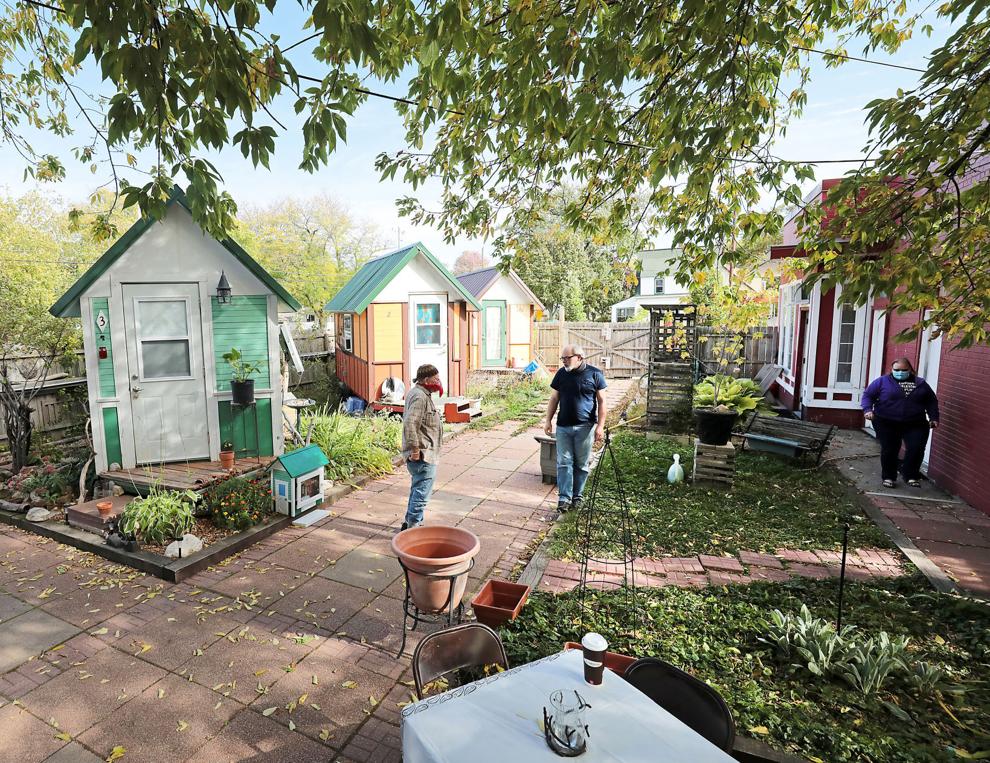 "Our main focus is to get people out of tents and make sure no one freezes this winter," she said. "We are worried there is not enough shelter space if people get kicked out of parks."
The proposal, coming just months after the City Council adopted a detailed redevelopment plan for the area, caught neighbors and officials by surprise and a neighborhood meeting is set for Oct. 28.
"We need a lot more information, including what city staff thinks of this as part of the area included in the Oscar Mayer Special Area Plan," said Lesleigh Luttrell, co-chair of the Sherman Neighborhood Association.
Ald. Syed Abbas, 12th District, who represents the existing and proposed sites, said he was open to the proposal, "but there are questions that need to be addressed before we move forward. We have to have a dialogue."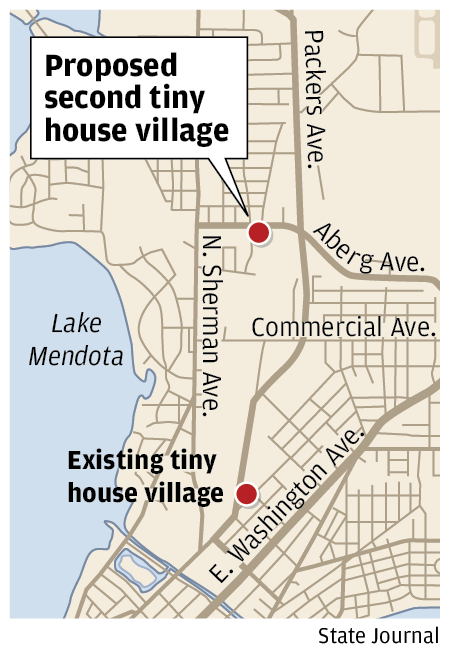 'My safe place'
Occupy Madison launched in October 2011 at Reynolds Park on the Near East Side before moving to a vacant lot in the 800 block of East Washington Avenue — since developed — where a homeless encampment grew to nearly 100 people. The city kicked the group out in May 2012, and for two years residents made encampments at temporary sites in Dane County.
After becoming a nonprofit in December 2012, the group agreed to build its first set of tiny homes and opened its first village on the one-third-acre parcel that once held an auto repair shop at 304 N. Third St. in November 2014.
A cooperatively run, self-governing organization, the village has a privacy fence, paved parkway and landscaping, and the repair shop has been converted to a common area with restrooms, showers, a makeshift kitchen, a workshop and a store selling hand-crafted items made by residents. There is a greenhouse and large, raised-bed gardens.
The tiny homes inside the fencing are splashes of color and ingenuity — a little library sits next to Chris Derek's tiny house — with frames built by students at East and La Follette high schools and finishings done by residents. To get a house, residents must put in at least 500 hours of sweat equity completing them, help run the store or complete other activities, and follow village rules.
"For me, it feels like home," said Larry Orr, who's lived at the village for a month. "It's easy to live here. I've got neighbors I'm getting to know and some I've known for a while."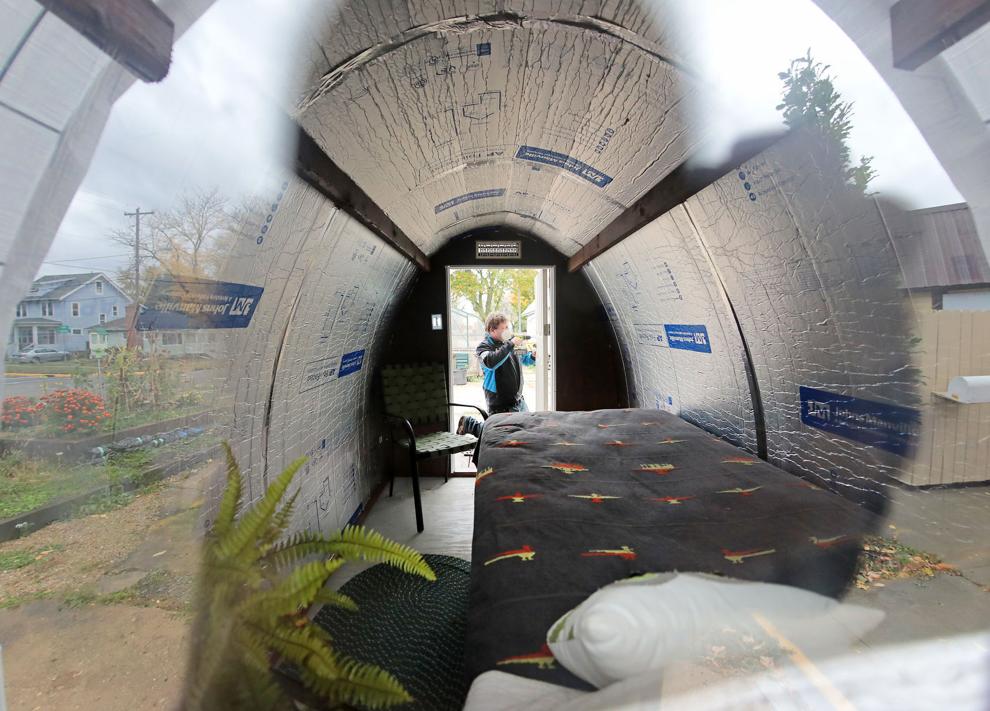 Sofia Martinez has lived at the village since it opened
"I love it," she said. "It's my safe place. When you're homeless, you're very vulnerable. You need to belong somewhere."
As an experiment in "Housing First" — in which homeless people are given immediate access to housing without prerequisites like sobriety or a willingness to participate in services — Konkel said the village is a success.
"Stable housing is the key to so many other things in life," Konkel said. "Four of our residents had jobs before COVID, now three, and one is retired. This is a family."
The village, which has an annual spring plant sale and winter holiday sale, has also become part of the surrounding neighborhood, local leaders said.
"At the time, my observation as a resident was that there was a very mixed initial reaction to the proposal for the property, with some offering very vocal opposition," said Sara Hinkel, now chairwoman of the Emerson East Neighborhood Association. "Since implementation and over time, the community has warmed significantly to the development. We have not had any reports of problems to the neighborhood association during my tenure or that of the most recent co-chairs."
Next at the site, Occupy Madison intends to build a community room, kitchen and laundry, and then add four more houses under zoning rules.
Bigger, yet smaller
But Occupy Madison is looking to do far more.
The initial phase at the Aberg Avenue property will feature 28 huts costing roughly $1,800 apiece that can be built in about two days, with 12 to 20 permanent tiny houses in a second phase, Konkel said. The huts, which would have heaters, insulation and electricity, lockable front doors, and back windows, "are cheaper, quicker to make and just to get through the winter," Konkel said, adding that the nonprofit hopes they could be moved to another legal location after the community sees a successful trial.
The huts, with enough room for an elevated bed, table, chair and belongings, are for people who are homeless and living outdoors in places not meant for human habitation, including, cars, tents and sidewalks, Konkel said, adding that Occupy Madison has a process for selecting people and rules for those living in its villages. The second phase would determine additional uses to go with the property, such as a coffee shop, bakery or retail store, she said.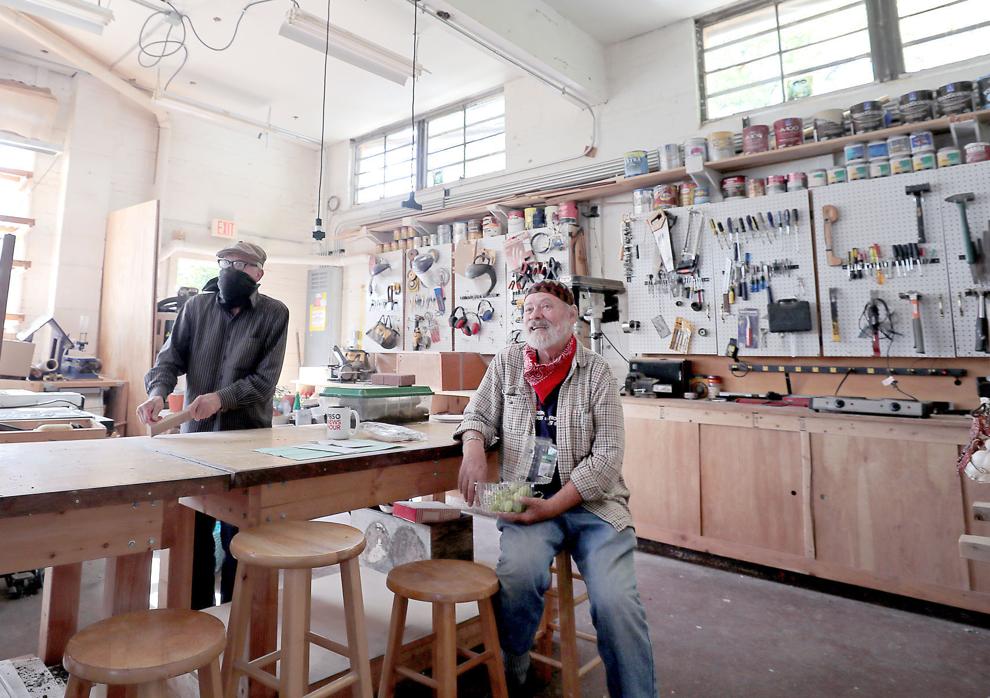 The property is attractive because the houses can be situated around the building, which has the required restrooms and will be easy to renovate, and is close to the Dane County Job Center, Metro Transit North Transfer Point and a grocery store, she said.
Occupy Madison is seeking $450,000 from Dane County for the $837,000 project, Konkel said. The nonprofit will raise $158,000, mostly for the second phase, and the remaining $229,000 will come from sweat equity. The nonprofit will take on $50,000 in annual operating expenses.
The Sherman Neighborhood Association has not had a formal meeting on the proposal yet, Luttrell said.
"We tend to be supportive of projects where the developer works with us as they go through the approval process," she said. "But this seems to be on a faster track than anything we have considered in the past."
Abbas said it's important to find housing for people but stressed there are many issues to work through, including the process for selecting occupants, what services they'll need and the potential impact of having a tiny house village across the street from the sites of two large affordable housing projects that recently received city approvals.
Some are also concerned by drug incidents and other crime over the summer that forced the city to break up an encampment of RVs and tents along Roth Street near the Oscar Mayer property, Abbas said. "We don't want a similar situation at this location," he said.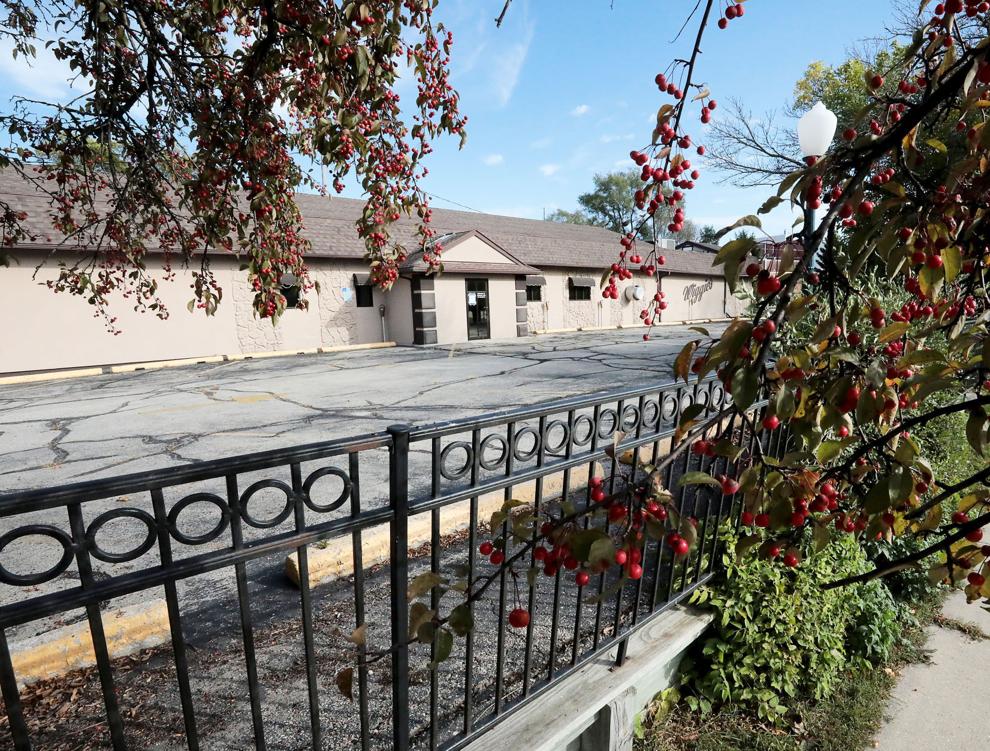 The city can approve an emergency resolution to allow the initial huts before the onset of winter, as it did for the city's Streatery program to let restaurants expand outdoors during the pandemic, while a full planning process would be required for the permanent tiny houses, city zoning administrator Matt Tucker said.
The proposed use seems "generally consistent" with the medium-density residential land-use recommendation in the Oscar Mayer Special Area Plan, Planning Division director Heather Stouder said
Occupy Madison, which hopes to get county approval for funding and city approval for temporary land use so it can close on the property by the end of November, is currently looking for 2,000 to 5,000 square feet of indoor space this fall where it can build the huts while keeping workers at a safe social distance.
"The temporary use is needed so people don't freeze this winter," Konkel said. "It's literally a matter of life and death for some folks. For the permanent use, we hope that we are an amenity to the neighborhood, and that neighbors will forget we are affordable housing and see we are just good neighbors."