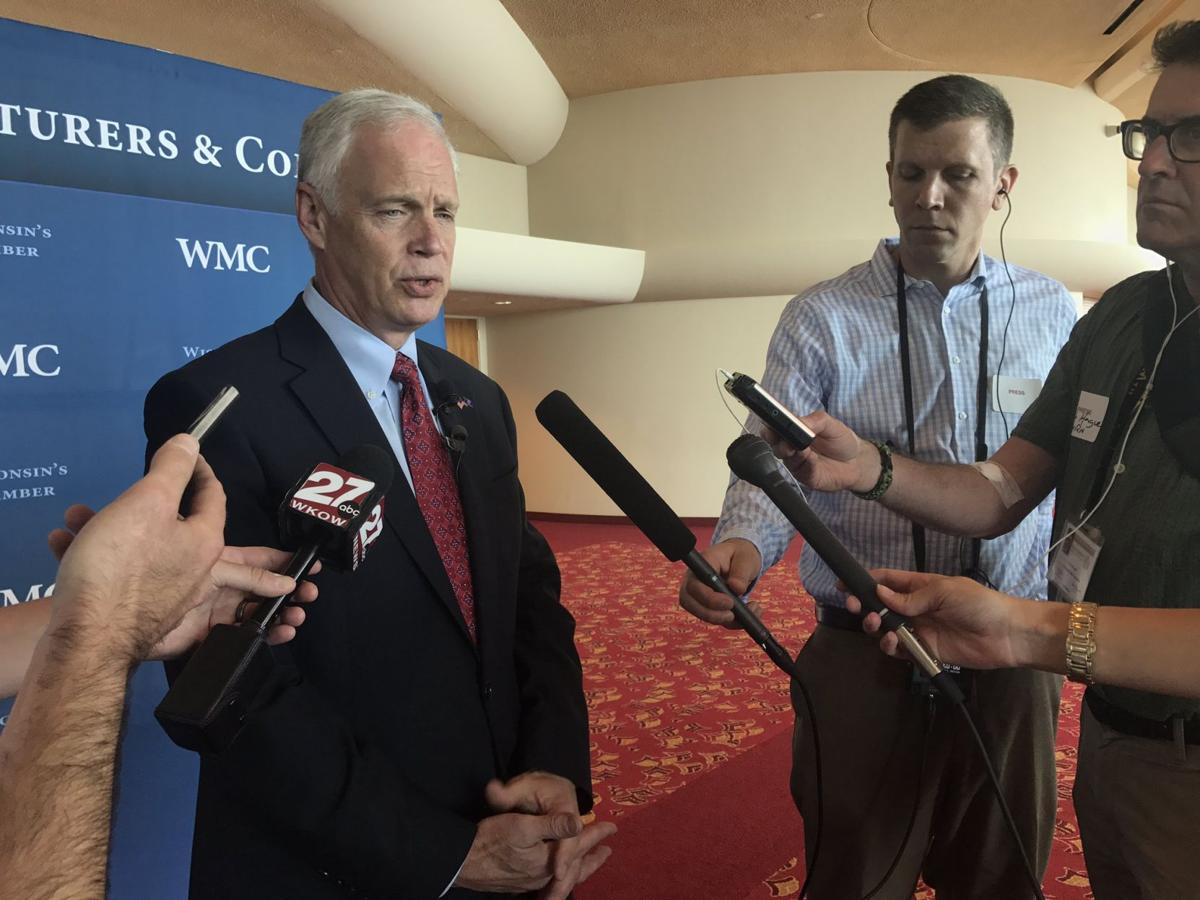 Two of the state's top Republicans on Wednesday did not denounce President Donald Trump by name for blaming both white supremacists and those protesting them for deadly violence in recent days.
Gov. Scott Walker told reporters that Trump can speak for himself when asked whether Trump's response to the violence was adequate and whether he thought Trump was racist.
"My comment on this is: I denounce the bigotry and hatred, and I'll let the president and his team speak for him," Walker told reporters Wednesday.
Trump was broadly criticized for blaming "many sides" for the violence that broke out in Charlottesville, Virginia, last weekend after white supremacist groups convened to protest the proposed dismantling of a statue of Civil War Confederate Gen. Robert E. Lee.
At one point, a man who identified as a neo-Nazi drove a car into a crowd of protesters, injuring more than a dozen and killing a 32-year-old woman.
Trump on Tuesday said both the protesters and the white nationalist groups were to blame, but there were "very fine people" on both sides. Leaders of the white nationalist movement have thanked him in recent days for his "courage."
Walker and U.S. Sen Ron Johnson, R-Oshkosh, at an event in Madison, did not directly condemn Trump's comments.
"I want to make it clear that I speak out against the hate and the bigotry exhibited by the white extremists," Walker said.
Johnson, in separate comments, said he was "not entirely" comfortable with the president's remarks. He said that elected officials should speak out about white nationalists to "reduce the divisiveness."
"I find it just depressing that a young woman died pushing back on people that are flying under a flag of just a completely evil ideology," he said after speaking at an event hosted by Wisconsin Manufacturers & Commerce.
When asked if he remains confident in Trump's leadership after his response to the events in Charlottesville, Walker responded by praising Trump administration policies.
"Would I occasionally like the president to do or say things slightly different than he does? Of course," Walker said. "But I think when I look at the substance of what this administration is doing and the benefits it has for manufacturers, for farmers, for others in this state, I've been overall very pleased."
House Speaker Paul Ryan, R-Janesville, tweeted Tuesday that white supremacy is bigotry "counter to all this country stands for. There can be no moral ambiguity," but did not address Trump by name.
Democrats on Wednesday said state Republican leaders' refusal to mention Trump by name — and silence on the matter from other top Republicans in the state — insults people of color.
"As an elected leader we need to do our job and that is to make sure not only do we hold ourselves accountable but we hold our colleagues and our counterparts accountable, too, and that means calling out those individuals that need to be called out when they are wrong," said Sen. LaTonya Johnson, D-Milwaukee, who is black.
"It's offensive to call out (both sides) because you have one entity that organized because of hatred — and the only reason that they organized because of hatred is because of the color of somebody's skin or their religious beliefs."
Trump revises
his comments
On Monday, Trump made a more muscular statement than his initial response, saying neo-Nazis, white supremacists and members of the KKK who take part in violence were "criminals and thugs." But the next day he reiterated his initial comments and blamed both groups for the violence.
Those comments prompted U.S. Rep. Mike Gallagher, R-Green Bay, and Assembly Majority Leader Jim Steineke, R-Kaukauna, to issue the most forceful rebuke from Wisconsin Republicans of Trump's comments.
"White nationalism and racism are antithetical to our fundamental values," Gallagher said in a statement. "The President needs to be crystal clear that hatred has no place in our society, but he is currently failing at it."
Steineke said Wednesday in an interview he "completely" disagrees with his party leader's assertion that there are "very fine people on both sides."
"I don't think it's possible to be racist and a white nationalist and be a decent human being," Steineke said. "There is no place for these kinds of racists in the Republican Party."
Steineke said "this isn't the time for moral equivalency" and would advise Trump to "stop rationalizing."
"I think we need to denounce racism without qualification," he said. "It doesn't matter what happened in the past in either party. At this point, we're talking about today and moving forward. I think both parties are responsible — they should be making sure it is clear that these people have no home in any legitimate political party in this country today."
Meanwhile, some of the state's top Democrats — U.S. Reps. Gwen Moore, of Milwaukee, and Mark Pocan, of Black Earth — have raised the idea of Trump being removed from office.
Democratic U.S. Sen. Tammy Baldwin, of Madison, on Wednesday in response to Trump's comments tweeted: "The only sides here are right and wrong. Americans look to the President for moral clarity. @realDonaldTrump failed us miserably."
Spokeswomen for Senate Majority Leader Scott Fitzgerald, R-Juneau, and Assembly Speaker Robin Vos, R-Rochester, did not respond to questions regarding Trump's comments and their implications for the Republican Party, nor did a spokesman for Senate President Roger Roth, R-Appleton.
Vos issued a statement late Wednesday saying Assembly lawmakers on Thursday would take up a resolution "condemning the ideology of racial hatred that was witnessed by the world in Charlottesville."
"The best antidote for hate is love. We must stand up against bigotry, racism and any violence associated with it," Vos said. "Every person deserves to be treated with respect."
Be the first to know
Get local news delivered to your inbox!