After almost 12 years in what he describes as his "dream job," Wisconsin State Journal editor John Smalley announced Thursday that he is leaving the newspaper.
Smalley's last day with the newspaper will be Aug. 21, ending 39 years of service with Lee Enterprises, which owns half of the paper's publisher, Capital Newspapers.
A native of Evansville, Smalley grew up reading the State Journal and said "it was a privilege to work for my hometown paper." He took over news operations on Dec. 15, 2008, an anniversary he celebrated each year by wearing a tuxedo to the office.
"I wanted to show people how much I loved working here," he said. "It became a tradition."
State Journal publisher Chris White said Smalley's legacy will be "the team of incredibly talented journalists that he recruited and led for so many years while guiding our organization through the fast-paced transformation to a digital-focused news source."
"We're all better off because of John's work," White said.
Lee regional editor Marc Chase said the company has not set a timeline for naming a new editor.
Smalley took over the State Journal amid the nation's largest recession in decades and at a time when newspapers were beginning to navigate the shift to online readership. His departure comes amid even greater crises — the COVID-19 pandemic and civil unrest over systemic racism and police brutality, which he said highlights the value of local news coverage.
"Our communities need journalists now more than ever," Smalley said.
Hemant Shah, a professor and former director of UW-Madison's school of journalism, said Smalley's efforts preserved strong local news coverage during a time when the print media industry has battled eroding revenue and declining print circulation.
"There's a huge abiding respect for the work John has done, especially recently when journalism has been taking such a huge hit," Shah said.
Smalley, 62, got his start in journalism as a part-time sports reporter for the La Crosse Tribune in 1977 while studying at UW-La Crosse. His first full-time job was assistant sports editor at the Mason City Globe Gazette in Iowa, where he was "the No. 2 man on a two-man staff."
He later served as editor of the Globe Gazette, and his career included two more stints at the Tribune, where he was editor for eight years before joining the State Journal.
"It's a good, long run," Smalley said. "Maybe it's time to give somebody else a try."
But he also cited community projects such as the Read Up Madison Fund campaign, which raised more than $250,000 to buy books for a summer school reading program, and the WSJ Scholars program, an internship program for students of color at the UW-Madison School of Journalism and Mass Communication.
"We're a community player," Smalley said. "We want to be a community asset and engage people who want to move the community forward."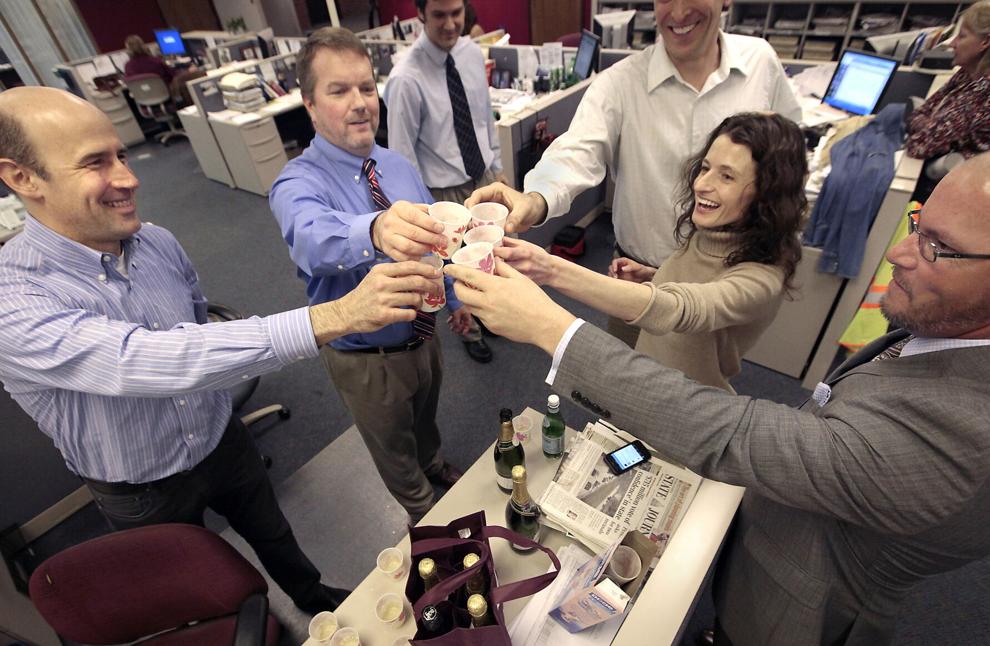 Shah said Smalley deserves credit for launching the internship program as well as the Center for Journalism Ethics at UW-Madison.
"I appreciate what an important role John played in getting that center to a level of national prominence," Shah said.
Smalley said he intends to pursue other communications project work in the local market. He and his wife, Barbara, live in Verona.
"For a lot of reasons, personal and professional, this feels like the right time to step away," Smalley said. "I know there are challenges ahead for the State Journal and all of the newspaper industry, but our audience is still huge — larger than ever between print and digital. We're still reaching the vast majority of news consumers in the market every week."
In a written statement, Chase said Smalley will continue to be a community asset even in retirement.
"John is the heart and soul of the Wisconsin State Journal and has been for years. His contributions to the capital city's newspaper — and to journalism in general — will leave a lasting legacy, and I'm proud to have worked with him during his career. He knows the stakes and value of providing a trusted flow of the most relevant and vital information for our readers.
"John's passion for Madison and the greater state will no doubt continue into his retirement, and that is why our team at the Wisconsin State Journal will work to keep him engaged with our mission as much as we possibly can."
John Smalley got his start in journalism as a part-time sports reporter for the La Crosse Tribune in 1977.