In late March, the state's response to the coronavirus pandemic slammed the brakes on economic and social activity, cutting vehicle traffic nearly in half overnight.
For traffic engineers it presented a "real-life experiment" — a way to study changes in traffic patterns that are typically hypothetical, allowing them to better understand traffic flows, pinpoint potential trouble spots and rethink the future of urban transportation.
"We need to learn from these tough situations and come out with a safer, more efficient, more sustainable and more resilient transportation system through better infrastructure design, system management and use of technology," said Yang Tao, traffic engineer for the city of Madison.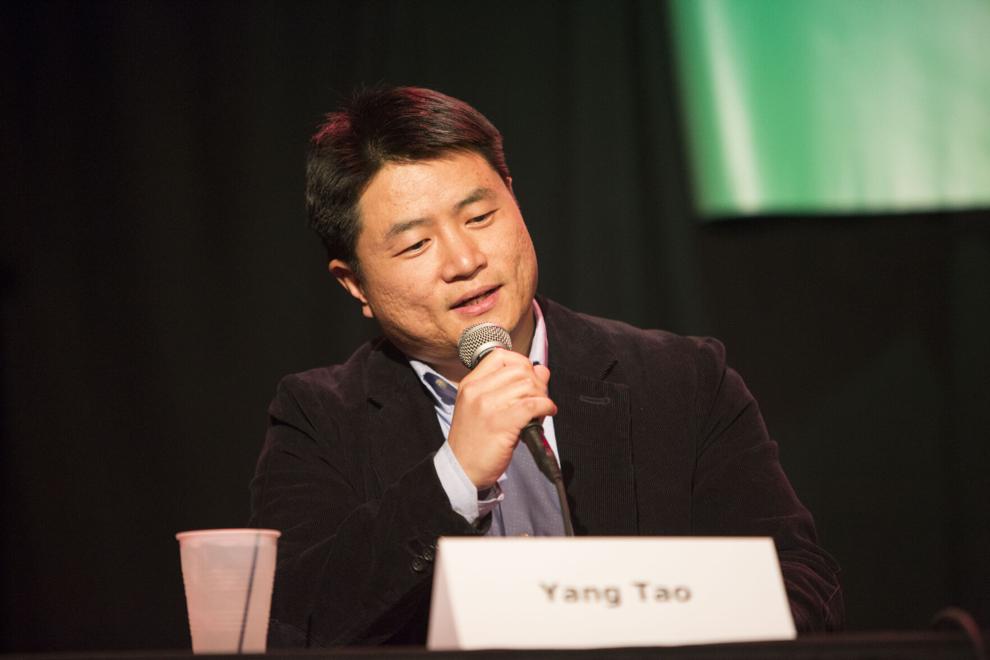 Data collected by the Department of Transportation through a variety of sensors provided near-real-time snapshots of the number and speed of vehicles traveling on Wisconsin's major highways.
While outside events — such as a big public gathering or road construction — do sometimes create major changes in traffic, those shifts are usually localized and very temporary, said Jon Riehl, a traffic engineer and researcher with UW-Madison's Traffic Operations and Safety (TOPS) Laboratory.
The pandemic provided the lab with a long-term window to study a system-wide reduction and compare highway performance to computer models, Riehl said, "which ultimately leads to improvement in highway design and traffic engineering."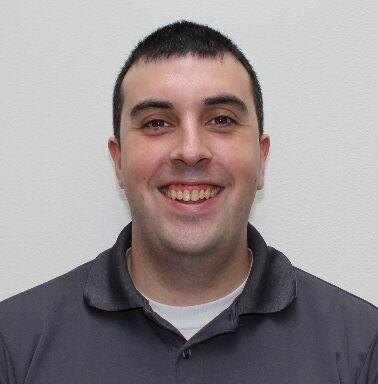 On the Beltline
On Madison's Beltline, for example, rush hour can often mean bumper-to-bumper traffic jams despite hundreds of millions of dollars worth of new lanes and engineering tricks such as metered ramps.
"We're really at that tipping point where the Beltline is super-congested," said TOPS lab director David Noyce. "There really is nothing that anyone has done across the country that could show a significant enough drop … until we got into this."
The data show weekday traffic fell about 40% statewide, and weekend traffic volumes were down 60% during the week of March 25.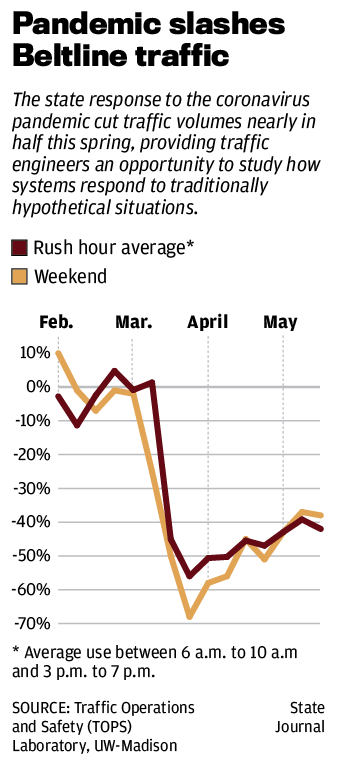 Average speeds crept up, though Riehl said that was primarily a function of the elimination of rush-hour traffic.
"In general, people are just returning to the speeds they normally would (drive)," Riehl said. "It goes with what we'd expect in traffic engineering."
More bicyclists, walkers
At the same time as it slashed automobile traffic, the pandemic response led to a surge in bicycle and foot traffic on suddenly crowded paths and sidewalks, creating a chance for planners to try out new configurations.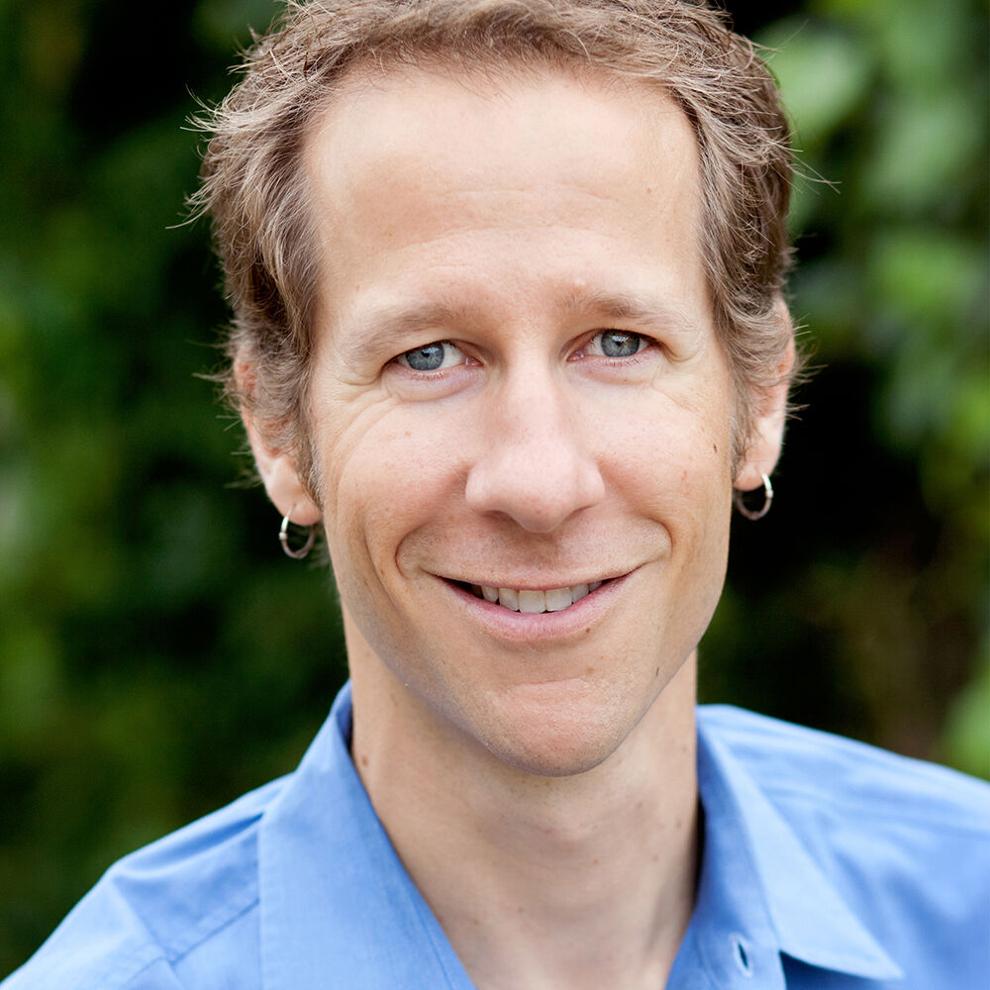 "Reduced traffic volumes present an opportunity for cities to reevaluate how they're using their public right of way," said Keven Luecke, a transportation planner with Toole Design group in Madison.
In a trial run of a planned redesign, the city used barrels to block off a lane of Atwood Avenue for bikes, which bicycle and pedestrian coordinator Renee Callaway said would likely remain in place through the fall.
"This is just a really great trial of that design," Callaway said. "This has been a need that's existed for a long time."
Flexibility important
Tao said one of the biggest lessons of the pandemic is that transportation systems should be designed with more than just one scenario in mind, a system that can easily shift to accommodate walking and biking, loading zones, outdoor seating or surges in traffic when other roads are closed by flooding, as they were in 2018.
Decisions about how and where to build or expand roads are made decades in advance using models based on current trends and patterns.
"It turns out it's incredibly difficult to predict the future," said James Longhurst, a transportation historian at UW-La Crosse. "The underlying economics can change, the cost of fuel can change, technology can change — a pandemic. This is not in anyone's traffic forecast anywhere."
Roads are designed to handle the traffic peaks that typically occur for just a couple of hours each day when everyone heads to work or back home.
Spreading that traffic out — for example, by staggering work shifts — or thinning it by having people work from home or conducting meetings over the internet is cheaper than expanding roads.
Businesses have traditionally resisted those types of changes, but the pandemic showed it can be done.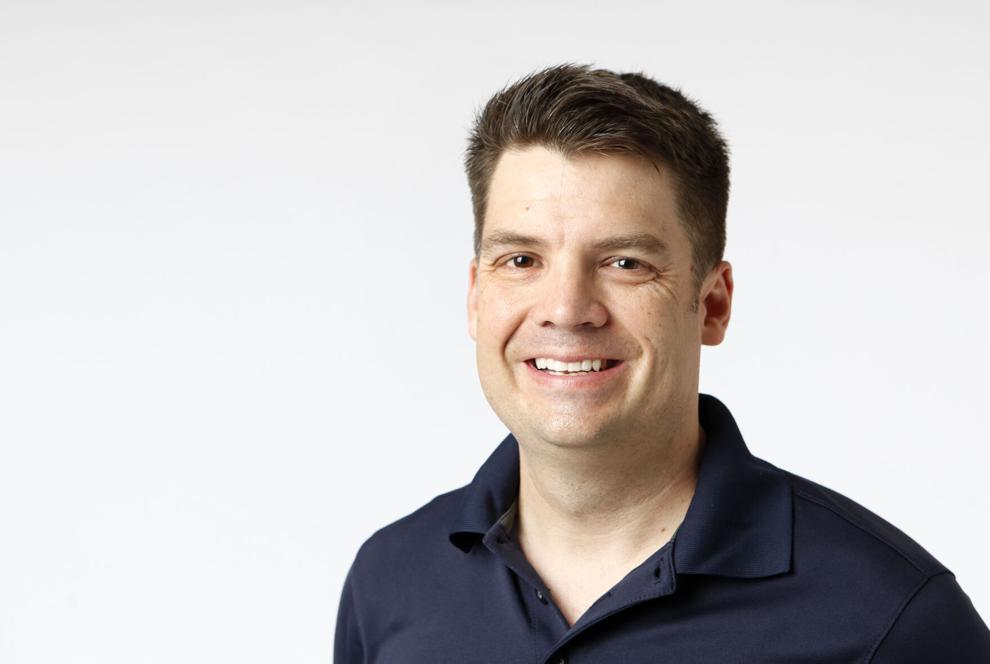 "That might be more of a possibility now than people thought of in the past," Longhurst said. "It's impossible — until you have to do it."
Encouraging these practices would reduce pressure on the transportation system and support the region's rapid growth "in a more sustainable and environmentally friendly way," Tao said.
Historically multi-modal
Longhurst notes that modes of transportation have come and gone throughout human history in response to all kinds of factors, most of which could not have been predicted.
"Streets and transportation networks have always been shared between different users," he said. "The fact that we've gotten used to one mode … doesn't mean that's going to be the future."
While traffic levels were already creeping up in May when the state Supreme Court tossed out the Evers administration's "safer at home" order, it's not clear when — or if — it will return to pre-pandemic levels.
There are questions about whether most people will be comfortable using mass transit, which could lead to more cars on the road. On the other hand, with large institutions like UW-Madison continuing to rely on remote instruction, Riehl thinks it may remain 5% to 10% below normal for the near future.
"It's not going to return to normal unless we know this thing is gone," Riehl said.
Luecke, whose firm specializes in multi-modal design, said lowering rush-hour volumes might mean roads don't need to be as wide – or built with only one type of user in mind.
"If those peaks aren't going to be quite as busy as they were in the past, that means we can use that space for better walking facilities, better biking facilities," he said. "We need to build our transportation systems … in such a way that they can be flexibly reused."