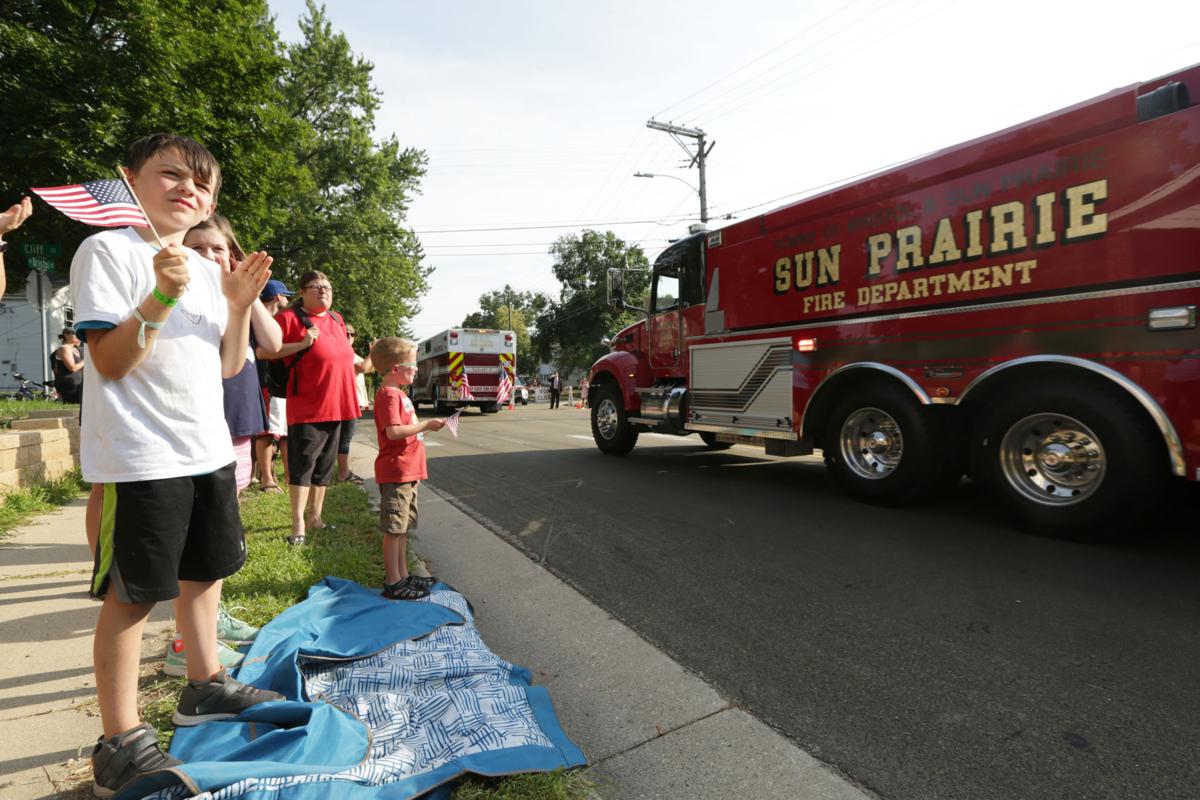 Verizon Wireless and a Kansas-based construction company said Thursday that they were responsible, through an as-yet-unnamed subcontractor, for work being done at the site of a massive natural gas explosion Tuesday that rocked Sun Prairie's downtown, killing a volunteer firefighter and critically injuring another.
Sun Prairie firefighter Ryan Welch was released from a hospital Thursday and brought to Fire Station 1, a block from the blast site, by a procession of emergency vehicles that were greeted by dozens of residents who cheered Welch into the station.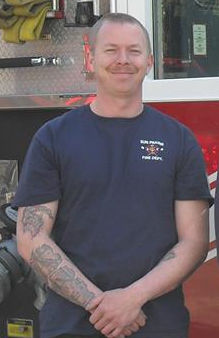 "His face is burned, his jaw is broken in several places, he lost teeth, his hands are injured. A building fell on him, but he was up walking (with help) the next day," according to a GoFundMe page launched Thursday to provide him support.
At the station, firefighters and staff encircled Welch. Each took turns embracing their comrade.
Holly McCloskey, 17, who had been nearby at the time of the explosion and was among those watching the procession, said it was important to her to let Welch know she and the community are thankful for his service.
"It takes a lot of bravery, and it takes guts to do what he did," McCloskey said. "There's something to be said for self-sacrifice."
Welch was 20 minutes into his shift when he got the call about the gas leak, according to the GoFundMe page.
Teams of two went to the nearby buildings to shut off the gas, but as Welch and Capt. Cory Barr were leaving the Barr House, which Barr owned with his wife, the building exploded. Barr died from his injuries.
City officials have said digging on North Bristol Street at Main Street on Tuesday led to a gas main break at about 6:20 p.m., which led to the explosion about 40 minutes later.
Verizon said in a statement that Bear Communications of Lawrence, Kansas, was contracted to do fiber work in the Madison area, including Sun Prairie, and no Verizon employees were at the site of the blast Tuesday. In a statement, Bear said "a subcontractor of Bear Communications was performing work on site before the explosion."
A spokesman for Bear, Scott Stein, declined Thursday to identify the subcontractor or detail the work it was doing.
Sun Prairie Mayor Paul Esser said Wednesday that the contractor had been doing "directional boring," which allows for laying pipe or cable without having to dig a trench. The contractor appeared to have hit the gas main under the pavement, Esser said.
In its statement, Bear offered "condolences and prayers" to Barr's family.
"There are many questions that remain to be answered as the investigation continues," Bear said. "We are fully cooperating with investigators so they can develop a comprehensive overview of what happened and why."
Verizon spokesman Steve Van Dinter said in a statement that while the company had not been contacted in the investigation of the incident, "both we and Bear are prepared to work with law enforcement, public safety and public officials as they investigate this tragic situation."
Van Dinter declined to say whether the contractor struck the gas main, as police have said happened.
Patrick DePula, owner of Salvatore's Tomato Pies at 121 E. Main St. in Sun Prairie, said he saw Bear Communications trucks at the site on Tuesday.
In addition to Barr's death, the explosion injured five firefighters, five civilians and a law enforcement officer. None remains hospitalized.
"Verizon's employees join the community in mourning the loss of a firefighter's life, and we pray for the speedy and complete recovery of those harmed," Van Dinter said.
Citing the investigation into Barr's death, city officials have refused to release the names of the company or companies believed to be responsible for the gas main break.
Asked if that meant the investigation was criminal in nature, Esser said that was only "a possibility in the sense that nothing has been taken off the table."
A message left with the city's Engineering Department — which issues permits for construction work in the city — was not returned Thursday.
The time between the gas main break and the explosion gave authorities time to clear residents and visitors out of the immediate area.
The explosion destroyed the Barr House restaurant, which Barr owned with his wife, Abby, and damaged several other buildings.
A large fire continued in the area for hours after the initial blast. WE Energies employees were able to get gas shut off to the area by about 9:30 p.m.
Sharon Bollig, who lives at 136 Bristol St., just north of the blast, said she was home Tuesday and watching contractors who were using a machine made by Ditch Witch.
"I saw one of the guys in a yellow vest who was out there working come flying past the house. Like running, like a bat out of hell," Bollig said. "I knew something was the matter."
Bollig said she then left her house to go to a nearby convenience store but could smell gas for three blocks and saw someone in plain clothes trying to divert traffic from the area. When she returned she went to her front porch but had to go back inside because the smell was making her nauseated. A few moments later, she heard and felt the explosion, which blew the windows out of her house.
"I couldn't believe it," said Bollig, who fled the home at the urging of police but had to leave her two cats and a bird behind. "The fact that they're in there with the windows broken and you're smelling all that gas in the house, I don't know. I didn't have anything. Not my cellphone, not a cigarette, I didn't have a thing."
---
State Journal reporters Barry Adams and Chris Rickert contributed to this report.
Be the first to know
Get local news delivered to your inbox!