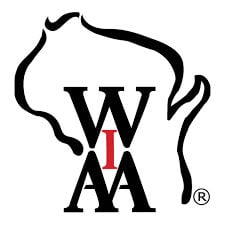 The horn went off at 10:03 p.m. Thursday, marking the end of an overtime thriller between the Melrose-Mindoro and Mishicot girls basketball teams at the Resch Center in Ashwaubenon.
As it turned out, though, Melrose-Mindoro's 57-55 victory in a Division 4 semifinal marked the end of the Wisconsin high school basketball season.
Just as with the NCAA's March Madness, Wisconsin's March Madness has fallen victim to the COVID-19 coronavirus.
My heart breaks for my team.

— Adam Wamsley (@AdamGWamsley) March 13, 2020
The WIAA's executive leadership and Board of Control held a late emergency meeting in the Kress Center after the fourth and final game of the day at the Resch Center and decided to cancel all remaining games in the state boys and girls basketball tournaments.
There were 11 girls basketball games left to be played — semifinals on Friday in Divisions 1, 2 and 5, and five championship games on Saturday. Oregon and Beaver Dam (Division 2) and Middleton (Division 1) were scheduled to play in semifinals on Friday.
Beaver Dam was seeking what would have been an unprecedented fourth consecutive WIAA championship; Middleton was back after losing on a last-second shot in last year's final; Oregon was excited over its first state trip in 40 years.
Obviously we are heartbroken. But, Oregon will always be so proud of this TEAM. Conference Champs, Regional and Sectional Championships all matter. But above all we will remember how you have handled yourselves and your toughness and grit. #pantherup https://t.co/L1L9FTdyxV

— OHSPantherAthletics (@OregonPanthers) March 13, 2020
And there were 20 boys basketball sectional semifinals left to be played on Saturday, followed by what would have been a three-day, 15-team state boys tournament scheduled for March 19-21. Area teams still alive for state berths were Madison La Follette and Madison East, who would have met Saturday in a Division 1 final, and DeForest in Division 2.
All those games are now lost. The reason, of course, is the burgeoning COVID-19 pandemic that has caused a cascading waterfall of jaw-dropping professional, college and prep sports postponements and cancellations across America and around the globe — from the NCAA men's basketball tournament to the NBA to Major League Baseball and beyond.
First, fan-free games
The threat hit home for Wisconsin high school basketball teams on Thursday, with the WIAA and the University of Wisconsin taking one bite at a time out of what would have been a two-week run of sold-out, raucous girls and boys tournament action.
First, early on Thursday morning, the WIAA announced that only 88 spectators per team — four for each player or staffer on each team's roster — would be allowed into the facility to watch the games.
Some schools tightened those restrictions even further for boys games. Verona, for instance, allowed no fans whatsoever to attend when it played host to Madison La Follette and Waunakee on Thursday evening. The Madison Metropolitan School District followed a similar standard for East's victory over Oconomowoc at Middleton.
Boys sectional finals were to be played on Saturday. The state tournament originally had been planned for the Kohl Center March 19-21. However, late Thursday afternoon the University of Wisconsin Police Department announced that the Kohl Center would no longer welcome this year's state boys tournament.
Rather than go through 11 more girls games and 35 more boys games with almost no fans — while simultaneously scrambling to find an alternate site for a state boys tournament — the WIAA leadership opted to err on the side of caution.
"I want the student-athletes and their coaches to know that your school leaders, the WIAA Executive Staff, our committees and the Board of Control have done everything imaginable to try to provide and preserve these opportunities for you," WIAA executive director Dave Anderson said in a news release sent by the WIAA at 11:15 p.m. Thursday.
"However, we want and need to be responsible in helping the global and state efforts to stem the tide and spread of this virus."
The release also read: "The WIAA regrets the lost opportunity for teams and players that have worked to achieve their goals and the communities that have supported them throughout the year."
Tickets already purchased for tournament girls and boys games will be refunded in full. According to the WIAA release: "Please allow staff time to make these refunds and contact the WIAA office only if you do not see a refund to your account within two weeks of the tournament. Any tickets purchased at (a) school will be refunded by your school and not the Resch Center and the WIAA."
The decision marks the first time since the boys tournament began in 1916 that a state tournament was not held. It's also the first time since the girls tournament began in 1976 that it wasn't concluded.
La Crosse Aquinas girls coach Dave Donarski said after his team's semifinal victory that "it would be crushing" if the rest of the tournament was canceled, because "this is the state tournament ... this is the pinnacle."
Aquinas senior guard Lexi Donarski, the Gatorade Player of the Year for Wisconsin said: "It would be devastating if we don't get to play the last game ... super heartbreaking."
The UW-Madison Police Department release stated that "(t)he decision (to keep the boys tournament from being played in the Kohl Center) was made in consultation with local and state public health officials to discourage and limit large gatherings in light of the rapidly evolving COVID-19 situation.
"Many other sporting events and tournaments across the country have also canceled their events, including the Big Ten and NCAA tournaments.
"We understand the importance of this tournament — not only for players, but also for coaches, parents and fans in general. This decision was not taken lightly. However, the health and safety of players, participants and community is our top priority," the release stated.
Girls play in empty Resch
On Thursday morning, the WIAA announced that it will not allow members of the general public to attend any of its boys or girls basketball games for the rest of the tournament season.
"(The WIAA is) limiting attendance at the remainder of all winter tournament events scheduled March 12-14 and March 19-21," the WIAA stated in a news release.
Aside from a "limited allotment" of tickets provided to 88 immediate family members of each participating team, the WIAA release stated that general attendance tickets will not be sold or honored at any upcoming WIAA basketball events. Also included in each team's party will be 22 team personnel and two supervisors, making for a total of 112 people per team.
Also admitted were officials, a timer, scorekeeper, announcer, team host, WIAA staff, WIAA athletic trainers and WIAA Board of Control members deemed essential to the administration of the tournament. Cheerleaders, pep bands, school photographers, videographers and on-site sponsors were prohibited.
"The WIAA has been keeping up with public health and medical updates and has recognized the changing environment over the past 24 hours," WIAA executive director Dave Anderson said in the WIAA's Thursday morning release. "As good and responsible citizens, we are adhering to policies consistent to preventing the spread of COVID-19."
The restrictions are creating a nightmare situation for schools and local businesses in the Green Bay and Madison areas that depend on state tournament income. For instance, hotels in Green Bay and Madison must decide how to handle what could be thousands of canceled reservations from fans who no longer have games to attend. Restaurants and other local businesses must adjust to the loss of patrons and income.
The decision also will affect the WIAA and sectional host schools financially. Losing almost all ticket income from the state girls tournament, state boys tournament and boys sectionals will severely impact the WIAA's annual budget. Also, schools that agreed to host sectional games will lose the income from their percentage of ticket sales.
Anderson said at a news conference Thursday at the Resch Center the decision was made "trying to find that place where we can find opportunities and being respectful."
He expressed "empathy and regret" about the situation that limits attendance to family and essential personnel. He said he was sorry for the abrupt nature of the decision, but that the WIAA is doing everything it can to provide the opportunity for the student-athletes.
He said "as unpleasant as this might feel" right now, this will serve as a teachable moment in the future for the student-athletes, particularly when they face challenges in their adult lives. 
As far as an economic impact to his own organization, Anderson said, "We have savings built up. I'm confident we will be able to navigate these waters." 
People not in the "traveling party" who had driven or were in buses coming to the area, were told of the news when they arrived — some at Resch Center parking lots, which had signs posted explaining the situation and weren't charging for parking Thursday afternoon. The disappointed fans were turned away. They either returned home or went to hotels to watch the games.
---
State Journal sports reporter Jon Masson also contributed to this report. 
Concerned about COVID-19?
Sign up now to get the most recent coronavirus headlines and other important local and national news sent to your email inbox daily.