KENOSHA — A chaotic Kenosha County Board meeting adjourned after a man was arrested during public comments Tuesday night.
Joel Trudell, 43, of Kenosha, was arrested during his remarks by Kenosha County Sheriff's Department deputies after he refused to stop speaking after County Board Chairman Gabe Nudo told him to stop for allegedly being out of order.
The meeting ended after about an hour and a half of public comments on several contentious issues.
Trudell spoke against the resolution to amend an ordinance to allow firearms in some county buildings and the proposed policy change regarding department heads.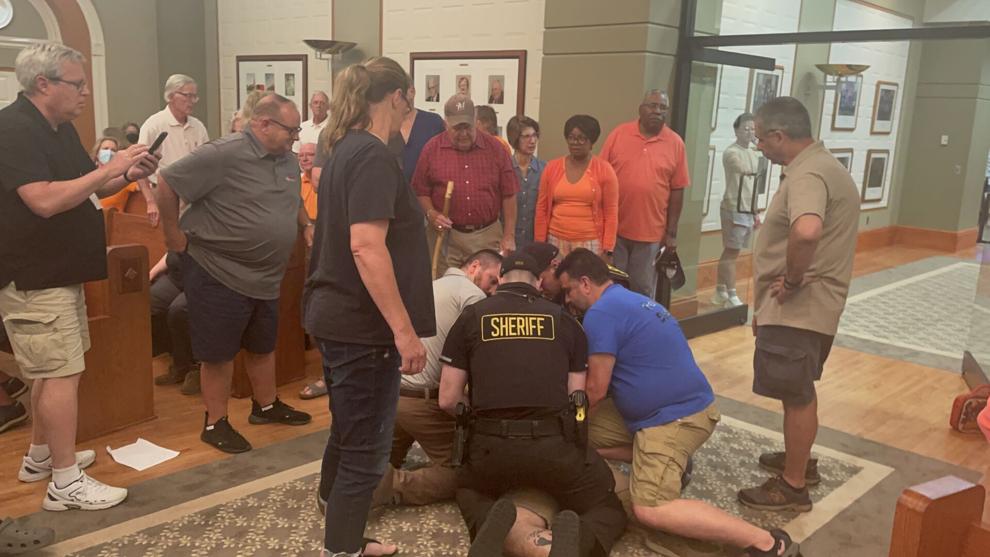 "What and whose priorities do these amendments represent?" Trudell said before calling out some supervisors who he said received campaign contributions in the spring election from people out of state and Republicans.
While he was speaking, a man in the audience shouted something about how he wished he had provided funds for the supervisors Trudell named. Trudell then stopped giving his prepared statements and requested that his allotted time account for the interruption. A few moments later, a man got up from the front row and walked past Trudell.
"I guess it's a good thing we weren't concealed carry, I could have taken that as a threat, huh?" he said.
Nudo then banged his gavel and said, "That was uncalled for. That was uncalled for."
"Well, that's the truth," Trudell replied.
Nudo then said Trudell should be "civil" and not make "derogatory" comments.
"I'm sorry Mr. Nudo, I will share your campaign information in a bit," Trudell said as the two continued to speak over each other.
"One more word and you're going to go out," Nudo said.
Trudell then replied, "Are you afraid of the public's comments, sir? I would like my time back."
"Your time is out," Nudo said before calling on deputies to remove Trudell.
Trudell refused to leave the podium as deputies approached. Trudell was removed from the podium and brought to his knees in front of the crowd by the deputies. Trudell then began screaming "What is going on? I'm trying to talk!"
Members of the public yelled, "Let him speak!" and then chanted, "Shame. Shame." in support of Trudell. Trudell's allotted time had not run out when he was arrested.
Within minutes of the incident, Sup. Terry Rose made a motion to adjourn the meeting. The motion passed by a single vote.
Trudell was arrested for disorderly conduct and obstructing or resisting officers. He was released from jail about 8 a.m. Wednesday.
Trudell could not be reached for comment.
Kenosha County District Attorney Michael Graveley said the jail gave Trudell a July date to report to court.
"We will review the referral and make any decisions with his summons date in mind. We obviously would not comment before," Graveley said.
Chairman issues statement
Nudo sent a statement to the Kenosha News Wednesday afternoon about the incident.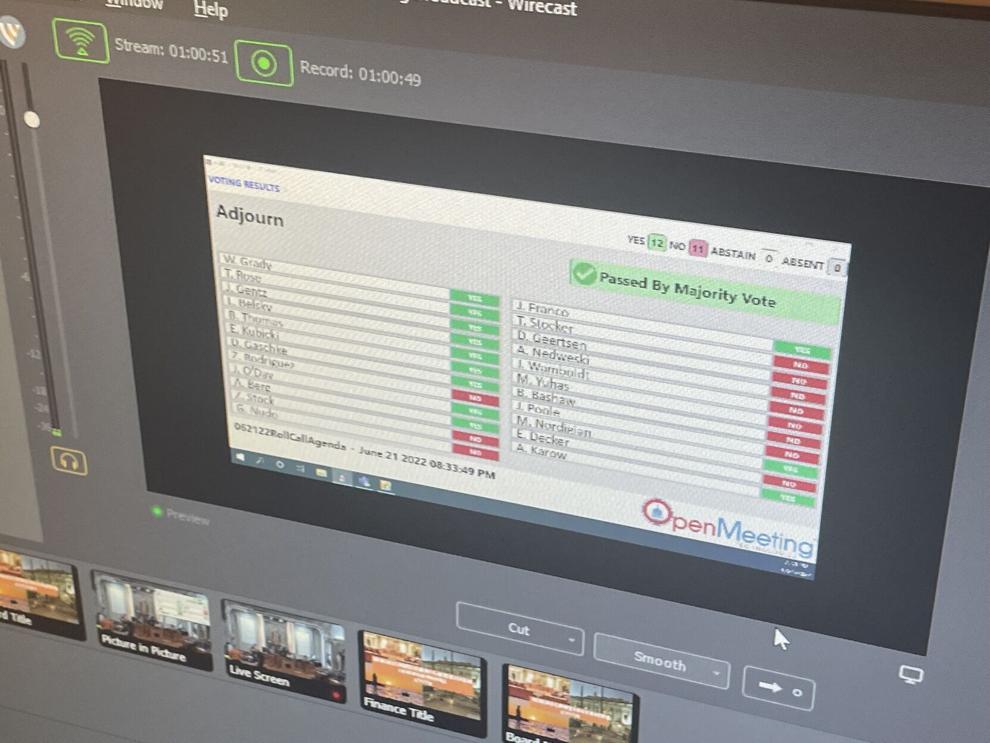 "During our meeting last night, a disturbance during citizens' comments led to the abrupt adjournment of the meeting. An individual was warned repeatedly throughout the evening to stop causing disruption and was eventually asked to leave the meeting. As Kenosha County Sheriff's deputies attempted to escort this person out of the room, he continued to create a disturbance and ultimately resisted arrest by the deputies," Nudo said.
"While I strongly support the right of the public to voice their opinions in citizens' comments at our meetings, decorum must be maintained, and disruptive behavior will not be tolerated," he said.
He asked those not at the meeting to "see the scene for themselves and watch the video of the meeting."
Supervisors react
Some of the supervisors were visibly upset about the arrest.
Former County Board Chairman John O'Day said the arrest of Trudell was "a travesty."
"He was doing public comments and he was shut down," O'Day said.
O'Day said he would not have asked Trudell to be removed and believes Tuesday's incident will anger many area residents.
"I think more people are going to come and comment now," he said.
"It was absolutely disgusting," said Sup. Andy Berg. "The favoritism that was played by the chairman as to who to call out as to who's out of order and who not to call out of order."
Berg said many of his constituents are "stupefied and couldn't believe that Chairman Nudo acted like that and that it's come down to what it's come down to," Berg said.
Sup. Terry Rose said he believes Trudell acted inappropriately.
"I think people ought to make their presentations and arguments in an orderly fashion. That would be a lot more persuasive than name calling and getting personal or disregarding the chairman's admonitions to conduct themselves in a proper way," Rose said. "I thought the chairman was very patient and the speaker got out of hand. Had he not gotten out of hand he could have made the same argument."
Rose said Trudell "breached proper decorum" with the "personal nature of his comments and the tone as well as just being generally disruptive."
"If he had just gone along with being escorted to his seat in an orderly way nothing further would have happened," Rose said. "He started the fight. He started resisting the officers and struggling away from them and created a big scene."
Amanda Becker, treasurer of the Kenosha County Democratic Party, said she planned to comment during the meeting before it was adjourned.
"I'm disappointed that the citizens in attendance didn't get to exercise their First Amendment right during citizens' comments," she said. "I was frustrated because Joel (Trudell) still had time on the clock when he was arrested. There were several other citizens who were yelling out and making comments throughout."
The previously scheduled issues are expected to be brought back up for a debate and vote at next month's meeting.