A hamburger from Pete's has been a culinary staple for 109 years in the Mississippi River city of Prairie du Chien.
The downtown hamburger stand has created a cult following with its patties that are poached for 12 minutes in a shallow bath of water and smothered with yellow onions. Since it's open only on Fridays, Saturdays and Sundays between April and October, customers are known to arrange their schedules around the stand's hours and think nothing of the lines that queue up next to the boats for sale at Stark's Sports Shop along West Blackhawk Avenue.
The menu is spartan: Hamburgers with or without onions on buns made at Huckleberry's Restaurant in Prairie du Chien, small bags of potato chips, cans of soda. The condiments are just ketchup, mustard and salt and pepper. Lettuce, pickles, tomatoes and cheese are nowhere to be found.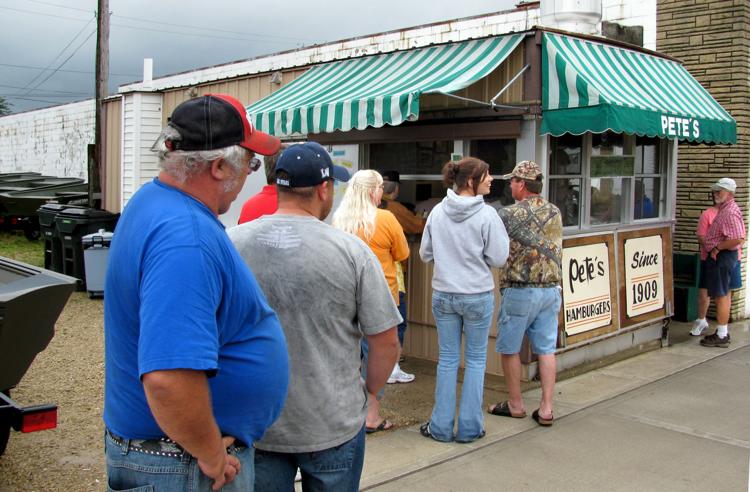 So when the great-grandson of founder Pete Gokey hatched a plan for a catering business to sell his family's hamburgers in Madison, the set-up was relatively simple and inexpensive. Patrick Gokey has invested about $4,500 into his Pete's Hamburger Catering that launched July 13, and will cook his quarter-pound burgers in specially made pans that sit on top of the gas ranges at the FEED Kitchen on Madison's North Side.
But finding the right bun on which to serve the hamburgers proved to be a little more challenging.
"It has to work well to soak up the juices but not get too soggy," Gokey said of the buns.
"I don't want anything different from the hamburgers here than what you can get in Prairie. We want them to be identical."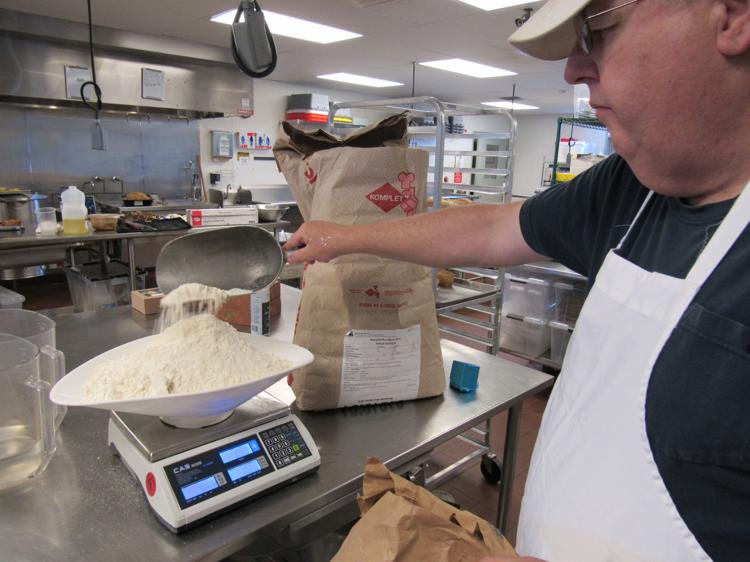 Buying the buns from Huckleberry's, where they're made by longtime Prairie du Chien baker Nate Nicholson, and shipping them 100 miles to Madison wasn't practical. So Gokey asked the management at Huckleberry's to release its recipe. Nicholson, however, declined and the Skemp family, which owns the restaurant, supported Nicholson's decision. The family also doesn't know the recipe for the potato salad and meatloaf served at its restaurant. Those dishes are held close to the vest by another employee, Pat Dickens.
"We respect Nate. He runs the bakery by himself and we respect his decision," said Bird Skemp, whose family opened Huckleberry's in 1992 and about 16 years ago brought Nicholson aboard.
"Other people have tried to re-create Pete's hamburgers, but I don't think there's anything secret about it. It's all about the mystique and Nate's reputation and Pete's reputation."
A simple bun
With the buns from Huckleberry's off the table, Patrick Gokey enlisted a baker at the FEED Kitchen to try and replicate the bun's taste and texture. Jim McLaughlin has worked at La Brioche and is an instructor at Madison Area Urban Ministry's Just Bakery, where a 16-week educational and vocational training program helps those who have been homeless, incarcerated or face other barriers learn culinary skills. McLaughlin's goal with the buns for Pete's Hamburger Catering was to keep the recipe simple so that the bun wouldn't overshadow the burger.
"We could find a roll for Pete's (catering) that was just a piece of frozen dough and then you thaw it out. That kind of stuff is out there, but it wouldn't be the same," said McLaughlin. "When we bake a product here, it's a relatively short ingredient statement. We don't use additives and things like that. People don't want to eat a chemistry set."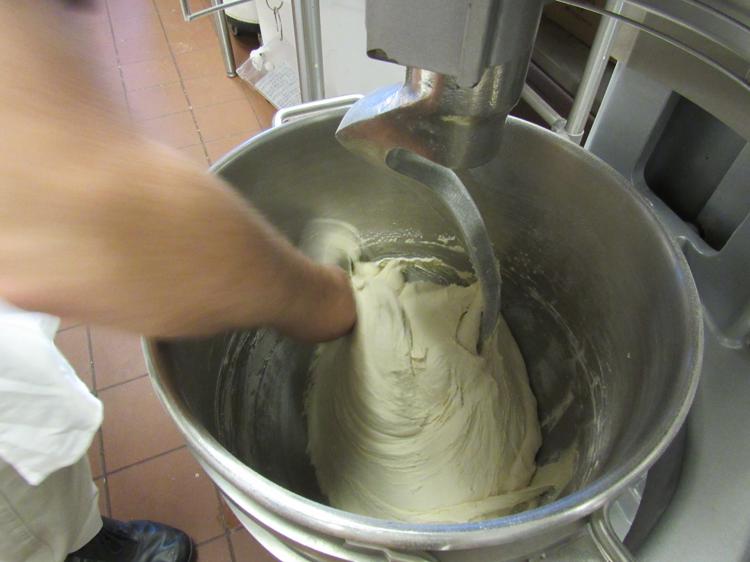 The first attempt at replicating a bun from Huckleberry's came in early June. The buns baked at FEED by McLaughlin had the right taste but not the right texture. But after three more unsuccessful attempts, Gokey met with McLaughlin again at FEED about two weeks ago. He watched as McLaughlin used an $18,000 Hobart mixer to blend water, 12 pounds of different types of flour, a block of fresh yeast and a half pound of shortening into a 19-pound dough ball. The batch yielded over 100 buns and turned out to be the winning recipe.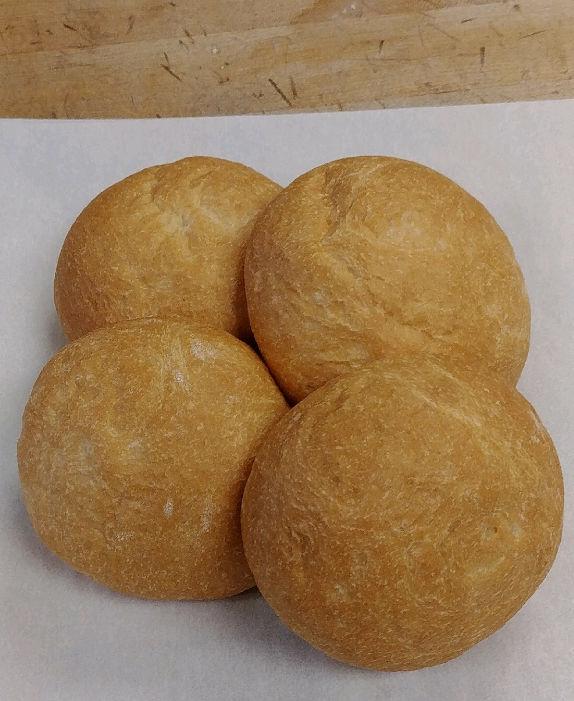 "Our job is to put together a bun that carries the beauty of his burger to people's mouths and gives the mouth the feel and taste they're looking for," McLaughlin said. "They don't want a bun that's the star. They want a bun that's a great supporting cast."
Catering to Madison
The premise of Gokey's catering business is the first step in a plan that could ultimately lead to a food cart. But for now, he's focused on finding customers looking to add a bit of historic Prairie du Chien to Madison-area weddings, picnics, birthdays, anniversaries and other celebrations. The minimum order for a catered event is 75 hamburgers, which will be cooked at FEED but assembled at the site of the catered event.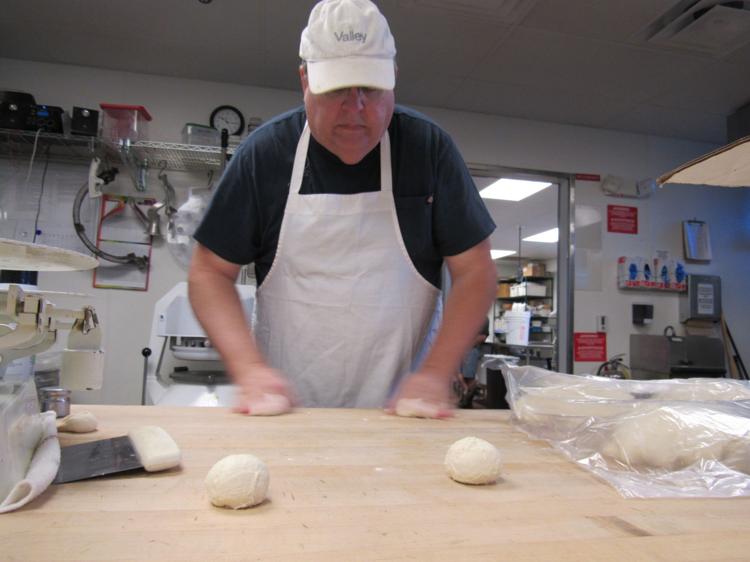 Started by Pete Gokey in 1909 on a kerosene stove, Pete's Hamburgers now operates out an 8-by-30-foot trailer, which was built in 1989 at 118 W. Blackhawk Ave. It replaced the original trailer constructed in 1955. Before that, the business operated out of a smaller trailer down the street, and originally from a push cart Pete set up at county fairs, parades and auctions.
Pete, an interior decorator, craftsman and firefighter who died in 1971, got the idea for the cooking process when he was asked to make hamburgers at a social for firemen and their families. To keep the burgers from drying out and cooling, he poured water into his skillets — and a business was born in the state's southwestern corner.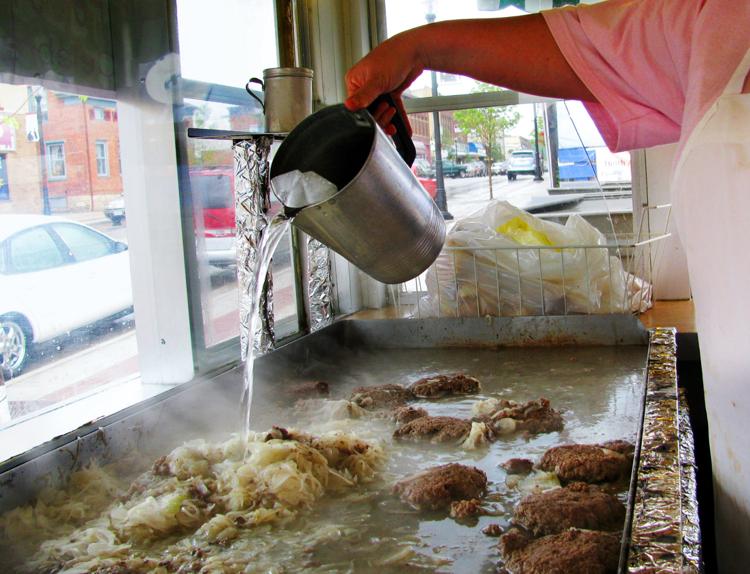 Today, balls of meat are dumped onto a grill pan in batches of 50 to 60, pressed into patties with a metal spatula and simmered in water next to a mound of onions. The hamburger stand celebrated its 100th anniversary in 2009 and has been featured in state and national publications and television programs.
"Ever since our 100th anniversary we've gotten so much publicity," Patrick Gokey said. "We get people from all over."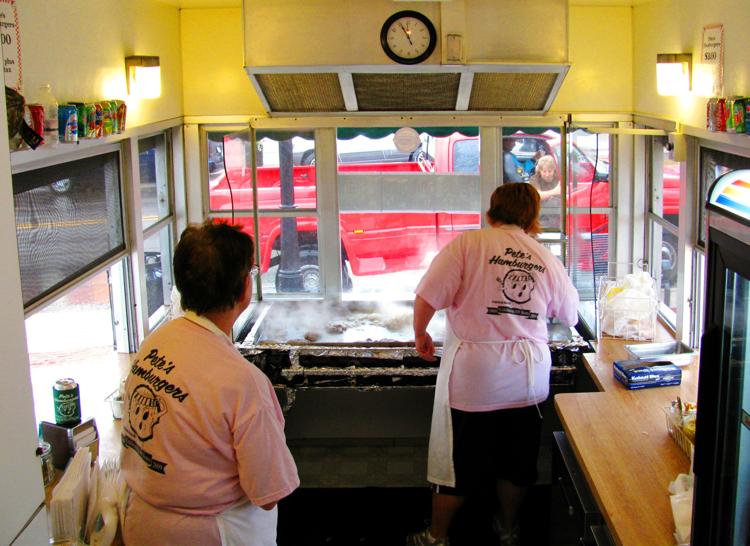 Gokey, 35, who began peeling onions at the family hamburger stand when he was 12 years old, lives in Madison and works as a computer consultant. The position gives him flexibility to run a catering business on the side and spread the lore of his great-grandfather beyond the Driftless Area.
"I wanted to do something I knew I enjoyed," Gokey said. "I've always liked Madison. There are so many good places here to eat and I think we have the name recognition, but it won't take away from Pete's in Prairie."
Send retail-related tips and story ideas to badams@madison.com or call Barry Adams at 608-252-6148.
Be the first to know
Get local news delivered to your inbox!