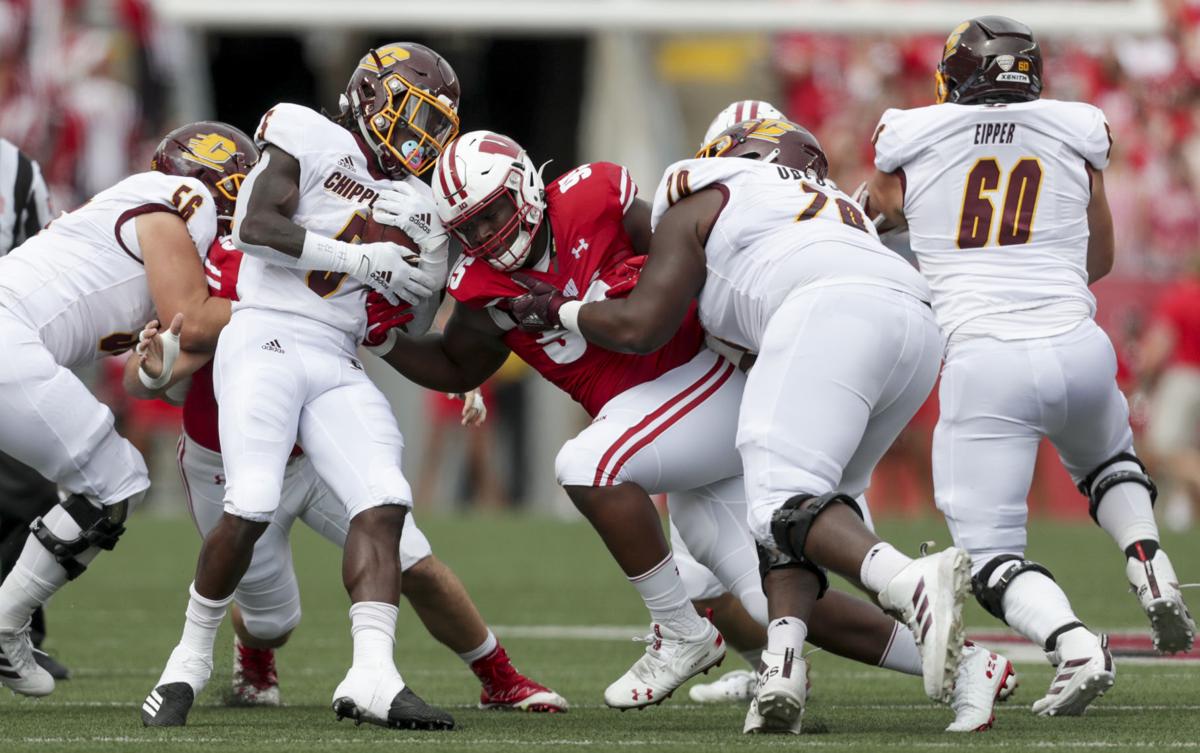 Jonathan Taylor got a sneak preview of the University of Wisconsin football team's defense during training camp in August.
Count the Badgers junior tailback among those who aren't all that surprised by the statements that unit has made in the opening two weeks of the season.
The latest one came Saturday afternoon at Camp Randall Stadium, where UW rolled to a 61-0 victory over Central Michigan.
The Badgers (2-0), who moved up three spots to No. 14 in this week's Associated Press Top 25 poll, held the Chippewas to three first downs and 58 total yards. Toss in a 49-0 victory at South Florida in the opener, and UW has posted back-to-back shutouts for the first time since opening the 2013 season by beating UMass 45-0 and Tennessee Tech 48-0.
"Those guys are fast. Those guys, they can move sideline to sideline," Taylor said. "They're also great in between the tackles and that's what I feel is so dangerous about this defense is it's kind of hard to figure out where to attack them at because if you want to try to spread them out, they have no problem, guys have great speed. If you want to try to play big-boy ball, they can do that as well."
The 58 total yards were the second-fewest by an opponent in UW program history. Only Temple, which had 45 in a 65-0 loss to the Badgers on Sept. 10, 2005, finished with fewer total yards.
A significant caveat: Both South Florida and Central Michigan are in the infant stages of new offensive systems after the former made a coordinator change in the offseason and the later completely overhauled the coaching staff.
Much stiffer tests are on the horizon for UW, starting with a home date against No. 10 Michigan (2-0) in the Big Ten Conference opener on Sept. 21.
Still, the Badgers' dominance on defense can't be overlooked, even if it was easy to do on a day that featured Taylor scoring four touchdowns, Jack Coan accounting for 363 of UW's 400 passing yards and Quintez Cephus finishing with 130 receiving yards and two scores.
You have free articles remaining.
Even UW coach Paul Chryst admitted it's human nature in a 61-0 rout to focus more on the number to the left of the hyphen than the number to the right of it.
"It doesn't get lost certainly within the team, but that's big, and a lot goes into it," Chryst said of a defense that has allowed 215 yards in 101 plays this season. "And I thought guys were playing, and a lot of guys contributing. It's kind of like what we were talking about earlier; we know we are going to be tested differently, and probably tested more, but each one of these is important and they've had two tests right now."
Only one of Central Michigan's 45 plays from scrimmage went for more than nine yards against UW, which wasn't even at full strength.
The Badgers started in their base 3-4 defense but mixed in plenty of nickel. Freshman Keannu Benton started at nose tackle for sophomore Bryson Williams (left leg); junior Noah Burks started at one outside linebacker spot for sophomore Izayah Green-May (right arm); and junior Eric Burrell started in place of sophomore Scott Nelson (left knee) at safety.
Nelson, who was injured in the third quarter at South Florida, announced Saturday night on Twitter he's out for the rest of the season. The good news for UW is it appears defensive coordinator Jim Leonhard has built some depth at safety with Burrell, redshirt freshman Reggie Pearson, junior Collin Wilder and junior Madison Cone getting significant playing time during the first two games.
"I think we do have a lot of depth in areas," said sophomore linebacker Jack Sanborn, who returned an interception 39 yards to set up UW with great field position in the first half against Central Michigan. "It just speaks to how we are as a defense as a whole. When one guy goes down, it's the next man up and he expects to do the job and do it well."
The defense came into this season with a chip on its shoulder after a subpar performance in 2018. One of the things that was noticeable during the two weeks of camp open to the media was how much chatter and energy the unit produced, particularly senior inside linebacker Chris Orr.
When Central Michigan coach Jim McElwain and Chippewas defensive lineman Robi Stuart made some comments late in the week that came off as trash talk — at least to the Badgers — Orr took notice.
Orr and his teammates arrived Saturday looking to send a message, hoping it'd be heard by the Chippewas and anyone else who cared to listen.
"We mostly wanted to show the whole nation that when you come to Camp Randall, this is what you're going to get," Orr said. "You're going to get a physical game, you're going to get physically worn down, you're going to get beaten and it's going to be really, really, really hard for you to move the ball."