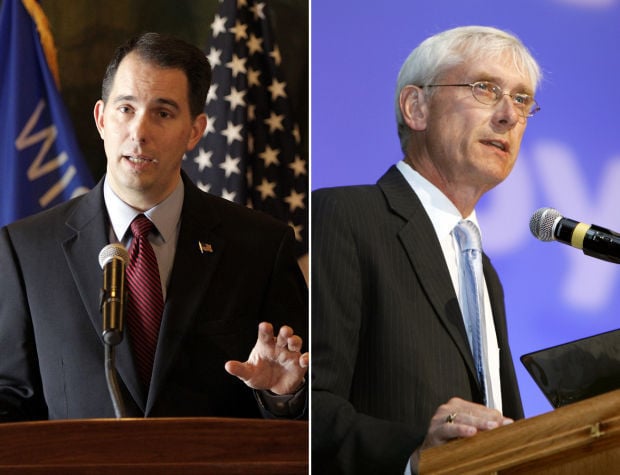 A longtime educator and cancer survivor will face off against a politically savvy two-term incumbent in what could be the most challenging political fight of Gov. Scott Walker's career.
"I think it's going to be a tough race for the governor," said Nathan Gonzales, publisher of Inside Elections, one of several national political publications that handicap races. "He started this race with a winning record in his campaigns, but with still little margin for error."
After Democrats nominated state Superintendent Tony Evers last week, Gonzales said his publication's current rating of the Wisconsin governor's race as "lean Republican" will likely shift to a tighter "tilt Republican" or "toss up" rating when his team confers this upcoming week.
Another prognosticator, Sabato's Crystal Ball based at the University of Virginia, now rates the race a "toss-up," while Jennifer Duffy of the Cook Political Report says she's waiting to see what unfolds over the next week or so before reconsidering her rating of "lean Republican." The Washington Post added the race to its top 10 governor's seats most likely to flip control this year.
Evers won last week's Democratic primary against seven opponents buoyed by his three statewide wins in nonpartisan spring elections as the state's top education official since 2009. Democrats have been hungering for a victory after losing three of the last four election cycles and being shut out of state government since 2010.
"I beat cancer and I can beat Scott Walker," Evers, 66, assured his supporters in Madison after winning the nomination.
Walker, 50, has won three statewide gubernatorial elections, including a 2012 recall attempt spurred by his Act 10 law that crippled the power of organized labor in the state. He's hoping the state's record-low unemployment and his recent spending increases on K-12 education will sway voters to give him another four years.
"The choice is simple," Walker told supporters in Waukesha on primary night. "Do we take a giant step backwards and watch more of our graduates flee the state to pursue their careers or do we continue to move forward as we keep Wisconsin working for generations to come."
But there are national political undercurrents this year that are complicating Walker's re-election chances — most prominently Democratic opposition to President Donald Trump. And though a majority of voters in recent polling have said the state is moving in the right direction, Walker's opponents are keying in on a multibillion-dollar taxpayer subsidy of the Foxconn manufacturing campus in Racine County, past cuts to K-12 and higher education, and the deteriorating condition of state roads as top concerns.
Larry Sabato, director of the University of Virginia Center for Politics, said if he were to size up just the two candidates, he would give a big edge to Walker. He said Evers is "too nice" to be matched up with a candidate who has managed to win under difficult circumstances in the past.
Sabato said he gives Walker a two- or three-point advantage for the strength of the Republican political operation, but that could be wiped away by voters looking to put a check on the president by punishing any Republicans on the Nov. 6 ballot.
Walker has been warning for months about a coming "blue wave" in Wisconsin as Democrats celebrated victories in two special state Senate races and a state Supreme Court race in April.
"The environment is pro-Democratic, not just across the country, but specifically in the Midwest," Sabato said, adding voters there might be unhappy with Trump because of his tariffs and because "Midwest nice is real."
"I just think (Trump's) manner and approach offends a lot of Midwesterners," he said.
Duffy, senior editor of the Washington-based Cook Political Report, said she saw some signs of optimism for Walker in the primary results. State Sen. Leah Vukmir's victory in the U.S. Senate primary over businessman and party outsider Kevin Nicholson showed the GOP organization "is alive and well."
New poll out Wednesday
The polling data so far show the race starts out neck-and-neck, said Gonzales of Inside Elections. A Marquette Law School Poll in June showed Walker leading Evers by four points, but two July polls taken before the primary from NBC News/Marist and Emerson College found Evers leading by 13 points and seven points respectively.
A new Marquette poll is due out Wednesday and Walker has already tried to set low expectations by saying his opponent could be leading.
The Wisconsin governor's race is already drawing millions of dollars in TV advertising as Republicans and Democrats try to define Evers. The Republican Party spent $500,000 in the first week criticizing Evers' decision not to revoke the license of a Middleton teacher who viewed pornographic material at school. Evers said he didn't have legal authority at the time to revoke the license and later worked with the Legislature to change the law.
The ad suggests Republicans are trying to redefine Evers' "kind demeanor and strong policy background on education," said Mike Wagner, a UW-Madison journalism professor who studies political messaging. "Many voters don't know much about Evers and the ad serves to try and build negative imagery in voters' minds when they think of Evers and his greatest strength: education."
The July Marquette poll found 60 percent of voters hadn't made up their minds about Evers, while 25 percent had a favorable view and 14 percent had an unfavorable view. Only 6 percent of voters hadn't made up their minds about Walker, with 47 percent having a favorable view and 46 percent having an unfavorable view.
Different paths
The candidates arrived at this moment via very different paths.
Evers, the son of a physician who ran a Sheboygan County tuberculosis sanitarium, scraped mold off of cheese in Plymouth cheese factories before earning three degrees in science, education and administration from UW-Madison. He taught science and was principal of Tomah High School, served as superintendent in Oakfield and Verona, led a regional education agency and was deputy state superintendent before winning his first election in 2009.
Walker, the son of a minister, flipped hamburgers at McDonald's in Delavan before attending Marquette University, though he didn't graduate. He was first elected to the state Assembly in 1993 at age 25 and won a 2002 recall election to become Milwaukee County executive, where he served until winning the 2010 governor's race. After winning a second term he launched a short-lived run for president — a move that led to sinking poll numbers in Wisconsin.
Walker's two terms have ushered in a conservative revolution in Wisconsin starting with Act 10, cutting income tax rates and nearly eliminating income taxes for manufacturers and farmers, freezing University of Wisconsin System tuition and property taxes, passing a right-to-work law and allowing the concealed carry of firearms.
He has come under intense scrutiny for his recall campaign fundraising tactics, early missteps at his economic development agency, and inmate and employee abuse allegations at the state's youth prison.
As state superintendent, Evers has clashed with Walker over budget priorities and the constitutional authority of his office. The state's graduation rate has risen, though not as much as other states, knocking Wisconsin's national rank from second in 2011 to ninth in 2016. A recent Education Week ranking of various measures of K-12 student outcomes ranks Wisconsin 13th, up two spots from where it was in 2009. As one of only two members of the UW System Board of Regents not appointed by Walker, Evers has at times been the only dissenting vote, such as last year when the board adopted an expulsion policy for those who repeatedly interrupt campus speakers.
Policy contrasts
Walker and Evers also offer a sharp contrast on several policy matters:
Evers supports legalizing marijuana and wants to significantly reduce the state prison population; Walker says those ideas would threaten public safety.
Walker backs private school vouchers and charter schools as a way to help low-income students; Evers disagrees and wants to rewrite the school funding formula to account for poverty.
Evers supports raising the minimum wage to $15 per hour and eliminating the state's agriculture and manufacturing tax credit; Walker has said those ideas could cost the state jobs and has encouraged more technical training starting as early as middle school.
Walker is also putting forward several ideas that Evers supports, such as a state tax credit for child care costs and a tax credit for college graduates who stay in Wisconsin.
Evers has staked out liberal positions on several issues, but he was one of the only Democrats to say he wouldn't cancel the state's contract with Foxconn calling for $3 billion in tax credits if it creates up to 13,000 jobs. And he didn't support free tuition for technical and two-year University of Wisconsin System colleges as other Democrats suggested.
Evers wasn't one of four Democrats endorsed by a liberal coalition of Sen. Bernie Sanders supporters and the Wisconsin Working Families Party during the primary. That coalition plans to hold a referendum soon to find out if its members will endorse Evers, WWFP state director Marina Dimitrijevic said, adding she expects it will pass.
Orville Seymer, a Milwaukee County Republican activist and longtime Walker supporter, said Walker should win based on his strong policies of cutting taxes and bringing businesses such as Foxconn into the state. But he said enthusiasm among Republican grassroots supporters has been dampened by Walker's presidential run in 2015 and by a sense that he doesn't generate as much excitement in his speeches as other durable Wisconsin politicians.
"Clearly he's not Tommy Thompson," Seymer said, referring to the four-term governor who won a third term in 1994 with two-thirds of the vote. "That's his biggest drawback."
Be the first to know
Get local news delivered to your inbox!