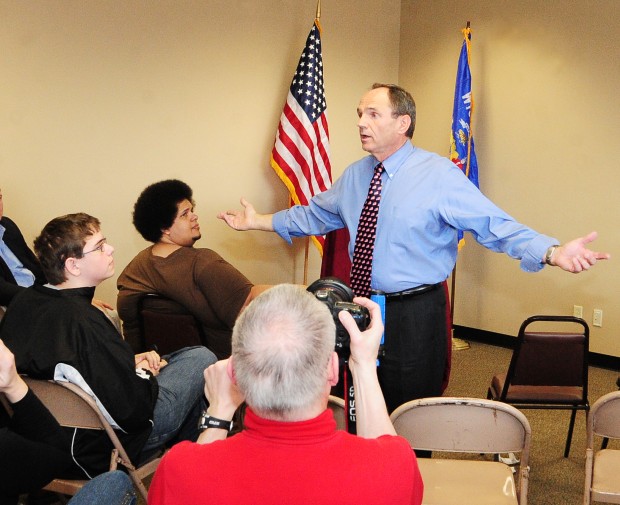 Lawyers for state Sen. Dan Kapanke say a petition demanding a recall election should be thrown out because of missing paperwork. The challenge, filed Friday afternoon, says recall organizer Pat Scheller never filed the required registration statement with the Government Accountability Board and that the board should dismiss the petition.
Graeme Zielinski, spokesman for the Wisconsin Democratic Party, called the challenge "perfunctory and desperate."
"There's nothing here. There's no merit to the challenge," he said. "For all the money that this guy has, you'd think he could get better lawyers."
Kapanke, a second-term Republican, did not return a phone message Friday evening.
Kapanke's attorneys also challenged more than 900 of the 22,975 signatures. They said some were from people who live outside of the district, were duplicates or were missing some element of the address.
Only 15,588 signatures are required to trigger a recall, which would be just the fifth for a state legislator.
Kapanke is one of eight Republican senators targeted for recall over support for Gov. Scott Walker's bill to curtail collective bargaining rights for public employees. Eight Senate Democrats who fled to Illinois in an effort to block the bill are also targeted.
Kapanke recall supporters filed the petition April 1, becoming the first of 19 such efforts to achieve its goal.
Recall organizers have five days to file a rebuttal, after which Kapanke will have two days to respond. Election officials will then have 14 days to approve or reject the petition.
Scheller, a La Crosse banker, said he wasn't surprised by the challenge.
"Dan should simply stand for election and not hide behind legal maneuvering," he said. "Let his constituents decide if they support him."
Be the first to know
Get local news delivered to your inbox!