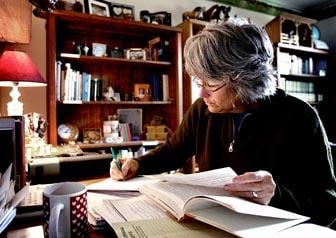 Proponents say death is the only appropriate penalty for some crimes. The West Salem, Wis., mother of a death row inmate says revenge is at the heart of the issue.
On July 5, 2004, Andrew Witt put on his camouflage battle dress uniform, went to a friend's house and stabbed three people a total of 13 times.
Today, the Aquinas High School graduate awaits execution at Fort Leavenworth, Kan.
If he had committed the same crime in Wisconsin, Witt could not be sentenced to death, as the state outlawed the practice in 1853.
But Nov. 7, an advisory referendum will allow voters statewide to say whether that should change.
Witt's mother, Melanie Pehling of West Salem, Wis., said she is grateful she lives in a state without the death penalty.
"It's not that I don't think he needs to be punished, but he's being very, very punished," she said, a tissue in her hand. "There's a point that people want revenge, and they feel like revenge is the answer to their sorrow. And again, how would I have felt if it would have been Andrew being the one killed? Would I have responded with the demand of having another life taken? I guess I can't even answer that."
Witt, 24, was convicted in October 2005 of the premeditated murders of Andrew and Jamie Schliepsiek at Robins Air Force Base in Georgia, and of the attempted premeditated murder of Jason King. His weapon was a combat knife.
On July 3, 2004, Witt made a pass at Jamie Schliepsiek during a party. Andrew Schliepsiek and King found out about the incident while drinking the next night and made angry phone calls to Witt. All three men were in the Air Force.
Andrew Schliepsiek's parents spent more than two hours explaining the details of the murders and how they suffer because of them during a telephone interview from Peoria, Ill., but they asked not to be quoted in this story. They support the death penalty in this case.
While instituting the death penalty would reshape Wisconsin law and affect its society, those on both sides often argue morality first.
The Rev. David Holt, pastor at First Evangelical Free Church in Onalaska, Wis., said the death penalty would not diminish life.
"This elevates life," he said. "Life is so valuable that if you intentionally take someone else's life, the penalty for that is death."
That perspective is based on Genesis 9:6. He said the verse - "Whoever sheds the blood of man, by man shall his blood be shed; for in the image of God has God made man" - is reaffirmed in the New Testament. He said while murderers can be forgiven, God gives government the responsibility to punish evil.
"If one of my children committed murder, took somebody's life intentionally, his or her life should be taken," Holt said. "Would it be hard? Yeah. Would I weep? I'd weep whether they're life in prison or the death penalty. Would I do everything I could to ensure that they've confessed that to God and received his mercy? You bet. But if you bring it right into my own home, I'd believe that's the right penalty."
Recent surveys say Wisconsin voters support the referendum. In September, a Wisconsin Policy Research Institute poll said 54 percent of voters would vote yes. In the
La Crosse/Eau Claire areas, that number rose to 64 percent.
This week, a poll done by the St. Norbert College Survey Center found that 50 percent supported enacting the death penalty for certain cases, with 45 percent against it. Five percent were not sure.
But locally, those against the death penalty have been more vocal, holding events and sending out letters of opposition.
The five Catholic bishops who lead dioceses in Wisconsin wrote a letter to their members opposing the referendum and denouncing the death penalty.
The Wisconsin Council of Churches, which represents 12 denominations including the Evangelical Lutheran Church in America, adopted a statement in 1995 against the death penalty.
In December 2005, the Wisconsin State Public Defender Board reaffirmed a 1995 resolution opposing reinstatement of the death penalty.
Attorney Jim Birnbaum, a La Crosse Catholic, believes the death penalty morally is wrong.
"It is state-sponsored murder," Birnbaum said.
"I realize that there are just horrendous circumstances where people have just been brutalized. … As a society, I don't believe it's necessary for us to resort to the same consequences, namely to kill somebody because they killed somebody."
He referred to Pope John Paul II's "The Gospel of Life," and said capital punishment is no longer the only way to protect society from a murderer.
"Capital punishment doesn't even entertain redemption or reconciliation as a possibility," Birnbaum said.
Death penalty opponents argue more than morality. They cite defendants released from death row when found innocent; the $1 million to $3 million it costs to prosecute a death penalty case; and a lack of correlation between the death penalty and a decline in crime.
Keith Belzer, a La Crosse attorney who has worked with the Wisconsin Innocence Project, said while morality is his first reason for opposing the death penalty, "a close second is that we kill innocent people."
While DNA evidence can support a case, it should not be considered conclusive, he said.
Wisconsin has a life-means-life provision in sentencing, he added, so revenge is the only reason to support the death penalty. "If somebody did something to one of my family members, I would feel like killing that person. I know I would," Belzer said. "But that would not be the time for me to make such a decision.
"I also think it's somewhat cowardly to put an issue of such magnitude on a referendum. This is a decision that ought to be made by people with courage who have the ability to look at all the various ramifications of bringing back the death penalty."
Alan Bigel, a professor of political science at the University of Wisconsin-
La Crosse who teaches a course about constitutional law and the death penalty, favors restoring capital punishment.
He said it is supported by the Constitution's Fifth and 14th amendments, which state no person shall be deprived of life, liberty or property without due process of law.
"If due process of law is followed, potentially one's life can be taken away," Bigel said.
While opponents sometimes point to the cruel and unusual punishment clause in the Eighth Amendment, Bigel disagrees with their reasoning. Historically, he said, "cruel" has referred to prolonging suffering, "unusual" to the frequency of punishment.
In a 1994 article published in the Notre Dame Journal of Law, Ethics and Public Policy, Bigel estimated a convicted murderer incarcerated for 40 to 45 years costs $1 million to $1.25 million. Even if it does cost more to put someone to death, he said, the state should pay.
While he has great respect for the argument that the death penalty takes innocent lives, there have been cases of people on death row escaping prison and killing again, Bigel said.
Society, he added, makes difficult choices every day.
"The individual sometimes has to be subordinate to those greater goods," he said. "Medi-cal research comes to mind, but you really see it in everyday life, where some innocent individuals have to suffer. You see it in warfare, for example."
He sees retribution as the greater good and punishment as society's way of saying certain behavior won't be tolerated.
Witt gave a talk titled "When Satan Attacks" while studying at Capernwray Bible School in England in 2001. A written copy of the speech draws a dichotomy between two responses to Satan. Eve, Witt wrote, gives in to temptation, and "because of one little decision the world is never the same again." Jesus resists the devil by quoting Scripture.
"I did not want to be attacked by Satan at all," Witt wrote as an 18-year-old. "I just don't like feeling terrible. I just don't. But as I said before, getting attacked by Satan is also a learning experience. You learn through your mistakes and you are furthering the Kingdom when Satan attacks you. Just come back with scripture."
David Twite has been a family friend since Witt was a child. Their homes used to be across the street from each other. Both families attend Bethany Evangelical Free Church.
Twite said the murders were incongruent with the caring, if naïve, young man he knew. The incident has challenged Twite's views on the death penalty.
Like Holt, Twite believes capital punishment is moral and supported in the Bible. He believes people who commit acts like those of Charles Carl Roberts, the man who killed five young girls at an Amish school in Pennsylvania this month, deserve death.
He believes executions should happen closer to the crime than they do today. He believes public executions would "shake the foundation of every person" and deter murder.
But he'll vote against the referendum. He sees the criminal justice system as flawed. Justice is not served swiftly, he said. He also was frustrated by his experiences at Witt's trial.
He was not able to testify in person, he said, and so had to testify via television monitor. He believes Witt's side of the story was not done justice. "It is easy to be cold and just abso-lute when we're talking about nameless, faceless murderers," he said. "It's much more complicated when you put a name and a face that you know. It's not so simple anymore."
As he wrestled to clarify his views on the matter, Twite's eyes watered. He said he understands how Witt's mother, who once supported the death penalty, now is against it.
"I think if you gave Mel (Pehling) a choice - 'Would you like there not to be a death penalty? You get to choose today for all of the United States' - what are you going to do? You're going to choose life for your child."
Scott Horne, La Crosse County district attorney, considers himself on the fence about the death penalty. Come November, though, he'll vote yes on the question.
"Somehow our community sense of justice requires in certain horrendous crimes and with certain individuals," Horne said, "the death penalty is warranted."
But he said the issue is hard to talk about in the abstract.
"For those who support the death penalty, I think they have to be willing to look at real-life human beings and say, 'I really believe our sense of justice requires an execution,'" he said. "And for those who oppose it, I think they really have to look at a crime, look at family members and friends, a victim who has lost their life, and say, 'I appreciate your pain and plea for justice, but justice can't take the form of execution.'"
Melanie Pehling keeps all of the evidence used in her son's trial in a suitcase in the basement. "I haven't touched it," she said.
She remarks on the sound of the lock after the heavy doors slam shut in the prison in Kansas. She usually buys her son a Cherry Coke or Twinkies from a vending machine and hands them to a guard to give to him. Witt has three guards at all times. She can't touch him.
The family - which includes Witt's younger brother and sister and Melanie's second husband, whom she married when Andrew was 8 - exchanges letters with Witt.
While he has asked them to move on, Pehling said she gets stuck. Before the summer of 2004, she hadn't thought through the death penalty, she said. Now, she's against it.
"When you think about talking about a young man that has been able to step over the line and kill two people," she said, "I think it's easy to throw in there a mental imaginary picture of some thing or some monster. But I've had the privilege of being this young man's mom, and he's not that."
"My perpetual prayer is 'Lord have mercy,' which should not be construed as me hoping that Andrew is not put to death, which in turn should not be construed as me hoping that Andrew is put to death.
"Never in my life have I ever been filled so simultaneously with both love and hate, anguish and malice, and all in an unspeakable, disgusting amalgamation of various images of death."
Be the first to know
Get local news delivered to your inbox!