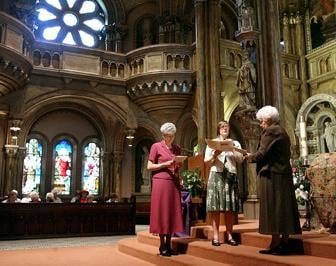 The world stretches in Sister Julia Walsh. Growing up in Iowa, her Christian identity stretched to include the Lutheran tradition of her mother (who's now Catholic) and the Catholic tradition of her father.
Her vision of God and love stretches to include what might seem to others as godless. It stretches to include Osama bin Laden and people who think violence is the answer. It stretches to include the protesters and, as she said, "all the people who are out there raising their voices and trying to experience themselves in their energies and in their frustrations in the world."
And a virtual group the 25-year-old started on www.facebook.com for vocation discerners stretches to include those who think nuns should be wearing habits and herself: She wears a T-shirt from her friends reading "I put the Fun in Nun."
"Julia is a gem, and you don't want to change her," said Sister Dorothy Dunbar, a member of the FSPA membership team whose job is to contact and keep in touch with women considering entering the order.
"It's not just that we're
going to change them. They're going to stretch us, and when you're older it's a challenge. We have to keep looking as a community (and ask) 'Are we willing to make those changes that will allow those women with their youthful energy to find a place with us?'"
After spending a year and a half as an associate with the FSPA, Walsh was received into the novitiate at a May 25 ceremony and became a sister.
Her decision to do so is less common for her generation than for the generation of her elder sisters.
While two other woman - Sister Laura Nettles and Sister Karen Grochowski - professed their first vows the day after Julia entered the novitiate, 16 FSPA members have died since the beginning of the year.
The reduction in numbers, though, doesn't worry Dunbar.
"I don't hear anyone around here saying, 'The last one out turn out the lights,'" Dunbar, 69, said. "I don't know what God's doing, but I'm not afraid of it. I think it's just different than it used to be."
Dunbar said she thinks the future is going to involve more collaboration with the laity; this already has begun with prayer partners in the adoration chapel and more than 200 lay people who are FSPA affiliates.
Sister Marlene Weisenbeck, president of the FSPA, said although religious vocations don't seem to be as numerous as in the past, Julia and other women joining come with passion for the world and its needs, just like the founders of the FSPA.
"She'll find ways to communicate around the world that perhaps some of us older people are not so adept at," Weisenbeck said. "We're learning, though. We're learning through Julia, and that's how she changes us."
Walsh wanted to be a nun since she was a child. Her favorite movies growing up were "Sister Act" and "The Sound of Music."
She explored five religious communities.
On the recommendation of a friend, she spent a week at St. Rose Convent in 2003. When her friend picked her up, he told her she beamed.
Walsh has a passion for social justice, a trait Dunbar said many of the younger women entering the order share. But she's also attracted to the FSPA's contemplative life, centered on the adoration of the Eucharist, which has continued for 128 years.
"I don't think that action can occur without contemplation," said Walsh, wearing a cross on a necklace and a purple T-shirt reading "Another Quality Chick from Decorah Hatchery."
"This world is screwed up. There's a lot of hurting. There's a lot of pain. It's my call, it's all of our call who are Christians, to be sources of love and kindness and peace, to be testaments of the good, to bring joy and laughter and fun," Walsh said. "So if I'm putting the fun in nun, I must be putting fun into the whole world."