FORT WORTH, Texas — After the tragic mass shooting in El Paso, Roman Catholic Archbishop Gustavo Garcia-Siller of San Antonio lashed out at President Donald Trump.
In a series of now-deleted tweets, he called Trump "a very poor man" and urged him to "stop hate and racism, starting with yourself."
His response was emotional; the senseless killings first in El Paso and then in Dayton, Ohio, have left many people in a state of confusion and anger.
But another screed squarely blaming Trump for the attacks is the last thing Americans need right now, especially from a religious leader.
Hurling such accusations, however founded they may be, fuels hatred at a time when emotions are extremely high.
And it allows all of us to shirk responsibility in contributing to the culture and environment that has made these kinds of mass shootings not only possible but increasingly common: a culture of narcissism, nihilism and death.
Another Catholic leader, Archbishop Charles Chaput of Philadelphia — who, not coincidentally, presided over the funerals of several victims of the Columbine massacre 20 years ago — described it this way: "The people using the guns in these loathsome incidents are moral agents with twisted hearts. And the twisting is done by the culture of sexual anarchy, personal excess, political hatreds, intellectual dishonesty, and perverted freedoms that we've systematically created over the past half-century."
That's a hard truth to swallow, and one that plenty of people will disagree with, because it doesn't allow for easy answers and patchwork policy solutions — ban "assault weapons," fix mental health care, impeach Trump — as if these things alone (or even in combination) will provide the immediate and permanent solutions our broken world demands.
And it makes us all complicit — if not active participants — in what The New York Times' Ross Douthat describes as "our late-modern anti-culture, our internet-accelerated dissolution of normal human bonds."
Indeed, it's true that some people bear more responsibility than others in fomenting our current environment. Political leaders, with their bully pulpits and millions of Twitter followers, have a greater obligation than you or I to police our words and actions.
The duty to show restraint begins at the top — Trump gets no absolution here — but its frequent absence in the president is not an invitation for other public figures, or even ourselves, to follow suit.
Yet we accept it, even champion it, when it fulfills our own personal or political prejudices.
You have free articles remaining.
Register for more free articles.
Stay logged in to skip the surveys.
Consider that not one of Trump's Democratic political challengers has resisted the opportunity to use the president's real or imagined role the tragedy as a means to raise money and score political points.
The brother (and also the campaign chairman) of Democratic presidential candidate Julian Castro went so far as to tweet the names and employers of people in his district who had donated the legal maximum to Trump's re-election campaign. It appears to be an effort to link them to the El Paso shooting — and let's be honest, to generate harassment of and potentially other hardships for them.
That sounds like something Trump and his minions would do: reduce people to the lowest common denominator. Ally or enemy. Criminal or "very fine" person. Convenience or inconvenience.
That sounds like a world, as Chaput writes, that "markets violence," promotes "selfishness and greed," and enshrines "certain kinds of killing" in law.
In that sense, Trump isn't the cause of the "dark psychic force of the collectivized hatred" as Democratic presidential candidate Marianne Williamson would have it. That force has been building for decades on social media, in Washington, in the troubled minds of disaffected people all over the country.
Trump is just its current champion, its low-hanging fruit.
The world the cultivated the El Paso and Dayton, and Gilroy and Tree of Life and Charleston shooters existed before Trump.
Immediately removing Trump from the equation wouldn't stop it or even slow it down.
And without profound cultural transformation that revolutionizes the way we perceive and treat every human being — from birth to natural death — it will continue to flourish after he is a distant, ugly memory.
---
JORDAN ANCHONDO: 'GAVE HER LIFE' FOR HER BABY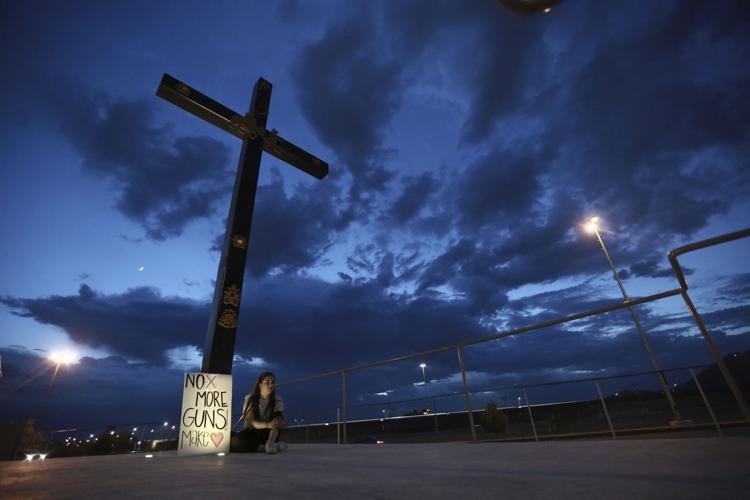 Jordan Anchondo was among those killed in El Paso, Anchondo's sister said, and she apparently died while protecting her 2-month-old son from the hail of bullets.
Leta Jamrowski of El Paso spoke to The Associated Press as she paced a waiting room at the University Medical Center of El Paso, where her 2-month-old nephew was being treated for broken bones — the result of his mother's fall.
"From the baby's injuries, they said that more than likely my sister was trying to shield him," she said. "So when she got shot she was holding him and she fell on him, so that's why he broke some of his bones. So he pretty much lived because she gave her life."
Jordan, a mother of three, and Andre Anchondo had dropped off her 5-year old daughter at cheerleading practice before going to shop for school supplies on Saturday at a Walmart in El Paso. They never returned.
ANDRE ANCHONDO: HAD TURNED HIS LIFE AROUND
Andre Anchondo — the husband of Jordan Anchondo, who was also killed in El Paso — had recently turned his life around after struggles with drug dependence and run-ins with the law, a friend recalled.
On Sunday night, John Jamrowski, the grandfather of Jordan Anchondo, said in a text message that his family has been notified of the death of Andre Anchondo.
The death of Jordan Anchondo was confirmed in the hours after the attack, but the family agonized as investigators waited to confirm more than a dozen other deaths.
Koteiba "Koti" Azzam, a friend of Andre Anchondo, had fond memories of him.
"I love the guy," Azzam said in a phone interview from San Marcos, Texas, where he attends Texas State University. "He had the character and the charisma."
Azzam said Andre Anchondo had started a business in El Paso, building things from granite and stone, and made it successful through hard work. He also was on the verge of completing a home for his family.
"It makes you question your faith almost," said Azzam, who is Muslim. "But God didn't have a part in it. The hands of man altered my friend's life in a drastic way."
NICHOLAS CUMER: HAD HELPED CANCER PATIENTS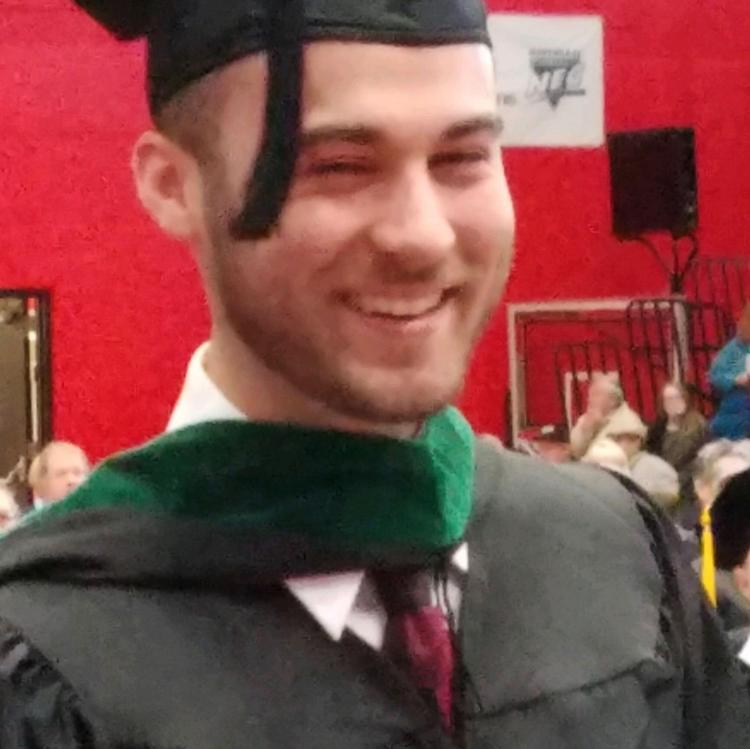 A graduate student at a university in Pennsylvania who was interning with a facility in Dayton for people battling cancer was among those killed in the Ohio city early Sunday.
Nicholas Cumer was a graduate student in the master of cancer care program at Saint Francis University.
"Nicholas was dedicated to caring for others," university President Malachi Van Tassell said in a statement. The university, in Loretto, Pennsylvania, is the oldest Franciscan institution of higher learning in the United States.
The family released the following statement through a relative: "We are heartbroken by the loss of our Nicholas in this senseless act on August 4. As our family grieves, we ask for privacy at this time. Thank you."
Cumer had been in Dayton as part of his internship program with the Maple Tree Cancer Alliance, which strives to improve the quality of life for individuals battling cancer through exercise, nutrition, and faith.
Maple Tree Cancer Alliance offered Cumer a full-time position just days before he was killed, the organization said on its website. It described Cumer as hard-working, dedicated and one week away from completing his internship.
"He was well liked and respected by everyone on our team, and we all will miss him very much," the organization said.
Van Tassell said a Mass in Cumer's memory will be arranged on campus this week.
LOIS OGLESBY: A NURSING STUDENT WHO WANTED TO CARE FOR CHILDREN
Lois Oglesby, 27, was in nursing school and looked forward to a career that would make the most of her love for children, her cousin said. She was also the mother of a newborn and had an older daughter.
Derasha Merrett told the Dayton Daily News that she was up feeding her own newborn when a friend called her at 3 a.m. Sunday to tell her, through sobs, that Oglesby had died in the Dayton shooting.
"She was a wonderful mother, a wonderful person," Merrett said. "I have cried so much, I can't cry anymore."
Merrett said she and her cousin grew up in the same church, were on the same drill team and that Oglesby worked at her children's day care center.
"We all grew up in this little town, Merrett said. "We're all family."
MEXICAN GOVERNMENT IDENTIFIES FIVE CITIZENS KILLED IN EL PASO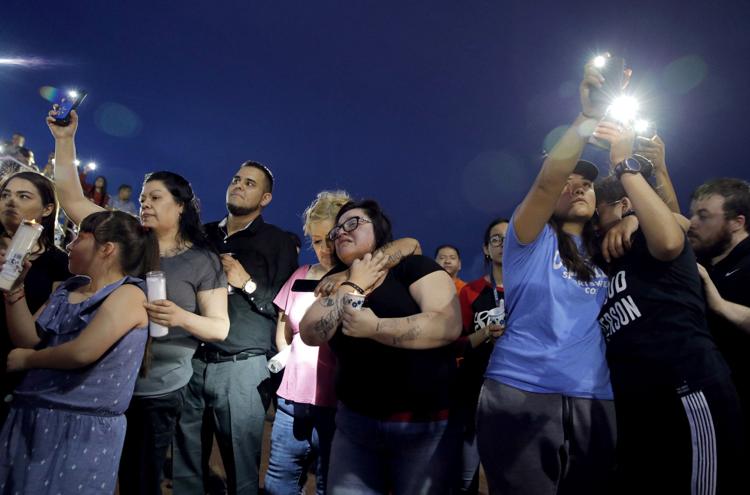 Mexico's Foreign Ministry identified five citizens who were killed in the shooting Saturday in a shopping complex in El Paso. The ministry did not provide ages for them. They are:
— Sara Esther Regalado of Cuidad Juarez.
— Adolfo Cerros Hernández of Aguascalientes.
— Jorge Calvillo García of Torreón.
— Elsa Mendoza de la Mora of Yepomera.
— Gloria Irma Márquez of Juárez.
Lee reported from El Paso. Guthrie reported from Mexico City. AP reporters Jamie Stengle in Dallas, Andrew Selsky in Salem, Oregon, Lisa Cornwell in Cincinnati, Ohio, and Becky Bohrer in Juneau, Alaska, contributed to this report.
LOGAN TURNER: 'GENEROUS AND LOVING,' HAD JUST TURNED 30
Just days past his 30th birthday, Logan Turner was "very generous and loving and the world's best son," mother Danita Turner told the Dayton Daily News.
"Everyone loved Logan," she said. "He was a happy-go-lucky guy."
Turner said her son was out with a few friends when he was shot just outside a bar in Dayton's historic Oregon District.
Turner had a degree from Sinclair Community College and went on to earn an engineering degree from the University of Toledo, his mother said. He also attended Wright State University for a while, according to Seth Bauguess, spokesman for the university in Dayton.
Turner's mother said he had recently started working as a machinist at a company in Springboro.
JAVIER AMIR RODRIGUEZ: SOPHOMORE IN HIGH SCHOOL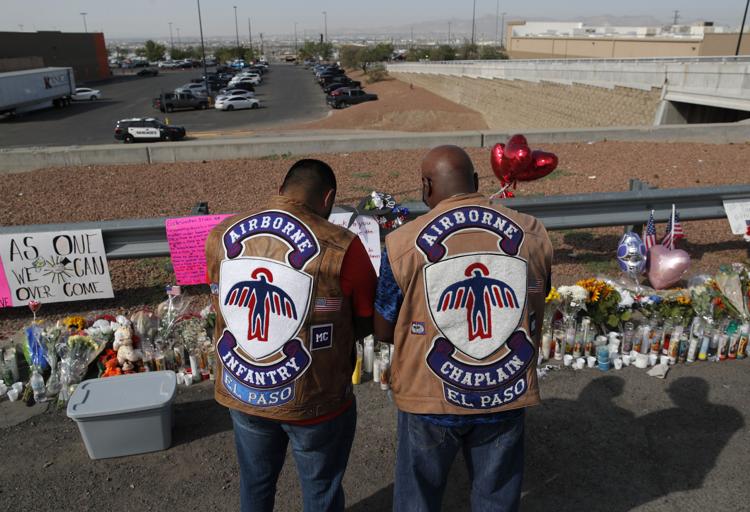 Javier Amir Rodriguez, 15, was starting his sophomore year in high school when he was fatally shot at the store.
The Clint Independent School District, which identified the teen as being among the victims Monday, said he attended Horizon High School in El Paso.
The district said it had been in contact with his family and sent condolences. Valeria Chavez, a cousin of the youth, told KFOX-TV that Rodriquez was at the Walmart with an uncle who described what happened.
"He told me my cousin had made eye contact with the shooter and they were in the bank and as soon as the shooter walked in, he grabbed my cousin. He says he saw the shooter shoot him," Chavez said.
The school district said counselors would be available, and a vigil was set for Monday night at the high school's football stadium.
SAEED SALEH: A 'HUMBLE AND QUIET PERSON'
A community association official has confirmed Saeed Saleh was among the nine killed during the weekend shooting in Dayton, Ohio.
Yahya Khamis, president of the Sudanese Community of Dayton, said Monday that he was speaking on behalf of Saleh's family and was working on coordinating funeral plans for the 38-year-old man. Khamis said he didn't know Saleh well, but that he was a "humble and quiet person" who also was kindhearted.
Saleh had three children, but Khamis said he could not share any other information on Saleh's family.
Khamis said Saleh was originally from Eritrea in East Africa and had later lived in Sudan in Africa before immigrating to the United States a few years ago.
ARTURO BENAVIDES: EASYGOING ARMY VETERAN
Arturo Benavides, a U.S. Army veteran who retired as a bus driver a few years ago, was checking out at the Walmart store when the gunman entered.
His niece, Jacklin Luna, told the Los Angeles Times that 60-year-old Benavides was among those killed. His wife, Patricia, was sitting on a nearby bench and was pushed into a bathroom for safety, Luna said.
Benavides, who was born and raised in El Paso, had worked as a bus driver for El Paso's Sun Metro.
"I spent my childhood waking up at their house, sitting out on the front porch with him on Sunday mornings, listening to the oldies on the radio," said Luna, who described him as kind and generous.
His nephew, Ruben Rojas, said Benavides was an "easygoing" man who enjoyed watching sports and was also a good Roman Catholic who went to Mass.
DAVID JOHNSON: FATHER WHO SAVED WIFE AND GRANDDAUGHTER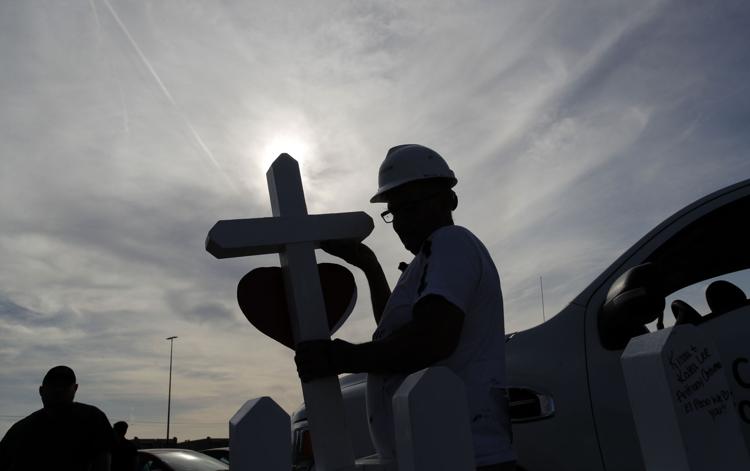 An account of self-sacrifice emerged Monday involving a grandfather who died in the mass shooting in El Paso, while his wife and granddaughter survived.
Stephanie Melendez said that her 63-year-old father, David Johnson, was shot and killed near the checkout counters at the Walmart where the attack took place. She credits Johnson with saving the life of her 9-year-old daughter and his own wife by thrusting them to the floor below a counter and out of the way of gunfire before he was killed.
"He saved them," Melendez said. "He pushed them underneath." Johnson's wife was unavailable to describe the events firsthand.
Raul Melendez believes his daughter's life was saved by the actions of Johnson, but still worries about what she may have witnessed.
"I hope she didn't get to see anything and that she's not affected later on," he said.
Raul said he blames the shooter for what happened and nothing else.
Co-workers of Johnson, a salesman, delivered flowers and food as family members gathered in mourning on Monday evening at a one-story home.
IVAN MANZANO: A FRIENDLY AND PRACTICAL MAN
Ivan Manzano, who had a 5-year-old daughter and 9-year-old son, was from Ciudad Juárez, Mexico, and ran a business that supplies orthopedic implants.
His wife, Adriana Manzano, learned from the FBI that he was killed in the shooting in the Walmart. She traveled to the Mexican consulate in El Paso on Monday to repatriate her husband's body, and said he was known by everyone as friendly, calm — "very practical."
Adriana Manzano said she has told her children only that their father had died in an "accident," believing that giving a full explanation might generate resentments.
MONICA BRICKHOUSE: POSITIVE PERSON, SUPERVISOR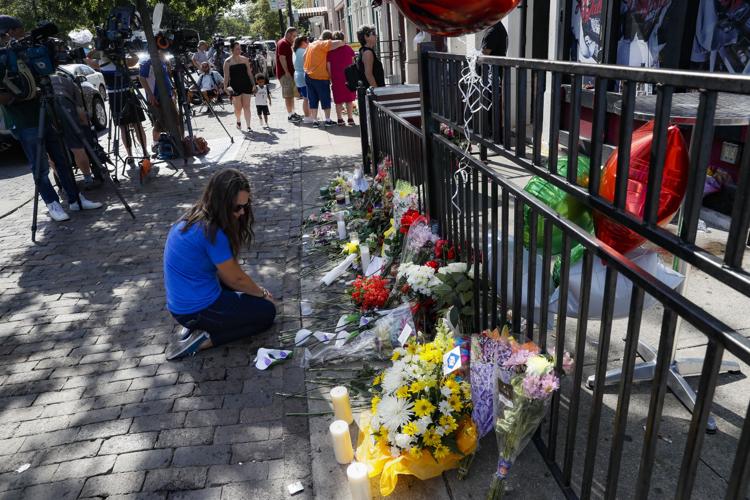 Monica Brickhouse was a Springfield, Ohio, native who was working as a recovery specialist for Anthem in Virginia Beach, according to her LinkedIn profile.
Damian Seaton, who worked with Brickhouse at a bank call center before it was closed down, remembered her as an excellent supervisor.
"She was just a very positive person," Season told Norfolk TV station WAVY. "You always knew when you sat with her you had an easygoing spirit, somebody who was going to help you, advise you in the right way."
The profile said she received an associate's degree from College for America at Southern New Hampshire University in 2017 and volunteered for Toys for Tots. Friend Brittany Hart wrote on Facebook that Brickhouse and another victim, Beatrice Warren-Curtis, "checked in on my family and made your love for my family known."
Brickhouse was also part of Two Good Girls, an event planning and catering business, according to her Facebook page.
MEGAN BETTS: GUNMAN'S SISTER WAS ARTISTIC, POLITE
A classmate remembered Ohio shooting victim Megan Betts, the sister of the gunman, as "artistic, polite" and someone who "loved going to band class."
Addison Brickler, 23, rode the bus to school with Connor and Megan Betts. Megan would sit with her friend on the bus every day, Brickler said.
"She always had a smile on her face," Brickler said.
"It's harder for me to wrap my head around why he would do this to someone, his sister."