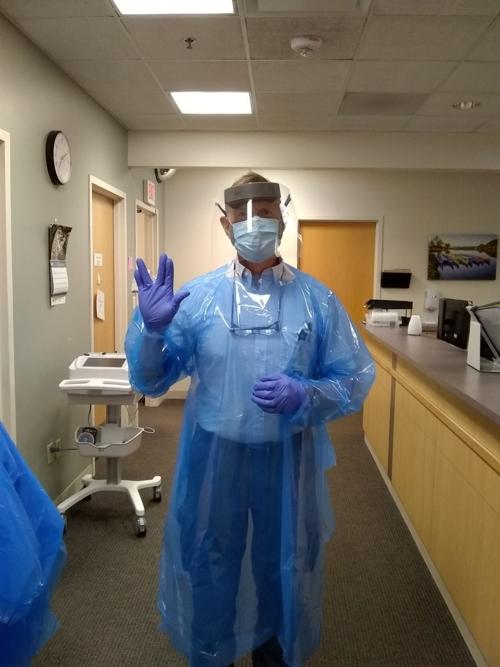 We need national solutions for the national emergencies that face our nation.
A responsible government attempts to fix problems. As part of the effort, President Donald Trump should request two years of federal Medicaid for everyone in our country and territories.
Congressional approval can provide funded medical coverage from the beginning of this year. We are currently underfunded for COVID-19 medical care, primary care, mental-health care and addiction treatment.
Many of our citizens are left without medical care. In a public health emergency, that lack of care endangers our society.
This is not Bernie's "MediCare for All." MediCare is a national program directed toward serving seniors and those deemed disabled. Medical care and insurance coverage is a complicated process. That complexity is the easiest and the best argument for leaving Medicare, with its funding, separate.
Medicaid is already a federal/state program, receiving federal funding with oversight. In Wisconsin, it is often viewed as BadgerCarePlus, this is further complicated in being administered separately from Wisconsin Medicaid.
However, that illustrates each state can utilize its knowledge of citizens, and can best serve their state.
"Federal Medicaid for Everyone," would give the following:
Economic relief to all governments, businesses and people. Help avoid bankruptcies.
Helps farms, small businesses and individuals who have lost income and insurance coverage.
Medicaid is easier to understand and run. Medicare has cost percentages and a deductible – which is why there are Medicare supplemental insurances.
The federal government is the only way to do this. Why? It can and does run fiscal deficits; the other government levels are not allowed.
Private insurance can continue, with or without the Affordable Care Act, so you may well keep your hospital and physician.
Actively treats the epidemics of COVID-19, addiction, mental-health crisis, suicide and inequalities in health services.
Allow block grants to fund public health departments, school health protective equipment and support vulnerable populations.
There is a terrific cost, but the national debt benefits no one, if it does not improve our society.
Our president invoked national Public Health Emergencies regarding opioid abuse and COVID-19. Our Congress needs to further respond to our country's emergencies.
Tough choices happen in tough times. We need federal funding to heal and help our country's people recover. Congress needs to act, not politicize.
Our states have existing Medicaid systems that can be expanded and altered to treat medical, mental health and addiction crises. All these needs exist in all levels of our society. Together let us deal with our crises, then rebuild a healthier, saner society that can be great for all.
Let us help everyone, those in need in the cities, in the towns, and in the rural area. This does not give more to some, but rather offers everyone a true assist in dealing with our multiple national emergencies and provides needed COVID-19 medical care.
May our leaders in government act speedily for us all and public health.
Lawrence W. Waite of Onalaska, DO, MPH, has been a primary care physician for more than 40 years and has a Masters in Public Health.
Catch the latest in Opinion
Get opinion pieces, letters and editorials sent directly to your inbox weekly!