Consider: $1.5 trillion in student loan debt, millions of struggling borrowers, an out-of-touch federal regulator and assurances that there's nothing to worry about.
The echoes of the last decade's mortgage crisis are unmistakable, and frightening.
And while the 2020 Democratic candidates discuss bold reforms to make sure that higher education is financially attainable for all, a recent under-the-radar federal appeals court decision may help us avoid a repeat of the Great Recession, if states seize the opportunity to protect their residents from the loan servicers that have been presiding over the skyrocketing rise in student debt.


The decision in Nelson v. Great Lakes would be easy to overlook — how often have you wondered whether section 1098g of Title 20 of the U.S. Code preempts state consumer protection statutes?
Yet what the 7th U.S. Circuit Court of Appeals has done is throw a lifeline to the 44 million student loan borrowers who send a chunk of their paycheck to their loan servicers every month — including the growing number who can't afford to send a payment at all.
At issue in this case was whether federal law prevents a borrower, represented on appeal by the National Student Legal Defense Network, from using state consumer protection laws to recover from a servicer that provides false, deceptive or misleading information about loan repayment options.
Loan servicers play an important role in the lending system, collecting monthly payments and handling borrower issues as they arise.
But in recent years the servicers hired by the U.S. Department of Education have been focusing on the former and ignoring the latter.
Most notoriously, one loan servicer reportedly instituted a seven-minute rule that required call center workers to handle all calls in a set time, even if that meant misleading borrowers and putting them into inappropriate payment plans that were quickly set up over the phone.
Countless borrowers have been shut out of repayment options that would halve or even eliminate their monthly costs, because enrolling them would mean hiring additional call center workers.
You have free articles remaining.
Register for more free articles.
Stay logged in to skip the surveys.
More still, including hundreds of thousands of teachers, firefighters and military service members, have been denied public service loan forgiveness because the loan servicers botched the paperwork or gave borrowers bad advice.
Despite these abuses, the Trump administration has done nothing to protect borrowers from loan servicers. In fact, the administration seems to think it's the servicers who need protection.
Under Secretary Betsy DeVos' leadership, the Department of Education has not even come close to taking action to curb abuses by student loan servicing companies.
Even the department's own inspector general has cited the department for the fact that it has only "rarely" held these servicers accountable, despite abundant authority to do so.
Meanwhile, under Secretary DeVos' leadership, the department has actively worked to prevent states from enforcing their own consumer protection laws, arguing that only the U.S. Department of Education can police loan servicers. As a result, servicers have felt untouchable, and they have acted accordingly. That's about to change.
State attorneys general know what the problems are.
For years we've seen the red flags and heard complaints from shortchanged borrowers. At least six states, including Illinois in 2017, have brought cases against student loan servicing companies — and the servicers have uniformly tried to dodge accountability with the same bogus preemption argument.
But now, with that argument shredded, states can get to the heart of the problem: Where a loan servicer has operated with impunity, putting their profits ahead of borrowers' rights, states have the opportunity to lead a sea change. With aggressive enforcement, they can spur reforms in servicing and give millions of student loan borrowers a path to a brighter financial future.
---
Intro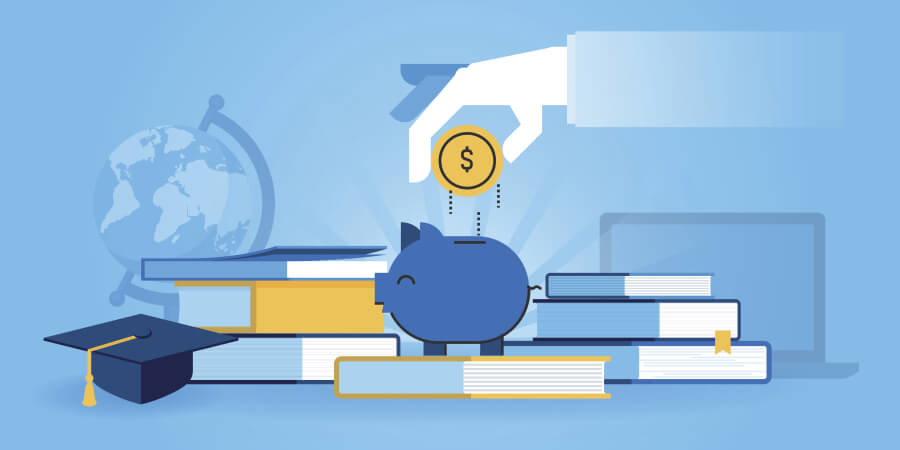 As of the fourth quarter of 2017, total student loan debt in the U.S. hit a record high of $1.38 trillion, up 152% over the past 10 years. For reference, total household debt only grew 6% over that same time period, according to data from The New York Fed. Outside of mortgages, student loans are now the largest source of household debt for Americans, greater than auto loans ($1.22 trillion) or credit cards ($834 billion).
At an aggregate level, it's clear that more education leads to lower unemployment and higher earnings. However, decisions after graduation regarding occupation, industry, and location, among others, can have big impacts on the return-on-investment of a given degree. This is why, despite the benefits that a bachelor's or advanced degree might offer in the workplace at a national-level, many individuals in the U.S. are currently unable to meet their student loan debt obligations. According to The New York Fed, 9.2% of student loans are currently 90+ days delinquent or in default, but the results vary widely by state. In Mississippi, that number is close to 17%, whereas in Massachusetts, it's just under 7.5%.
To see just how much student loan debt varies by location, researchers at Credit Sesame analyzed debt statistics from The New York Fed and demographic and earnings data from the American Community Survey. Rather than looking just at total (or per-capita) student loan debt balances by state, Credit Sesame calculated debt-to-earnings ratios (debt as a percentage of earnings) for college graduates. States with low debt-to-earnings ratios have lower student loan debt burdens than those with high debt-to-earnings ratios. Here are the states with the most (and least) student loan debt.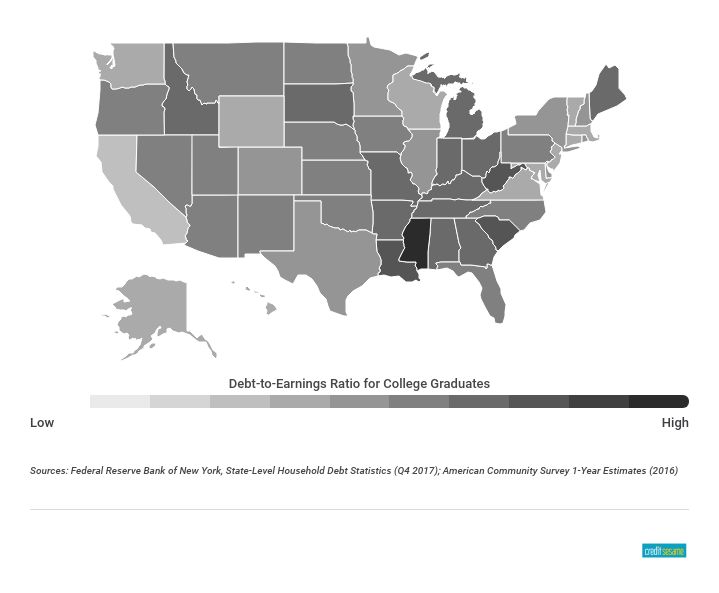 Methodology
Debt statistics used in this analysis were sourced from the 4Q17 Federal Reserve Bank of New York, State-Level Household Debt Statistics dataset. Educational attainment and earnings data were sourced from the 2016 American Community Survey (ACS) 1-Year Estimates, Educational Attainment file. For each state, the Average debt for graduates was calculated by dividing the Student loan debt balance per capita (New York Fed) by the Percent of population w/ a bachelor's degree or higher (ACS). The Debt-to-earnings ratio for graduates was calculated by dividing the Average debt for graduates (calculated above) by the Median annual earnings for bachelor's degree holders (ACS). The resulting statistic was used to rank states, with higher debt-to-income ratios corresponding to more debt. Percent of of loans delinquent/in default was also sourced from the New York Fed, and includes student loan debt balance that is 90+ days delinquent and in default.
51. California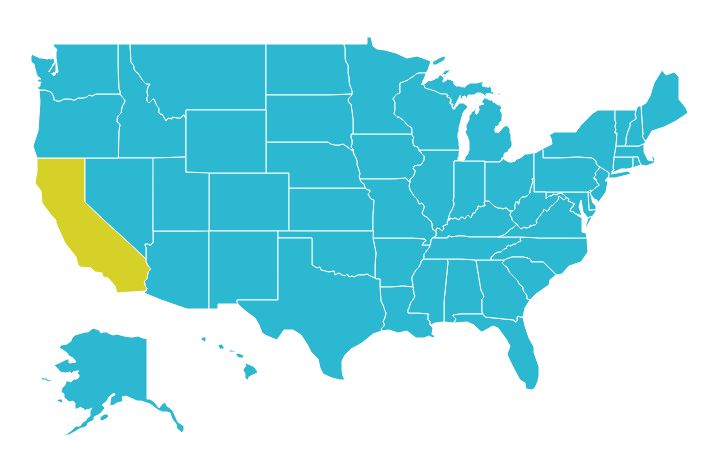 Debt-to-earnings ratio for graduates: 0.22
Average debt for graduates: $13,070
Percent of loans delinquent/in default: 10.34%
Median annual earnings (bachelor's degree): $60,121
Median annual earnings (high school degree only): $30,231
Percent of population w/ bachelor's degree or higher: 32.9%
50. Massachusetts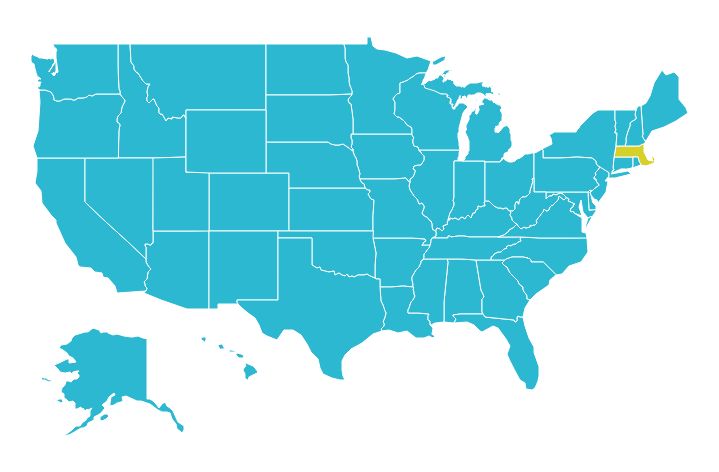 Debt-to-earnings ratio for graduates: 0.23
Average debt for graduates: $13,724
Percent of loans delinquent/in default: 7.44%
Median annual earnings (bachelor's degree): $60,503
Median annual earnings (high school degree only): $35,003
Percent of population w/ bachelor's degree or higher: 42.7%
49. Hawaii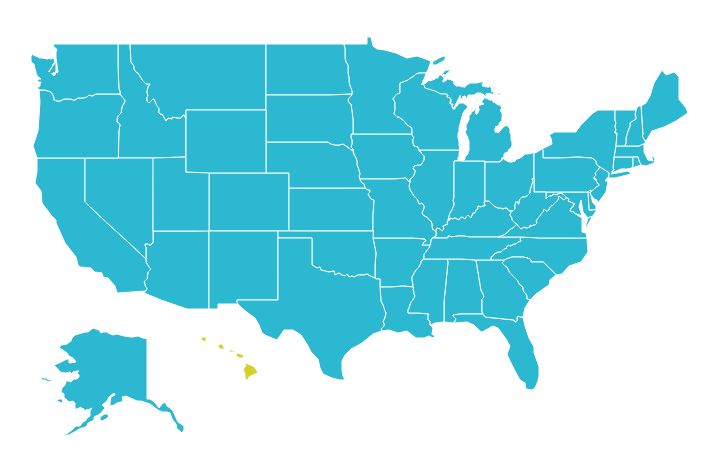 Debt-to-earnings ratio for graduates: 0.23
Average debt for graduates: $11,348
Percent of loans delinquent/in default: 10.21%
Median annual earnings (bachelor's degree): $49,440
Median annual earnings (high school degree only): $31,361
Percent of population w/ bachelor's degree or higher: 31.9%
48. Washington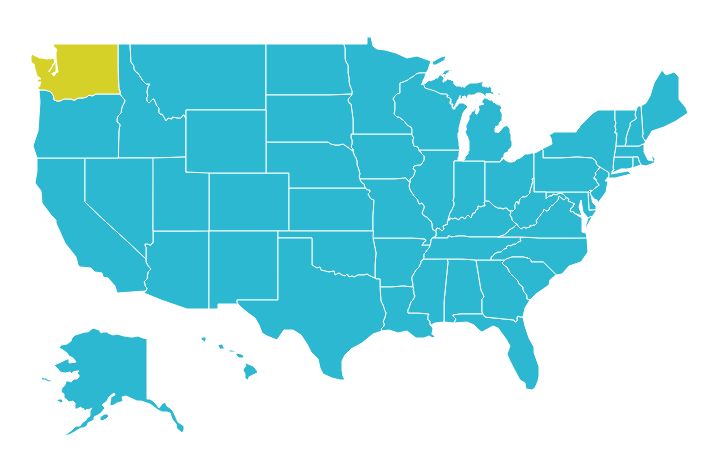 Debt-to-earnings ratio for graduates: 0.23
Average debt for graduates: $13,476
Percent of loans delinquent/in default: 9.75%
Median annual earnings (bachelor's degree): $58,262
Median annual earnings (high school degree only): $32,077
Percent of population w/ bachelor's degree or higher: 35.1%
47. New Jersey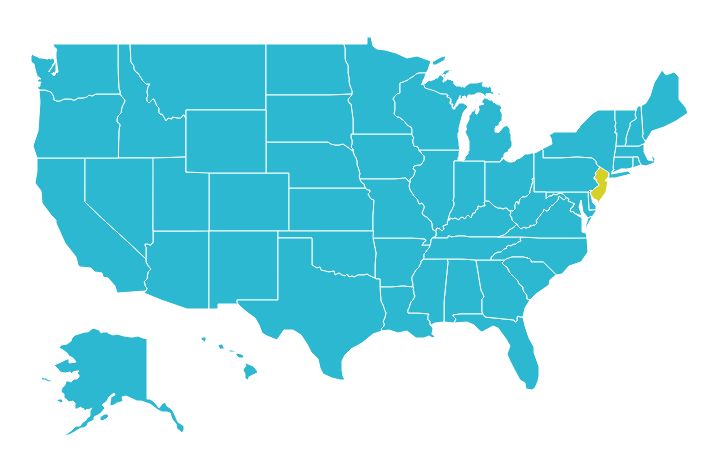 Debt-to-earnings ratio for graduates: 0.24
Average debt for graduates: $14,741
Percent of loans delinquent/in default: 9.63%
Median annual earnings (bachelor's degree): $62,300
Median annual earnings (high school degree only): $31,941
Percent of population w/ bachelor's degree or higher: 38.6%
46. Connecticut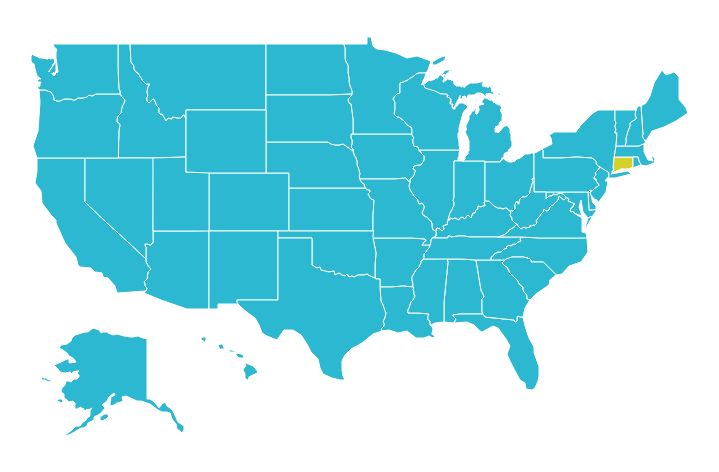 Debt-to-earnings ratio for graduates: 0.24
Average debt for graduates: $14,663
Percent of loans delinquent/in default: 9.84%
Median annual earnings (bachelor's degree): $61,257
Median annual earnings (high school degree only): $35,458
Percent of population w/ bachelor's degree or higher: 38.6%
45. Wyoming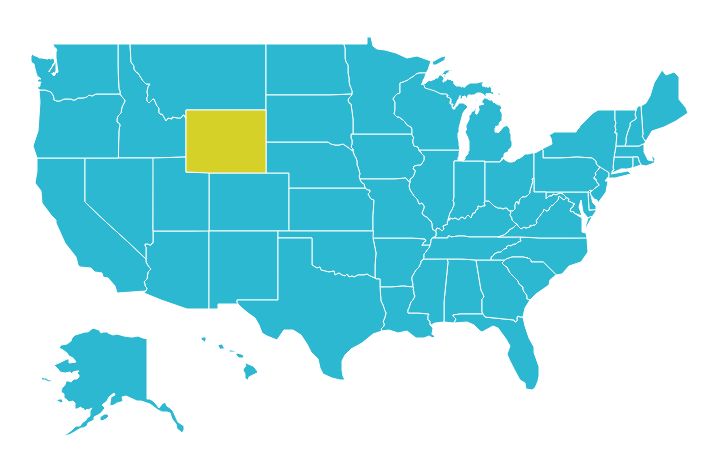 Debt-to-earnings ratio for graduates: 0.25
Average debt for graduates: $11,845
Percent of loans delinquent/in default: 9.23%
Median annual earnings (bachelor's degree): $47,322
Median annual earnings (high school degree only): $31,491
Percent of population w/ bachelor's degree or higher: 27.1%
44. Virginia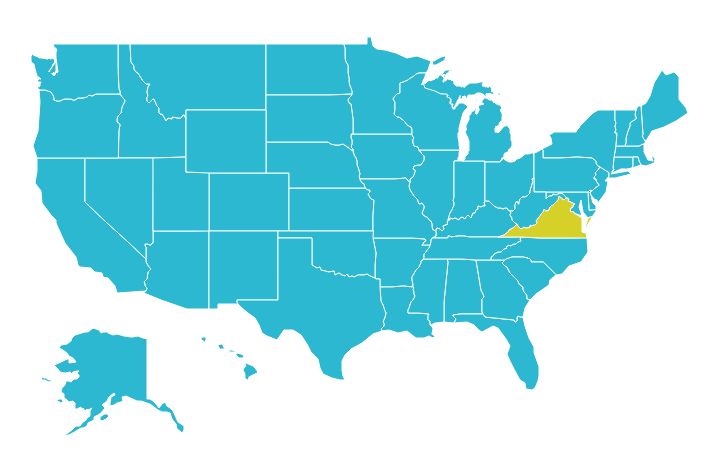 Debt-to-earnings ratio for graduates: 0.25
Average debt for graduates: $14,278
Percent of loans delinquent/in default: 10.40%
Median annual earnings (bachelor's degree): $56,324
Median annual earnings (high school degree only): $30,524
Percent of population w/ bachelor's degree or higher: 38.1%
43. Alaska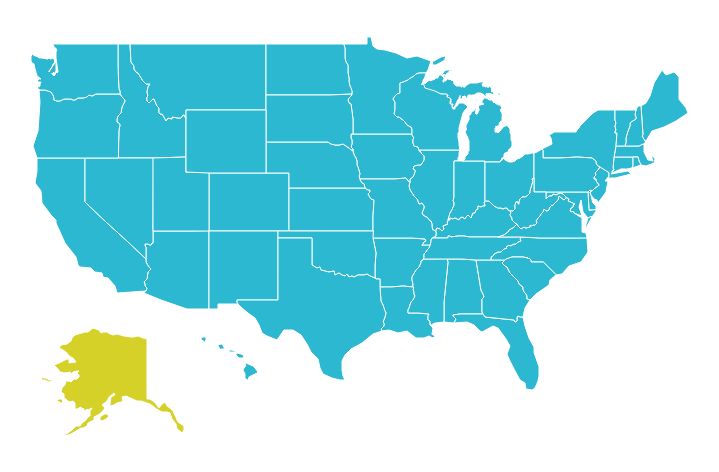 Debt-to-earnings ratio for graduates: 0.27
Average debt for graduates: $13,750
Percent of loans delinquent/in default: 10.49%
Median annual earnings (bachelor's degree): $51,665
Median annual earnings (high school degree only): $32,063
Percent of population w/ bachelor's degree or higher: 29.6%
42. Vermont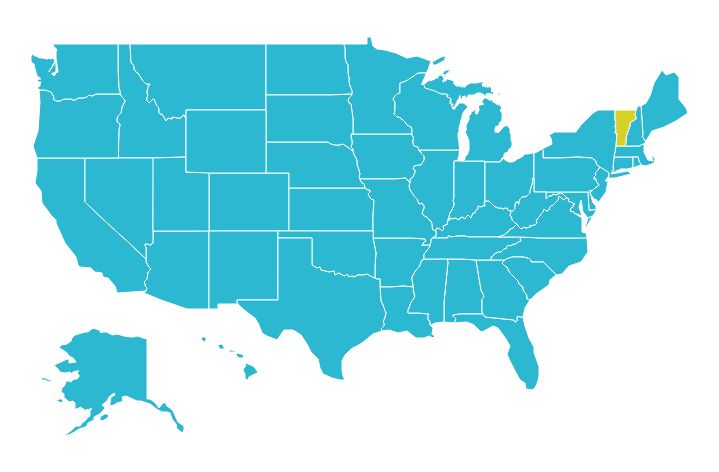 Debt-to-earnings ratio for graduates: 0.27
Average debt for graduates: $11,319
Percent of loans delinquent/in default: 8.29%
Median annual earnings (bachelor's degree): $42,338
Median annual earnings (high school degree only): $31,471
Percent of population w/ bachelor's degree or higher: 36.4%
41. Maryland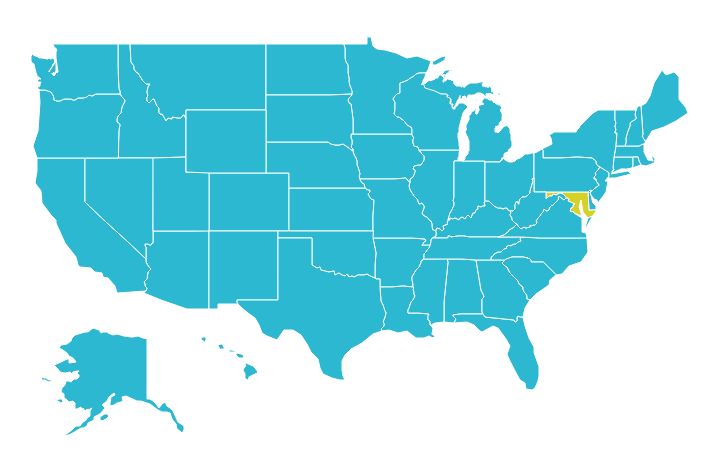 Debt-to-earnings ratio for graduates: 0.27
Average debt for graduates: $16,412
Percent of loans delinquent/in default: 10.83%
Median annual earnings (bachelor's degree): $61,049
Median annual earnings (high school degree only): $32,982
Percent of population w/ bachelor's degree or higher: 39.3%
40. Wisconsin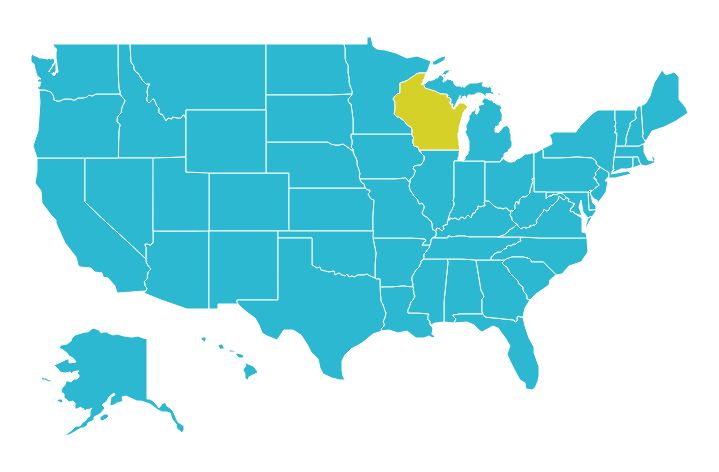 Debt-to-earnings ratio for graduates: 0.27
Average debt for graduates: $13,661
Percent of loans delinquent/in default: 9.54%
Median annual earnings (bachelor's degree): $50,323
Median annual earnings (high school degree only): $31,233
Percent of population w/ bachelor's degree or higher: 29.5%
39. Rhode Island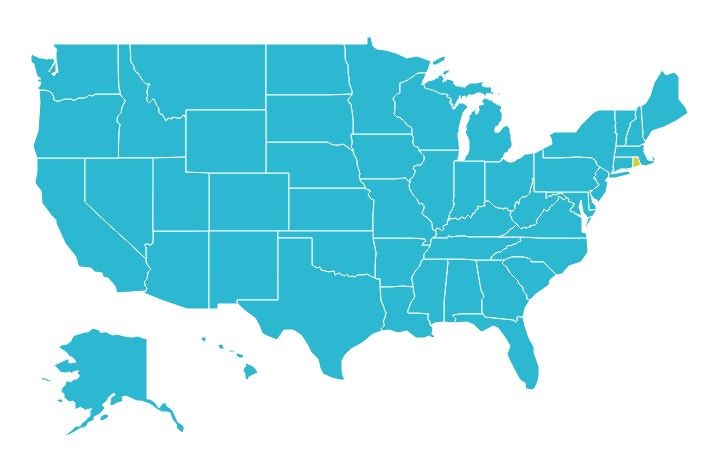 Debt-to-earnings ratio for graduates: 0.28
Average debt for graduates: $14,780
Percent of loans delinquent/in default: 10.44%
Median annual earnings (bachelor's degree): $52,045
Median annual earnings (high school degree only): $32,759
Percent of population w/ bachelor's degree or higher: 34.1%
38. New York
Debt-to-earnings ratio for graduates: 0.28
Average debt for graduates: $16,190
Percent of loans delinquent/in default: 9.15%
Median annual earnings (bachelor's degree): $56,868
Median annual earnings (high school degree only): $30,742
Percent of population w/ bachelor's degree or higher: 35.7%
37. Colorado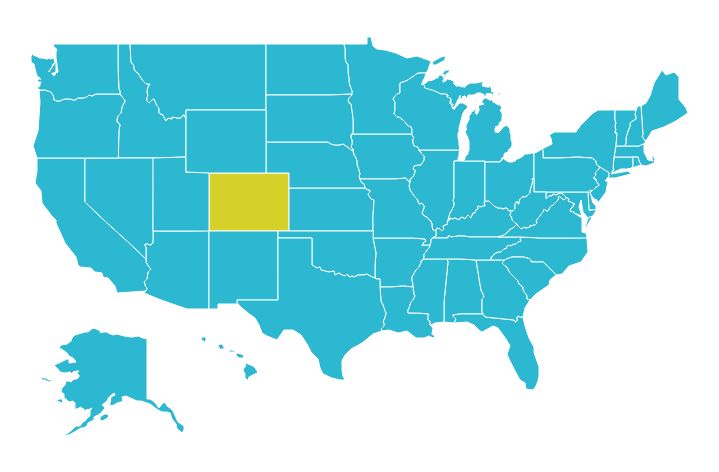 Debt-to-earnings ratio for graduates: 0.29
Average debt for graduates: $14,912
Percent of loans delinquent/in default: 11.28%
Median annual earnings (bachelor's degree): $51,136
Median annual earnings (high school degree only): $31,515
Percent of population w/ bachelor's degree or higher: 39.9%
36. Illinois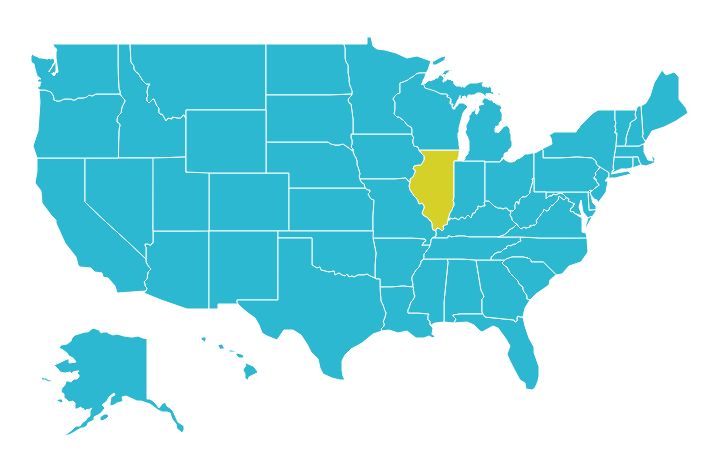 Debt-to-earnings ratio for graduates: 0.30
Average debt for graduates: $16,353
Percent of loans delinquent/in default: 9.78%
Median annual earnings (bachelor's degree): $55,161
Median annual earnings (high school degree only): $30,526
Percent of population w/ bachelor's degree or higher: 34.0%
35. Delaware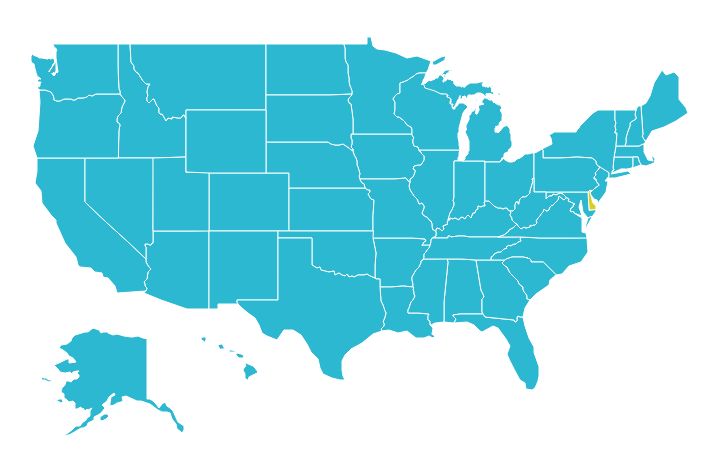 Debt-to-earnings ratio for graduates: 0.30
Average debt for graduates: $16,290
Percent of loans delinquent/in default: 10.22%
Median annual earnings (bachelor's degree): $54,225
Median annual earnings (high school degree only): $31,751
Percent of population w/ bachelor's degree or higher: 31.0%
34. Texas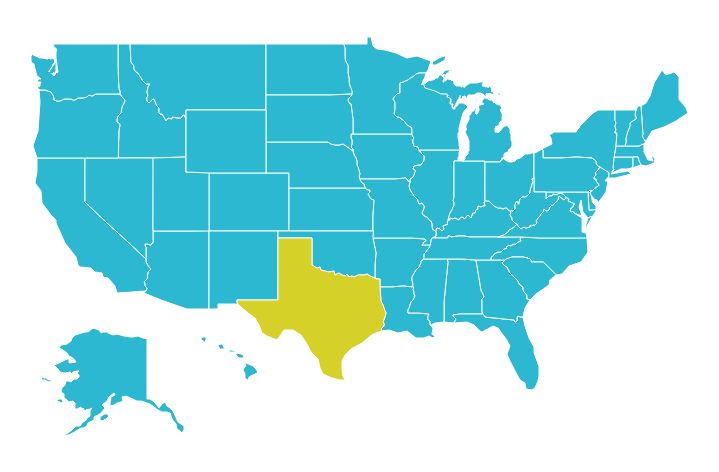 Debt-to-earnings ratio for graduates: 0.31
Average debt for graduates: $16,401
Percent of loans delinquent/in default: 11.32%
Median annual earnings (bachelor's degree): $52,967
Median annual earnings (high school degree only): $27,774
Percent of population w/ bachelor's degree or higher: 28.9%
33. Minnesota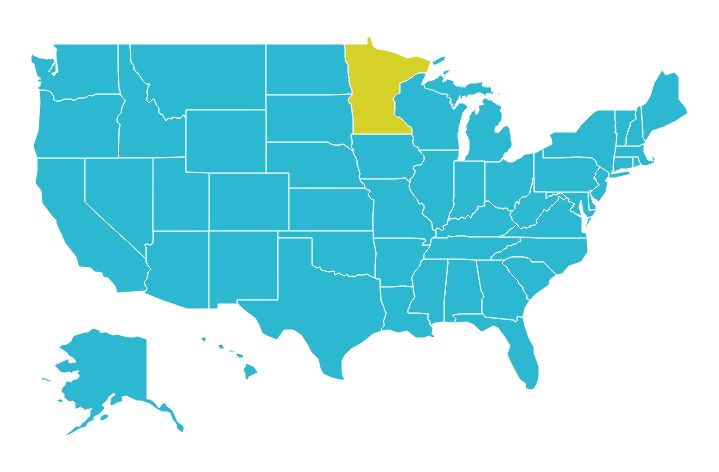 Debt-to-earnings ratio for graduates: 0.31
Average debt for graduates: $17,213
Percent of loans delinquent/in default: 9.37%
Median annual earnings (bachelor's degree): $54,749
Median annual earnings (high school degree only): $31,535
Percent of population w/ bachelor's degree or higher: 34.8%
32. New Hampshire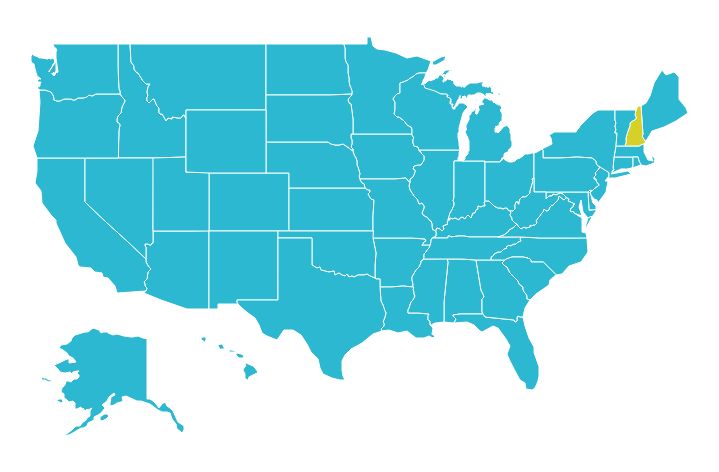 Debt-to-earnings ratio for graduates: 0.32
Average debt for graduates: $16,366
Percent of loans delinquent/in default: 9.37%
Median annual earnings (bachelor's degree): $51,823
Median annual earnings (high school degree only): $32,290
Percent of population w/ bachelor's degree or higher: 36.6%
31. District of Columbia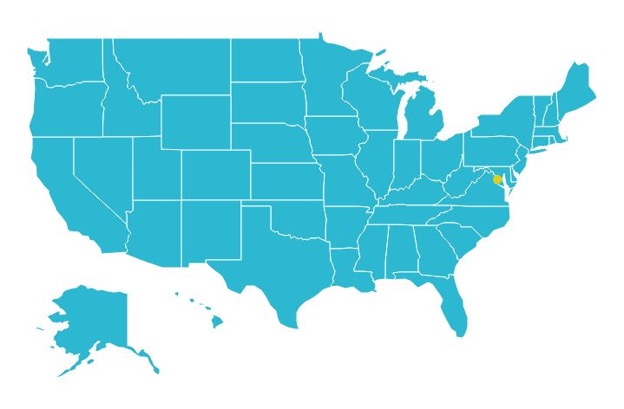 Debt-to-earnings ratio for graduates: 0.32
Average debt for graduates: $21,127
Percent of loans delinquent/in default: 9.14%
Median annual earnings (bachelor's degree): $65,886
Median annual earnings (high school degree only): $30,311
Percent of population w/ bachelor's degree or higher: 56.8%
30. Kansas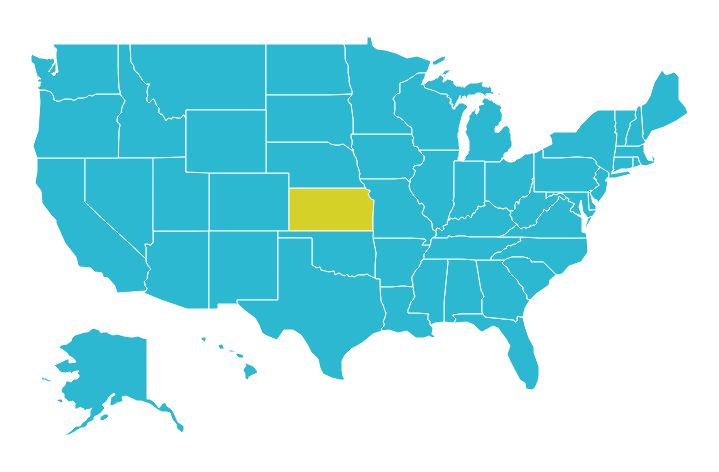 Debt-to-earnings ratio for graduates: 0.33
Average debt for graduates: $15,457
Percent of loans delinquent/in default: 13.29%
Median annual earnings (bachelor's degree): $46,772
Median annual earnings (high school degree only): $28,685
Percent of population w/ bachelor's degree or higher: 32.8%
29. Arizona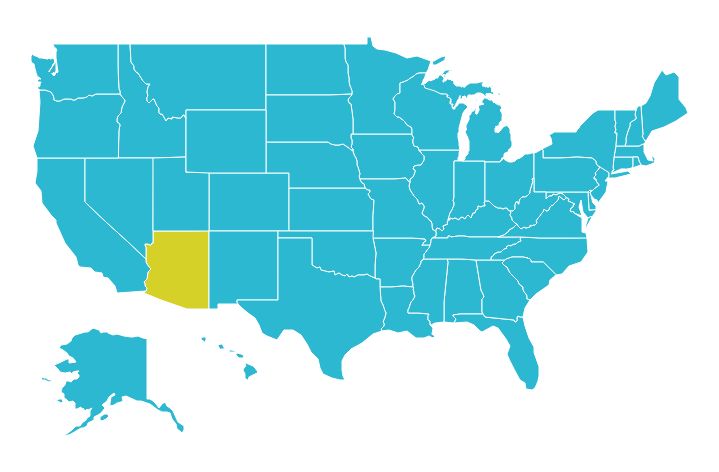 Debt-to-earnings ratio for graduates: 0.34
Average debt for graduates: $17,301
Percent of loans delinquent/in default: 12.73%
Median annual earnings (bachelor's degree): $50,479
Median annual earnings (high school degree only): $27,708
Percent of population w/ bachelor's degree or higher: 28.9%
28. Nebraska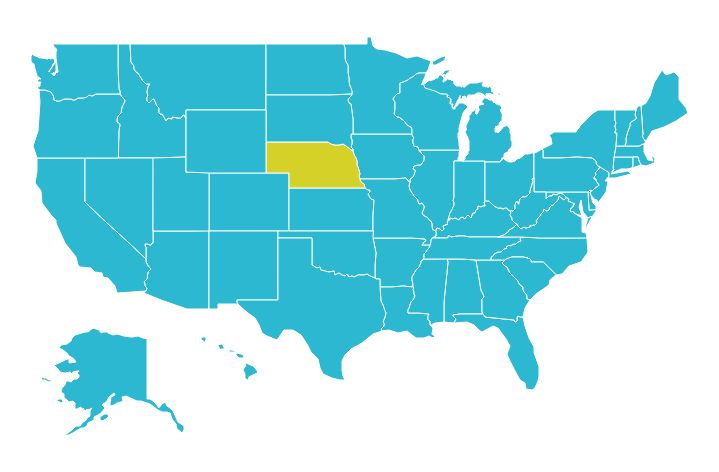 Debt-to-earnings ratio for graduates: 0.34
Average debt for graduates: $15,924
Percent of loans delinquent/in default: 8.72%
Median annual earnings (bachelor's degree): $46,260
Median annual earnings (high school degree only): $30,482
Percent of population w/ bachelor's degree or higher: 31.4%
27. North Carolina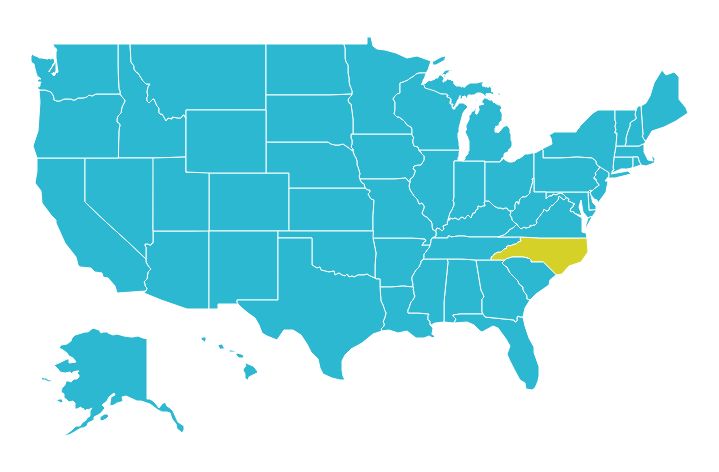 Debt-to-earnings ratio for graduates: 0.35
Average debt for graduates: $16,382
Percent of loans delinquent/in default: 12.74%
Median annual earnings (bachelor's degree): $47,143
Median annual earnings (high school degree only): $26,922
Percent of population w/ bachelor's degree or higher: 30.4%
26. New Mexico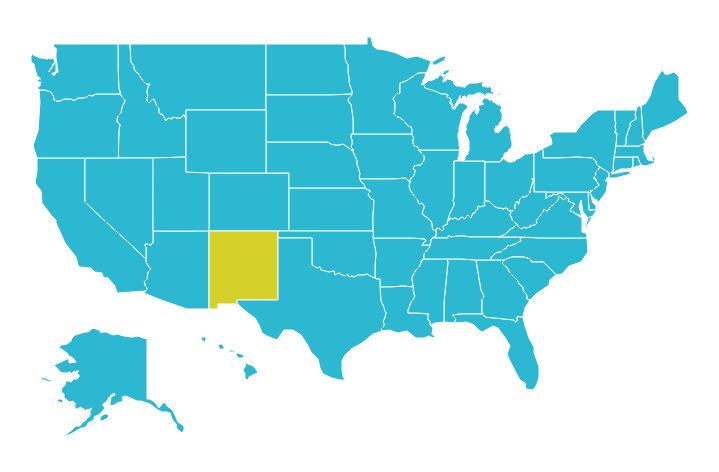 Debt-to-earnings ratio for graduates: 0.35
Average debt for graduates: $14,890
Percent of loans delinquent/in default: 13.91%
Median annual earnings (bachelor's degree): $42,021
Median annual earnings (high school degree only): $25,622
Percent of population w/ bachelor's degree or higher: 27.2%
25. Oregon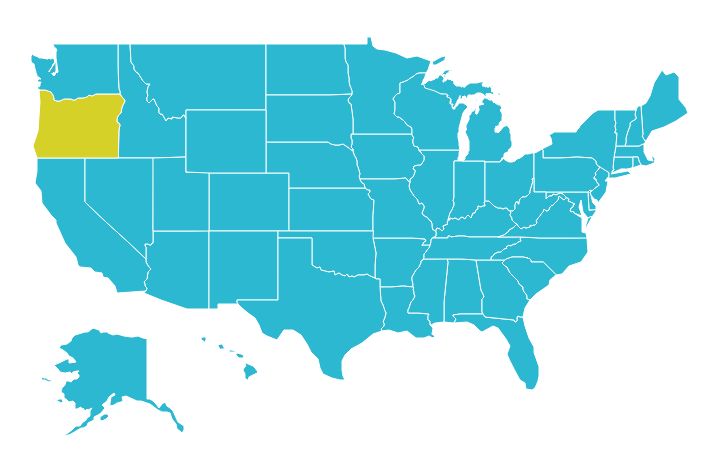 Debt-to-earnings ratio for graduates: 0.35
Average debt for graduates: $16,636
Percent of loans delinquent/in default: 11.67%
Median annual earnings (bachelor's degree): $46,942
Median annual earnings (high school degree only): $29,816
Percent of population w/ bachelor's degree or higher: 32.7%
24. Montana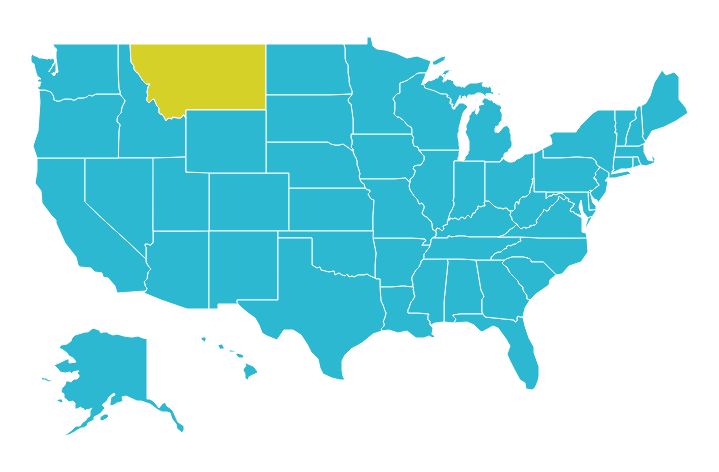 Debt-to-earnings ratio for graduates: 0.36
Average debt for graduates: $14,129
Percent of loans delinquent/in default: 10.38%
Median annual earnings (bachelor's degree): $39,650
Median annual earnings (high school degree only): $26,475
Percent of population w/ bachelor's degree or higher: 31.0%
23. North Dakota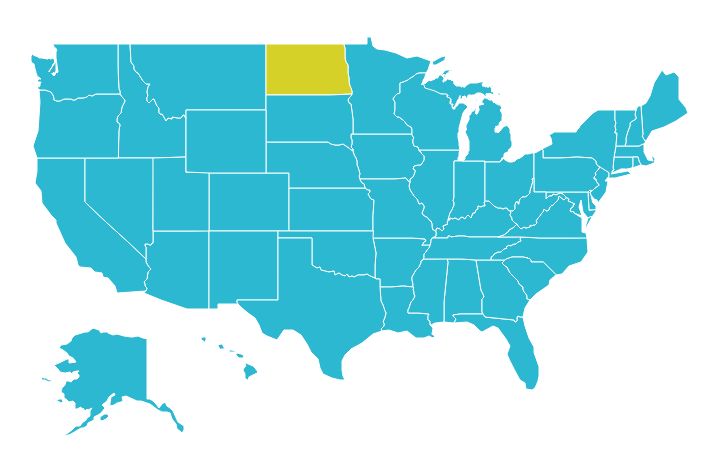 Debt-to-earnings ratio for graduates: 0.36
Average debt for graduates: $16,858
Percent of loans delinquent/in default: 7.58%
Median annual earnings (bachelor's degree): $46,865
Median annual earnings (high school degree only): $32,689
Percent of population w/ bachelor's degree or higher: 29.6%
22. Utah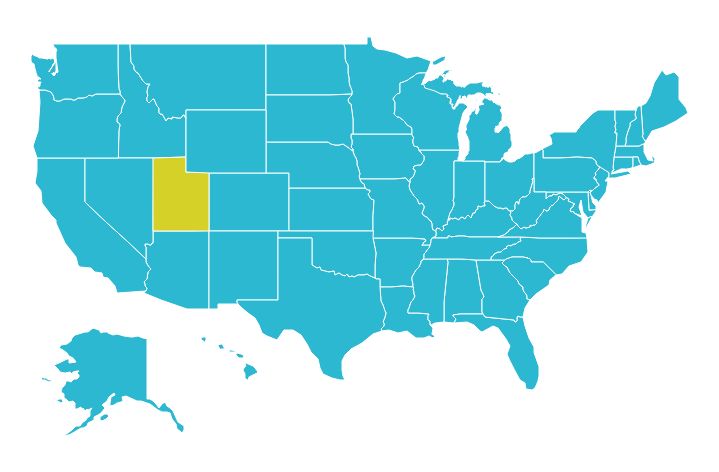 Debt-to-earnings ratio for graduates: 0.36
Average debt for graduates: $17,147
Percent of loans delinquent/in default: 9.22%
Median annual earnings (bachelor's degree): $47,164
Median annual earnings (high school degree only): $30,923
Percent of population w/ bachelor's degree or higher: 32.6%
21. Oklahoma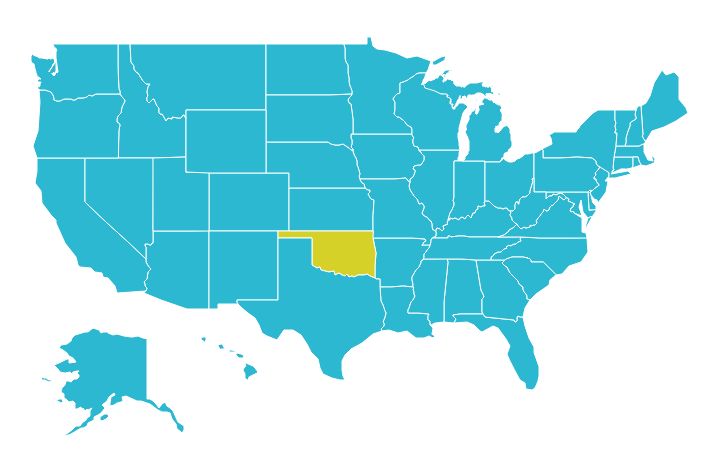 Debt-to-earnings ratio for graduates: 0.37
Average debt for graduates: $16,468
Percent of loans delinquent/in default: 15.33%
Median annual earnings (bachelor's degree): $44,977
Median annual earnings (high school degree only): $28,144
Percent of population w/ bachelor's degree or higher: 25.2%
20. Nevada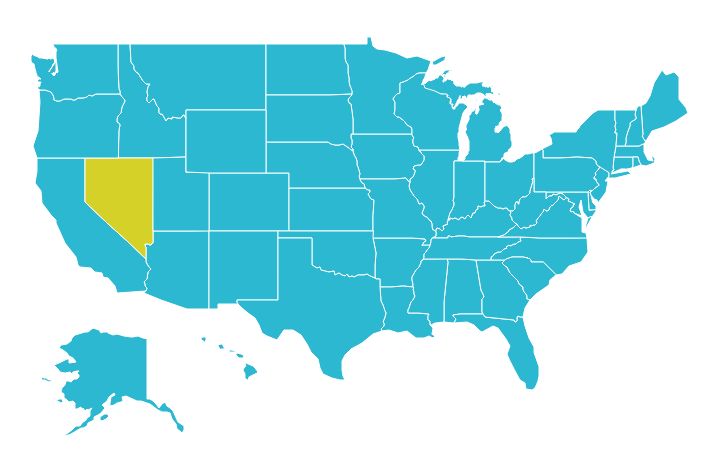 Debt-to-earnings ratio for graduates: 0.37
Average debt for graduates: $17,191
Percent of loans delinquent/in default: 14.63%
Median annual earnings (bachelor's degree): $46,908
Median annual earnings (high school degree only): $30,968
Percent of population w/ bachelor's degree or higher: 23.5%
19. Iowa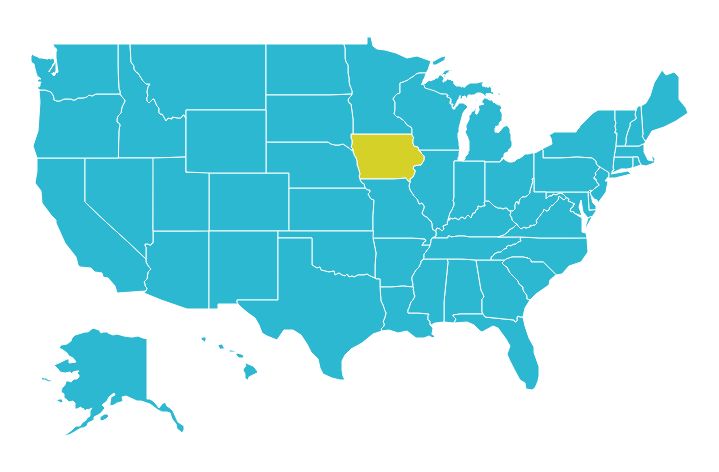 Debt-to-earnings ratio for graduates: 0.37
Average debt for graduates: $17,817
Percent of loans delinquent/in default: 11.49%
Median annual earnings (bachelor's degree): $48,207
Median annual earnings (high school degree only): $31,515
Percent of population w/ bachelor's degree or higher: 28.4%
18. Florida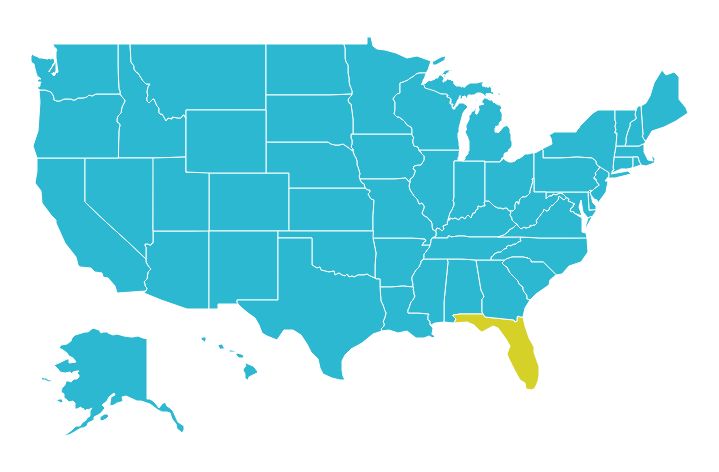 Debt-to-earnings ratio for graduates: 0.37
Average debt for graduates: $16,783
Percent of loans delinquent/in default: 9.35%
Median annual earnings (bachelor's degree): $45,031
Median annual earnings (high school degree only): $26,129
Percent of population w/ bachelor's degree or higher: 28.6%
17. Pennsylvania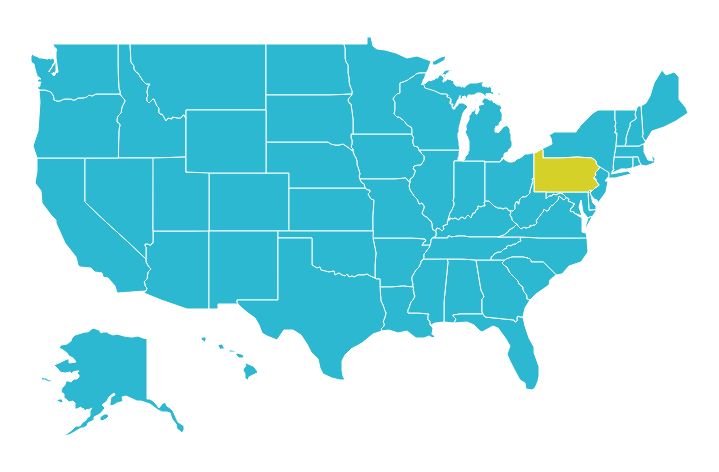 Debt-to-earnings ratio for graduates: 0.37
Average debt for graduates: $19,091
Percent of loans delinquent/in default: 11.15%
Median annual earnings (bachelor's degree): $51,199
Median annual earnings (high school degree only): $30,508
Percent of population w/ bachelor's degree or higher: 30.8%
16. Maine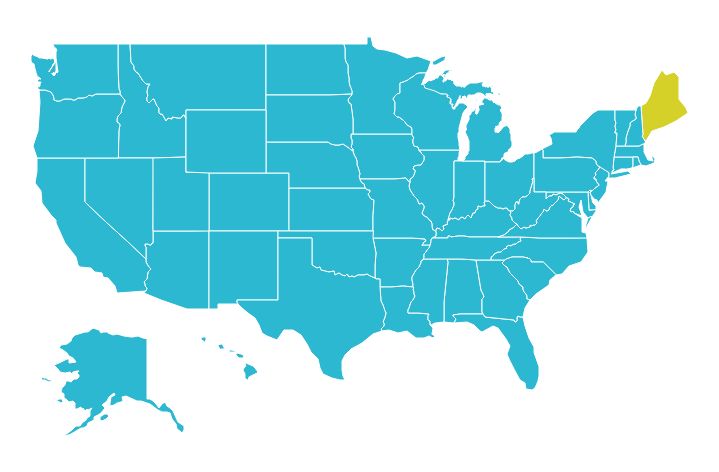 Debt-to-earnings ratio for graduates: 0.39
Average debt for graduates: $16,977
Percent of loans delinquent/in default: 9.35%
Median annual earnings (bachelor's degree): $43,559
Median annual earnings (high school degree only): $27,934
Percent of population w/ bachelor's degree or higher: 30.1%
15. Michigan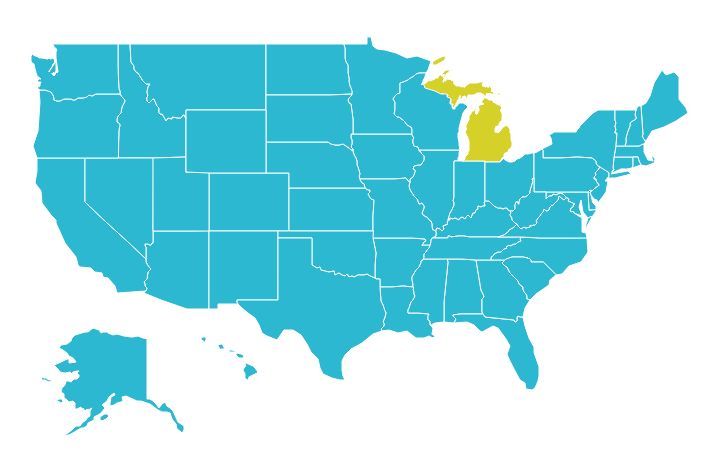 Debt-to-earnings ratio for graduates: 0.39
Average debt for graduates: $19,823
Percent of loans delinquent/in default: 12.50%
Median annual earnings (bachelor's degree): $50,821
Median annual earnings (high school degree only): $27,202
Percent of population w/ bachelor's degree or higher: 28.3%
14. Alabama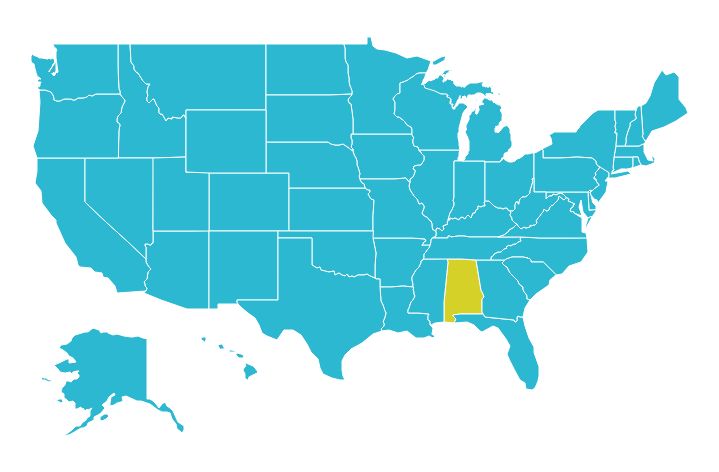 Debt-to-earnings ratio for graduates: 0.39
Average debt for graduates: $18,866
Percent of loans delinquent/in default: 13.87%
Median annual earnings (bachelor's degree): $48,304
Median annual earnings (high school degree only): $27,144
Percent of population w/ bachelor's degree or higher: 24.7%
13. Tennessee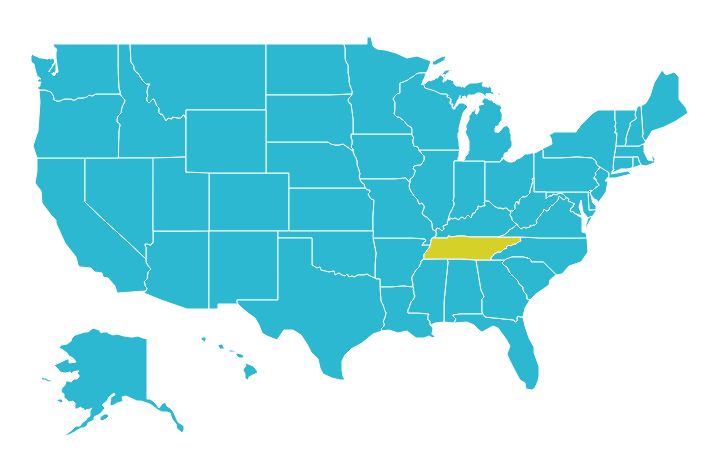 Debt-to-earnings ratio for graduates: 0.40
Average debt for graduates: $18,238
Percent of loans delinquent/in default: 13.78%
Median annual earnings (bachelor's degree): $46,065
Median annual earnings (high school degree only): $27,292
Percent of population w/ bachelor's degree or higher: 26.1%
12. Missouri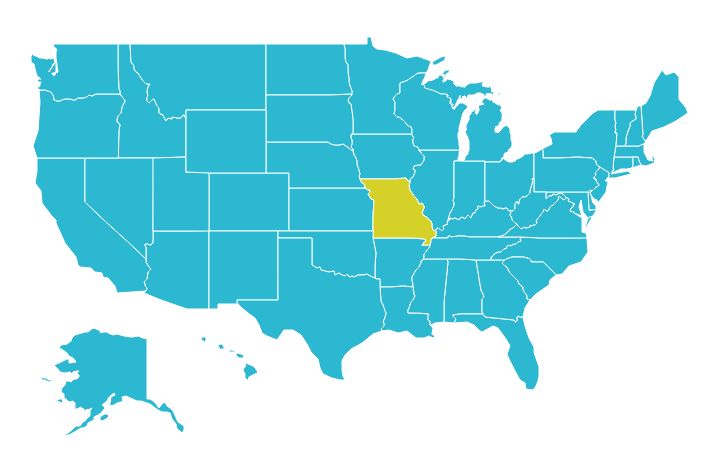 Debt-to-earnings ratio for graduates: 0.41
Average debt for graduates: $18,526
Percent of loans delinquent/in default: 13.58%
Median annual earnings (bachelor's degree): $45,701
Median annual earnings (high school degree only): $29,902
Percent of population w/ bachelor's degree or higher: 28.5%
11. Indiana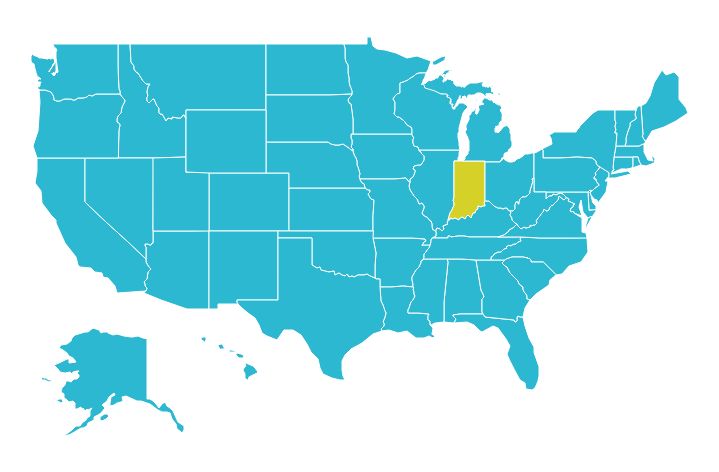 Debt-to-earnings ratio for graduates: 0.42
Average debt for graduates: $20,273
Percent of loans delinquent/in default: 13.94%
Median annual earnings (bachelor's degree): $48,790
Median annual earnings (high school degree only): $30,846
Percent of population w/ bachelor's degree or higher: 25.6%
10. Kentucky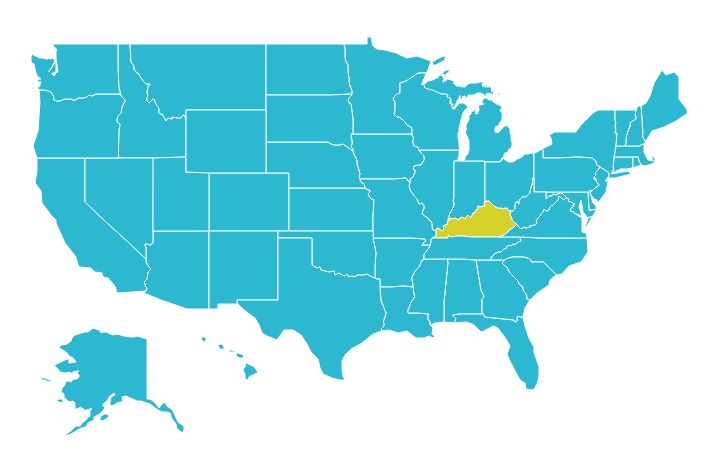 Debt-to-earnings ratio for graduates: 0.42
Average debt for graduates: $19,786
Percent of loans delinquent/in default: 15.40%
Median annual earnings (bachelor's degree): $47,610
Median annual earnings (high school degree only): $28,372
Percent of population w/ bachelor's degree or higher: 23.4%
9. South Dakota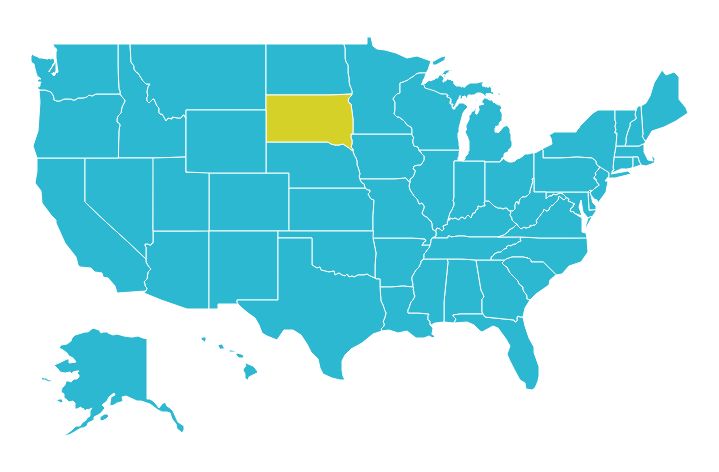 Debt-to-earnings ratio for graduates: 0.42
Average debt for graduates: $17,578
Percent of loans delinquent/in default: 11.18%
Median annual earnings (bachelor's degree): $42,054
Median annual earnings (high school degree only): $30,297
Percent of population w/ bachelor's degree or higher: 28.9%
8. Idaho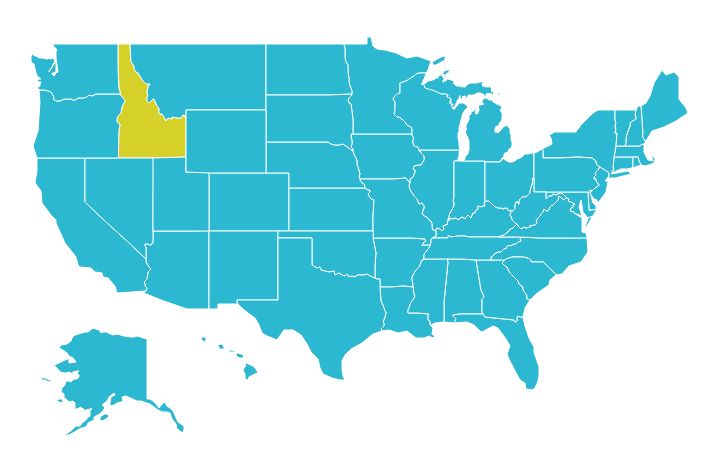 Debt-to-earnings ratio for graduates: 0.42
Average debt for graduates: $17,319
Percent of loans delinquent/in default: 12.19%
Median annual earnings (bachelor's degree): $41,343
Median annual earnings (high school degree only): $27,114
Percent of population w/ bachelor's degree or higher: 27.6%
7. Ohio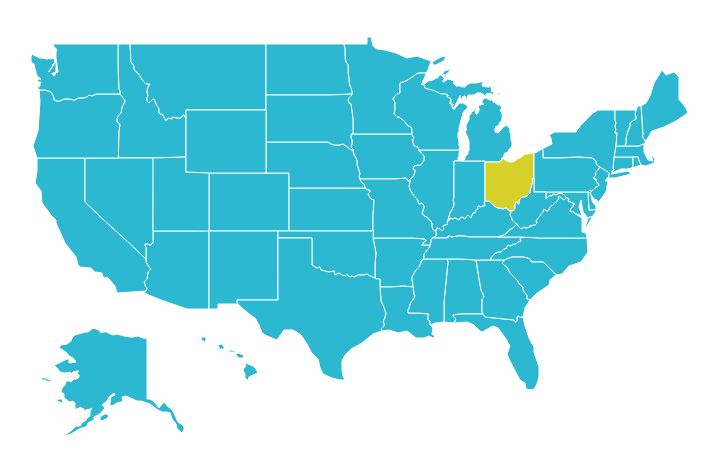 Debt-to-earnings ratio for graduates: 0.42
Average debt for graduates: $21,309
Percent of loans delinquent/in default: 13.49%
Median annual earnings (bachelor's degree): $50,830
Median annual earnings (high school degree only): $30,230
Percent of population w/ bachelor's degree or higher: 27.5%
6. Arkansas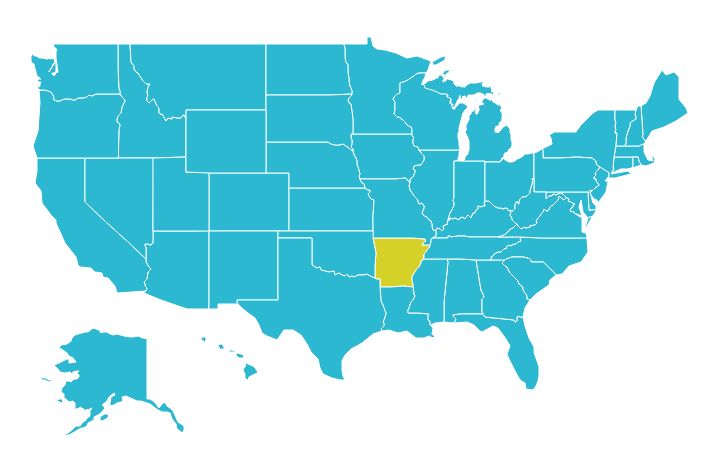 Debt-to-earnings ratio for graduates: 0.42
Average debt for graduates: $19,375
Percent of loans delinquent/in default: 14.44%
Median annual earnings (bachelor's degree): $45,963
Median annual earnings (high school degree only): $26,629
Percent of population w/ bachelor's degree or higher: 22.4%
5. Georgia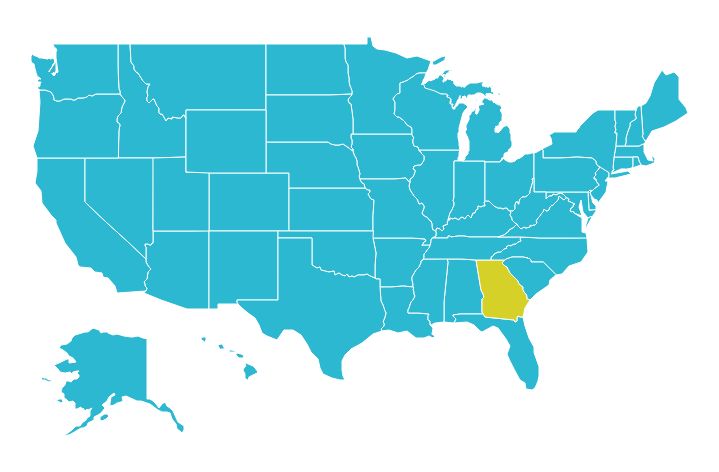 Debt-to-earnings ratio for graduates: 0.43
Average debt for graduates: $22,033
Percent of loans delinquent/in default: 13.05%
Median annual earnings (bachelor's degree): $50,962
Median annual earnings (high school degree only): $27,706
Percent of population w/ bachelor's degree or higher: 30.5%
4. South Carolina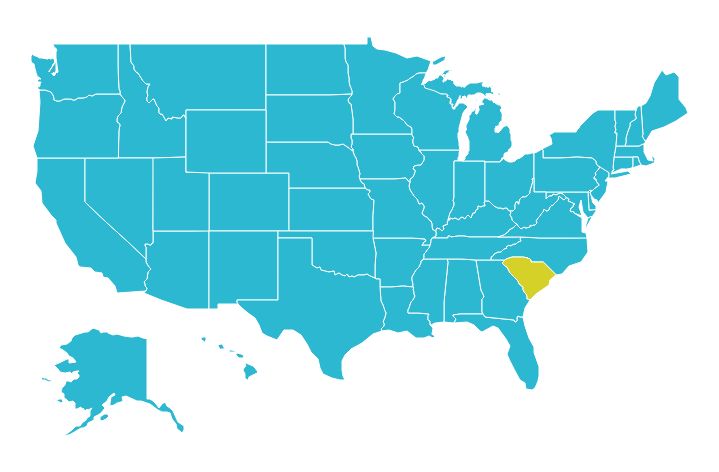 Debt-to-earnings ratio for graduates: 0.44
Average debt for graduates: $20,478
Percent of loans delinquent/in default: 13.91%
Median annual earnings (bachelor's degree): $46,083
Median annual earnings (high school degree only): $27,031
Percent of population w/ bachelor's degree or higher: 27.2%
3. Louisiana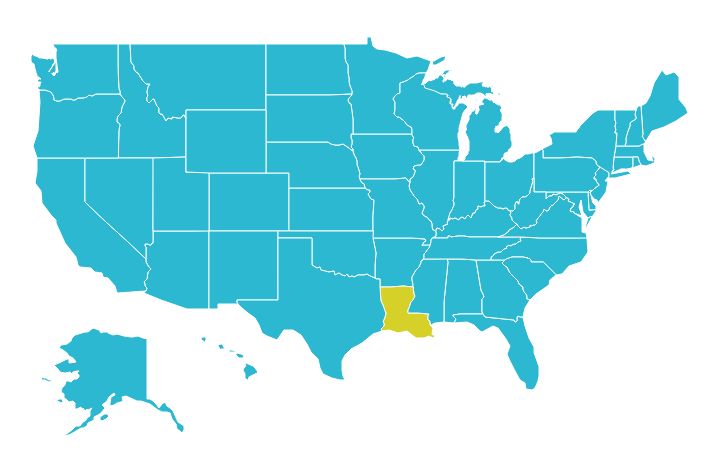 Debt-to-earnings ratio for graduates: 0.46
Average debt for graduates: $21,197
Percent of loans delinquent/in default: 13.37%
Median annual earnings (bachelor's degree): $46,163
Median annual earnings (high school degree only): $27,996
Percent of population w/ bachelor's degree or higher: 23.4%
2. West Virginia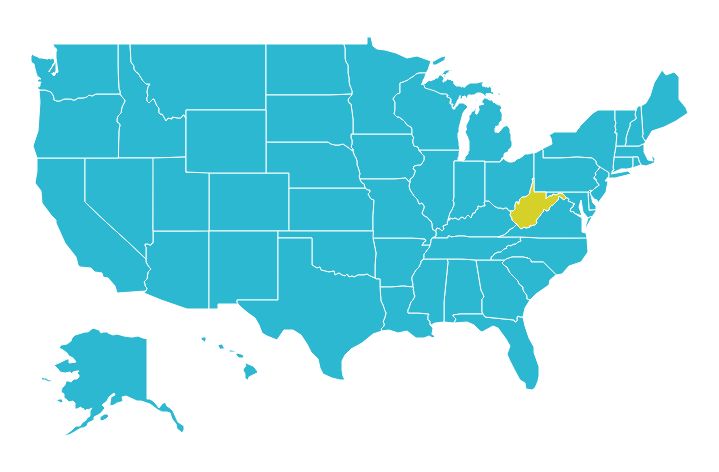 Debt-to-earnings ratio for graduates: 0.49
Average debt for graduates: $20,577
Percent of loans delinquent/in default: 16.38%
Median annual earnings (bachelor's degree): $42,318
Median annual earnings (high school degree only): $26,122
Percent of population w/ bachelor's degree or higher: 20.8%
1. Mississippi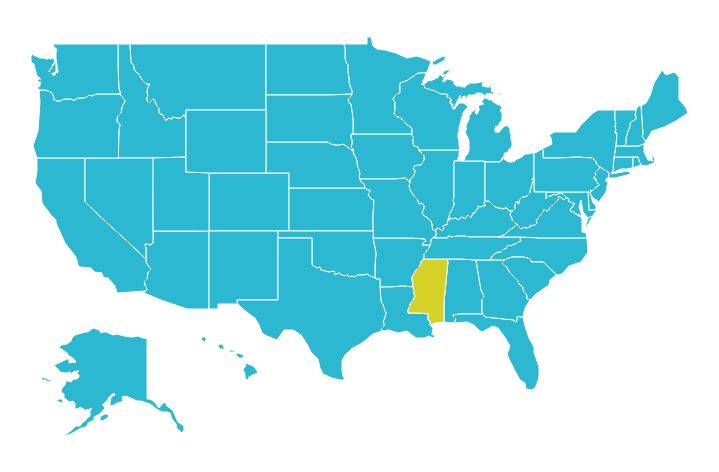 Debt-to-earnings ratio for graduates: 0.60
Average debt for graduates: $25,183
Percent of loans delinquent/in default: 16.84%
Median annual earnings (bachelor's degree): $42,130
Median annual earnings (high school degree only): $26,693
Percent of population w/ bachelor's degree or higher: 21.8%