As the La Crosse chief of police, I'll be the first person to tell you that strong families, stable home lives and long-term success in school work together to steer young people away from crime.
That's why I'm one of 45 police chiefs, sheriffs and prosecutors who have signed a letter urging Wisconsin lawmakers to increase our investment in a program that's preparing moms and dads to be responsible parents and protecting kids from abuse and neglect.
The parents I'm talking about are typically expectant mothers or parents of infants and toddlers who need sound advice that might not otherwise be available.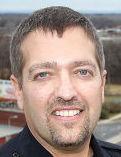 Through the Family Foundations Home Visiting Program, trained mentors and nurses visit homes to help young parents understand how to deal with stressful situations that could lead to child abuse and neglect, how to make their homes safe for kids and how to help their kids build developmental skills that can enhance school readiness.
Parents are invited to participate in the program if they've struggled with substance abuse, have for various reasons been unable to complete their education, or if they have a history of child abuse, neglect or maltreatment.
The program has had great success in addressing these challenges during the most crucial years for child development so that parents and kids both get on track for healthy outcomes.
If you've experienced the trials of raising young kids and have received advice from your own parents or other family members who've successfully raised kids, you can probably understand why this kind of support is so valuable.
That reasoning is also backed up by research that shows parents and kids have both benefited from participating in high-quality home visiting programs.
One long-term study on the Nurse-Family Partnership program, for example, showed that children in families that did not participate in the program had more than two times as many convictions for crimes by age 19, compared to children whose moms did participate.
The impact on parents was also significant, since women who did not receive home visits had more than three and half times as many convictions 15 years later.
These programs have also proven to be wise investments, with communities achieving significant savings from reduced spending on health services (including emergency department visits), reduced costs of child protection services, decreased grade repetition and special education placements and higher educational attainment and economic success later in life.
Wisconsin's Family Foundations program is especially notable for what it's achieving for both parents and kids.
In 2017, for example, fewer than 10 percent of the children of expectant mothers who participated were born premature and fewer than 2 percent of participating kids visited hospital emergency rooms for injuries.
Equally important, more than seven out of 10 kids with developmental delays received services to improve their future school readiness, and 60 percent of parents actively read, sang and told stories to their kids on a daily basis.
Unfortunately, this high-impact program is only reaching a fraction of the families who need support, which is bad news for everyone who wants kids to grow up healthy, well-educated and prepared for productive lives.
Local children's advocacy groups are well-justified in calling for enough funding to double the number of families who are able to participate. The program only started serving La Crosse County in 2017 and additional resources will allow the program to operate in additional areas of the state.
As someone who's had to respond to far too many devastating incidents of child abuse or neglect, I stand alongside law enforcement leaders across our state in urging lawmakers to heed the well-informed wishes of these organizations.
It's the best thing we can do, right now, to strengthen families today and improve public safety in the years to come.
Ronald Tischer is La Crosse chief of police.