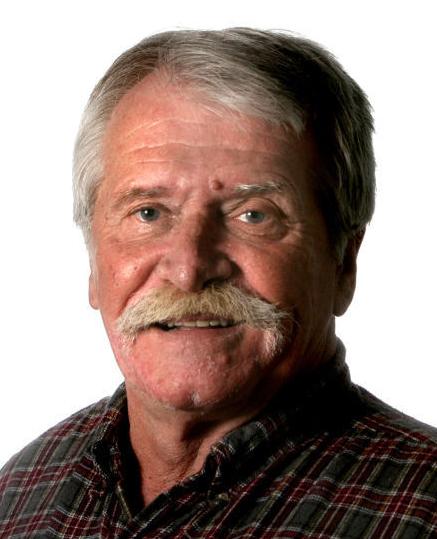 There will be large moccasins to fill when the Big Indian statue in Riverside Park gets carted off to its likely next home, a not-so-happy hunting ground in storage somewhere on Isle la Plume near the sewage treatment plant.
No one said the life of a cement Indian would be easy, but this is a particularly cruel end to a statue whose only sin was to live long enough to enter a society where some influential deciders know what's best for the rest, and don't like the way a statue looks, or what he represents.
Called Hiawatha, or The Big Indian, he was derided as comical and an insult to the sensibilities of Native Americans.
Actually, he was commissioned as a tourist attraction some 60 years ago by the Chamber of Commerce and was not a museum piece or a history lesson.
Regardless, he leaves a 25-foot-tall hole in my memory. I will miss him some, although, frankly, he wasn't as cool as the monkeys in Myrick Park who also outlived their welcome. Yep, I miss them, too.
Hiawatha will eventually be replaced at his sentry post on the north end of Riverside Park. Besides a few memories, he will leave just an empty plinth, the heavy base that supported his massive frame.
Nature abhors a vacuum and so do park visitors.
Something will be erected in Hiawatha's former spot, and I propose the Big Indian be replaced by one of three worthy candidates.
In an age where the American military is our most trusted and respected institution (yes it is), I propose one of three long-dead local heroes: Union Capt. Wilson Colwell, La Crosse, Civil War; Army Cpl. Mitchell Red Cloud Jr., Hatfield, Wisconsin; or Marine Pfc. Stanley Christianson, Mindoro, rural La Crosse County.
Red Cloud and Christianson were both combat Marines in World War II and both died in the autumn of 1950 by sacrificing themselves to save the lives of their comrades during the Korean War. Christianson was still a Marine but Red Cloud had switched services between the wars and died in an Army uniform.
Any of these three would be great representatives of our area, but I have reason to believe that Christianson is most deserving.
Christianson and Red Cloud both were awarded the Medal of Honor, this nation's highest award for bravery. "For action above and beyond the call of duty," the award states. Many receive this medal posthumously because it often involves giving one's own life to save others.
Red Cloud and Christianson both enlisted in the Marines early in World War II and died at age 25 in Korea.
They both fought in different units in the bloody Pacific Island campaigns of World War II. Christianson remained in the Marines after the war against Japan, and had the combat experience to be a leader when the Korean War started in June 1950 with communist North Korea invading South Korea.
During World War II, the Mindoro farm boy fought at Tarawa, Saipan and Okinawa, some of the bloodiest of a brutal island war.
Meanwhile, Red Cloud was an elite Marine Raider and spent weeks behind enemy lines on Guadalcanal in the Solomon Islands. The tropical jungle took its toll on his health. He was sick almost to death from tropical disease. He was evacuated to the States where Navy doctors wanted to give him a medical discharge, but he insisted on staying in the Corps.
Red Cloud recovered his health in time to be part of the last big battle of the war, the 1945 fight for Okinawa.
Before there were Navy Seals or Army Green Berets, there were Marine Raiders. They were highly trained and motivated. They struck from the sea, often out of submarines, hit the beach in rubber boats and damaged or destroyed whatever enemy they encountered.
Red Cloud was discharged from the Marines at the end of the big war and lived the civilian life for a few years before joining the Army in 1948 and being assigned to occupation duty in Japan with the 24th Infantry Division.
He and the other occupation forces were living the good life when war erupted in June 1950 in nearby Korea. He was among the early arrivals called to stem the red tide rolling down from the North.
The South Korean military was outmanned and outgunned. They were powerless to stop the invasion and within days the communists occupied Seoul and slaughtered hundreds of civilians deemed possible threats to the new regime.
Like Christianson, Red Cloud's experience in World War II made him a valuable asset in what became known as The Forgotten War.
The Korean War (1950-53) was extremely brutal and fast-paced, especially the first year. Being sandwiched between bigger wars — World War II and the Vietnam War — Korea is not talked of much these days. Most of what Americans today know of the Korean War is from watching reruns of the hit TV show "M*A*S*H."
Capt. Colwell was La Crosse mayor in 1862 when he left City Hall to lead a volunteer infantry company into battle against Confederate forces at South Mountain, Maryland, along with the rest of the 2nd Wisconsin Regiment that was part of the Union's famed Iron Brigade. A few days later his company, Company B, and the rest of the brigade fought at Antietam.
The Union success at Antietam prompted President Abraham Lincoln to issue his Emancipation Proclamation declaring that the slaves in Confederate states were free. The reality was the freeing didn't occur until the complete surrender of the South more than two years later.
Reasons to not select Colwell or Red Cloud for this place of honor:
Colwell: A statue of the captain would most certainly be cast with him represented in his Civil War uniform. Protesters (or rioters) in Madison last month showed their abject ignorance of American history by destroying a statue of a Union abolitionist and soldier. They either didn't know, or even worse, did not care, that the statue was of a Northerner who died in combat fighting the forces of slavery. The statue of Union Col. Heg was toppled in Madison and thrown in the lake. There's no cure for stupid, but why take a chance? On a dark night in La Crosse, Colwell would probably look a lot like J.E.B. Stuart or Robert E. Lee.
Red Cloud: From Hatfield in Jackson County. While he is certainly deserving, Red Cloud already has a slew of honors here. Red Cloud Park on the city's North Side was named in his honor and he is featured in artwork on the Pump House Regional Arts Center at Front and King streets. Also, the Army had a Camp Red Cloud in South Korea and a Red Cloud Range on Fort Benning, Georgia. And in 1999, the Navy named a ship in his honor. In addition, a portion of Hwy. 54 near Black River Falls is named Red Cloud Highway and the Ho-Chunk Nation observes a day in his honor each July 4.
Reasons to choose Christianson: A farm boy from rural Mindoro.
Why he missed the cut in the park naming and mural painting lotteries is beyond me. He is singularly the local hero of heroes. Of the tens of thousands of La Crosse County residents who served in the U.S. Armed Forces between the Civil War and today, he is the only one to receive the Medal of Honor.
He is buried in Wet Coulee Cemetery just off Hwy. 108 between West Salem and Mindoro.
The only honor he receives regularly, to my knowledge, is each September when the Leathernecks Motorcycle Club Inc., a group of all-Marine veterans, visits his grave and conducts a service of remembrance, including a prayer and the reading of his Medal of Honor Citation, signed by President Harry S. Truman.
The Leathernecks do the same thing the same day for Red Cloud at the Ho-Chunk Cemetery near Hatfield, a few miles east of Black River Falls. They are not forgotten as long as there is someone left to recall their deeds of honor.
Compared to Red Cloud, Christianson is little-known, and would get my vote for that reason.
Another big reason for featuring Christianson in a statue is that he is farm boy of Scandinavian extraction, and nothing says western Wisconsin like Norwegian farmers.
Frankly, a drawback to Christianson is the fact that he is a white man. Some feel that only an Indigenous symbol can occupy the Big Indian location.
However, should Christianson make the cut and get a statue, I believe I can guarantee that no protesters or rioters will throw it into the water as long as there are Marine veterans alive to defend it, and they will.
The Corps has never been forced off an enemy beach in its 245 years, and I truly doubt they would be thrown off a monument in La Crosse.
If the protesters are lucky, the police will arrive before the ticked-off Marines get there.
---
Terry Burt of La Crosse is a veteran of the U.S. Marines Corps and the La Crosse Tribune.
Catch the latest in Opinion
Get opinion pieces, letters and editorials sent directly to your inbox weekly!