All of us need a purpose and mission in life. After retiring as executive director of the Boys & Girls Clubs of Greater La Crosse, I have looked for ways to use my experiences in areas in which I can make a difference in the lives of others. As I reflect on the death of our mom in 2009 from Alzheimer's, I have been determined to assist in finding a cure for this disease.
As a member of the Wisconsin Alzheimer's Association, I continue to gain knowledge and learn about clinical trials being conducted on a variety of treatments. Some progress is occurring; however, it's like a climb up to the top of Mount Everest.
But it's worth the climb.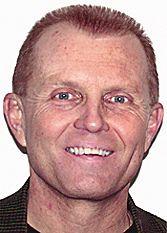 It's alarming to learn that 4.5 million Americans suffer from Alzheimer's, and every 65 seconds someone in the United States develops the disease. The numbers are expected to increase dramatically to 14 million people by 2050.
You have free articles remaining.
Register for more free articles.
Stay logged in to skip the surveys.
With the diagnosis of the disease, a long process of decline occurs — usually slowly — and has a terrible impact on the patients with the disease as well as their families.
Gradually, but surely, people with Alzheimer's lose their memories and ultimately their entire identity and the ability to care for themselves. I have seen that devastating situation first hand.
Scientists now think that for most people, Alzheimer's disease is caused by a combination of genetic, as well as lifestyle and environmental factors that affect the brain over time. Less that 1 percent of the time, Alzheimer's is caused by specific genetic changes that virtually guarantee a person will develop the disease.
There are certainly no guarantees that you will not suffer from the disease; however, your brain health is strongly connected to your body health, and there are things you can do to train it and keep it healthy. They include proper sleep, exercise, acquiring a mind diet, mediation, yoga, reading, word games as well as a building a strong social network.
You can be a significant stakeholder in the race to find a cure for this public health crisis by being a part of the Walk to End Alzheimer's on Saturday, Sept 14 at Myrick Park. Registration begins at 8 a.m. at the shelter, followed by a 9 a.m. ceremony. The 1- or 3-mile walk begins about 9:20 a.m., and all funds raised will go to the further the care, support and research of the Alzheimer's.