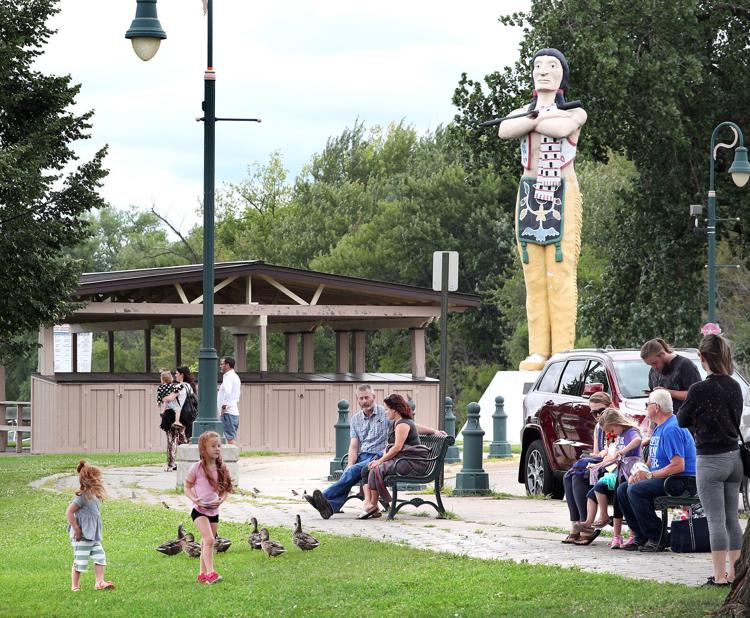 Since 1961, the "Hiawatha" statue has stood where three rivers meet at Riverside Park in La Crosse.
To some, the 25-foot statue created by a local artist is a symbol of our Native American legacy. To others, it's an offensive caricature.
In the coming days, let's hope it becomes a very important symbol for our community's future.
Here's hoping it can become a symbol of compromise, an example of what can happen when all parties get together to discuss solutions instead of grievances.
We understand why a number of family and friends don't want to see the work of artist Anthony Zimmerhakl destroyed, but it may well be past the time that the statue find a new home.
We also understand those who find the statue — especially in its current location — disrespectful.
Mayor Tim Kabat, members of the Zimmerhakl family and members of the Ho-Chunk Nation met last week to explore options for moving the statue to private land elsewhere in the city.
As the mayor told Tribune reporter Jourdan Vian: "The big point, and one I think that everybody is in agreement about, is the desire to preserve the statue because of the fact that it was created by an artist. Regardless of whether people wanted to keep it in place or see it relocated, the statue should be preserved."
But if we truly wish to honor Native Americans, we need to listen to concerns expressed by representatives of the Ho-Chunk Nation who say they find the statue offensive and demeaning.
Nostalgia aside, times change. We need to respect the objections.
As Ho-Chunk Nation member Tracy Littlejohn said, moving and preserving the statue "is a great compromise. That way there's less hurt for the family, because I don't want them to feel like I'm out to destroy their family's artwork legacy. … It's not appropriate anymore, but I can appreciate wanting to keep that preserved."
There are plenty of details that need to be worked out, from the cost of a move to a potential new location.
But it seems family members and Ho-Chunk representatives are open to ideas for preserving yet moving the statue.
Our community and our region have a great deal to accomplish in the coming months.
We need to find the best way of expanding the La Crosse Center and building on the momentum of a growing downtown entertainment district and the revenue it brings.
The solution requires a broad spectrum of constituencies working together to develop a collaborative plan.
We need to figure out the best way to improve service and cut costs by determining the best ways of regionalizing fire-protection and emergency services.
We understand area officials hope to meet again soon to continue the discussion.
Again, the spirit of compromise is important.
Maybe forging a collaborative approach to moving the "Hiawatha" statue can serve as a model for a variety of challenges our region faces.
---