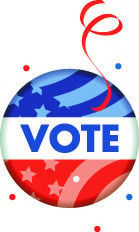 If any election merits the turnout of a presidential election, it's this one.
This spring election is peppered with local races for offices that have impact on your daily life. The winners will determine tax rates and local school and community policies all around our region.
All winners will oversee coming out of the pandemic in whatever phases that entails. That in and of itself is historic.
This dynamic sets these candidates apart from others in the past. There are big jobs ahead in every city and community.
It might be hard to believe, but this will be the fifth election during this pandemic. We should be used to it.
La Crosse County saw 88.56% of registered voters casting ballots in November, with 46 of the county's 55 precincts reporting at least an 80% individual turnout of voters.
"The municipal clerks and all the poll workers did an amazing job. They not only handled lines of voters all day, numerous new voter registrations, curbside voting, but on top of all that, processed over 42,000 absentee ballots," County Clerk Ginny Dankmeyer said back then. "Kudos to all of them and the extremely long day they had."
Neighboring counties also showed high turnout, with 91.85% of registered voters casting ballots in Monroe County.
Voters as they always do made sure to turn out for the highly partisan election for president. But four months later, in the February primary, only 14.22% of county registered voters made time to cast ballots.
The partisan enticer was gone in February, replaced by local races, including a 10-candidate primary for mayor of La Crosse. And voters largely stayed home.
This time around, La Crosse voters are charged with choosing their next mayor, either Vicki Markussen or Mitch Reynolds, and are presented with competitive races for many Common Council and school board seats.
A lot of new people will take office, and they will face some big and historic challenges right out of the gate.
The new mayor and council must lead the city out of the pandemic and determine the spending of $21.99 million in covid relief money sent by the federal government.
At the same time they must navigate the city's response to the PFAS contamination on French Island, and they must make strides in bringing people together.
These are on top of normal decisions in their collective jobs, and by presenting them here perhaps it will spark you to vote on Tuesday if you hadn't planned on it.
The candidates have been making their case, and we've been largely spared of the partisan debate that has no place in local politics.
Consider what's ahead for these candidates — and our communities — and make sure you get to the polls. Election workers will be ready to assist.
Let's make this fifth election during the pandemic one to remember.