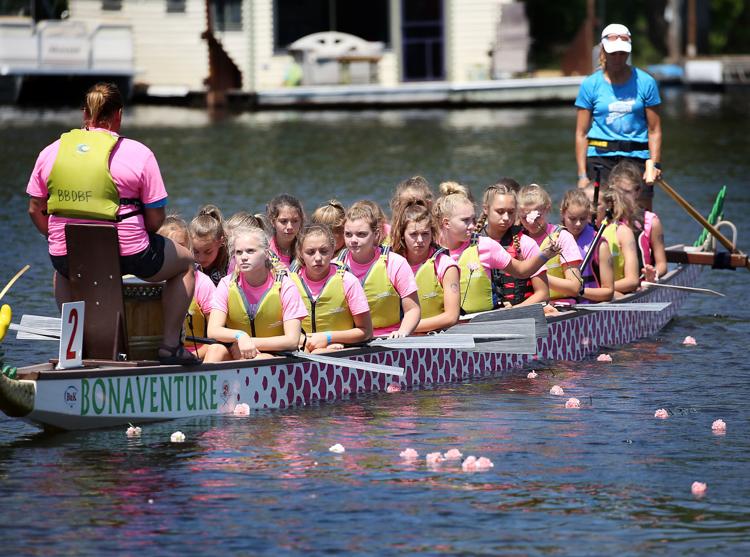 Forty teams of 18 paddlers each hit the waters of the Black River off Copeland Park on Saturday to raise money for the Mayo Clinic Health System-Franciscan Healthcare's Center for Breast Care and Boys & Girls Clubs of Greater La Crosse healthy lifestyles programming.
Dragon boat racing, which dates back more than 2,500 years in China, features colorful, canoe-like boats that are 40 to 50 feet long, decorated like dragons. Here are Saturday's final race results:
Community Division D final
1. The Knotty Pirates (1:25.13)
3. Rotary Works Foundation (1:29.25)
4. O.R. Cut Ups (1:30.04)
Corporate Division C final
1. Paddling in Circles (1:27.63)
2. Verve's in the Water (1:28.42)
3. Trane Unstoppable (1:35.31)
4. ICE Paddlers (1:39.48)
Community Division C final
1. Paddling for Morgan (1:21.83)
2. Off the Edge (1:22.89)
3. Mighty Mitchell (1:23.75)
4. Team Oktoberfest (1:24.36)
Corporate Division B final
2. Burn Warriors (1:24.88)
4. Paddlin with Verve (1:29.03)
Youth Division final
Register for more free articles.
Stay logged in to skip the surveys.
3. Dragon Whelps (1:38.48)
Community Division B final
1. Coulee Region Paddlers (1:18.42)
2. The Unsullied (1:18.64)
3. Blue Water Paddling (1:20.03)
4. Karen's Krew (1:22.71)
Breast Cancer Survivor final
1. Dragon Divas (1:32.32)
2. Mississippi Sisters (1:33.81)
3. Mississippi Sisters and Friends (1:45.73)
Corporate Division A final
1. Mayo Docs in a Row (1:18.76)
2. Franciscan Flyers (1:20.11)
3. Neighborhood Smiles-Mighty Mol-Oars (1:21.25)
4. Chart United (1:22.43)
Community Division A final
1. WikiWiki Ohana (1:13.55)
2. MB's Flying Ears (1:14.05)
3. Racine Dragon Boat Club (1:14.47)
4. CrossFit UDX (1:15.77)
---