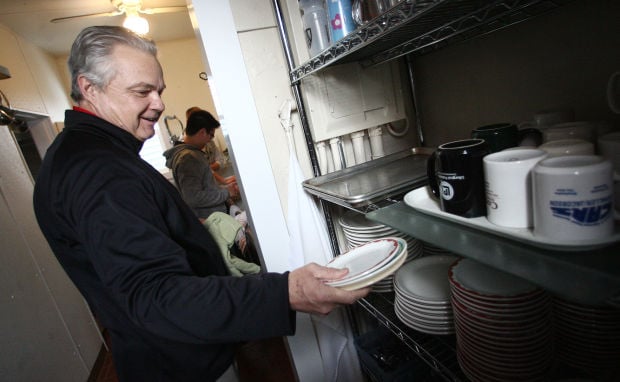 To provide a place where everyone can belong, regardless of who they are or where they come from: This is the mission and heart of those involved with Place of Grace.
Place of Grace is a Catholic Worker House founded on the examples of Dorothy Day and Peter Maurin, leaders of the Catholic Worker Movement they started the 1930s, during the Great Depression.
It's a house of hospitality where anyone in the community can come to enjoy a good meal and build meaningful relationships with others.
Tom Thibodeau, professor at Viterbo University and house manager, has been involved with the Place of Grace since it opened on Christmas Eve in 1996. Thibodeau said it's a privilege to meet and serve so many people and he has been changed by the relationships he has built.
"The Place of Grace has literally been a great blessing," he said.
Place of Grace wants to be a place where everyone feels welcome. "It's like coming over to your best friends house," said Sam Homp, house coordinator. Homp began volunteering at Place of Grace when he was a freshman at Viterbo and was eventually offered the job of house coordinator, a position that requires him to help maintain the physical, social and spiritual integrity of the house. Homp shares these responsibilities with his roommate and fellow house coordinator, Anh Tran, an international student from Vietnam.
Tran is enrolled in the Masters of Arts in Servant Leadership program at Viterbo, and is living in the house as part of his graduation requirements. "The hospitality is very unique," he said. "It makes me feel like it's a home."
The Place of Grace hosts three meals a week and one on the last Sunday of each month. Lunch is offered Tuesday and Wednesday and dinner on Thursday.
The house coordinators, along with several volunteers, work together to prepare each meal, which can range from five to 30 people. The group serves an average of about 100 people each week. At one of its more recent meals, they actually ran out of dishes.
Place of Grace operates on pledges, fundraisers and donations for monetary support.
Besides the need for more volunteers who can help cook and prepare meals, hamburger is at the top of the group's wish list.
For the people at Place of Grace, it's about more than just a warm meal, it's about fellowship. It's about investing in a community of people who want to reach out and care for you. "Everyone is in need of community," Thibodeau said. "We all need a place to belong."
Be the first to know
Get local news delivered to your inbox!