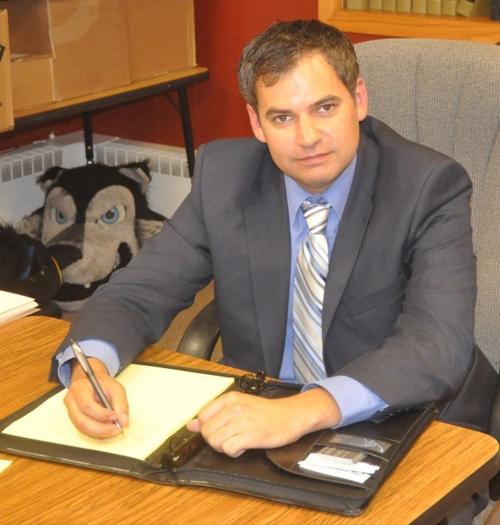 Tomah High School's new principal said Thursday his departure from the Kettle Moraine School District in Wales was an amicable one.
David Hay's tenure as Kettle Moraine High School Principal ended with a three-month leave of absence that began March 1. He said the time was right to take a break after the completion of several projects, including opening two charter schools, implementing a new grading and assessment system, expanding advanced placement courses and supervising the installation of artificial turf at the high school football field, a project funded by private donations.
"At about mid-year last year, we had made it into the end zone with these projects," Hay said. "It was the right time for me to take some time off. It gave me time not only to finish my master's degree but to decide where I wanted to go with my life and what community I want to serve long-term."
Hay released his performance evaluation for the 2009-10 school year. The evaluation, conducted by Kettle Moraine Superintendent Patricia Dekholtz, described Hay "as an exceptional teacher and administrator" and someone with "a very strong sense of integrity and social justice."
The evaluation said Hay "demonstrates an urgency to get things done. Sometimes this needs to be tempered with patience."
Hay quickly moved into administration at Kettle Moraine after being hired as a marketing and business education teacher in August 2005. He added dean of students to his resume a year later and became associate principal in 2007. He stepped in as interim principal in 2008.
"I was surrounded by great mentors who saw something in me and encouraged me to move (toward administration)," Hay said.
He looks forward to moving to a community that resembles his hometown of Antigo, where he graduated from high school in 1998. Tomah and Antigo share roughly the same size and demographics.
Hay said one of the top priorities is to make the high school a place where students feel comfortable and enthusiastic about learning.
"It needs to be a school where everybody not only feels safe but they feel accepted and they feel validated, and they are able to rise to their full potential," Hay said. "It's about making sure it's a safe place for students to learn."
He said discipline must be accompanied by clear expectations.
"When it comes to implementing consequences, it's not going to be a surprise," he said. "It shouldn't be a question whether a slur word is appropriate or not."
Hay has already met a few students and is impressed by what he has seen. He recalled meeting a band student who volunteered time to assist one of the music teachers.
"Those students don't have to be here," Hay said. "That says a lot about the community and its commitment to education."