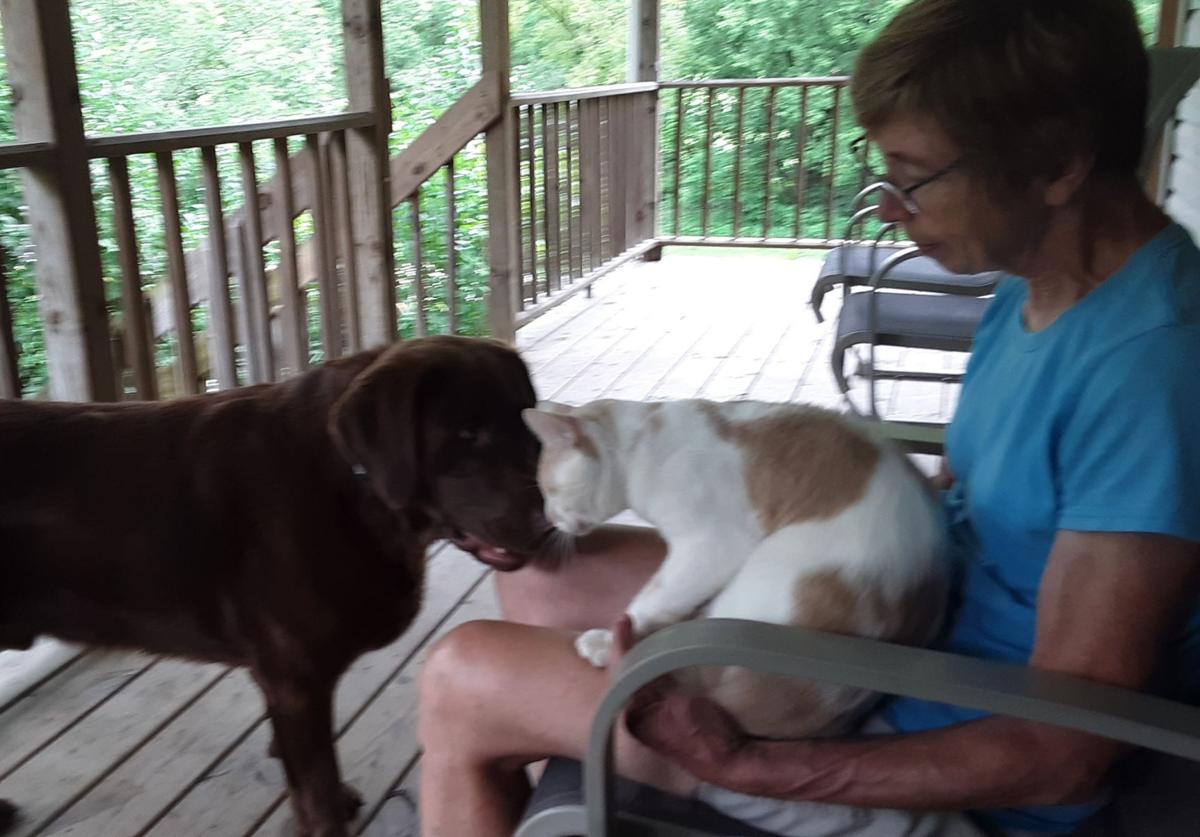 It is one thing to have the power go out in a storm during the day or evening, but it seems to me that it is entirely different when one wakes up at dawn—not sure what time it is as the red digital clock is dark. It was raining out and starting to get light out on Tuesday, July 28.
Power or no power, the dog alarm worked. By the time I got dressed and outside, the rain had faded to a few sprinkles. The air was cool and fresh. I got Bo's breakfast around. He appeared upset that there was nothing on his TV (he can usually see into the kitchen) or maybe no bacon fat on the menu like the night before. Tony the cat was meowing a complaint and started getting under foot to punctuate his grumbling belly. I rounded up his dish and stroked him while he crunched through most of it. I saved the bucket of dog water, just in case a bathroom flush was needed.
Back in the kitchen with the savage beasts sated, I used my best Mr. Spock Vulcan mind control while I stared longingly at Mr. Coffee—not happening was the message it sent back. I guess that only happens on TV—not happening either. There was no water for coffee anyway, or washing. While my cellphone had battery, there was no WI-FI. I thought of grabbing a Mountain Dew out of the garage fridge for some caffeine. El wasn't keen on that. Then I suggested a drive to civilization for coffee. Two miles north, I finally noticed bars peeking out on my cell as we got over the ridge and rolled closer to La Crosse.
We took Yeti's filled with hot—I do mean HOT—Kwik Trip Columbian and a couple breakfast sandwiches on a leisurely drive through Goose Island Park. Or should I say, Goose Island construction project park. There is a nice new road into the park, but gravel and even a closed landing awaiting blacktop. Still, it was cool and the water and woods were beautiful. We cruised by the campground and numerous people had coffee pots that worked. Hmmm...
In Proksch Coulee, we spied two nearly orange whitetail does with spotted fawns. One had a larger fawn that was starting to shed its spots, while the other had two smaller spotted fawns still prominent camo marks. There is a garden there, so who knows what they were checking out.
Back at the ranch, the power was back on! Thank you Vernon Electric crews. We took our coffees to the porch and got mugged by our mooches demanding attention in the cool shade.
Once settled, I told Alexa to stream the news and shortly told it to turn it off and put on some James Taylor. Anyway, the powerless morning turned out to be a nice different start to the day, not that I would regularly choose that. It could have been worse—like it could be during a January blizzard or maybe the first two weeks of this July or maybe a Packer Sunday—if we have those this fall.
News flash! I was measuring the window frames up in the shop and discovered Tony watching me from shelves in the back. No! It was not Tony. It was our lost other rescue cat. I tried to coax her out to me and she seemed to be coming around, when Bo-in-a-china-shop charged in, tail wagging and plowing through garden baskets and chairs like a, well, a bull, to check out the cat. The cat wisely backed off. Although I thought she looked really good, I did get some cat food for her. Either Tony has been sharing or his former cellmate has been raiding Roscoe's dish at the neighbor's or probably both. (We were calling our shy rescue cat "the other cat" for lack of a better name. On Friday morning El and I were taking coffee on the porch and I said, "I wonder where the other cat is." Like an omen, it suddenly showed up on the porch steps. So Other Cat or OC is its moniker for the time being anyway.) More on this when I know more.
Until next time, get out—the Greeks and Romans called August the dog days of summer due to the juxtaposition of the constellation Sirius the dog star with that of the Lepus the hare; my grandma used to say August was a time when rattlesnakes shed their skins and only dogs could detect the defensive blinded reptiles. I remember August as a time of making hay and sweltering hay mows and then sprawling on a sandbar at Midnight watching the stars with my friends and wondering about, well mostly now. El and I have good memories of our 1974 honeymoon trip to the west — Colorado, Wyoming, Idaho and South Dakota. Now we look forward to August as time for the now postponed and probably cancelled Uppena Family Picnic in Burton. August means good melons, peppers, tomatoes, and sweet corn. August can be a hunter's tease with barking squirrels on fall like mornings; it is often cool enough for crackling fires in the evening. Some have said August is like the Sunday of summer. I like that. Enjoy.
Be the first to know
Get local news delivered to your inbox!