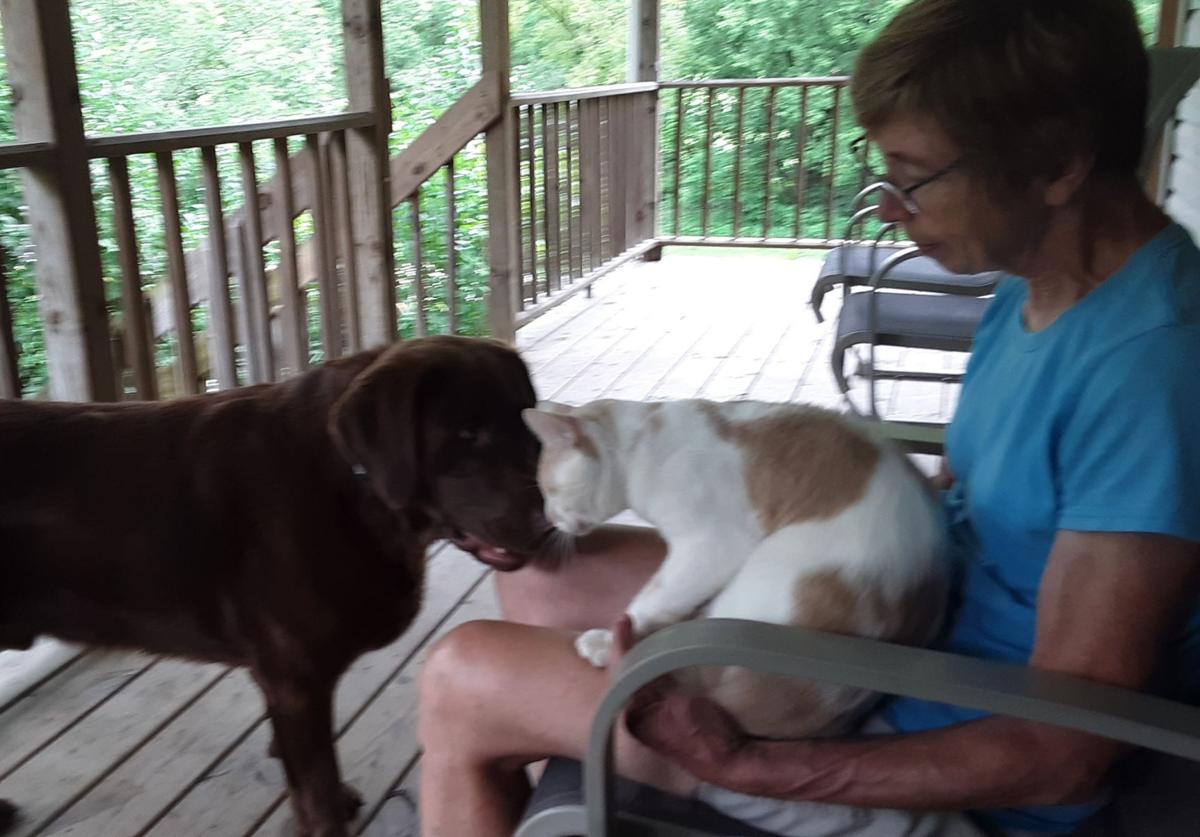 We had a homecoming of sorts at Grouse Hollow the other day. We welcomed two rescue cats. Tony, a neutered male and an unnamed as yet spayed female. We adopted them from the Driftless Humane Society in Viroqua. These are really nice, tame young- but full-grown barn cats who have lived at the shelter for a long time, like over a year. This new world of green trees, ferns, lilies, and un-mowed grass had to be pretty strange to them.
The homecoming went OK for a while. The guests of honor walked/stalked about checking out insects and birds. El and I petted them and gave them some cat chow and fresh water. They were too busy for that at first. Like most parties, there is always someone that gets over the top and spoils the calm. Bo, who had been wagging his tail like crazy and signaling that he just wanted to play, couldn't take it anymore and chased the cats. Tony handled it well, showing Bo he had claws and could probably take him. The female climbed up an oak tree near the porch. We called and coaxed her for a while but she was having none of it. I went up a ladder after her, but she just climbed higher. Short of calling the fire department, it was up to her to get down. One of our former feline guests, Goldie, would climb up and down a ladder like an old pro, so I left the ladder up into the tree. By dark, I taut I taw a puddy tat, uh, sorry, just wanted to use that line. I did, but she was still high up in the oak leaves.
As luck would have it, the nasty neighbors also showed up to the party. Coyotes. At dusk a yote started barking up the hill from the shop. I howled back and growled — after my teaching career, I growl good. I loaded a .22 and fired a round up into the woods for punctuation. Still, I heard a howl in the middle of the night.
Tony took to the place like he'd lived there his entire life. He went exploring in the flowers and then up by the barn and shop. He even found a hole in the lattice on the deck. He went in there for a while and then popped out to study the bird feeder. He sat on our laps on the porch and ate some chow. Bo got calmed down. Later that night, we saw Tony carrying a sparrow in his mouth.
Sadly, we never saw the other cat again. We hope she shows up here or at one of the neighbors.
Tony has staked out the porch for himself. I looked out this morning and he was curled up on a chair with Bo curled up underneath him. Oh, Tony climbed that oak tree — I think to hunt birds. I watched him as he got higher and higher, stalking and stumbling and jumping from branch to branch. I came back in for lunch and grumbled to El that I'd have to try to get him down. He fooled me by showing up on the patio before we finished our meal.
I saw a white cat down by the bridge Friday afternoon. I grabbed some binoculars and went out on the porch to call it. Perhaps you have watched the hilarious outtakes at the end of the film, "Grumpy Old Men." In one scene Walter Mathau is watching the wedding limo drive away with the bride and groom — Anne Margaret and Jack Lemon. He laughs and then Lemon leans in behind and says, "Who left?" They both laughed. Anyway, I was calling "Kitty, kitty!" and "Tony! Come here!" Bo showed up behind me and then something rubbed my leg. Tony was behind me too. Upon further review, the cat I saw was Roscoe, the neighbor's yellow tom. Anyway, we laughed about that too.
NEWS FLASH! We have a report of a cat sighting at the neighbors. They have seen a cat that fits the description of our second rescue cat streak across their yard. It's a good sign, and when I know more, you'll know more.
Until next time, get out — Tony seems to have taken to his role as resident lap warmer and serial killer, hunting ground squirrels and mice and making us laugh a lot. To quote Brother Bill, "He's got personality he ain't even used." Oh, if you think you'd like to adopt a rescue cat, have I got a deal for you. The Driftless Human Society in Viroqua has more great cats awaiting a new home. They have a July special with cats going at $20! These cats are spayed or neutered and have their shots. Call them at 608-637-6955 to set up an appointment. Enjoy.
Be the first to know
Get local news delivered to your inbox!