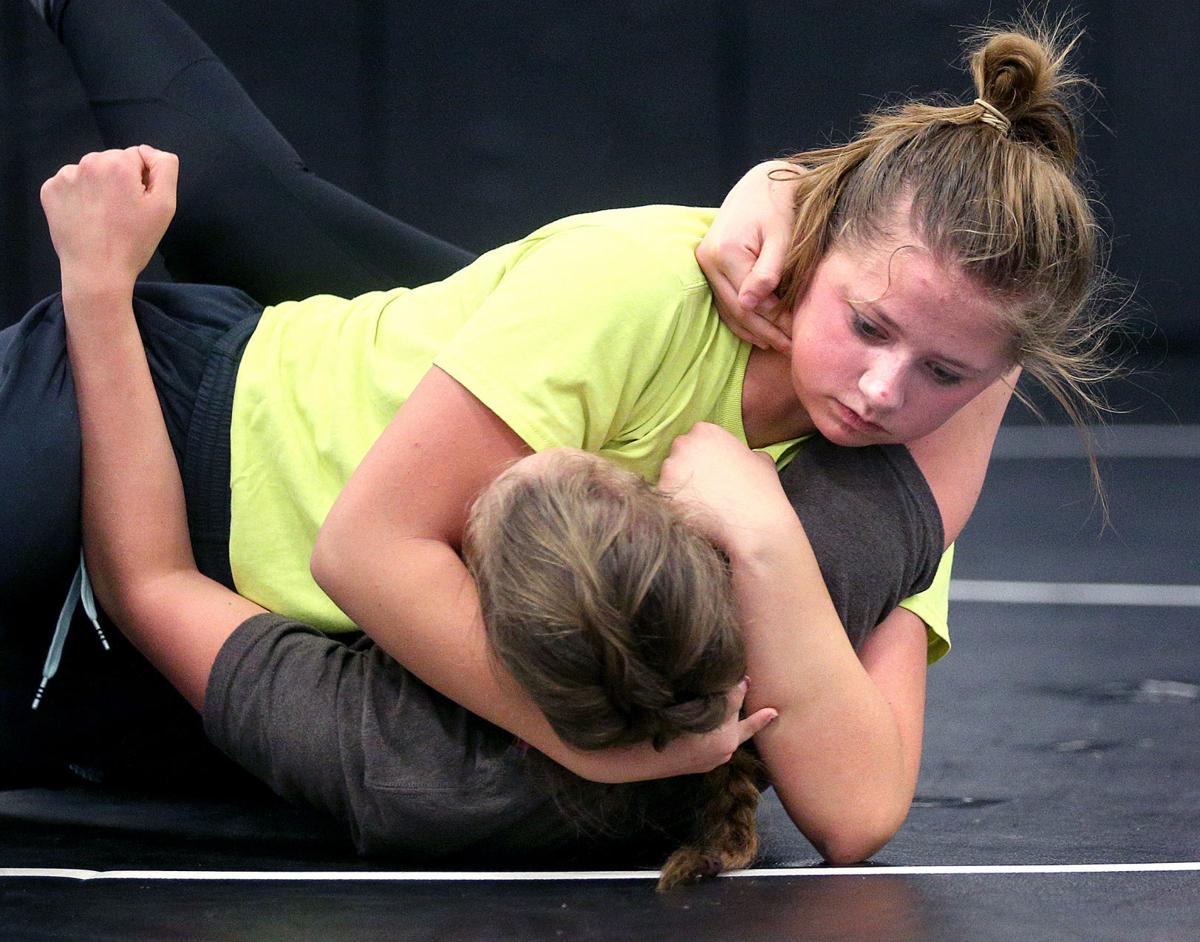 It's been 14 years since Tomahawk High School's Alyssa Lampe became the first girl to qualify for the WIAA individual state wrestling tournament.
Lampe extended her season that weekend to a Division 2 championship match that she lost, but Lampe's success — she has since won a bronze medal in the Pan American Games — is something that has been built upon since that day.
Wisconsin joined the fight to expand opportunities in girls wrestling Wednesday when the WIAA's board of control voted by a 10-0 margin to offer an individual state tournament for girls at the end of the 2021-22 season.
"We were really, really hoping that they would commit to this now and not keep kicking the can down the road," Holmen coach Jason Lulloff said. "It was really important to get this done, and once they took a look at the proposal and made their own changes to it, they were willing to accept it.
"We're really happy for that."
The state tournament, Lulloff believes, is just the start. He has monitored other states as they've started to offer girls wrestling, and numbers have climbed rather quickly once competitors were given the chance to wrestle for something like a state championship.
It also makes the highest of hopes much more realistic for competitors.
"You are up against 80-some years of wrestling or however many it's been and have had two women who have made it to the state tournament," Lulloff said. "And when you look at them (Stratford's Macey Kilty being the other) and see that they have both won world medals, it shows how hard they had to work just to get there.
"They were the elite of the elite when it comes to women in wrestling here. For others who join, they are joining a sport where no matter how hard they work or how good they are, there is a good chance they won't crack the varsity lineup because they are competing against men. That has to be disheartening for a lot of them."
When girls team wrestling becomes something is anyone's guess. Lulloff said the focus should be on what was decided Wednesday, and whatever is to come should be allowed to grow naturally.
For his part, Lulloff served on a committee established by the Wisconsin Wrestling Coaches Association to help convince the WIAA that girls wrestling was ready for its attention and acceptance.
That meant plenty of meetings to discuss strategy with other state coaches and plan ways to educate administrators on the importance of giving a rising number of girls the chance to compete against peers.
"For a woman interested in wrestling, this means the world," he said. "It's the chance to not only participate in a sport you love, but now you get to wrestle for a state title or at least be on an equal playing field.
"Look at any other sport that has both guys and gals, and there are modifications to give equal opportunities."
Cross country races are different distances, and golf uses different tees for male and female players. To this point, girls really only had the option to wrestle against a boy if she cracked the dual or invitational lineup.
"One thing all of the girls we've had like to talk about is that they would prefer to wrestle against other girls," said Melrose-Mindoro/G-E-T coach Pete Peterson, whose team placed second in the Division 2 team state tournament last season. "I think this promotes the idea of more girls coming out and competing against each other, and that helps grow the sport."
Holmen had 20 girls on its roster at the end of last season after beginning with 26 and has been a program instrumental in trying to build the sport. The Vikings host the Bi-State Classic each year and have offered girls on teams that attend the opportunity to wrestle other girls during the event.
Seeing the success of that and what's happened in his own practice room has kept Lulloff passionate about getting the kind of chance finally accepted by the WIAA on Wednesday.
"I know this is something that's been proposed at least the last three years because I've been part of it," Lulloff said. "It may have been proposed the year before, too, but I'm just glad the vote went the right way this time."
Lulloff also said Stoughton athletic director Mel Dow — formerly the wrestling coach at Prairie du Chien — and Luke Francois, superintendent at Waterford, played big roles when it comes to working with people on all levels of the process. Both have long histories with the sport in Wisconsin.
Lulloff added that he remembers hoping Wisconsin would become the eighth state to offer the sport — or at least a state tournament — and saw other states beat it to the punch. That used to make him sad, but Lulloff thinks his state's role in the big picture now can be important for another reason.
"This is long overdue," Lulloff said. "We're now the 27th state to sanction this, and I think we can have a role in being the tipping point because now we have the majority of the states on board with it.
"Now, if you don't have it you are on the outside looking in, and there a a number of other states I know are very close. When you have the majority on board, I think getting the rest on board can be a very fast process."
Be the first to know
Get local news delivered to your inbox!