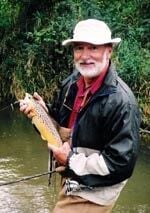 In July and August is a crucial time to check your stream thermometer to see how high the water temperature is before you start fishing. If the water is at 67 degrees, or above, you should go further upstream where springs are flowing into the stream. By moving upstream you can find water of 62 to 64 degrees and have good fishing.
I have a lot of books on trout fishing and "Streamcraft" was published in 1919 by George Parker Holden. First, the author tells you to fish in the upper third of the larger streams because that is where the cooler water it located. And, also where the larger trout can be found.
Holden wrote, "Fish all large pools from below, and then work toward the upper end; then you can land fish from the lower end of the pool without spoiling your chances for other and perhaps larger fish at the upper end." I can remember fishing the upper end of Plum Creek in September six years ago. I was wading and casting my spinner into the pools when I saw a long lunker structure along the right bank. I thought, first I must cast in the lower part of the pool. A nice brown trout took my spinner so I played him downstream away from the upper end of the pool. When he tired I caught him and turned him upside down so he would hold still and measured him on my rod. "Wow, 15 inches long!"
I did not release him in the pool. I walked downstream about ten paces and released him. Then I silently moved upstream and made my cast to the upper end of the lunker structure. A big trout came out and took my spinner. He put up a gallant fight and finally tired so I could measure him on my rod. He was nineteen and a half inches long. Then he opened his mouth and was 20 inches long. "Thank you fellow," I remarked. As I released him, I watched as he went back under the upper end of the lunker structure.
This is the time to fish the smaller streams. Holden wrote, "A friend who habitually fished the smaller rapid streams that are full of rocks and small pools and was wonderfully successful at this style of angling, always used the finest king of silk line and a very light eight-foot rod. He made but a single cast in each likely spot and passed swiftly to the next; nor did he seem to bother especially about quiet movements, but oh, with water beautiful enviable, and almost effortless precision that leader always straightened! And how tantalizingly his flies danced deftly upon the water. I have never known an angler who could quicker cover a stream than this soft-spoken slight six footer."
The key is to cast only once to the best place where a trout might live. Then move on to the next spot. This works well for a spin fisherman or a fly fisherman. And when we have fewer trout in our streams it is the best way to go. By covering more of the stream holes you will catch more fish.
We have a lot of streams in our country and you will never fish them all. So drive around and look for a good stream to fish.
My wife and I do that on most weekends to see where people are fishing and to identify the streams they don't fish. Three weeks ago I fished a new stream that I had never fished before. I didn't see a track of a fisherman. The only thing I saw on the sand bars were tracks of deer. The stream had a lot of meanders as it twisted through the meadow (a former pastured area) and at each meander was a good pool for a large trout. It was a hot morning and I only fished for an hour. I caught one brown trout, and then lost a 15 incher. In the last hole I had on a big trout that headed for an undercut bank and I hurried to get ahead of him. But he knew what he was doing, the line caught on the dirt and he had a slight slack in the line and he was gone.
I will be back there next April to fish for that trout and then he could be over 20 inches long. Like this year, next year I will again fish two new streams. Those two streams might give me the best fishing for trout – I won't know unless I try. And I will have two more streams to fish each year.
August: My wife and I moved to Viroqua because of all the streams that I can fish. I don't have enough time left to fish them all. But the ones I can fish could be very rewarding. Usually they are small streams that flow into a larger stream that is fished a lot. So fisherman look for the small streams that could have a lot of trout in them and fish there when the sun doesn't shine.
My little stream was completely wadeable. And no one has fished it in a long time.
Jay Ford Thurston is the Broadcaster's trout fishing columnist. He can be contacted at trout@mwt.net.
Be the first to know
Get local news delivered to your inbox!