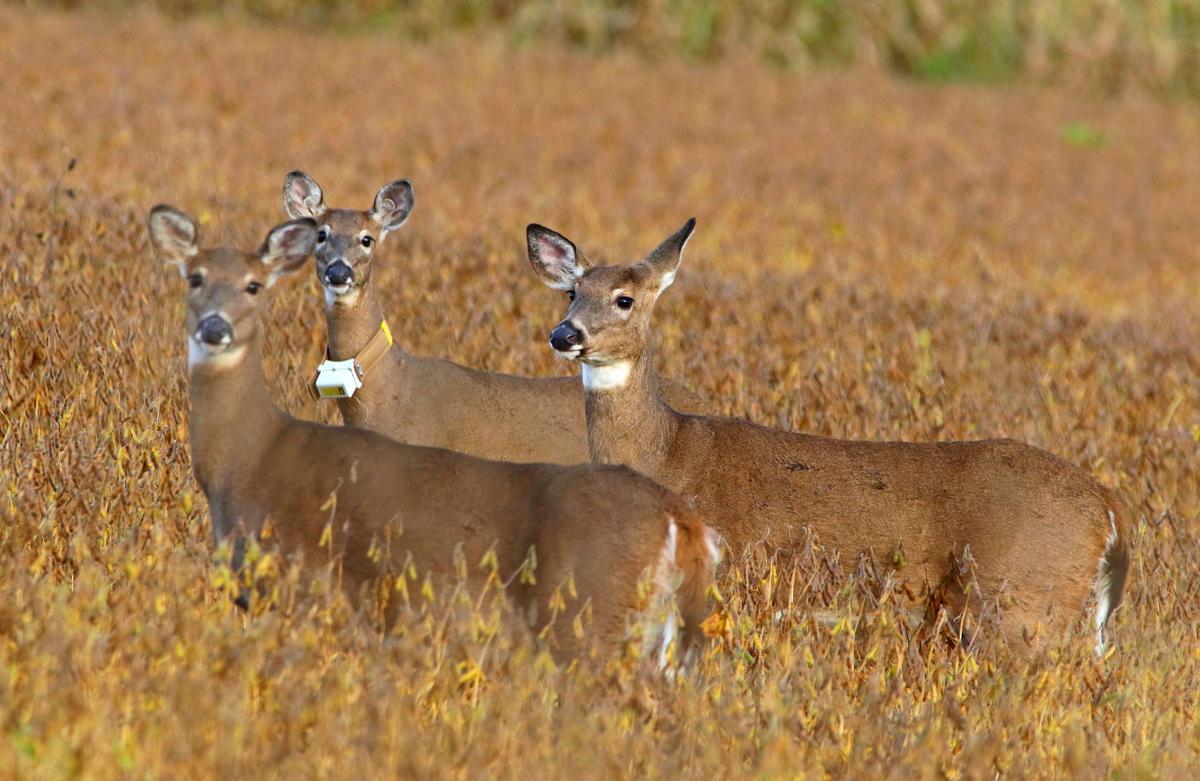 In two days, more than a half million hunters will wake up extra early, wipe the sleep from their eyes, tug some blaze orange clothing over their body and head for the woods.
It is that time of year in deer country. The gun-deer season runs from Nov. 21-29, which hunters inherently believe is nine days of wooded heaven.
And for those who are fortunate enough to hunt in western Wisconsin, specifically the West Central District, the outlook couldn't be better. With the hills, valleys and ridge tops blended with agricultural fields, the Coulee Region is prime habitat for the white-tailed deer.
It doesn't get much better than this.
According to information gathered by, and supplied to, the DNR, there are plenty of deer in La Crosse County and those counties surrounding it. That's music to the ears of those soon singing around the campfire.
Nailing down a state-wide population estimate, however, is far from easy as estimates range from 1.3 to 1.8 million. The 2019 post hunt mathematical model on the DNR web site showed a white-tailed population of more than 1.3 million.
"This corner of the state has fantastic deer habitat. We have a mix of woodland, forest and agricultural fields," said Scott Walter, District Wildlife Supervisor for a six-county district, which includes La Crosse County.
"That, along with cover and field habitat, is excellent. The herd remains very healthy. As long the weather cooperates, we should have a successful hunt."
While the archery and muzzleloader seasons attract hunters, the nine-day gun season is by far the biggest draw for Wisconsin hunters. According to the DNR web site, there were 564,664 licenses sold for the gun-deer season in 2019. While that's down 2.2 percent from 2018 (576,277), this year could see a rebound.
The COVID-19 pandemic has led to a resurgence of sorts for fishing and hunting license sales in Wisconsin, as more people have touched their feet, or returned to, the great outdoors. If you were on the river this summer, you know exactly what I mean.
Yes, if there is a silver lining with the worldwide pandemic, this might be one.
"We have an uptick in license sales at this point state-wide. Most folks are thinking COVID is the reason," Walter said. "Social distance and other COVID restrictions have hindered a lot of things, but hunting is one of those things where social distancing is a part of it. We are seeing more people pursuing things outdoors."
The pursuit of white-tailed deer in Wisconsin started way back in 1851, and the tradition continues to this day. There have been many changes over the past 168 years, including a recent one that has positively impacted the deer herd in Wisconsin.
The creation of the County Deer Advisory Council (CDAC) for each county in Wisconsin has allowed input from members of the Wisconsin Conservation Congress as well as citizens who represent various stakeholder groups. These councils provide input and recommendations to the DNR on deer management for their particular county.
Instead of a state-wide blanket approach when it comes to management, each county has its say.
"We take input from the county deer advisory councils. The counties themselves determine how many deer they want on the land. We send antlerless quotas to achieve deer density," Walter said.
"It has been five years since we switched from the old deer management to county based management. I think it certainly made the process very open and transparent. Anyone interested in heard management can voice their concerns. I think it has increased the trust and the communication that comes out of it."
While the councils have had a positive impact, so have other rules and recommendations over the years. With that said, one thing that the DNR understands, and even banks on, is the storied tradition of Wisconsin deer hunting.
It's a tradition that has withstood the test of time and is now shared more than ever, thanks to social media. Yes, social media has changed deer hunting with instant hunter/deer selfies, but that's another story.
"Deer season is maybe second to Christmas in a lot of hunters' minds," Walter said. "It is something that is tradition and is tied to the opening of the gun-deer season. It could be checking trail cameras to see what is out there, deer camps, or whatever it may be.
"Gun-deer season is a great way to get family and friends connected. It is one of the things that is special in being an outdoors person."
No one knows this better than the Stumlin family of rural Holmen, as their family has a four-decades-long gun-deer hunting tradition. And that tradition shows no signs of fading anytime soon.
Jeff and Nicole Stumlin came from families who hunted, so carrying on the tradition with their four boys – Ben (21), Aiztdon (17), Cartyr (14) and Reid (8) – was never a question.
"I used to go with my parents when I was 6. Back then you had to be 12 before you could carry a gun," said Nicole Stumlin, who is now 38. "I would just sit in the stand. Just being in the woods and seeing nature, maybe not even seeing a deer, but just seeing birds and turkeys and coyotes, was worth it.
Being out in God's Country, it's how we were raised."
Jeff Stumlin, 37, was raised the same way. He's shot a number of deer over the years, including some dandy bucks. That, however, isn't what keeps the deer hunting fire burning in his belly these days.
"The last few years I have not even taken a gun. I just go with the kids," Jeff Stumlin said. "My son Reid shot his first deer last year. It was the most exciting thing I have ever seen. Shooting a big buck (yourself) is nothing compared to watching your kids get their first deer."
So whether it's a deer camp in the northern part of the state, a cabin in the central region or a family deer gathering in the western tier, the deer hunting tradition continues.
Deer camp 2020, we're ready.
Jeff Brown is a former longtime Tribune sports editor and sports writer. He can be reached at outdoorstrib@gmail.com
Be the first to know
Get local news delivered to your inbox!